I play roughly 60% of my action each week in "cash games." Cash games refer to any contest in which roughly 50% of the field gets paid out, such as head-to-head, double up or 50/50. I try to get as much head-to-head action as I can every week and then supplement that with other cash games. For more on contest selection, go here.
Each week, I'll review my cash-game lineup in this space. Sometimes I'll lose, but hopefully I'll win more often. Either way, I'll post it here and give you my thought process.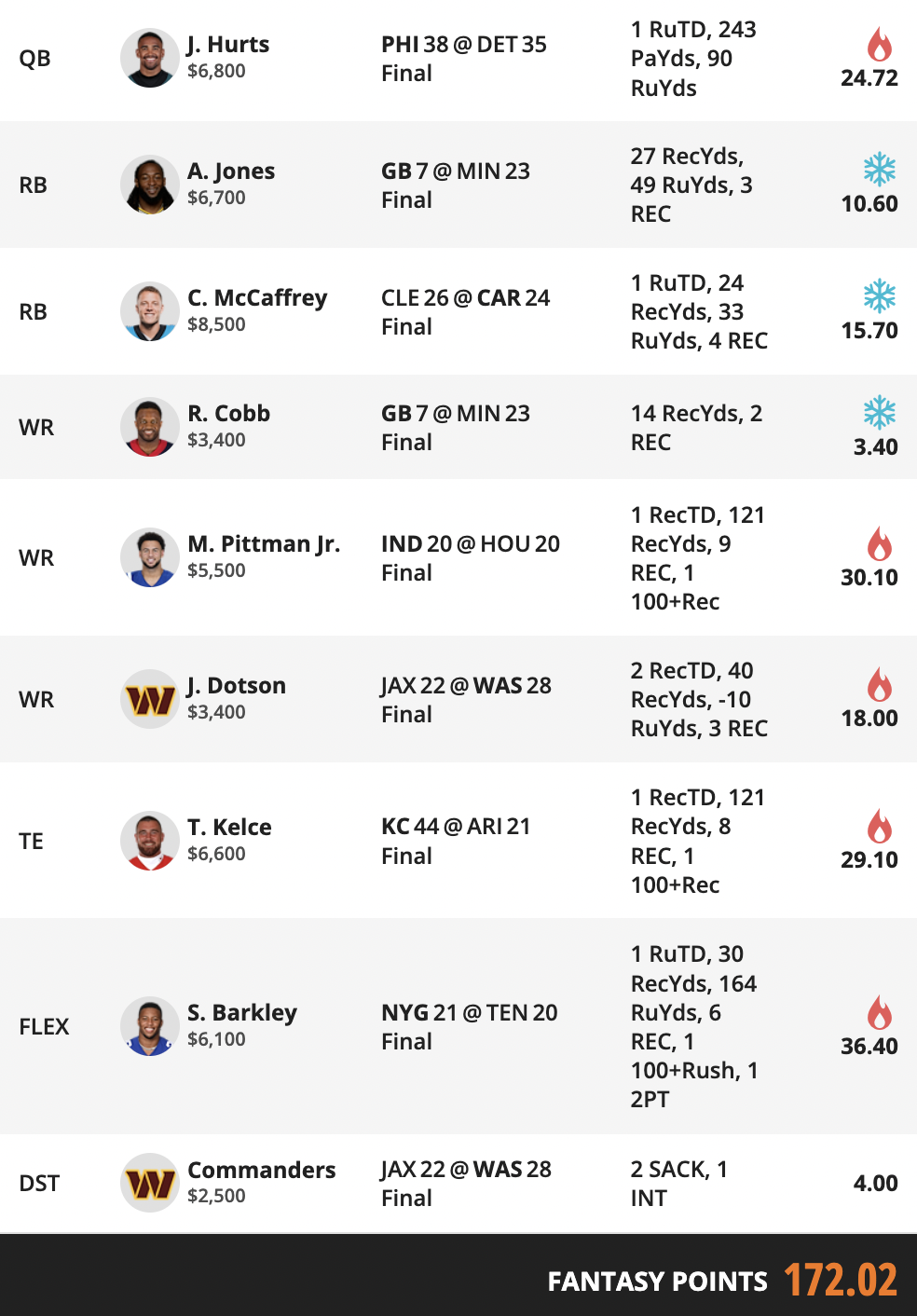 This was a uniquely difficult slate for a Week 1. Typically we get some slam-dunk values as a result of pricing being out six weeks before lock. But there were very few preseason injuries and DraftKings did a good job pricing up fringe guys with growing roles. It was impossible to be comfortable with every spot in your lineup.
MY MUST PLAYS
* Christian McCaffrey's outrageous receiving ability combined with a true workhorse running role gives him the profile of a $10,000 player on DraftKings' full-PPR plus bonuses format. At $8,500 at home against Jacoby Brissett, CMC was a lock for me. Players don't have to be "cheap" to be a great value.
* Michael Pittman was arguably the most mispriced player on the slate, as I noted in this video. He is clearly a very good NFL WR, he has very little target competition, he got a QB upgrade, and he was facing a Texans defense which ranked 31st in yards per play allowed last season. At just $5500, this was a no-brainer.
* Regular readers know I often struggle with the decision to pay up for Travis Kelce. This week I thought Kelce was a must. He had the slate's best game environment, Tyreek Hill is gone, and he was just $6600. Typical Kelce prices are in the $7200-$7800 range.

But just as important as that, the context of the TE position was odd. I typically like to punt with guys like Mo-Alie Cox, Gerald Everett, David Njoku etc. But they were all priced way up, not in that $2500-$3000 range. And so with Kelce underpriced (and in such a great spot) plus the "punts" overpriced, the Kelce lock became clear.
MY WANT PLAYS
* Saquon Barkley was nearly a "must" for me. We simply don't get highly explosive/athletic RBs who play well in pass game and at goal-line ticketed for 80%+ of the snaps… at just $6100. The only reason he wasn't a lock was because of the systemic risk with NYG and the need to save money somewhere. I did look at some 4-WR lineups because the Christian Kirk, Juju Smith-Schuster, Elijah Moore, Michael Pittman group was so strong in that low $5K range. 
* I looked at some lineups that played Dameon Pierce over Aaron Jones, and then got from Jahan Dotson to Marquise Brown. But the other sacrifices I had to make there were too much to stomach. So I stuck with Jones, with the expectation of him working as a primary pass-catching option and getting 4-6 catches – as well as 10-14 carries.

I did think it was close between Jones ($6700) and D'Andre Swift ($6800). We had Jones a mere 0.9 points ahead in our projections, with really big projections on both. With Allen Lazard out, I decided to go Jones. In hindsight, perhaps Swift was the better play – he's less threatened by Jamaal Williams than Jones is by AJ Dillon.
* The only QBs I considered were Jalen Hurts, Lamar Jackson, and Daniel Jones. I do prefer to punt QB (rather than RB/WR) when there is a viable true punt and the slate is tight. So Danny Dimes at just $5000 with a reasonable rushing floor was intriguing. But I wasn't going to play Dimes and Saquon together – way, way too much systemic risk with the Giants. There also wasn't a clear team to me that played Dimes without Saquon.
So I was more than fine to go with Hurts, in arguably the best matchup he'll face all year. Not only is the Lions offense sneaky good, but their defense is atrocious. And the game was in a dome, with AJ Brown now in the mix. I actually left money on the table to play Hurts over Lamar Jackson here due to game environment. 
* I didn't want to punt WR at all. Not with Christian Kirk, Juju Smith-Schuster, DJ Moore, Tee Higgins, and Marquise Brown all underpriced with big ceilings. But we had to sacrifice somewhere on this slate and in cash I often sacrifice at WR when forced.

That led me to Randall Cobb, who I clearly don't love as a 32-year-old slot receiver. But given the state of the Packers' WR corps and Aaron Rodgers' love affair with Cobb, I thought he was the safest punt. Cobb's underlying metrics are quietly reasonable and his chemistry with Rodgers is unquantifiable. I preferred Cobb to Romeo Doubs as I thought Doubs would rotate on the outside with the likes of Christian Watson and maybe even Amari Rodgers.
* I looked at all kinds of different combos for my third WR spot. George Pickens, getting up to Christian Kirk, Juju Smith-Schuster or Marquise Brown, punting totally with min-priced Wan'Dale Robinson.

In the end I felt best (but not good) about Jahan Dotson thanks in large part to preseason usage. He played every snap with the Carson Wentz group in August, is an old player for a rookie, and was highly productive in the Big 10. At $3400, at least we knew he'd be out there for every snap in a good matchup. Shout out to Silva, who told me he'd rather play Dotson over Pickens straight up during the Last Minute Livestream.
* As always, I worry about D/ST last. I'm willing to completely punt it off in a lot of setups because the scoring is so unpredictable and muted. So I considered the Bears, Jets, Commanders, Jaguars, Dolphins, among others. This team actually had enough money to get up to Dolphins, but I preferred Commanders (even without Chase Young) because I expected more dropbacks and mistakes from Trevor Lawrence. 
Week 1 Results
It certainly wasn't a perfect week. Aaron Jones instead of D'Andre Swift was likely a mistake, and perhaps I should have gone to a different D/ST with the money I had left over. But all in all I'm happy with the team I played. I did a good job of understanding the Travis Kelce context and rode with Saquon's elite role over some more WR-intensive builds. I do think I got a bit lucky with Jahan Dotson, who turned five targets into two TDs. But sometimes we need to run well as well as play well.
Year-To-Date Results
Week 1: 172.02 points, won 80.7% of head-to-heads