I play around 60% of my action each week in "cash games." Cash games refer to any contest in which roughly 50% of the field gets paid out, such as head-to-head, double up or 50/50. I try to get as much head-to-head action as I can every week and then supplement that with other cash games.
Each week, I'll review my cash-game lineup in this space. Sometimes I'll lose, but hopefully I'll win more often. Either way, I'll post it here and give you my thought process.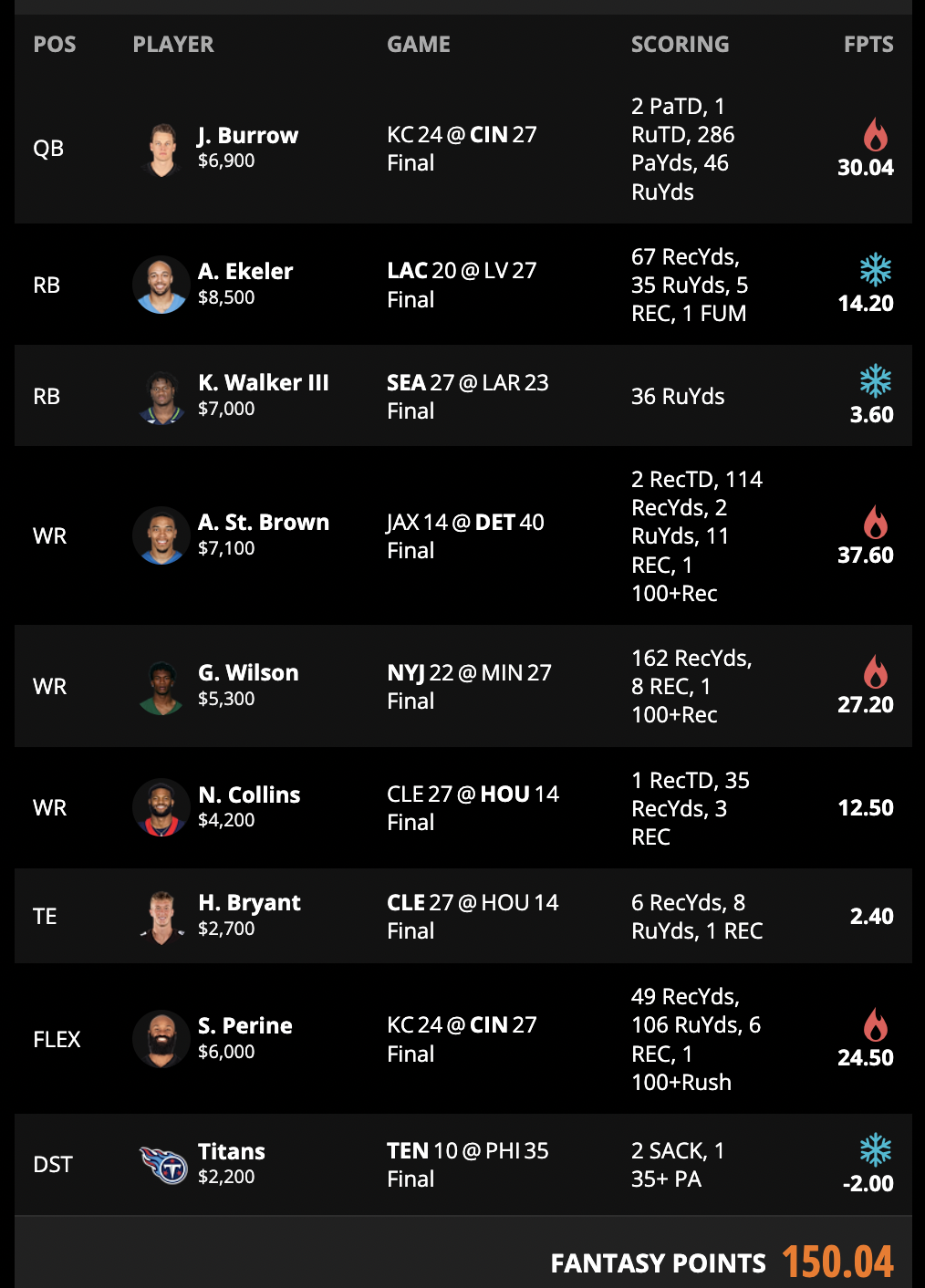 This was a slate shaped by injuries. A huge key wasn't just adapting to players who were out – it was also about handling guys playing through injuries. I like these kind of slates because I think it plays to my strengths (micro player vs. player takes) better.
MY MUST PLAYS
* Once it became clear Joe Mixon (concussion) wouldn't get cleared, Samaje Perine became a lock. He was in the slate's best game environment, had the pass-down role even when Mixon was healthy, and isn't threatened by Chris Evans/Trayveon Williams in base. Playing Perine in this spot was like getting a discounted Mixon, but getting that pass-down role as well. 
*  We were well higher than market on Mike White this week, taking two of his overs in props. The Jets are very willing to give White volume they wouldn't give Zach Wilson, throwing it 20 times in the first half despite a rainstorm against the Bears in Week 12. White's top option is clearly stud rookie Garrett Wilson, who is already elite at getting open and earning targets. The $5300 tag in a good spot against the Vikings was around $1000 too cheap.
* Amon-Ra St. Brown earns targets at a league-high rate. He was also in one of the slate's best game environments, in a dome, and facing a Jaguars defense ranked 30th in pass defense DVOA. At just $7100, ARSB was obviously far too cheap. We had him tied with Davante Adams for the most targets on the slate at 10.9. The difference is Adams was a whopping $1600 more.
MY WANT PLAYS
* I didn't consider Joe Burrow ($6900) a lock with Trevor Lawrence just $5900 in the Coors Field of NFL DFS. But I really wanted Burrow here in a game I expected to feature the two most pass-centric teams of the slate. Burrow was also getting Ja'Marr Chase (hip) back, raising his ceiling even higher. And I expected him to be pushed here facing Patrick Mahomes. It was a really strong spot for Burrow. 
* As always, I'm looking to play the cheapest viable D/ST in cash. This week, that was the Titans D/ST at just $2200 in Philly. There were some teams that got to Steelers, but I didn't think it was worth anything at all to get there. 
* It was going to be hard to get really hurt at tight end this week. Travis Kelce did not fit any realistic builds up at $7900, and Mark Andrews' game environment was awful. So I was thrilled to just completely punt it off at just $2700 with Harrison Bryant. David Njoku (knee) was out and the Texans are among the league's worst defenses. Even if Bryant faceplanted, I didn't think any of the guys in the $3K or $4K range would bury me.
* The Rams have a very good defense. But this isn't the Rams. They are essentially a second-string unit now, playing without Aaron Donald and a bunch of other key defenders as well as a junior varsity offense. Meanwhile, Kenneth Walker's pass-game role has been growing and Travis Homer was out. In a spot I expected the Seahawks to score a lot of touchdowns and Walker was going to play 90%+ of the snaps, I thought he was slightly better than Travis Etienne even at $600 more.
* The last 2v2 I considered was Travis Etienne and Christian Kirk vs. Austin Ekeler and Nico Collins. We had it projected almost dead even. Note that with Brandin Cooks out, we had Nico projected for 7.3 targets – a massive number for a reasonable talent priced at $4200. Also note that Etienne (foot) didn't get any full practices in this week. I thought ETN was almost certainly fine, but on close calls like this I think it's enough to sway the decision.
So I was certainly happy to get Austin Ekeler, whose pass-game and red-zone role is outrageous. It was an awesome game environment, with the Raiders ranking 28th in yards per play allowed and the Chargers being willing to have outrageously high pass rate over expectation. 
Week 13 Results
I was actually really happy with the team I played. Nico Collins was certainly a bit thin, but he got 10 targets at just $4200. That's always going to be a really good play. I was also happy with the decision to get off Travis Etienne for Kenneth Walker, as the healthier player with a similar role. I also think paying the extra $1000 to access Joe Burrow's ceiling in this spot rather than Trevor Lawrence was correct.
Of course, the floor game from Austin Ekeler as well as the early Kenneth Walker (ankle) injury were death blows. But I'm in no position to complain — this is the first injury that's really hurt me badly all season.
Year-To-Date Results
Week 1: 172.02 points, won 80.7% of head-to-heads
Week 2: 127.28 points, won 65.8% of head-to-heads
Week 3: 139.86 points, won 96.9% of head-to-heads
Week 4: 171.52 points, won 89.5% of head-to-heads
Week 5: 184.36 points, won 62.1% of head-to-heads
Week 6: 135.86 points, won 51.6% of head-to-heads
Week 7: 165.40 points, won 77.8% of head-to-heads
Week 8: 194.24 points, won 87.1% of head-to-heads
Week 9: 161.62 points, won 73.9% of head-to-heads 
Week 10: 160.18 points, won 81.7% of head-to-heads
Week 11: 96.68 points, won 52.2% of head-to-heads
Week 12: 145.12 points, won 59.9% of head-to-heads
Week 13: 150.04 points, won 52.1% of head-to-heads
*Note: Win percentages do not include ties.