I play around 60% of my action each week in "cash games." Cash games refer to any contest in which roughly 50% of the field gets paid out, such as head-to-head, double up or 50/50. I try to get as much head-to-head action as I can every week and then supplement that with other cash games.
Each week, I'll review my cash-game lineup in this space. Sometimes I'll lose, but hopefully I'll win more often. Either way, I'll post it here and give you my thought process.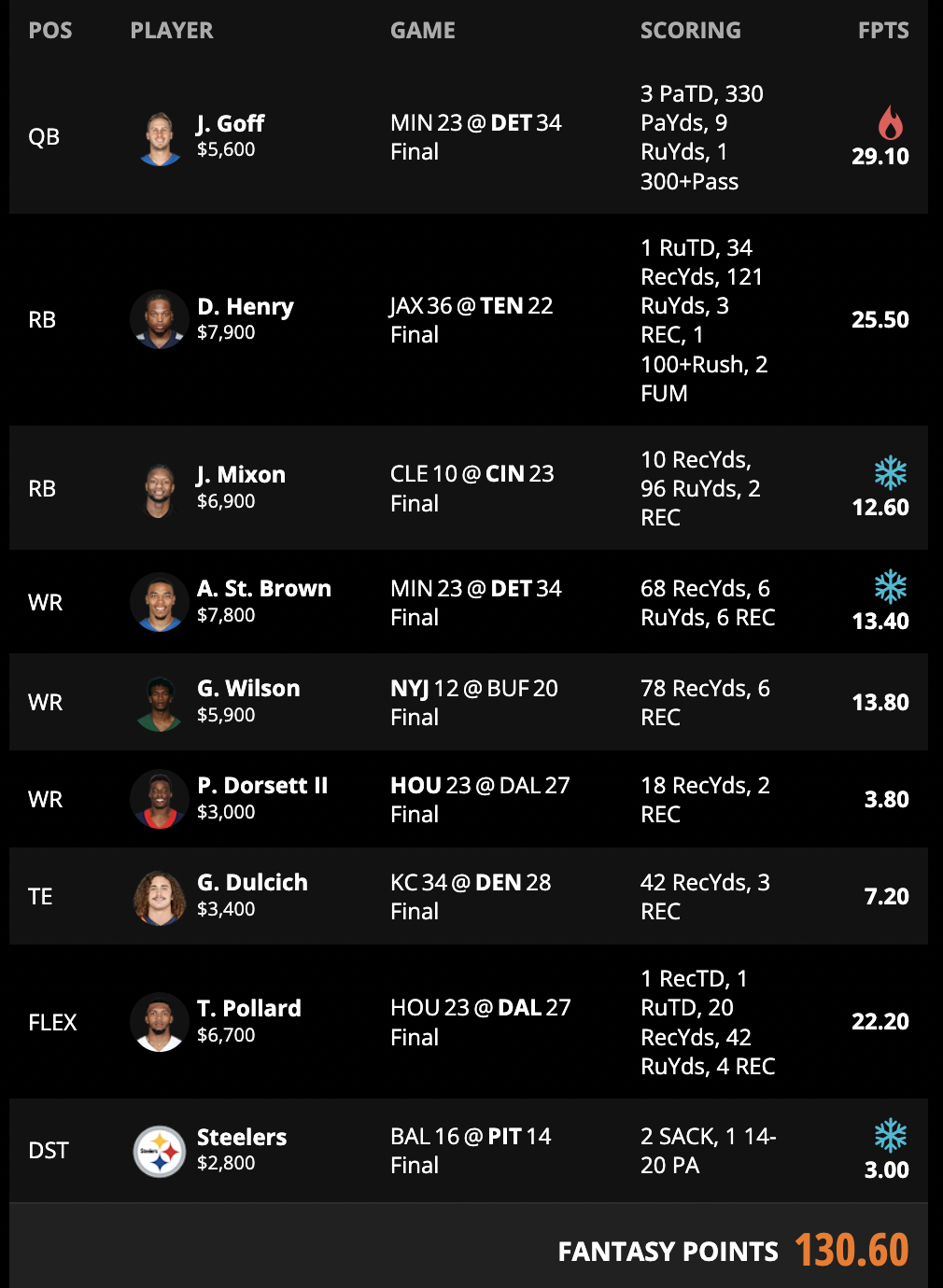 This was only a 10-game slate, and there weren't many injury-induced values. It led to a situation where we had to pay down at QB, TE, D. And even then we had to decide between a stone punt at WR or a more balanced build.
MY MUST PLAYS
* We had Amon-Ra St. Brown projected for 11.0 targets against a Vikings defense ranked 24th in pass defense DVOA. Even as ARSB's price has risen to the point he's now in the Ja'Marr Chase, AJ Brown, Stef Diggs range, I wanted him in this spot. He was in clearly the best game environment on the slate, in a dome, and has the elite floor/ceiling combo we want to for cash.
* The Jets have gone to a quick-hitting and pass-centric offense under Mike White. His favorite target is clearly Garrett Wilson, because Wilson is simply very good at getting open. We had Wilson projected for 9.4 targets here, 5th-most on the entire slate. Of course that bakes in the Jets were a 10-point dog, leading to a better chance of even more passes from White. 
MY WANT PLAYS
* This was an odd QB slate because none of the expensive ones were in clean spots. Josh Allen (tough matchup), Patrick Mahomes (dead opponent), and Jalen Hurts (deadish opponent) were relatively easy fades for me in cash. While I would have been fine with Kirk Cousins, Geno Smith, or Joe Burrow… Jared Goff was significantly cheaper and in one of the best possible spots.
Goff also gave me a stack with Amon-Ra St. Brown – the correlation there is good when you're playing a high volume of head-to-heads like I am. A double-up is binary outcome, meaning we're not rewarded with more money for scoring more points. On the other hand, winning 90% of our head-to-heads is far better than winning 60%. 
* Derrick Henry's recent inefficient play led to a price drop. At $7900, this was the cheapest he had been since Week 2 at Buffalo. That coincided with the best matchup he's had in roughly six weeks, a home favorite against a middling Jaguars defense. I'd also note that Henry's pass-game role has actually been reasonable for much of the season as the Titans are wisely getting him more involved on screens and dumpoffs. Henry had at least two catches in five straight games coming into this one, raising his floor/ceiling combo. 
* I certainly had some concerns with Samaje Perine stealing more from Joe Mixon than he did prior to Mixon's concussion. But we baked more Perine into the projection, and Mixon was still our best salary-adjusted value at the running back position. So in the event we were wrong and Mixon had the role he had prior to injury, there was even more upside here in a dream matchup. The Browns are 31st in rush defense DVOA this season. 
* I didn't love the mid-range options at WR. DJ Moore, Jerry Jeudy, Adam Thielen were fine but playing one of them left me with an awkward construction. So I thought it was fine to accept a 0-floor at one of the wideout spots, where we had some viable options. Brandin Cooks and Nico Collins were out, making Phillip Dorsett and Chris Moore starting WRs. Elijah Moore's role was rising. Kendall Hinton was starting in place of Courtland Sutton. In this build, I only had exactly $3000 to spend. So there was no decision, I had to take a shot on the former first-round pick Philip Dorsett. 
* There were a lot of close 2v2s I looked at close to lock. The first was Tony Pollard and Greg Dulcich vs. Dalvin Cook and Chig Okonkwo. Another was Tony Pollard and Steelers D/ST vs. Dalvin Cook and Panthers D/ST.
As for the first one above, I was a little worried the Chig Okonkwo role from Week 13 wouldn't be sticky. For the same reason I wasn't on D'Andre Swift in cash, Okonkwo role scared me. So with Courtland Sutton out and Greg Dulcich playing a WR-esque role in a spot the Broncos would have to throw a ton, I preferred him more than getting to Dalvin over Pollard.
The second 2v2 above was tougher. I was more than fine playing Panthers D/ST, regular readers know I'm always willing to play the cheapest viable option. The Panthers also have an above-average pass rush and with Kenneth Walker out, Geno Smith projected to drop back a ton. So it really came down to Pollard vs. Dalvin, and I took it up to the last minute.
In the end, I went with Pollard as simply the better player in the better matchup. Note that the Lions came into this game third-toughest in our DvP metrics against RBs. I also felt slightly better about Steelers defense at home against a mistake-prone Tyler Huntley. 
Week 14 Results
Given the first quarter Derrick Henry had, I thought this slate was a wrap. The Big Dog was only 38% owned in the big $25 double up, and he had nearly 100 yards after 15 minutes. But Henry somehow did almost nothing in the second half, and Greg Dulcich lost to Chig Okonkwo by 11.3 points. So it's another week of solid but not great results.
In hindsight, perhaps my hesitance on Chig was silly given it's tight end and they all have extremely low floors anyway. And although I don't see many viable ways to get off Philip Dorsett, perhaps I should have made that a priority. But overall I'm happy with the team, especially sticking to Jared Goff, and not playing D'Andre Swift (he was 28% in double up).
Year-To-Date Results
Week 1: 172.02 points, won 80.7% of head-to-heads
Week 2: 127.28 points, won 65.8% of head-to-heads
Week 3: 139.86 points, won 96.9% of head-to-heads
Week 4: 171.52 points, won 89.5% of head-to-heads
Week 5: 184.36 points, won 62.1% of head-to-heads
Week 6: 135.86 points, won 51.6% of head-to-heads
Week 7: 165.40 points, won 77.8% of head-to-heads
Week 8: 194.24 points, won 87.1% of head-to-heads
Week 9: 161.62 points, won 73.9% of head-to-heads
Week 10: 160.18 points, won 81.7% of head-to-heads
Week 11: 96.68 points, won 52.2% of head-to-heads
Week 12: 145.12 points, won 59.9% of head-to-heads
Week 13: 150.04 points, won 52.1% of head-to-heads
Week 14: 130.60 points, won 57.5% of head-to-heads
* Note: Win percentages do not include ties.