I play around 60% of my action each week in "cash games." Cash games refer to any contest in which roughly 50% of the field gets paid out, such as head-to-head, double up or 50/50. I try to get as much head-to-head action as I can every week and then supplement that with other cash games.
Each week, I'll review my cash-game lineup in this space. Sometimes I'll lose, but hopefully I'll win more often. Either way, I'll post it here and give you my thought process.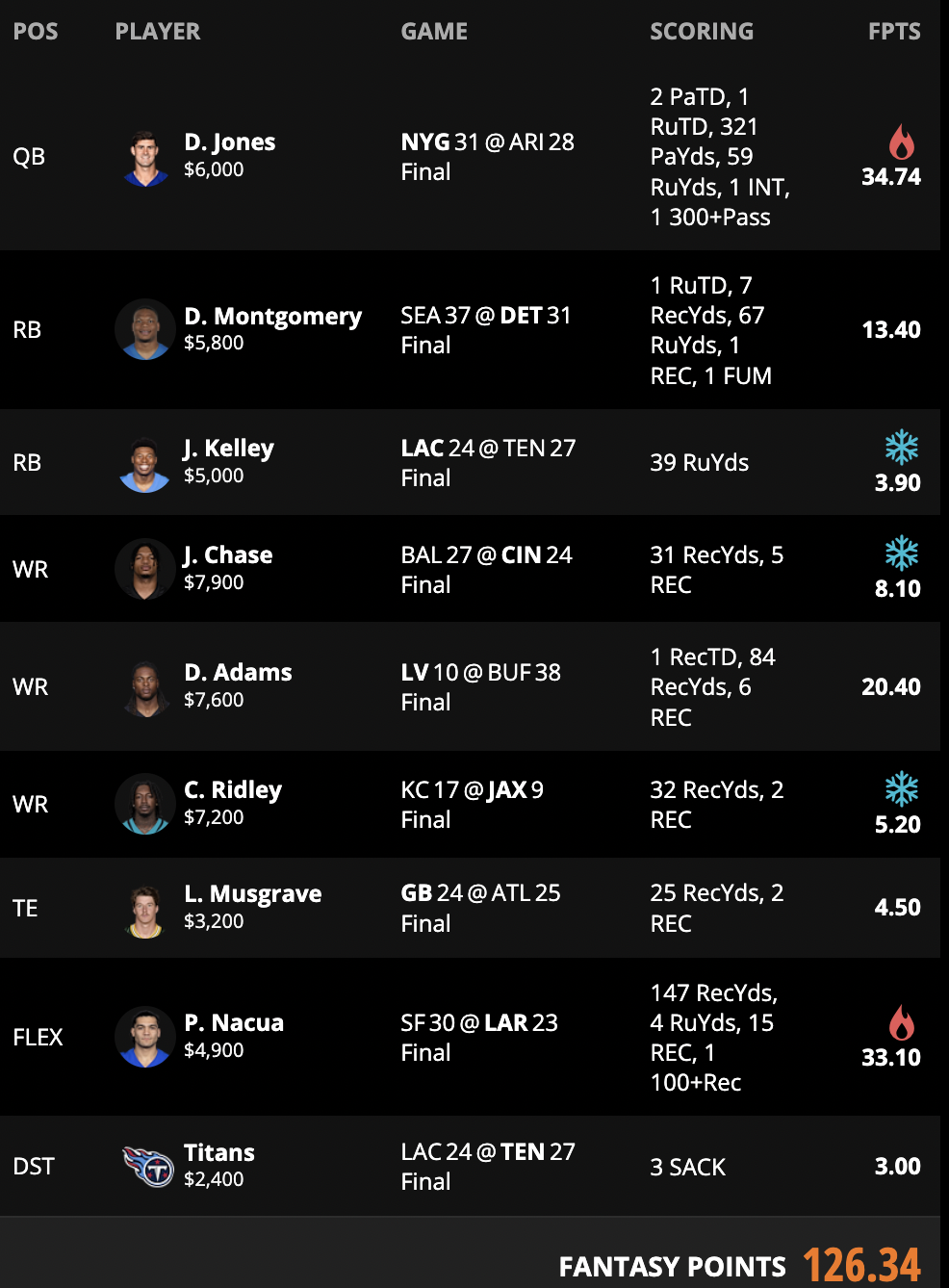 This was a slate of very close 1v1s. Rachaad White vs. David Montgomery. Ja'Marr Chase vs. Stef Diggs vs. Amon-Ra St. Brown. Luke Musgrave vs. Dalton Kincaid. Jayden Reed vs. Josh Reynolds. Daniel Jones vs. Anthony Richardson. Keenan Allen vs. Calvin Ridley.
I thought all of these were very, very close decisions. And I knew these decisions would decide the slate. It's honestly not the kind of setup I prefer, but I did love that there were so many guys in play for cash this week.     
MY MUST PLAYS
* Yes, Tennessee is a very difficult team to run against. They are a massive pass funnel. But outside of Christian McCaffrey, there were no running backs I really wanted to play (at cost) on DraftKings this week. Given that, I thought saving with Josh Kelley at $5000 – just $1000 over the RB salary floor was a must. Obviously Kelley isn't Austin Ekeler (out, ankle), but he profiled for 13-18 touches with pass-down and goal-line work in a good offense.  
* I know I was on an island with this take, but I personally considered Puka Nacua a must at $4900 – even though the math didn't back it up. He was quietly a good prospect coming out, had league-best underlying usage in Week 1, and most importantly is playing with the WR kingmaker.

Matthew Stafford has turned wideouts like Kenny Golladay and Marvin Jones into stars. He's led record-setting seasons from Calvin Johnson and Cooper Kupp. We had Puka projected for a mean of 7.7 targets, a massive number for someone at this price. Even in a difficult matchup, I wasn't passing on his role at sub-$5k.
* It wasn't an ideal matchup for the Raiders. Going across the country for an early start against a hungry Bills team off a loss with a solid defense. But with Jakobi Meyers out and Davante Adams priced at just $7600, I was always playing him. 
MY WANT PLAYS
* As usual, I was looking to pay down at tight end. Especially with Travis Kelce and Mark Andrews both coming off injuries. I would have been fine with any of Luke Musgrave, Chig Okonkwo, or Dalton Kincaid. They were all $3300 or less, allowing me to spend up at WR. I ended up going with nearly every-down Musgrave to get some access to a Packers offense playing without both Christian Watson (hamstring) and Aaron Jones (hamstring). This team did not have $100 left over, otherwise I may have gone Kincaid to block some Josh Allen points. I knew Allen was going to be very popular in cash.
* There were three D/ST options I considered: Cardinals ($2600), Titans ($2400), or Raiders ($2200). Bucs ($3200) and Cowboys ($4000) were my favorite pay-up options, but I'd rarely spend that much at D/ST in cash. This lineup did not have the $200 to get to the Cardinals, so I went with Titans. If I really needed the $200, I would've been OK going down to Raiders. 
* Calvin Ridley wasn't a "must" because Keenan Allen, Amon-Ra St. Brown, Ja'Marr Chase, and Stef Diggs were all strong plays also. But given the game environment against the Chiefs, and the fact that Ridley was a tier cheaper than all but Keenan, I thought he was the play. 
As for my other alpha WR, I would have preferred Diggs to mitigate the Josh Allen chalk. But I didn't think it was worth coming off of Chase, who I expected to have a massive bounce-back game in a clean setup against the Ravens. In hindsight, Keenan against the pass-funneling Titans with Austin Ekeler's targets removed may have been better.

* The last 2v2 I looked at was Anthony Richardson and Rachaad White vs. Daniel Jones and David Montgomery. I went back and forth about three times in last 10 minutes before lock. In the end, I thought A-Rich and Dimes were pretty close – but I wanted Montgomery as part of that SEA-DET game environment. I wasn't really buying the rhetoric out of Detroit that Jahmyr Gibb's role would expand – they won in Kansas City with DMont as the feature back. And his pass-game role was better than it seemed in that game, despite zero catches. 
Week 2 Results
I consciously chose to not play Jayden Reed because I preferred the constructions that yielded three stud WRs, rather than the ones that paid up at QB or RB. And I wasn't coming off of Puka Nacua. 
So when Reed went for two TDs, and David Montgomery left early with a quad injury, I thought I was dead. Instead, I ran into ceiling games from both Puka and Daniel Jones in the afternoon for one of the best feelings in DFS: Coming from behind to get there. 
Overall I was really happy with my conviction on some of these close calls despite a lot of people disagreeing. Daniel Jones was just 2.8% owned in the big $25 double up (despite being tied with Josh Allen as our best salary-adjusted QB play of the week). Puka Nacua was only 20.6% (despite being our fourth-best salary-adjusted WR play of the week). Montgomery was 17%.

I was also very fortunate that both Nacua and Dimes hit in a big way. So I'll take the win quietly and move on. 
Year-To-Date Results
Week 1: 132.7 points, won 51.5% of head-to-heads
Week 2: 126.34 points, won 63.6% of head-to-heads
* Note: Win percentages do not include ties.