I play around 60% of my action each week in "cash games." Cash games refer to any contest in which roughly 50% of the field gets paid out, such as head-to-head, double up or 50/50. I try to get as much head-to-head action as I can every week and then supplement that with other cash games.
Each week, I'll review my cash-game lineup in this space. Sometimes I'll lose, but hopefully I'll win more often. Either way, I'll post it here and give you my thought process.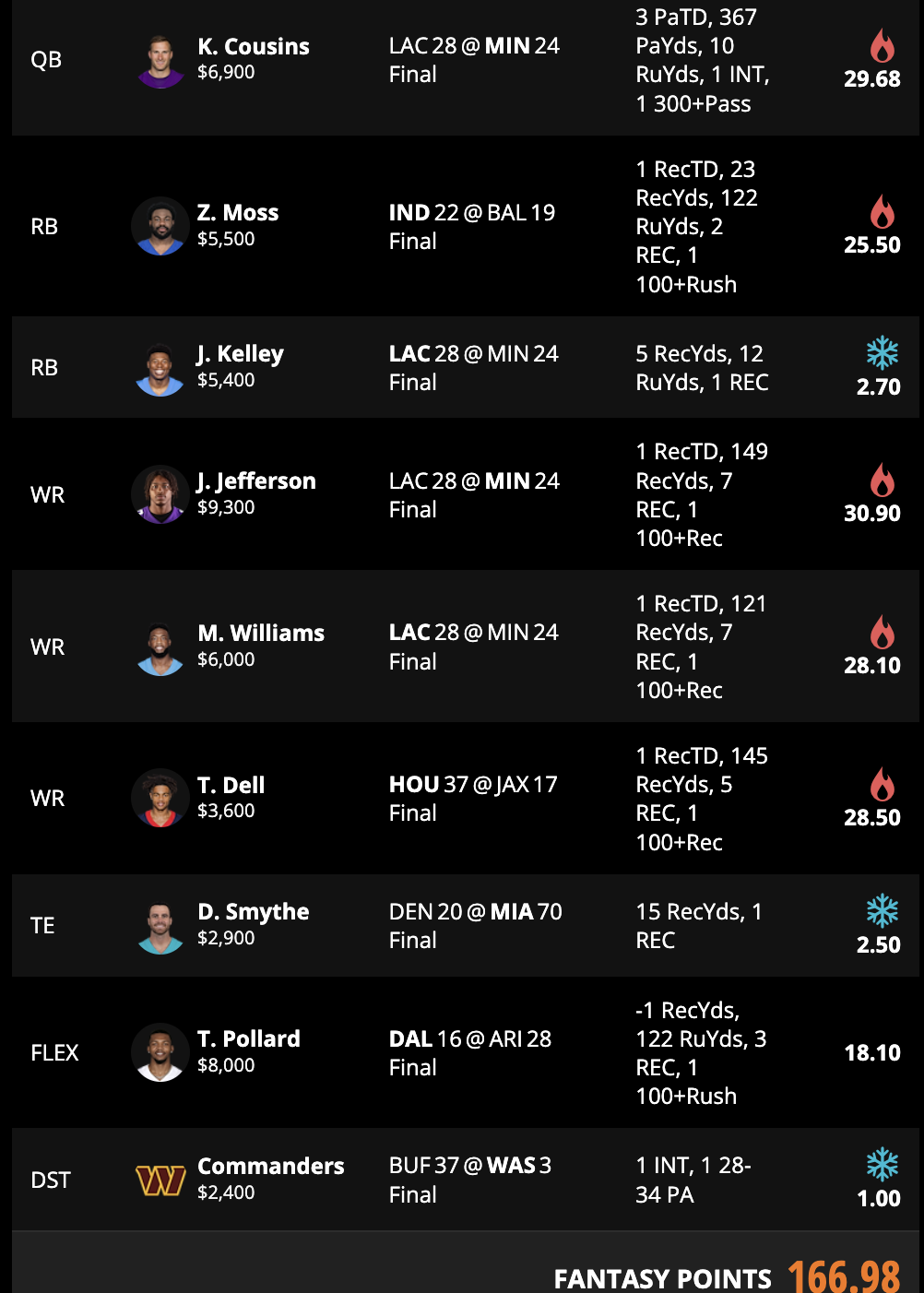 This slate was all about the Chargers-Vikings game. It was so obviously the best fantasy game of the slate and had some underpriced pieces as well. Processing that game and how many players to roster from it was the key to the week.     
MY MUST PLAYS
* I had a very small WR pool for cash this week as the pricing was tight. Only really considered Tank Dell, Adam Thielen, Christian Kirk, Mike Williams, Keenan Allen, Tyreek Hill, and Justin Jefferson.
I thought the most mis-priced of those options was Williams, and our projections agreed as we had him as the best salary-adjusted WR value on the slate. Although BMW is not the archtype of player I typically like to play in cash (Keenan Allen is), getting a strong piece of the LAC-MIN game environment for just $6000 was a must. 
MY WANT PLAYS
* I only considered two QBs: Geno Smith and Kirk Cousins. Clearly, Cousins was in the better spot – dome game, very good matchup, easily slate's best overall environment. But I still thought saving $1200 to go to Geno was fine. Pocket passers like Cousins are so rarely going to totally bury me. And I wasn't going into this slate without at least one of Cousins or Justin Jefferson, so even if I played Geno I would still benefit from a big Cousins game.
In the end, I didn't think the use of the $1200 got me enough. In hindsight, using it for Tyreek Hill over Tony Pollard (once Jaylen Waddle was ruled out) may have been correct. I do not think using it to upgrade D/ST would have been correct.
* I knew I was going to play at least one of the sub-$6k RBs, if not two. The ones I considered in that range were Jerome Ford ($4800), Josh Kelley ($5400), Zack Moss (see below) and Alexander Mattison. Kelley certainly scared me due to lack of pass-game role, but just getting more access to this game environment with a $5400 feature back was appetizing. I didn't think changing the team to get up to Mattison was worth it.
* Obviously I would have loved to play our top D/ST in the Bills at $2900. Or the Jets at $2800. But this lineup only had the money for Commanders, which I was fine with. They had Brandon Thorn's No. 6 DL>OL mismatch and Josh Allen's aggression can lead to turnover-laden games. 
* Tony Pollard was clearly one of the best plays of the slate. An elite talent with an elite role in an elite run scheme. However, at $8000 Pollard was certainly not a slam-dunk. There were some 2v2s that played (for example) Alexander Mattison and Zack Moss over Tony Pollard and Tank Dell. I thought leaning into explosive talent edge was the right side of the 2v2. 
* I actually preferred the safety of Adam Thielen ($3900) in cash to Tank Dell ($3600) at punt wide receiver. I didn't consider any other sub-$4k WRs seriously. Thielen got a QB upgrade in Andy Dalton and also is the kind of cash WR I can play for floor. 
But I didn't have the $300 in this lineup and Dell is obviously an extremely explosive player. In the week's second-best game environment, Dell was a low-floor but high-ceiling option. Which is fine in cash – we need to have players who can win the week for us in the lineup.
* Regular readers know I'm typically trying to spend as little at tight end, because the entire position (outside of Travis Kelce) fails so often. This week I thought Durham Smythe, Dalton Kincaid, and Zach Ertz were the strongest options. 
Note that Smythe was already leading all tight ends in routes run per QB dropback. Once Jaylen Waddle (concussion) was ruled out, saving the money down to $2900 for Smythe was fine by me.
* As noted above, I was always playing at least one of Kirk Cousins and Justin Jefferson. I did not feel the need to play both. That said, I did slightly prefer Jefferson to Tyreek Hill for the better environment and perhaps less defensive attention. And when you're playing a ton of head-to-heads like I am, there's benefit to correlation (when close) because winning 90% of my H2Hs matters. Unlike a double-up, where a 60th percentile lineup is the same as a 90th. 
* The last 1v1 I debated was Christian Kirk vs. Zack Moss. My first instinct was to go Kirk, as Zay Jones (knee) was out and the Texans are an excellent matchup. But after some thought, passing on Moss when he projected for 90%+ of the RB touches in cash struck me as a mistake. Especially when Anthony Richardson (concussion) wasn't in there to steal goal-line work, and Gardner Minshew projected for a higher RB target rate.
Note that in tournaments on full-PPR DraftKings, I preferred Kirk. But in cash, locking in 15+ touches was safer. Moss was "competing" with Trey Sermon and Jake Funk for touches.
Week 3 Results
Obviously the Bills D/ST scoring 32 DraftKings points was going to be difficult to overcome. It's such an absurdly huge outlier, and they were around 28% owned in cash. So to emerge from that with a win… I feel fortunate and will definitely take it. And no, this result won't make more likely to prioritize certain D/STs in cash.
Beyond that, I feel good about the team I played. Obviously in hindsight prioritizing Tyreek Hill harder looks right, but Tony Pollard also got 26 opportunities against the Cardinals. Losing Mike Williams (knee) didn't help, but the Tank Dell runout was a bit lucky.
Year-To-Date Results
Week 1: 132.7 points, won 51.5% of head-to-heads
Week 2: 126.34 points, won 63.6% of head-to-heads
Week 3: 166.98 points, won 59.8% of head-to-heads
* Note: Win percentages do not include ties.