I play roughly 60% of my action each week in "cash games." Cash games refer to any contest in which roughly 50% of the field gets paid out, such as head-to-head, double up or 50/50. I try to get as much head-to-head action as I can every week and then supplement that with other cash games.
Each week, I'll review my cash-game lineup in this space. Sometimes I'll lose, but hopefully I'll win more often. Either way, I'll post it here and give you my thought process.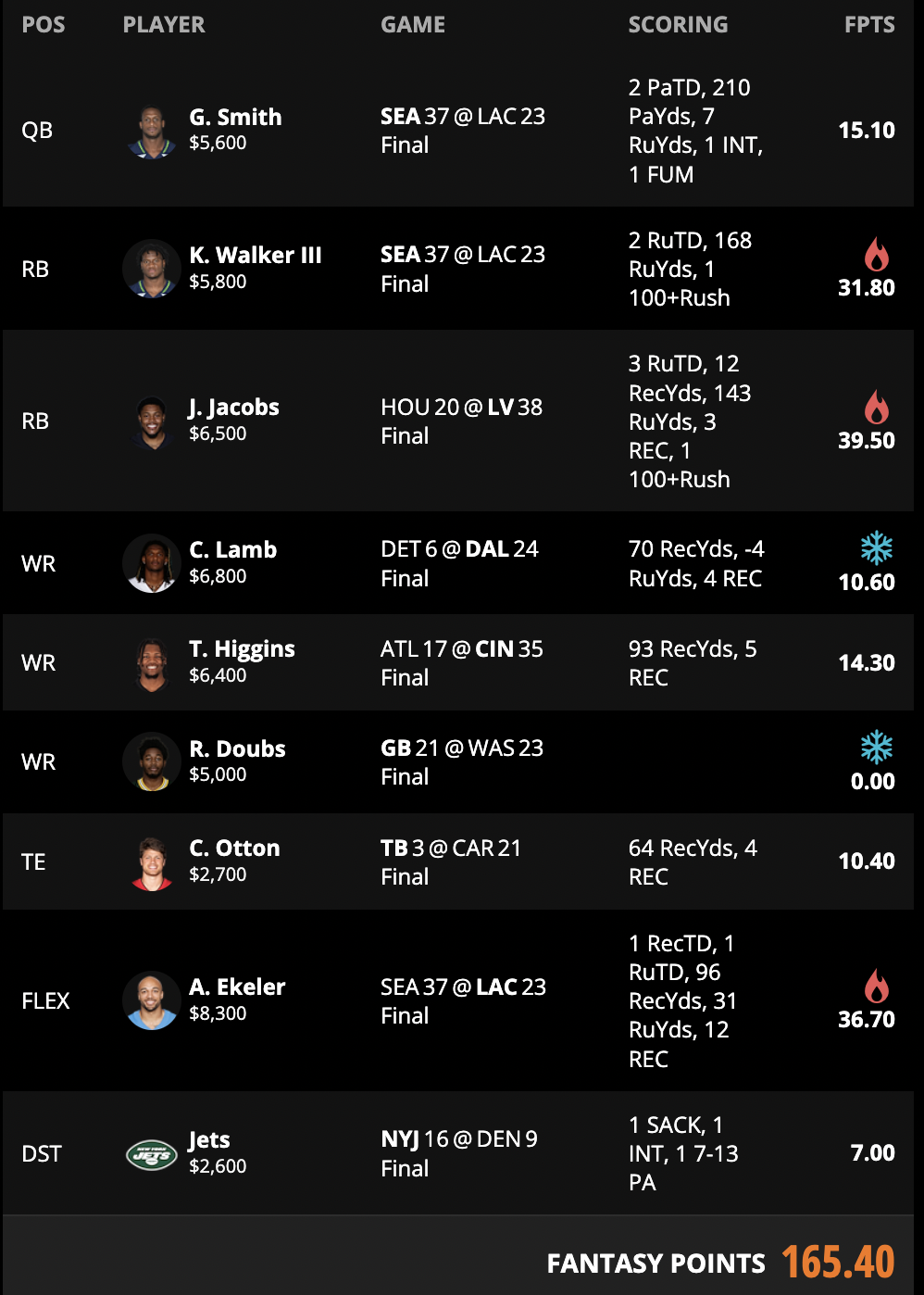 I thought the optimal roster structure for this slate was very obvious. We didn't have many of fantasy's best players on this slate: No Josh Allen or Jalen Hurts, no Stef Diggs or Justin Jefferson, and Christian McCaffrey wasn't in play. That left us with clear pay-down spot at TE and balance everywhere else.
The real key to the slate, in my opinion, was honing in on some very close calls at similar salaries. Cade Otton vs. Foster Moreau. DK Metcalf vs. Chris Godwin vs. Tee Higgins. Romeo Doubs vs. DJ Moore vs. Hunter Renfrow.
MY MUST PLAYS
* It was a perfect storm for Josh Jacobs. He's played so well that Zamir White and Ameer Abdullah were mostly iced from the rotation. He had a home matchup against a Texans defense ranked 25th in our DvP metrics vs. RBs. And Jacobs was just $6500 despite the 3-down plus goal-line role.  
* The Lions came into this game ranked dead last in yards per play allowed. Meanwhile, Dak Prescott (thumb) was back and CeeDee Lamb projected for at least a 25% target share at just $6800. I did worry that Dallas' defense would dominate Detroit so badly that there wouldn't be enough Dak attempts, which is why I didn't want to play Michael Gallup and Lamb together in cash. 
* There were a lot of strong running back options on this slate. Josh Jacobs (see above), Kenneth Walker (see below), Joe Mixon, and Leonard Fournette were the top cut for me in DraftKings cash.

But with Josh Palmer out and Keenan Allen (hamstring) shaky, I prioritized getting up to Austin Ekeler in full-PPR at $8300. This was an ideal matchup at home against a woeful Seahawks defense in the slate's best game environment. With the OL and WR injuries, I did not expect Ekeler's absurd pass-game to slow down. And the touchdown expectation was very high in this matchup. I had to have him at this price with this pass-game role in this matchup.
* The Jets D/ST has Brandon Thorn's No. 5 overall pass rush and were facing Brett Rypien's broken Broncos offense in windy conditions. There were no other defenses below $3000 I considered. 
MY WANT PLAYS
* Geno Smith certainly wasn't a must. But this was an old-school QB slate because we didn't have the dual threats that separate so predictably and massively. No Josh Allen, Jalen Hurts, or Kyler Murray – and Patrick Mahomes had a very difficult matchup at San Francisco. Lamar Jackson projected poorly.
So this was a spot we could get away with going cheap at QB, and I thought the best option was clearly Geno. He had the slate's best game environment and had clean matchups for DK Metcalf + Tyler Lockett. It's difficult to understate just how good Geno has been all year, and the Seahawks actually came into the week with a positive pass rate over expectation (11th-most pass-centric in the league).
* Mark Andrews and Travis Kelce were fine plays at tight end. But I'm rarely passing on full-time, reasonably talented tight ends with good QB play in the $2500-$2900 range in cash. This week, we had three of them. Foster Moreau with Darren Waller out, Cade Otton with Cam Brate out, and Greg Dulcich with a strong pass-game role. 
I quickly decided Dulcich was the worst of the trio. He had the shakiest quarterback play, there was some wind in Denver, and the touchdown expectation for his team was weakest.
As for Otton vs. Moreau, I really thought it was a stone coin flip. In the end, I went Otton because Moreau had been on the injury report this week and it's a new Raiders staff – we weren't 100% certain how they would handle Waller's absence. Meanwhile, the last time Brate was out Otton ran a route on almost every one of Tom Brady's dropbacks and earned seven targets. Note Otton came into this game with 109 routes run and 16 targets – a very good targets per route run rate for a rookie tight end. 
* Another extremely close call was DK Metcalf vs. Tee Higgins vs. Chris Godwin. I really struggled with this one. In the end, I decided I didn't want to take on the systemic risk of three Seahawks in cash. As for Tee vs. Godwin, I really liked both a lot. Once I decided to go Otton at tight end for Bucs exposure, I wanted to get some exposure to this excellent spot for the Bengals pass game. So I went with Higgins, leaving $300 on the table in this lineup in the process. 
* I of course liked Joe Mixon and Leonard Fournette. But I needed the savings that Kenneth Walker at $5800 provided. And I was more than fine with that. Walker has the look of an elite rusher, showed some pass-game chops last week, and the Chargers have the NFL's worst rush defense in our DvP metrics.
* I really didn't like any wideouts for cash below $6300 on this slate. But it was clear we were going to have to play one to make the running backs work. So I would have been fine punting with DeAndre Carter ($3700) if Keenan Allen was ruled out. However, there were positive signs on Keenan's status Sunday morning and I didn't think Carter was playable if Keenan was active. They both play the slot. 
So that left me in a really uncomfortable spot. I didn't consider any of Micahel Gallup, Romeo Doubs, DJ Moore, or Hunter Renfrow solid cash plays. But as the final piece of a lineup, I was OK with it. 
In my heart, I think I knew DJ Moore was the right play. Clearly the best talent, a lock for 20%-35% of the targets, and a spot were we expected the Panthers to be throwing a ton. But I just couldn't pull the trigger due to the pain of DJM's season to date. It was weak.
I didn't want Gallup and Lamb together, and Renfrow's injury plus weak role this season wasn't something I was excited about. So I went with Doubs, who projected for an every-down role and to benefit from Randall Cobb's absence in a strong matchup. It was clear I wasn't going to feel good about whoever I played in this spot, but didn't see any other moves to make. 
Week 7 Results
I was really happy with a couple key decisions I made this week. First, understanding slate context and therefore resisting the temptation to pay up for Lamar Jackson at QB. Second, locking onto Austin Ekeler and not budging despite other strong RB plays. 
Obviously Romeo Doubs over DJ Moore looks really bad in hindsight and maybe it was. And Cade Otton got there in garbage time, which was fortunate.
Of course, everything is going to look great when your three RBs combine for 108 points. Landing on that Ekeler/Walker/Jacobs trio was the key to a very solid win.

Year-To-Date Results
Week 1: 172.02 points, won 80.7% of head-to-heads
Week 2: 127.28 points, won 65.8% of head-to-heads
Week 3: 139.86 points, won 96.9% of head-to-heads
Week 4: 171.52 points, won 89.5% of head-to-heads
Week 5: 184.36 points, won 62.1% of head-to-heads
Week 6: 135.86 points, won 51.6% of head-to-heads
Week 7: 165.40 points, won 77.8% of head-to-heads