I play roughly 60% of my action each week in "cash games." Cash games refer to any contest in which roughly 50% of the field gets paid out, such as head-to-head, double up or 50/50. I try to get as much head-to-head action as I can every week and then supplement that with other cash games.
Each week, I'll review my cash-game lineup in this space. Sometimes I'll lose, but hopefully I'll win more often. Either way, I'll post it here and give you my thought process.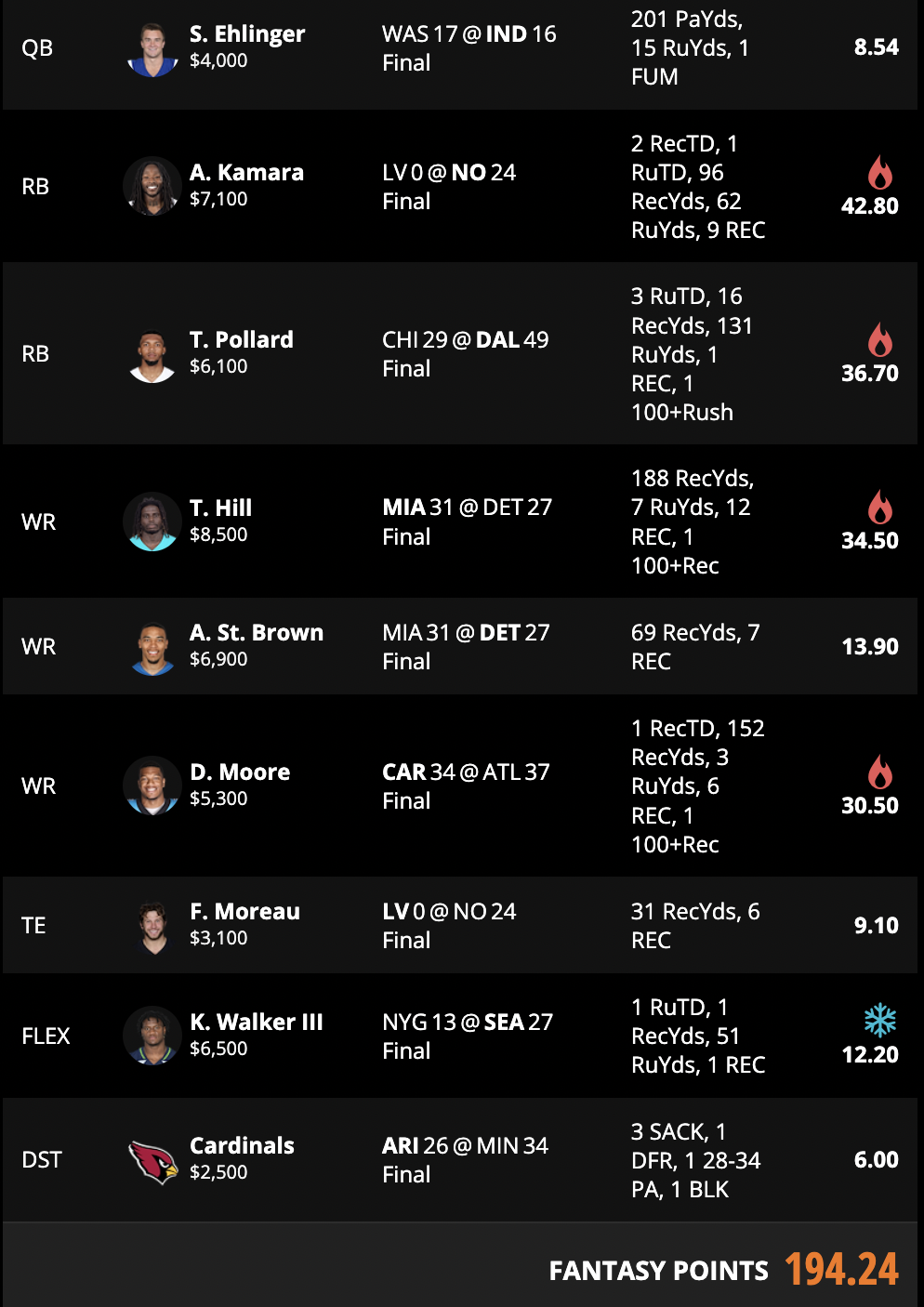 This slate did not have Josh Allen, Patrick Mahomes, Lamar Jackson, Joe Burrow, or Justin Herbert. It also did not have any RBs under $6100 or WRs under $5300 I felt comfortable playing. This created a very narrow construction where it was clear punting at both QB and TE was optimal. 
MY MUST PLAYS
* Ezekiel Elliott has been cock-blocking Tony Pollard for years. With Zeke (knee) out, Pollard's backups would be special teamer Malik Davis and borderline NFL player Qadree Ollison.

The Cowboys had Brandon Thorn's No. 1 OL>DL mismatch against the hapless Bears as a 10-point home favorite. Meanwhile, Pollard was just $6100. If you didn't play Pollard in cash, you need to reevaluate your process immediately. 
* Regular readers know I'm typically trying to spend as little as possible at tight end in cash. I was ready to punt it off with Noah Fant at $2800. But once Darren Waller (hamstring) was ruled out, I was going to find the $300 to get to Foster Moreau.

We saw Moreau have a very strong role last week when Waller was out, the Saints are a pass-funneling defense, and the game environment had shootout potential. Note that I did prefer Irv Smith to Moreau, but there was no way I could find the $400 to get there.
* Tyreek Hill somehow has an even better role as a Dolphin than he did as a Chief. That's saying a lot. And this was one of the best possible spots he could find. The Lions have a very solid offense (when Amon-Ra and Swift are healthy) and the NFL's worst defense. It was also in a dome. 
We actually had Tyreek with the highest raw projection on the slate, ahead of Davante Adams, Justin Jefferson, and Cooper Kupp. But Tyreek was by far the cheapest of the elite WRs at just $8500.
* Amon-Ra St. Brown was not a "must" by the projections. But he was a must for me. I expected St. Brown's ankle to be 100%, given that he had barely played since Week 4. The Dolphins secondary was extremely banged up, and this was the slate's best game environment. On the Friday night betting show, I asked oddsmaker Matt Davidow if he agreed with the market total of 51.5 points in this game – he said he made it 52.5.
So getting a guy who we can safely project for 25% of the targets as floor in this setup for just $6900 was a lock for me.
* I never gave up on DJ Moore's talent. But if we're being honest, I had just about given up on this Panthers pass game for the year. Hell, I played Romeo Doubs over DJM just last week. But after we saw some life from Moore and PJ Walker last week, I wasn't going to make that mistake again. Especially in this dome spot against a Falcons defense playing without top CB AJ Terrell and other key secondary pieces. With no RBs under $6100 or WRs under $4700 viable, getting Moore for just $5300 was key. 
* Sam Ehlinger wasn't a "must" in a vacuum. But given the QBs on this slate and their prices, along with the lack of cheap options at RB/WR, Ehlinger for $4000 was a must. 
The lineups with Jalen Hurts simply didn't work, as he cost a whopping $4300 more. And the QBs in the $5000s did not separate from Ehlinger enough. So I was fine playing some 2014/15-style DFS and punting at QB with one who did have some rushing equity. Ehlinger unlocked the RBs and WRs I wanted to play.
MY WANT PLAYS
* I slightly preferred Josh Jacobs to Alvin Kamara. One of the last 3v3s I looked at right before lock was Jacobs, Dameon Pierce, Lions D vs. Kamara, Ken Walker, Cardinals D. But in the end, I didn't think Jacobs was so much better than Kamara to take what I thought was a downgrade from Walker. 
With Andy Dalton, Kamara is again a threat for double-digit targets in any game – especially with Michael Thomas and Jarvis Landry out. And his lack of touchdowns this year was clearly fluky – we had him projected for 0.75 TDs in this game. 
* The very last 2v2 I looked at was Ken Walker, Cardinals D vs. Dameon Pierce, Texans D. Bottom line was I preferred Walker to Pierce, and wasn't going to let defense make my decision. D/ST is just way too volatile and unpredictable to sweat it. 
So I was happy to get Walker, who certainly had a bit more fragility in pass-game role with Travis Homer active, but still had a run-committed gameplan and explosive ability on his side. 
As for the Cardinals defense – I like playing D/ST in shootouts as it generates more dropbacks aka more chances for sacks, strip sacks, scoop-n-scores, and pick-6s. And the Cardinals have an aggressive defense, even if they aren't very good. Obviously I would have preferred Commanders (against Sam Ehlinger) or Texans (against Malik Willis) – they were great plays at just $2600. But I simply didn't have the $100 leftover for it.
Week 8 Results
The key to the slate was Alvin Kamara vs. Josh Jacobs. It was very difficult to play both in an optimal way. If these two RBs were the same price, I would have played Jacobs and not had nearly as successful of a day. Note that in the big $25 single entry double up, Kamara was 26.3% owned and Jacobs was 23.3% owned. So that was certainly some run good.
DJ Moore already had a very good game at his price, but the hail mary was the cherry on top – and Moore was only 60.5% owned in the aforementioned double up. And although I considered Tyreek Hill a "must" as well, he was only 60.1% owned.

If I knew that Dameon Pierce was going to play in garbage-time trailing situations, I would have gone Pierce/Texans over Walker/Cardinals. But I thought for sure those would be Rex Burkhead snaps. So even in hindsight, I don't think I would have changed anything with this lineup. 
Year-To-Date Results
Week 1: 172.02 points, won 80.7% of head-to-heads
Week 2: 127.28 points, won 65.8% of head-to-heads
Week 3: 139.86 points, won 96.9% of head-to-heads
Week 4: 171.52 points, won 89.5% of head-to-heads
Week 5: 184.36 points, won 62.1% of head-to-heads
Week 6: 135.86 points, won 51.6% of head-to-heads
Week 7: 165.40 points, won 77.8% of head-to-heads
Week 8: 194.24 points, won 87.1% of head-to-heads