Editor's Note: Don't have our Draft Kit yet? It is just $35 and includes Silva's Top 150, Silva's Team Previews, Silva's Tiers, Rankings for every format and tons more. Click here for details.
Editor's Note 2: Underdog Fantasy is offering ALL ETR subscribers an unbeatable deal! Anyone who purchases the ETR Draft Kit will receive a $10 site credit. First-time Underdog customers will receive an additional $25, making our Draft Kit nearly free if you haven't tried Underdog yet!  After purchasing our Draft Kit, follow the instructions here to claim your reward.
Each week in this space, we'll look at how ADP has changed over the past week in the industry. We're looking at ADP over the last seven days compared to ADP 8-14 days ago. For NFFC, we're comparing their ADP the last two weeks to their ADP the two weeks prior to that because the sample sizes for NFFC drafts are currently very small.
*Visuals provided by Sam Hoppen.
FFPC FBG ADP Change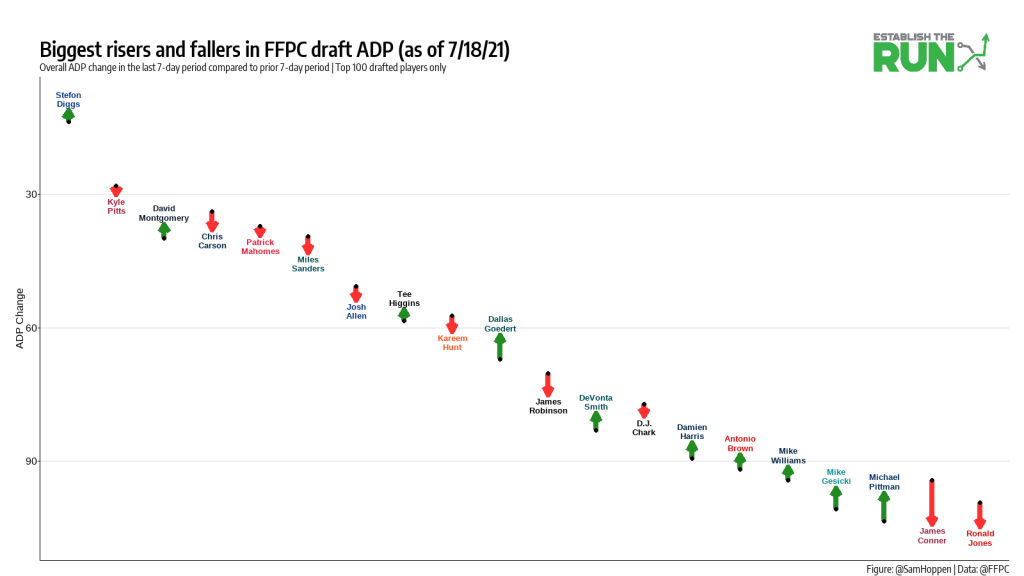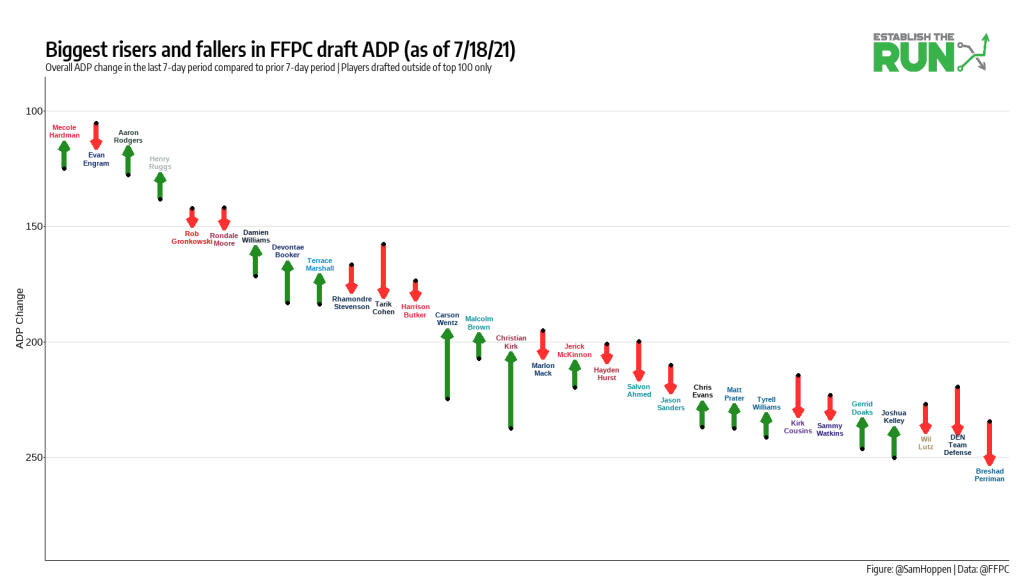 NFFC OC ADP Change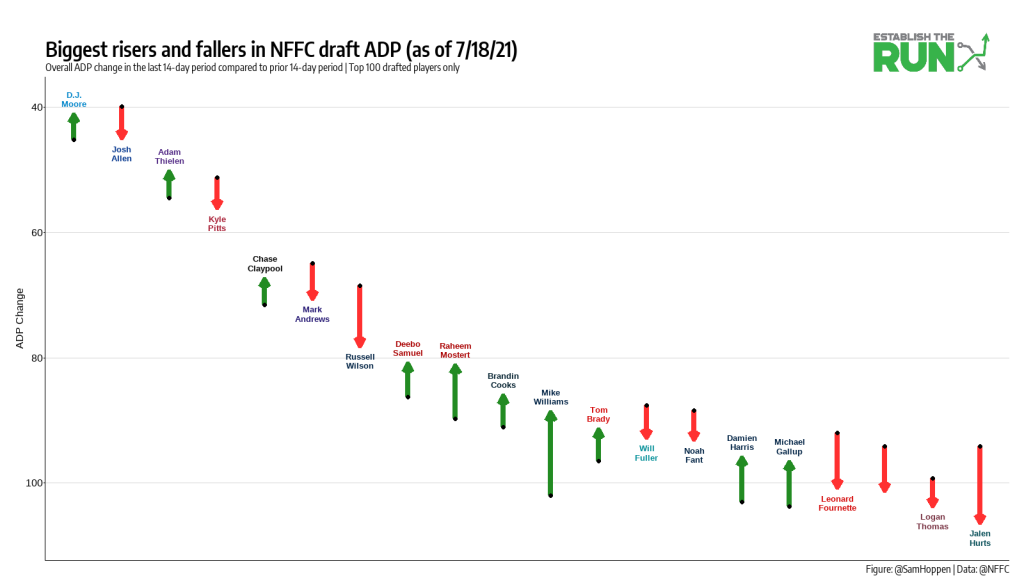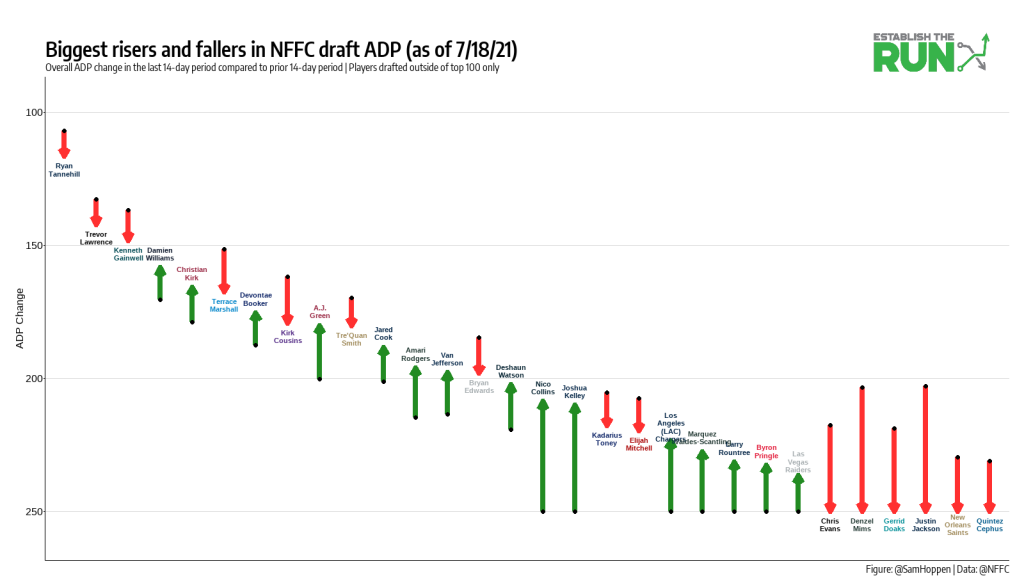 Underdog ADP Change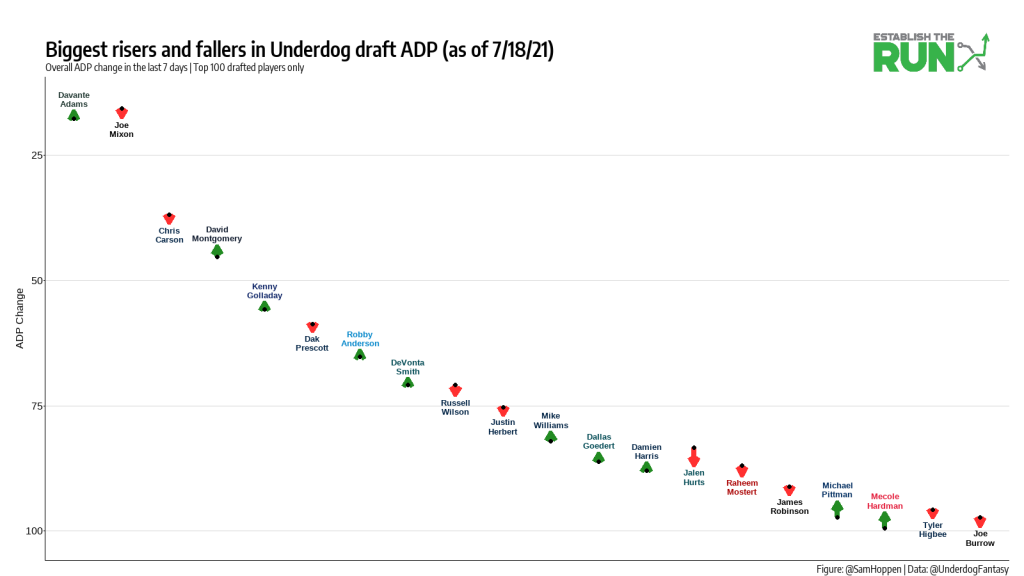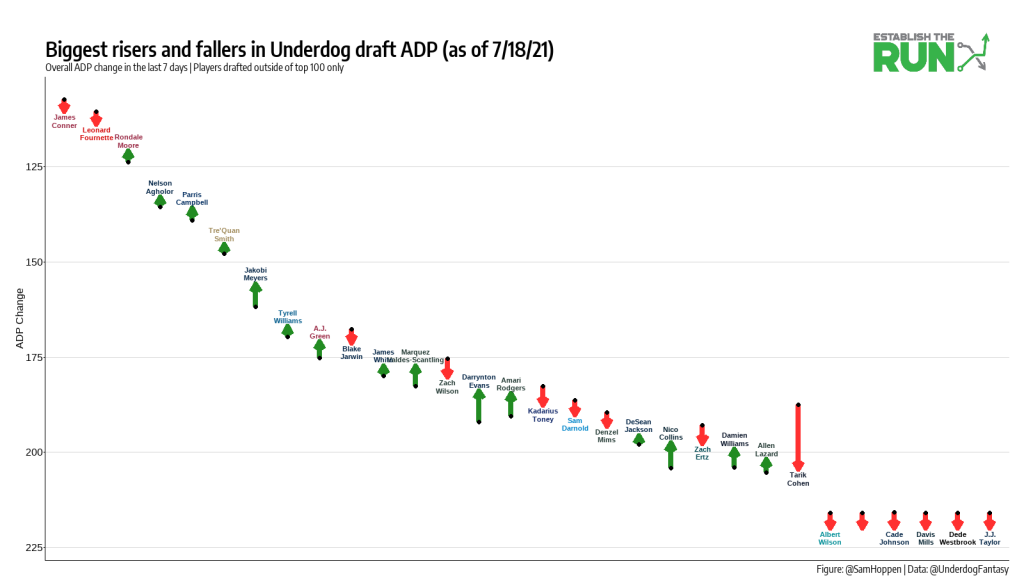 This week's risers
1. David Montgomery (up to 43.2 from 45.3 on UD, up to 36.7 from 39.9 on FFPC) is one of the bigger RB risers around the industry. This is probably correlated with news that Tarik Cohen may not be ready for Week 1. We're worried about Montgomery. Even if Cohen takes a while to get up to full speed, Montgomery has a tough time hitting his ceiling without owning that receiving role. Also, Damien Williams may be a bigger factor here than people are assuming, regardless of Cohen's status. Williams is a late-round Zero RB candidate for us. Cohen meanwhile has fallen a ton, particularly on Underdog (204.5 from 187.5).
2. Michael Pittman (up to 94.3 from 97.3 on UD, up to 97.2 from 103.5 on FFPC) is gaining a lot of steam among WRs within the Top 100 in ADP. We like Pittman's chances of breaking out and leading this WR group in fantasy points, but question marks around Carson Wentz's ability and a lack of volume for WRs in this offense (they rotate WRs and have a below-average pass rate) make the recent rise in ADP unwarranted according to our rankings.
3. Mike Williams has seen a huge rise in ADP on NFFC, up to 88.8 from 102.1. We've covered Williams in previous weeks here and view him as overvalued on NFFC.
4. For the second straight week Darrynton Evans (up to 183.8 from 192) is the highest riser on Underdog outside of the Top 100. He's a fun late-round RB dart throw and still positioned okay relative to other RBs (though we prefer Kenny Gainwell for example), but he's not someone to lose sleep over if you have other priorities in Round 16 and can't get him in 17 and 18 any longer.
5. There's been some murmurings that Justin Jackson could get cut, which has resulted in a rise in ADP for Josh Kelley (up to 210 from undrafted on NFFC, up to 237.4 from 250.3 on UD). It's likely that someone in this Chargers backfield is valuable as a stash outside of Ekeler. It's difficult to parse between Kelley, Jackson, and rookie Larry Rountree. All three are viable darts deep in managed leagues but shakier in best ball given the uncertainty of the depth chart there right now.
This week's fallers
1. James Conner cracks our top fallers list across the industry. He was already outside the Top 100 in ADP on Underdog (down to 110.6 from 107.3) and now is on NFFC (101.2 from 92) and FFPC (104.2 from 94.4). Some great research from J.J. Zachariason on RB breakouts has me forcing myself to get some Chase Edmonds exposure here, but I'll also continue to buy Conner at a reduced price tag. We currently project him to lead the Cardinals in carries and to have a big leg up on Edmonds by the goal line.
2. Ronald Jones (down to 104.8 from 99.4) has also fallen outside the Top 100 on FFPC. Ben Gretch and I just talked about why Ronald Jones was undervalued in our offseason projections series on Establish the Edge. He's an excellent Zero-RB candidate and straight up value in all formats, especially with the 9th/10th-round price tag.
3. We're starting to see some QBs fall inside the Top 100 across the industry. I've written about Late-Round QB being back, but still view second-tier elites as valuable, especially in best ball and managed leagues with overall prizes (I'm more likely to try to hit the nuts across my lineup, even if it costs me the insane WR depth I try to acquire in most managed leagues). It makes sense to target a falling Josh Allen, Russell Wilson, or Jalen Hurts, though I'm starting to sour a bit on Justin Herbert in that tier given his reliance on passing efficiency (doesn't have the big rushing upside or passing volume or Wilson's elite efficiency history).
4. Kadarius Toney is among the top fallers on Underdog (187.7 from 182.7) and NFFC (217.8 from 205.2). Toney was a bad selection by the Giants given his prospect profile, but it's rare we see a WR with this type of draft capital go for free in drafts. I'll probably start to get some exposure to Toney on Underdog where I have teams that get up to 9-10 WRs, simply betting on rookie draft capital and trying not to be overconfident in my ability to predict who will or won't be good.
What I'm watching now
We've seen various GB Packers rising across the industry, between Davante Adams (up to 16.3 from 17.7) and Allen Lazard (up to 201.8 from 205.3) on Underdog, Amari Rodgers (up to 195.9 from 214.8) and MVS (up to 227.4 from undrafted) on NFFC, and Aaron Rodgers (up to 116 from 127.7) on FFPC. On DraftKings, Rodgers' odds shifted heavily towards him staying in Green Bay (-400). If Rodgers lines up as the team's starting QB anytime in the first month, the WRs here all seem undervalued. Davante Adams is going in the middle of Round 2 and would be the consensus WR1 overall while Amari, MVS, and Lazard are virtually free across the industry. I'm personally going to rack up as much Round 2 Davante Adams as I can over the next week or so, trying to be a little bit ahead of a likely big shift in ADP if the favored outcome (Rodgers stays in GB) becomes more official.