Week 10 Record: 12-14, -$393
YTD: 137-121, +$86
The goal with our betting product is winning and full transparency. Every week, we'll recap a selection of our official prop bets, telling you what we got right, what we got wrong, and how we got there. Here's a look back at Week 10.
Dak Prescott Over 31.5 Pass Attempts +100 (35, W) 
Mean proj: 33.7
It's never comfortable betting the attempts over on a QB whose team is favored by 17.5 points. The early hook for Dak was always likely, but he was busy before it came, launching 35 attempts through three quarters before being sat.
The Cowboys' +9.5% Pass Rate Over Expected (PROE) against the Giants marked the third straight pass-heavy game plan for the Cowboys coming out of the bye, and that trend was a big reason we liked this bet despite the blowout potential.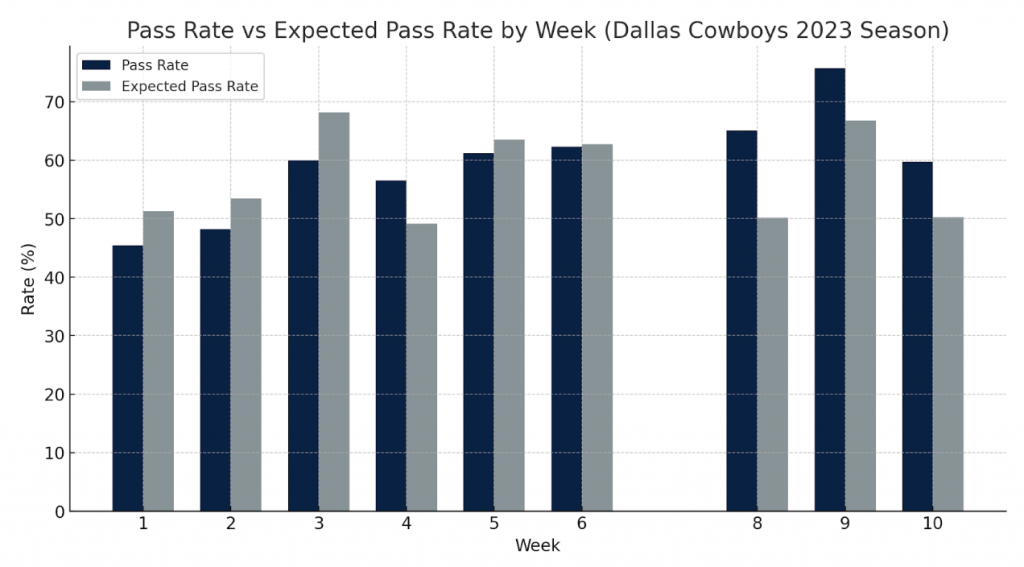 Breece Hall Over 15.5 Rushing Attempts -115 (13, L) 
Mean proj: 18.4 
Hall got his 13th carry with 11 minutes left in the third quarter and his team leading by three points. The Jets then called 25 consecutive pass plays with the league's least-efficient QB and lost the game.
Remember that this was against a Raiders run-funnel defense against which opponents had a -3.1% PROE, while allowing the fourth-most RB rushing attempts — a big reason we liked the play in the first place.
It was truly some baffling play-calling from the Jets, but this was ultimately a bet on Hall dominating backfield carries, and we got that part right at least — we projected Hall for 72.5% of the team carries and he wound up with 76.5%.
Their pass rate was the real problem — we projected 58% and they ended up passing 73% of the time.
Will Levis Over 29.5 Passing Attempts -108 (39, W)
ETR NFL Player Props
Our team includes renowned fantasy analysts Evan Silva and Adam Levitan, high-stakes professional DFS players, and specialists who cover niche areas that we believe are important to understand.
This team has an unmatched ability to project NFL player performance, allowing us to offer a high-quality player props recommendations to serious bettors.
Our NFL Player Props subscription unlocks this content, read on for more information.
Full Details »
Already a subscriber?
Log In