Editor's Note: For Evan Silva's breakdown on every player in this game, click here. The audio for Silva's column is embedded below.
News Update 9:44pm ET: The Raiders have listed Tyrell Williams and Ryan Grant as their starting WRs.
If you're playing the 2-game slate, please read Silva's Matchups. That is the best analysis on each player on all four teams. Below is our normal showdown content for DEN/OAK:
One-game GPPs aka Showdown slates are as much about lineup construction as picking the right players. The best way to wrap our heads around it is to work backwards. In other words, if Aaron Rodgers is our captain, we'll likely need at least three TDs from him to win a tournament. Is it likely just one of his pass-catchers scores all three? No. We will need to roster two of Rodgers' pass-catchers and hope they combine for the three touchdowns.
Similarly, we need to think about how touchdowns will be scored by running backs. If early-down RB Sony Michel is our captain, we'll need him to score at least two touchdowns and they'll almost certainly come on the ground. In that scenario, it's unlikely Tom Brady would throw for three. It's also unlikely James White would have access to a ceiling game.
We should also note that D/ST, K and TE typically don't have the ceilings to be worthy of the captain spot. As you can see by the below chart.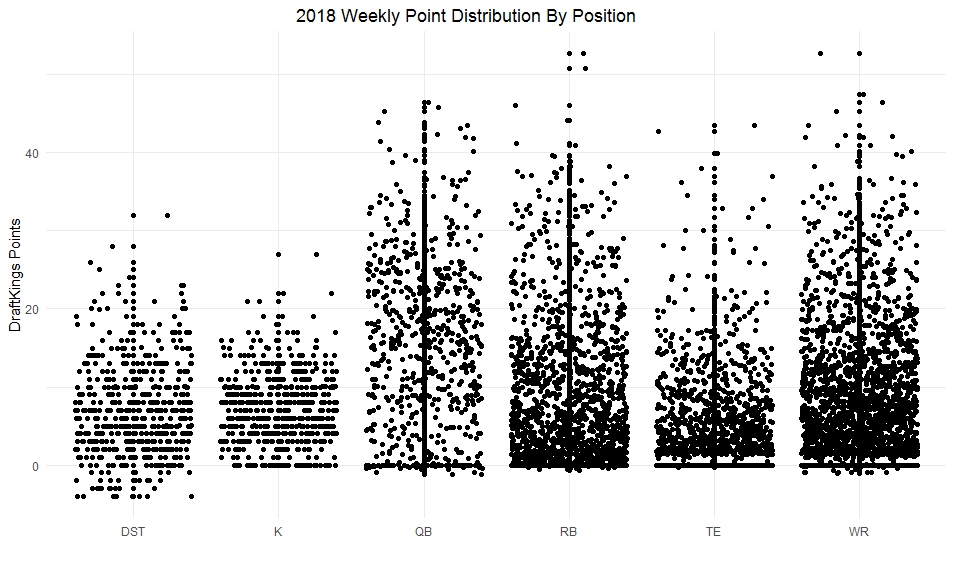 Of course, the above is a generalization. In any single NFL game, flukey things can and will happen. Every year there are low-scoring, boring games. When a game finishes 10-3, you can throw out correlations and working backwards, you simply need the players who scored the most fantasy points. Whether and how much to consider these outcomes in your approach is up to you and largely depends on 1) What you think will happen in the game and 2) What you think your opponents will do.
As we turn our attention to Monday night's Broncos at Raiders game, it's important to understand historical league and team outcomes.
Please note: The data in the below charts is from 2018. Some players are now on new teams, and teams often have new philosophies heading into new seasons, etc. Still, this is a good starting point to think about different outcomes for the league and each team.
The data below represents the percentage of times each position is responsible for producing the highest DraftKings score in every NFL game from 2018. While the highest scoring player is not mandatory to have in your captain spot on DraftKings to win a GPP, it often happens that way, so it's worth noting these numbers.
HIGHEST SCORING PLAYER IN A GAME BY POSITION
RB

34%

QB

27%

WR

27%

TE

6%

D/ST

5%

K

1%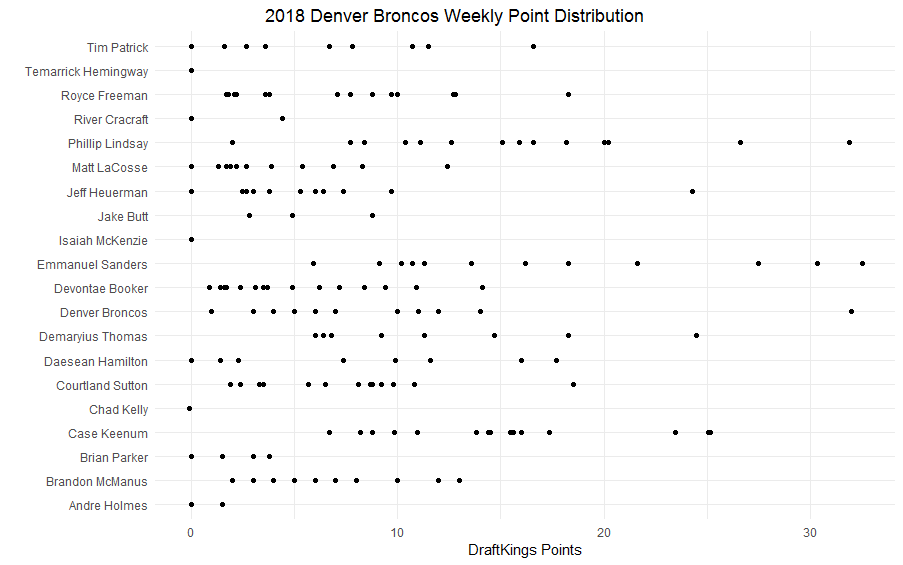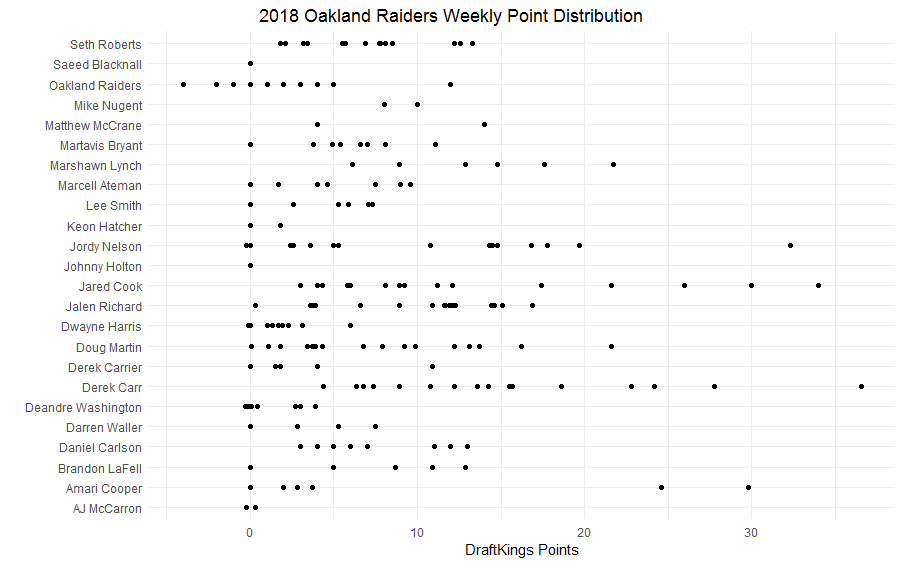 DEN/OAK OVERVIEW:
A reminder to read Silva's Matchups for this game as the Broncos are dealing with changes at quarterback, head coach and offensive coordinator and the Raiders are dealing with a dumpster fire. For the Broncos Phillip Lindsay, Emmanuel Sanders, Case Keenum – who has now been 'upgraded' to Joe Flacco – and the Broncos WR2 all flashed enough upside to be worthy of captain consideration. While we should consider Sanders the WR1 in Denver, it's Daesean Hamilton and Courtland Sutton who Silva projects to lead the team in targets and air yards respectively in week one. This isn't an easy WR corps to project without watching a few games, which could work to the advantage of contrarian minded thinkers in GPP's. Lindsay projects to split time with Royce Freeman as noted in the Matchups column. In the preseason Lindsay handled 50% of the first team reps while Freeman handled nearly 40% and Devontae Booker mopped up the rest. Note there is a $4,600 price difference between Lindsay and Freeman on DraftKings. 
For the Raiders, who just lost their prized offseason acquisition in Antonio Brown, there isn't much left to be excited about. While it's entirely possible a Broncos onslaught including the DST is the best route there are a few bright spots in this otherwise bleak offense. Derek Carr, departed tight end Jared Cook and current Cowboy Amari Cooper were able to occasionally flash an upside in 2018. With Darren Waller set to assume Jared Cook's role along with his 19% target share he sets up as a player who could benefit from a games script that has the Raiders playing from behind. With Brown out of the picture Tyrell Williams takes over as the WR1 in Oakland, Hunter Renfrow is expected to man the slot receiver position and J.J. Nelson will round out the group as the primary WR3. Due to Carr's propensity to target the running back and tight end position, it's reasonable to think there may be less equity at the WR for our captain position than is typical. Josh Jacobs will take over the Marshawn Lynch role in Jon Gruden's offense but will continue to concede some pass down work to Jalen Richard. 
With all of the above in mind, here are some examples of stacks we think make sense for GPPs. They are in no particular order.
*Captain Emmanuel Sanders, Joe Flacco, Tyrell Williams or Hunter Renfrow – Sanders looked great in his limited preseason action coming off an achilles injury, in this situation he is able to resume his role as the Broncos WR1 in 2019 and be Flacco's primary target. As the Raiders play catchup, Williams or Renfrow could fall into enough volume to be a necessary part of a Sanders, Flacco stack.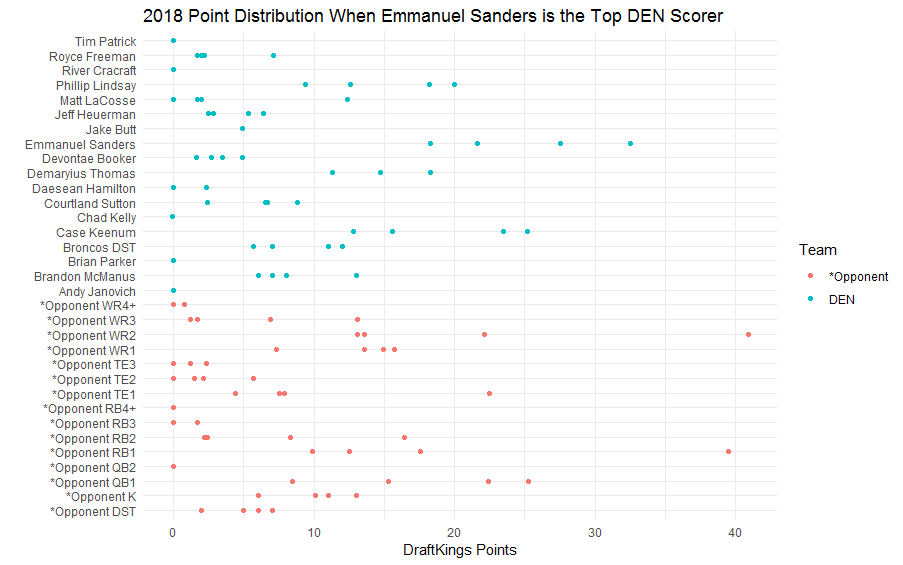 *Captain Josh Jacobs, Joe Flacco, Courtland Sutton – A contrarian gameflow where the Raiders get out to an early lead and lean on their 1st round rookie RB while the Broncos chase from behind. 
*Captain Derek Carr, Darren Waller, Phillip Lindsay, Emmanuel Sanders – Assuming a positive game script where Carr silences the critics and throws multiple TDs one of which goes to Waller. Run it back with the primary weapons from Denver who should stay involved in a close game. 
*Captain Joe Flacco, Courtland Sutton, DaeSean Hamilton – Chalk game script projects the Broncos running backs to control the game and Flacco to act as a game manager. Flacco is capable of throwing multiple touchdowns to different targets making him the best captain option. Running it back with a cheaper member of the Raiders receiving group makes sense. 
*Broncos onslaught – Albeit a small sample size, winning lineups from the first two showdown slates of 2019 have contained four and five members of one team respectively. A game script is possible where the Broncos get out to an early lead with Flacco throwing a touchdown to one of Sutton, Sanders or Hamilton and then opting to grind out the clock by feeding Lindsay. In this scenario the Broncos pass rushers would impose their will on the weak Raiders OL rendering virtually everyone from the Raiders offense useless. 
Notable Players:
Tyrell Williams – Already mentioned as an integral part of pass-heavy stacks, Williams deserves an extra plug due to his depressed price. Through the first two Showdown slates the average price for each teams' WR1 on DraftKings is $10,500. Williams' price at $7,400 does not reflect his projected role in this offense.
Darren Waller – As noted above Waller is set to take over the Jared Cook role as an every down tight end. Carr targeted tight ends on 24.6% of passes in 2018, ranking 6th most on the year. Waller ran a 4.46 40 yard dash and could find himself running away from the Broncos defense Monday.
Hunter Renfrow – All reports have indicated that Renfrow has locked up the Raiders slot role. He is a candidate to eat up high efficiency, low aDOT targets if the Raiders fall behind early. 
Royce Freeman – Expected to be in a timeshare with Lindsay, Silva mentioned in Matchups that ex-falcons OC sees Freeman as his Devonta Freeman and Lindsay as his Tevin Coleman. If we take him at his word and believe the preseason usage to be indicative of how they'll be deployed in week one Freeman is a screaming value against the porous Raiders run defense.
DaeSean Hamilton – If Hamilton is able to cement his role as the WR3 and the primary slot man he projects to see enough targets to pay off his $4,000 salary on DraftKings.
Jalen Richard – As the primary pass-down back, Richard would stand to benefit from the Raiders falling behind early and abandoning the run game. 
J.J. Nelson – Nelson (questionable) with an ankle injury projects to be the receiver who benefits most in terms of playing time, with Brown forcing his way onto the Patriots roster. Only $2,600 on DraftKings Nelson is a viable option to fit the higher priced players.
Tim Patrick – Patrick is a playing time risk but is setup as the Broncos WR4.
Jeff Heuerman  – Although the Broncos drafted Noah Fant in the 1st round, it has been pretty clear throughout the preseason that Heuerman is the Broncos' TE1.  Even if Fant is the better receiving option the $4,400 price difference isn't warranted. 
Ryan Grant – As mentioned above, Nelson is dealing with an ankle injury.  If he were to be inactive Grant would become the Raiders primary WR3 option at the stone minimum salary unlocking unlimited roster possibilities. 
PROJECTED OWNERSHIP
Again, roster construction and correlation are the most important factors for GPP success in the Showdown format. But understanding who will be popular helps. A rough guide to who we think will be the most owned:
Higher projected ownership, in order of descending salary:
* Derek Carr

* Joe Flacco
* Emmanuel Sanders

* Phillip Lindsay

* Josh Jacobs

* Broncos DST
Lower projected ownership, in order of descending salary:
* Royce Freeman

* J.J. Nelson (if he plays)

* Jeff Heuerman

* Ryan Grant (if Nelson is ruled out)