Editor's Note: For Evan Silva's breakdown on every player in this game, click here. That is the best analysis on the game you will find. This article's focus is to highlight specific strategies for this Showdown slate, not proved a breakdown of the game itself.
Editor's Note 2: To review our thoughts on general Showdown strategy, review the top portion of this article.
SHOWDOWN STRATEGY & 2019 TRENDS
The most important part to being successful in one-game Showdown contests is constructing a highly correlated lineup built around how we think the game will play out. As we head into Sunday's matchup that features the Eagles at Falcons, we have a 5-game sample that we can analyze for winning roster construction and look at any meaningful trends to apply moving forward.
The winning DraftKings Showdown lineups for the first five games are as follows: 
Packers at Bears: Captain Allen Robinson, Aaron Rodgers, Tarik Cohen, Marquez Valdez-Scantling, Jimmy Graham, Packers DST
Steelers at Patriots: Captain Tom Brady, JuJu Smith-Schuster, Julian Edelman, Phillip Dorsett, Stephen Gostkowski, Rex Burkhead
Texans at Saints: Captain Deandre Hopkins, Deshaun Watson, Michael Thomas, Ted Ginn Jr., Kenny Stills, Will Lutz
Broncos at Raiders: Captain Josh Jacobs, Emmanuel Sanders, Cortland Sutton, Tyrell Williams, Darren Waller, Brandon McManus
Buccaneers at Panthers: Captain Chris Godwin, Cam Newton, Curtis Samuel, D.J. Moore, Greg Olsen, Joey Slye
A kicker has been present in 4-of-5 winning lineups, which is a trend worth monitoring as we look at pricing on a slate-by-slate basis. We need to try and identify players who are close in salary to the kickers and determine if they project to see enough usage to outscore them. In the Bucs at Panthers matchup on TNF, Dare Ogunbowale ($2,400) was the only player priced below the two kickers that was in play, making it more likely we'd need the points at kicker to be competitive in GPPs.
Through the first four Showdown slates, Captain ownership was relatively flat, Thursday's game saw what might be the highest owned Captain of the year. Christian McCaffrey was 45% owned in the $1.11 Million Showdown contest on DraftKings. While it's tough to imagine many players commanding that type of ownership in future slates it brings up a good point about unique roster construction. ETR co-founder Taylor Caby was able to solo ship the Thursday contest with a lineup that didn't roster a single player who was less than 20% owned. Chris Godwin was 5% owned in the captain spot and fading an 89% owned McCaffrey allowed for a unique enough roster build to put the lineup all alone up top. If we believe a player will be over owned relative to his probability of being the top scorer, we can leverage that by rostering a lesser owned captain and create a different construction in the process.
TEAM-SPECIFIC ANALYSIS & NOTABLE PRICE CONSIDERATIONS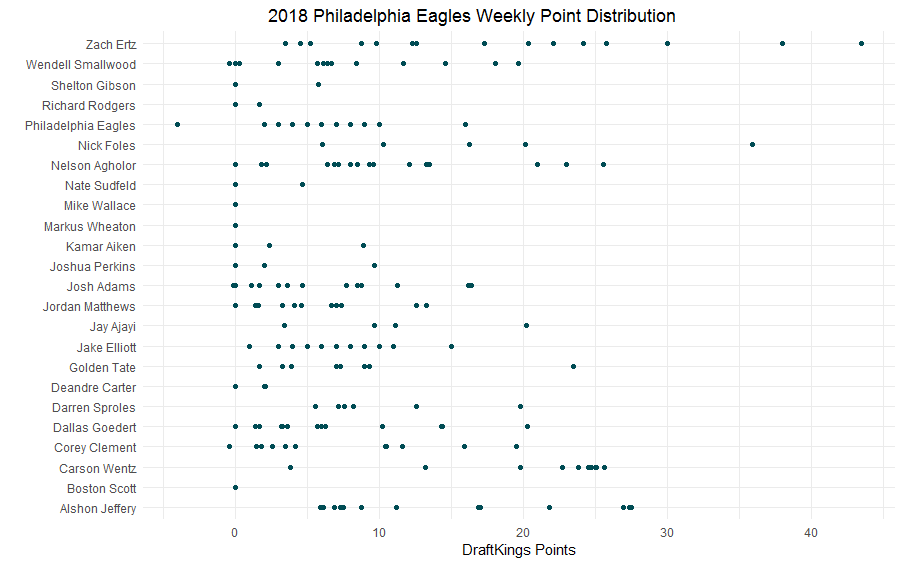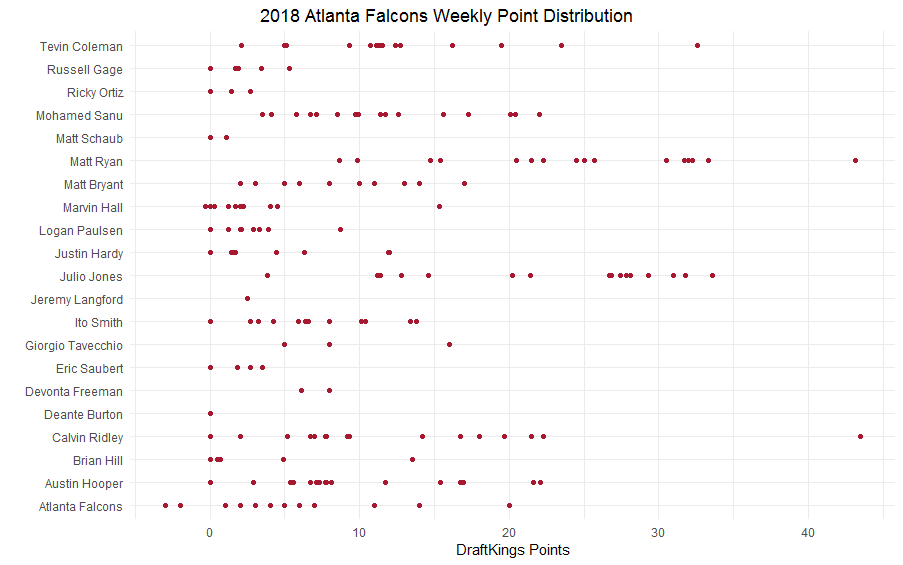 In 2018, of the Eagles top 20 overall fantasy performances, Carson Wentz accounted for eight, Zach Ertz six, Alshon Jeffery three, Nelson Agholor two and Golden Tate one. One position group is noticeably absent. Early in the season Eagles running backs once again don't appear to provide us with a projectable ceiling. The inability to confidently project the Eagles three-headed RBBC is reflected in their DraftKings pricing. Miles Sanders ($4,800) is the most expensive of the group but had the safest role in week one. Sanders played on 49% of snaps, carried 10 times, received 2-of-2 rushing attempts inside the five and also saw two targets. As Silva notes in matchups he was extremely unlucky in week one getting tackled inside the five on a big run and had a touchdown called back on a holding flag. Darren Sproles ($3,600) surprisingly saw more rushing attempts than Jordan Howard and was still the top back in targets as he has been seemingly his whole career. Priced $200-$400 more than the kickers on this slate he has a path to outscore both in a game script where his pass catching ability could once again be needed.
Desean Jackson joins an already deep pass-catching group but immediately becomes an option in this format that favors his massive 18.9 aDOT from 2018. Jackson ($9,000) is priced as the Eagles WR1 and was treated as such in week one with 140 air yards on nine targets. As noted in Silva's matchups he dominates indoors, scoring on 6.8% of his career targets. Jeffery ($8,800) actually saw more snaps and routes/drop back in week one and has sky-high TD upside. Occasionally on Showdown slates we get obvious pricing errors we can take advantage of, Agholor ($2,800) is laughably priced one week after seeing 80% of snaps and getting five targets. Ertz ($9,200) is priced as the highest overall Eagles pass-catcher, as Silva noted because of the weapons in Philly his consistency may suffer but Ertz still offers slate winning upside and will be a captain consideration. Dallas Goedert ($800) is grossly mispriced, actually $200 cheaper than J.J. Arcega-Whiteside who only saw 7% of snaps and only $600 off the stone minimum price. Goedert who played 55% of week one snaps and saw three targets doesn't need to do a lot to pay off his price tag. Carson Wentz ($11,000) benefits from having the deepest pass-catching group of his career and with his ability to spread the ball to a variety of receivers he could be a strong captain consideration.
The 2019 Falcons roster looks a lot like the 2018 Falcons roster. Much like the Eagles mentioned above, Matt Ryan and his pass-catchers dominated the top fantasy production for the Falcons last year. Of the Falcons top 20 performances, Julio Jones and Ryan accounted for nine, Calvin Ridley one and the departed Tevin Coleman one. Jones ($11,400) is priced like the elite WR1 he is. As noted in matchups, Jones has decimated Jim Schwartz's defenses in three meetings going for 9/101/0, 10/169/0 & 10/135/0. Philly defensive backs got torched by a much less talented group in week one. Jones sets up as a premier captain option. Ridley ($7,200) is another Falcons WR who flashed a ceiling last year and benefits from the same plus matchup as Jones. Sanu ($5,200) actually led the group in snaps (84%) and routes/drop back (88%) his lower aDOT makes him more of a high floor, low upside play but he is priced well below his fellow WR's. Austin Hooper ($4,600) who played on 78% of snaps and ran a route on 73% of dropbacks is underpriced for his role. Tight ends on previous slates with a similar role have been priced between $6,000-$6,8000.  Devonta Freeman ($7,000) and Ito Smith ($2,400) will be an important decision point on this slate. If we believe the week one usage to be indicative of the pecking order in the Falcons backfield then Smith is underpriced. If we believe week one usage was a result of game script and Freeman is a true RB1 then he is underpriced. We're more inclined to believe in a neutral game script this backfield is closer to 70/30 in favor of Freeman.
STACK IDEAS
*Captain Julio Jones, Matt Ryan, 3+ Eagles – As noted above Jones has torched Schwartz's defenses in previous matchups even without scoring a touchdown. If he puts up a similar catch/yardage line and is on the receiving end of a Ryan touchdown his upside is unmatched. This stack figures to be popular, so we'd be wise to bring it back with combinations that aren't likely to be heavily owned. Given the Eagles spread the ball around more than most teams, this is very possible on this slate.
*Captain Julio Jones, Matt Ryan, Nelson Agholor – Agholor found himself on Josh Hermsmeyer's week two buy-low model. If our Jones/Ryan stack is the top scoring group on the slate, Agholors cheap price allows us to fit Wentz or other high priced Eagles pass catchers.
*Desean Jackson, Carson Wentz, Calvin Ridley – It only takes a few connections from Wentz for Jackson to be the slate's top scorer and his rapport with Wentz is undeniable. Running it back with Ridley gives us access to a Falcons pass-catcher in a great matchup without paying all the way up for Jones.
*Zach Ertz, Carson Wentz, Multiple Falcons WR's – Ertz' modest week one performance may lower ownership somewhat, with Jackson and Jeffrey scoring touchdowns week 1. This stack makes sense if you believe the Eagles get out to a fast start via Ertz and the falcons are playing from behind.
*Devonta Freeman, Carson Wentz, Alshon Jeffery – Fading the narrative that this Falcons backfield is a true committee. As just a 1.5-point home underdog in week two the game script for Freeman sets up much better. The matchup is difficult but we don't have to sell Freeman after one poor performance. If Freeman does well the Eagles could be chasing once again. As we've seen in winning roster constructions above, it is possible to roster two pass-catchers from the same team without the QB and be successful. This same group works with two Eagles pass-catchers as well. 
*Carson Wentz, Zach Ertz, Alshon Jeffery – Projecting Wentz to spread the ball around to his talented receivers. If he throws for multiple touchdowns to different guys he could end as the slate's top scorer.
*Captain Miles Sanders, Julio Jones, Calvin Ridley – Members of #TeamPreseason understand that it was only a matter of time before Sanders took over as the Eagles lead back. Week one was encouraging, if Sanders builds on that performance and grabs an even bigger share of the backfield touches he could smash his price. 
Notable Players not already listed as Captain above:
If a player is listed above as a Captain option or as part of a stack they are worth rostering as a stand alone flex as well. Note that the need to roster kickers and DST's is tied directly to how many rosterable players we have in the same salary range. Below we have a number of players who have a path to outscoring both positions. 
Calvin Ridley: Ridley's respectable 13.5 aDOT on six targets in week one is encouraging usage for a player who has the talent to torch this inept secondary
Mohamed Sanu: Sanu is a safe, full-time player who will continue to see low aDOT, high efficiency targets. 
Austin Hooper: As mentioned above based on Hooper's price he is not being treated like a TE1. His week one usage says otherwise. 
Darren Sproles: If the Eagles find themselves trailing again, Sproles could benefit from an increased role in the pass game.
Nelson Agholor: For reference, on TNF, Breshad Perriman who played on 64% of week one snaps was priced at $4,600. As noted above, Agholor is a full-time player who is not priced as one. 
Ito Smith: At his price, Smith has standalone value even if Freeman takes a larger share of the Falcons backfield in week two. If the week one usage carries over into week two, Smith is one of the most underpriced plays on the slate. 
Dallas Goedert: The Eagles love to use 1-2 personnel and that means Goedert will be on the field plenty. As a 6' 5" target if he converts a red zone target he could destroy his price.
PROJECTED OWNERSHIP
Again, roster construction and correlation are the most important factors for GPP success in the Showdown format. But understanding who will be popular helps. A rough guide to who we think will be the most owned:
Higher projected ownership, in order of descending salary:
* Julio Jones
* Carson Wentz
* Matt Ryan
* Desean Jackson
Lower projected ownership, in order of descending salary:
* Devonta Freeman
* Mohamed Sanu
* Darren Sproles
* Nelson Agholor
* Dallas Goedert