NOTABLE INACTIVES (Will be updated after official inactives): Josh Gordon, Rex Burkhead, Ryan Izzo, Matt LaCosse have all been ruled out. 
 UPDATE 7:02 ET: Damien Harris is active for the 2nd time this season. The last time he was active he didn't record an offensive snap. If building 150 it's worth leaving Harris in your player pool and capping exposure. 
Editor's Note: For Evan Silva's breakdown on every player in this game, click here. That is the best analysis on the game you will find. This article's focus is to highlight specific strategies for this Showdown slate, not the game itself. 
Editor's Note 2: To review our thoughts on general Showdown strategy, review the top portion of this article.
SHOWDOWN STRATEGY & 2019 TRENDS 
The most important part to being successful in one-game Showdown contests is constructing a highly correlated lineup built around how we think the game will be played. As we head into Monday's matchup that features the Patriots at Jets, we have a 21-game sample that we can analyze for winning roster construction and look at any meaningful trends to apply moving forward. The winning lineups for the first 21 games are as follows: 
Packers at Bears: Captain Allen Robinson, Aaron Rodgers, Tarik Cohen, Marquez Valdez-Scantling, Jimmy Graham, Packers DST
Steelers at Patriots: Captain Tom Brady, JuJu Smith-Schuster, Julian Edelman, Phillip Dorsett, Stephen Gostkowski, Rex Burkhead
Texans at Saints: Captain Deandre Hopkins, Deshaun Watson, Michael Thomas, Ted Ginn Jr., Kenny Stills, Will Lutz
Broncos at Raiders: Captain Josh Jacobs, Emmanuel Sanders, Cortland Sutton, Tyrell Williams, Darren Waller, Brandon McManus
Buccaneers at Panthers: Captain Chris Godwin, Cam Newton, Curtis Samuel, D.J. Moore, Greg Olsen, Joey Slye
Eagles at Falcons: Captain Julio Jones, Carson Wentz, Matt Ryan, Calvin Ridley, Nelson Agholor, Mack Hollins
Browns at Jets: Captain Odell Beckham Jr., Nick Chubb, Le'Veon Bell, Browns DST, Austin Seibert, D'ernest Johnson
Titans at Jaguars: Captain Marcus Mariota, Leonard Fournette, Gardner Minshew, D.J. Chark Jr., Jaguars DST, Adam Humphries
Rams at Browns: Captain Cooper Kupp, Jared Goff, Brandin Cooks, Nick Chubb, Browns DST, Greg Zuerlein
Bears at Redskins: Captain Mitchell Trubisky, Case Keenum, Terry McLaurin, Bears DST, Paul Richardson Jr., Taylor Gabriel
Eagles at Packers: Captain Jordan Howard, Aaron Rodgers, Davante Adams, Carson Wentz, Jimmy Graham, Geronimo Allison
Cowboys at Saints: Captain Michael Thomas, Alvin Kamara, Ezekiel Elliot, Cowboys DST, Will Lutz, Saints DST
Bengals at Steelers: Captain James Conner, Mason Rudolph, Joe Mixon, Diontae Johnson, Steelers DST, Jaylen Samuels
Rams at Seahawks: Captain Cooper Kupp, Chris Carson, Gerald Everett, Jared Goff, Russell Wilson, Greg Zuerlein
Colts at Chiefs: Captain Patrick Mahomes, Travis Kelce, Jacoby Brissett, Marlon Mack, Colts DST, Byron Pringle
Browns at 49ers: Captain Matt Breida, Jarvis Landry, Jimmy Garoppolo, George Kittle, Tevin Coleman, 49ers DST
Giants at Patriots: Captain Patriots DST, Tom Brady, Julian Edelman, Golden Tate, James White, Brandon Bolden
Steelers at Chargers: Captain James Conner, Phillip Rivers, Hunter Henry, Mike Williams, Benny Snell Jr., Steelers DST
Lions at Packers: Captain Matt Prater, Aaron Rodgers, Matthew Stafford, Kenny Golladay, Kerryon Johnson, Jamaal Williams
Chiefs at Broncos: Captain Chief DST, Tyreek Hill, Travis Kelce, Emmanuel Sanders, Courtland Sutton, Royce Freeman
Eagles at Cowboys: Captain Ezekiel Elliot, Dak Prescott, Amari Cooper, Cowboys DST, Dallas Goedert, Brett Maher
When we review winning lineups we can think backwards and determine what game script ideas and correlations went into constructing each roster. In the week six SNF matchup we knew James Conner would be in line for bell cow type usage with Jaylen Samuels injured. With the Chargers as 6-point home favorites we knew it would be contrarian to assume the Steelers control the game and Captain Conner, paired with the Steelers DST. The winning lineup was filled out by fading the more popular members of the Chargers pass attack and instead taking advantage of the reduced ownership on Mike Williams and Hunter Henry. While it's impossible to do on full-slates, building rosters or setting groups around an expected outcome is often the optimal strategy on one-game Showdown slates. We encourage you to look through the other winning rosters listed above and think through the process that would lead to each construction. 
DST & KICKER STRATEGY
Now on 14-of-21 (67%) winning rosters , DST's continue to be deserving of roster consideration. Through 21 slates DST's are averaging 8.3 DraftKings points at a $4000 average salary and 19% ownership. If we break this down further by favorites versus underdogs, we see favorites priced up to $4700 and owned at a 27% clip as opposed to just $3400 and 11% ownership for underdogs. To this point, the highest owned DST's (Bears, Patriots) have paid off by finding their way onto the winning roster but because DST scoring is extremely high variance and scoring events like turnovers and defensive touchdowns are largely unpredictable, we may be able to leverage the field by rostering the cheaper, lesser owned option. It's worth further noting that DST's in higher total games are underowned relative to their probability of ending up on winning lineups. DST's on Showdown slates featuring a total greater than 45 have been owned on average 15% and maintained a 7.7 median DraftKings score. 
Kickers have been slightly less productive than DST's from a raw points perspective but have found their way onto 10-of-21 (48%) winning rosters. Kickers remain one of the best points per dollar plays, scoring an impressive 7.9 DraftKings points on average at $3500 and 24% ownership. If we look at all fantasy performances through three weeks we see that DST's offer a wider range of outcomes and a higher ceiling than kickers due to the ability to score points via touchdowns. Thus far, defenses and kickers have been priced "reasonably" by DraftKings, resulting in adequate or better point per dollar median projections. If prices start to rise, or if ownerships rise, these options become less viable GPP picks. Whether we're MME players or building just a single lineup, the ability of cheap players to outscore both kickers and DST's will determine how often we need to roster either position. Read through our 'notable players' section for more slate specific thoughts on kickers and DST's.
TEAM-SPECIFIC ANALYSIS & NOTABLE PRICE CONSIDERATIONS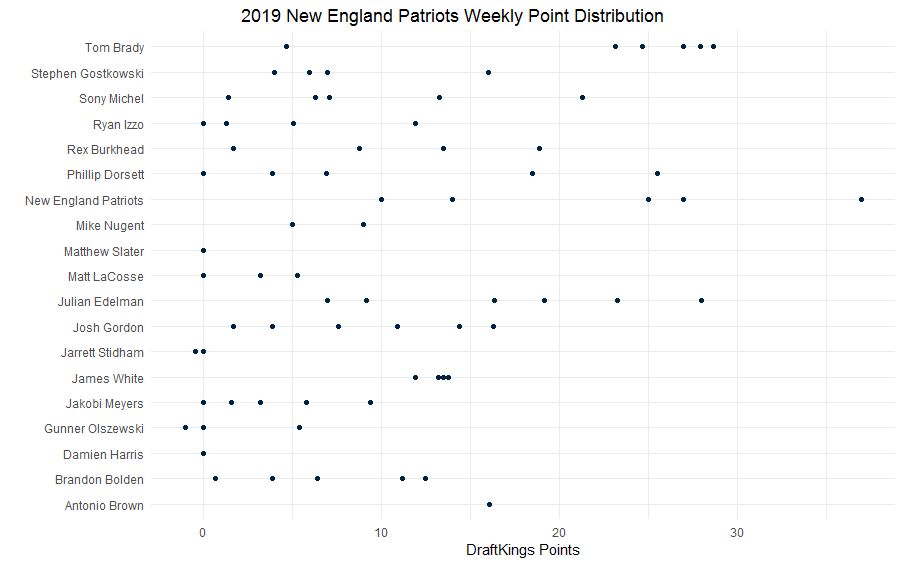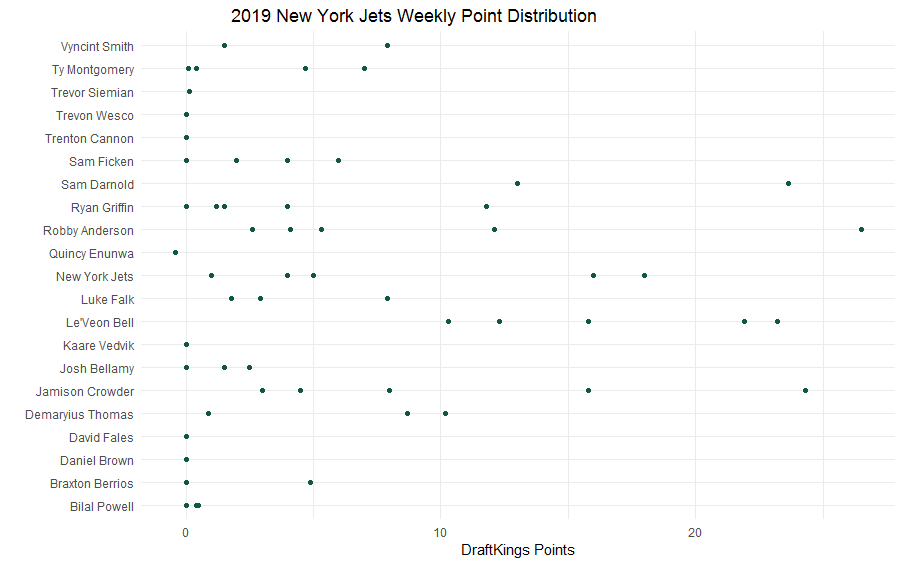 The last time we had the Patriots playing on the main Showdown slate, the Patriots DST at Captain helped to take down the top spot on DraftKings. Week seven's matchup sets up similarly well for the Patriots, who are listed as 9.5-point road favorites with a 43.5-point total. New England (63%) and New York (61%) rank 7th and 11th respectively in pass rate when the game is within one touchdown. The Jets have virtually kept to the same script through the first six weeks regardless of score while the Patriots pass rate jumps to 75% when trailing, albeit a small 15 play sample. The Patriots (5th) and Jets (31st) are on opposite ends of the pace spectrum. While it seems the Patriots tempo would lead to increased plays for the Jets, their ability to sustain long drives and to take the air out of the ball late in games may end up resulting in a minimal impact on overall play volume. 
Julian Edelman ($11200) is the top dog once again in the Patriots receiver room. Despite a nagging chest injury, it should be a green light for Edelman who is handling 24% of the team's targets and a healthy 30% share of the team's air yards. With Josh Gordon suffering a knee injury in week six, Edelman saw an astounding 37% target share and 61% of the air yards. With Gordon ruled out for week seven, we can lock-and-load Edelman. After sitting out with an injury of his own in week six, Phillip Dorsett ($6600) is on track to play Monday night. Dorsett will be the second WR in 2WR sets opposite Edelman and to soak up a share of the targets left behind in Gordon's absence. Dorsett's intrigue is also buoyed by his appearance on the week seven buy-low model. Jakobi Meyers ($5600) is the only Patriots WR coming into the game without an injury designation. Meyers stands to benefit the most from a playing time perspective with the injuries at WR. Behind him, Gunner Olszewski ($1000) is dealing with a hamstring injury of his own. Meyers should be forced into nearly all 3WR sets. If the WR situation is bad, the TE situation is down right ugly. Benjamin Watson ($4400) was cut and resigned due to the injuries at TE for the Patriots. Watson is in line to play as many snaps as he can handle and will likely be asked to run a route on a vast majority of dropbacks as Eric Tomlinson ($400) is the only other TE on the roster. Tomlinson's career receiving line of 16/193/1 likely means who won't be asked to do a lot in the pass game. Despite getting vultured three times in week six, Sony Michel ($7800) sets up similarly well against the Jets. Michel has handled 66% of the team's rushing attempts in three games without Rex Burkhead. It's speculative but it's certainly possible the Patriots lean on Michel given all of the injuries to their pass catchers. As Silva noted in matchups, James White ($7400) could be the blitz beater the Patriots need to exploit the blitz-happy Gregg Williams defense. White is also due for some touchdown regression as he's managed just one touchdown on nine red-zone targets. Regardless of his pass catchers, Tom Brady ($11600) brings 300-yard, 3TD upside to the table in every game. Even in incredibly friendly game scripts, Brady has dropped back an average 39.8 times per game. If the Jets can keep things close and increase the likelihood of a shootout we could see Brady's pass volume rise even more. 
Was there anyone more excited to see Sam Darnold return than Jamison Crowder ($7000)? Crowder was immediately peppered with targets (28%) in Darnold's first game back. Crowder popped on Hersmeyer's buy-low model and should once again be in line for heavy volume. Robby Anderson ($6800) will draw Stephon Gilmore coverage which will undoubtedly reduce his ownership. Anderson leads the team with a massive 47% share of the air yards and has seen the only two end zone targets on the team. If ownership projections get out of hand on Crowder, it makes sense to pivot to Anderson even in a more difficult individual matchup. Demaryius Thomas ($5000) rounds out the Jets receiving group and is running a route on 86% of dropbacks since their week four bye. In weeks 5-6 he drew a 22% target share keeping him firmly in play. Ryan Griffin ($1400) will get at least one more week as the Jets TE1 before Chris Herndon finally returns. Griffin is playing on 91% of snaps and running a route on 69% of drop backs. At his cheap price tag we don't need a ton of production for Griffin to pay off his price tag. Le'Veon Bell ($9200) has seen his showdown salary drop from a high of $11600 in week two despite true workhorse usage. Bell is handling 82% of the team's rushing attempts to go along with a 20% target share. He fits well into any game script build as he should get more valuable touches in the passing game if the Jets fall behind. As Silva noted, the matchup for Sam Darnold ($9000) is incredibly difficult, facing the Patriots defense that leads the NFL in sack rate and QB hit rate. Because QB's inherently draw higher ownership in Showdown contests it won't even be contrarian to assume Darnold is able to succeed against this elite defense. 
STACK IDEAS
*Captain Tom Brady, Sony Michel, Julian Edelman – With a mix-and-match group of pass catchers, targets may funnel to Edelman. We can lock up all of the touchdown upside by including Michel in this group. 
*Captain Julian Edelman, Tom Brady, Phillip Dorsett – Edelman can reach Captain status in a variety of ways with the PPR friendly nature of his game. As one of Brady's few remaining trustworthy targets and a buy-low candidate, Dorsett offers appeal in this group. 
*Captain Jamison Crowder, Julian Edelman, Sony Michel – PPR type receivers can benefit when touchdowns are at a premium. If this game becomes a low-scoring slugfest we can count on both Crowder and Edelman to produce strong fantasy performances by racking up receptions. 
*5 Patriots – Setting a group to include 5 Patriots gives us access to the more desirable offense and allows us to rotate through the Jets options. If setting a single lineup with this group, Brady, Michel, White, Edelman, Dorsett/Meyers/Watson or Mike Nugent all make sense. 5-and-1 rosters continue to be underutilized in large field tournaments. 
*Captain Sony Michel, Le'Veon Bell – The Jets DST is allowing the 11th most rushing attempts against through six weeks. This is a great spot for the Patriots to ride Michel as 9.5-point favorites. 
*Captain Robby Anderson, Tom Brady, Phillip Dorsett – The matchup isn't friendly but Anderson can capitalize on just a few targets to produce a Captain worthy performance. 
*Captain Le'Veon Bell, Jamison Crowder, Tom Brady – Bell in the Captain has a variety of ways of paying off. He has the rare combo of 100% goalline role + big target share when trailing. 
*Captain Phillip Dorsett, Tom Brady, Demaryius Thomas – With so much ownership congregating around the top options in the Patriots offense, Dorsett may be under owned relative to his chances of being the slates top overall scorer. As the No. 8 overall player in the week seven buy-low model he is a prime candidate to bounce back.
Notable Players not already listed as Captain above:
If a player is listed above as a Captain option or as part of a stack they are worth rostering as a stand alone flex as well. As discussed above the need to roster kickers and DST's is tied to how many rosterable players we have in the same salary range. Because DraftKings is unwilling to price up kickers to a level that would reflect their median projections, we're left with very few players who are priced around them that present the opportunity to outscore them. Pricing on DST's has been slightly more fluid based on the matchup and that leads to the Patriots DST being incredibly overpriced Monday night. At a $7200 price point, coupled with high ownership there's no longer overwhelming value in rostering them. While constructing rosters, consider the game environment/outcome necessary for these cheap players to beat the kickers and/or DST's. 
Sam Darnold – QB's generally offer solid floor + ceiling combinations in Showdown contest but Darnold's matchup is obviously concerning. 
James White – With the injuries to the Patriots pass catchers, White may be a sneaky beneficiary. TD regression may hit in week seven as well. He's interchangeable with the Patriots captains above.
Jakobi Meyers – With all of the injuries to the Patriots skill position players, Meyers should be in line for a full-time role Monday night. The injuries to their TE's and FB's may have a trickle down effect forcing them into more 3WR sets, boosting Meyers projection.
Demaryius Thomas – Receivers in this price range are consistently under owned and Thomas offers healthy underlying usage that could result in a productive fantasy game. 
Benjamin Watson – The Patriots may have no other option than to run Watson out for 75%+ snaps. DraftKings preemptively bumped his price but he still offers value at his $4400 price tag.
Brandon Bolden – Fullback Jakob Johnson was injured in week six, Rex Burkhead is still out and it appears the Patriots coaching staff will continue to use Bolden near the goalline and to spell Michel. 
Jets DST – If we believe the Jets can be competitive in this game it may force Brady into more dropbacks giving us more opportunities to score fantasy points. The Patriots OL ranks 13th in the NFL in adjusted sack rate (5.8%) so it's not a slam dunk matchup but at reduced salary and ownership they present a path to upside.
Ty Montgomery – Montgomery will see a handful of rush attempts + targets and sets up as a low-owned touchdown-or-bust option.
Ryan Griffin – Griffin's playing time is massive for his price tag. He cashed in with Darnold finally healthy in week six with a 3/28/1 line. 
Gunner Olszewski – Olszewski was downgraded on Saturday with a hamstring issue. If he is able to go he will be the Patriots WR4, in line behind Meyers for opportunities. 
PROJECTED OWNERSHIP
Again, roster construction and correlation are the most important factors for GPP success in the Showdown format. But understanding who will be popular helps. A rough guide to who we think will be the most owned:
Higher projected ownership, in order of descending salary:
* Tom Brady
* Julian Edelman
* Le'Veon Bell
* Patriots DST
* Jamison Crowder
Lower projected ownership, in order of descending salary:
* Robby Anderson
* Phillip Dorsett
* Jakobi Meyers
* Demaryius Thomas
* Benjamin Watson