UPDATE 10:19AM EST: Jared Cook will be added to the DraftKings player pool. He has been added to the Top Plays list below.
Welcome, fellow degenerates, this is a safe space free of judgement. You have an itch that needs scratched and waiting until Super Bowl Sunday just isn't in the cards. Below we'll highlight rules changes, historical trends and playing time considerations as a guide to help you construct lineups for the season's most random game.
PRO BOWL RULE CHANGES
The NFL's version of 7-on-7, several Pro Bowl rule changes have been implemented to increase player safety and make the contest more 'exciting'. Aside from distorting the game we've come to know and love, many of these changes have had a significant impact on fantasy production. A majority of the information in this section will help shape our player pool and inform our roster decisions. 
* Offensive alignment: The offense must have a tight end and running back on the field at all times. Because there are only two TE's on each roster it leads to increased playing time for the position. 
* Defensive alignment: The Pro Bowl requires that defenses must only use 4-3 and does not allow teams to use nickel (five defensive backs) or dime (six defensive backs) packages. The defense is allowed to utilize cover 2 and press coverage but is not allowed to blitz. Limiting a defense to four DB's has a profound impact on its ability to cover tight ends. In many cases, LB's not selected for their coverage ability will find themselves one-on-one with superior pass catching TE's. 
* Pace of Play: In an effort to speed up the pace of the game, there is a two-minute warning at the end of each quarter and the ball changes possession at the start of the next quarter. The change of possession with each quarter creates a natural stopping point where we may see starters give way to back ups. Other small nuances have been implemented with regards to the clock, mostly in an effort to speed up the game and incentivize passing in the last two minutes of the first half and final five minutes of the second half.
* Kickoff/Make-it, Take-it: Prior to this season, the NFL had already eliminated kickoffs, simply giving the ball to the return team at their own 25-yard line. This year the league implemented a new rule as an alternative to an onside kick that will allow the scoring team to take the ball at its own 25-yard line for a fourth-and-15 play. If they are successful in converting a first down, they maintain possession and will continue with a 1st-and-10 as normal. If they fail to convert the opposing team will take over possession at the dead ball spot. Because the league's competition committee endorsed a version of this rule last year before it was ultimately struck down by the owners, there is a decent chance we see at least one attempt in the Pro Bowl. 
* Field Goals/Extra Points: Not only do kickers not have the luxury of bringing with them their long snapper (Baltimore's LS Morgan Cox did make it) and holder, they also must contend with narrower goal posts as they're shrunk from 18 ft 6 in to 14 ft for the Pro Bowl game. 
HISTORICAL TRENDS AND POSITIONAL SCORING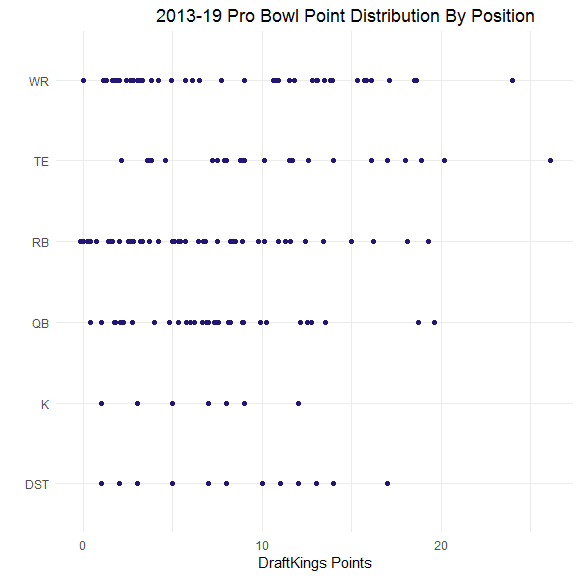 AVERAGE PRO BOWL DRAFTKINGS POINTS BY POSITION
TE

10.7

DST 9.08
WR

7.69

QB

7.27

RB

6.01
Unsurprisingly, historical data for the Pro Bowl is hard to come by and scraping box scores prior to 2013 is next to impossible. Fortunately, some trends emerged in analyzing the previous games we do have data for that align with what we'd expect to see given the rule changes and the high variance nature of this game. 
First, tight ends have clearly been the top producers, averaging 10.7 DraftKings points since 2013. Because there are only two tight ends on each roster and the rules require a tight end to be on the field at all times, TE's benefit from the safest playing time among all skill position players. Coupled with secure playing time is a friendly matchup against an opposing defense that is not allowed to play more than four defensive backs, leading to favorable one-on-one matchups. The Pro Bowl does not discriminate as the likes of Jordan Cameron and Kyle Rudolph have posted double-digit fantasy performances in past seasons, but it goes without saying, the best performers at the positions are usually the top pass catchers during the regular season. 
Though the Pro Bowl is often thought of as a showcase of offensive talent, DST's have been able to churn out strong fantasy performances in recent years. A lack of preparation, familiarity with receivers and punishment for turnovers have led to plenty of QB mistakes. Along with a sloppy game environment, DST production tends to be inflated because they're the only position in the game capable of scoring fantasy points for all four quarters. 
As is the case during preseason contests, wide receivers own the highest standard deviation for all positions, making them the toughest to predict but also the most important to get right, as at least one will certainly produce a fantasy-viable stat line. It's easiest to handle this situation by being overweight on the WR position as a whole while understanding that you may end up underweight on some of the studs (Michael Thomas, Davante Adams, etc) but overweight on the less popular guys. It's important to note that there is nothing we found in the previous games to indicate starters are more or less likely to be among the top producers at the WR position.
As mentioned above in the rules section, a change of possession at the end of each quarter creates a natural stopping point for each team that typically leads to a quarterback change. Because of this, starters tend to play the first quarter and then give way to their backups to split the remaining three quarters. This has led to lower overall production from the position than would be expected given a lack of volume upside but QB's remains one of the safest floors on the slate. 
The Pro Bowl tends to favor the passing game, making running backs virtually useless as rushers but capable of maintaining relevance as pass catchers. With production on the ground hard to come by, we're best served by identifying the slate's best pass catching backs and taking an overweight position them while likely coming in underweight on the plodders. 
ROSTERS
Quarterbacks
Lamar Jackson, AFC: $10000 – Projected starter
Deshaun Watson, AFC: $8600 – Backup
Russell Wilson, NFC: $8400 – Projected starter
Drew Brees, NFC: $7600 – Backup 
Ryan Tannehill, AFC: $5400 – Super Bowl replacement
Kirk Cousins, NFC: $5000 – Replacement
Running Backs
Ezekiel Elliott, AFC: $8200 – Backup
Derrick Henry, AFC: $7200 – Backup
Alvin Kamara, NFC: $6800 – Injury Replacement
Nick Chubb, AFC: $6600 – Projected starter
Dalvin Cook, NFC: $6400 – Projected starter
Mark Ingram II, AFC: $3000 – Backup
C.J. Ham, NFC: $600 – Super Bowl replacement; unlikely to handle many touches
Patrick Ricard, AFC: $200 – Projected starter; unlikely to handle many touches
Wide Receivers
Michael Thomas, NFC: $9400 – Projected starter
Davante Adams, NFC: $7800 – Injury replacement
Keenan Allen, AFC: $7000 – Projected starter
Jarvis Landry, AFC: $6200 – Backup
Amari Cooper, NFC: $5800 – Injury replacement
DJ Chark Jr., AFC: $4800 – Super Bowl replacement
Kenny Golladay, NFC: $4600 – Injury replacement
Courtland Sutton, AFC: $4200 – Injury replacement
Cordarrelle Patterson, NFC: $1200 – Special teamer; may see a handful of opportunities on offense
Deonte Harris, NFC: $800 – Return specialist; unlikely to play WR
Andre Roberts, NFC: $400 – Return specialist; is unlikely to see many snaps at WR
Matthew Slater, AFC: $200 – Special teamer; unlikely to play WR
Tight Ends
Mark Andrews, AFC: $6000 – Backup
Zach Ertz, NFC: $5600 – Not playing in the Pro Bowl due to injury but has not been removed from the DraftKings player pool
Austin Hooper, NFC: $5200 – Super Bowl replacement
Jack Doyle, AFC: $3600 – Super Bowl replacement
Jared Cook, NFC: N/A – Not currently in the DraftKings player pool, though he's been listed as Ertz's replacement. 
TOP PLAYS
Mark Andrews – Possesses the best combination of playing time + matchup + skill on the entire slate. Andrews lined up in the slot or wide on 54% of his 2019 snaps and should play at least part of the game with his own QB who targeted the TE position on 42% of his attempts. 
Jared Cook – A late edition to the DraftKings player pool, Cook immediately becomes one of the top overall plays. As the best athlete of the tight end group, he should have no issue creating separation and will be a top target near the goal line.
Austin Hooper – Acting as Ertz's replacement, Hooper should come in far less owned than Andrews with similar upside. Hooper was lined up in the slot or wide on 45% of his snaps and will be a mismatch for any linebacker he gets matched up with. 
Jarvis Landry – Quietly entering his sixth Pro Bowl, Landry has been an All Star game monster to this point. Even in 2019's 0/0/0 dud he was second on the team with seven targets. Will draw the weakest of potential coverage against the inferior NFC CB's. 
Michael Thomas – A receiving line of 1/6/0 on just one target over two previous appearances is a major concern but Thomas remains the most talented pass catcher on the slate, clearly capable of being the top overall scorer.
Courtland Sutton – A late addition to the roster, Sutton will undoubtedly go overlooked for the more popular options like Landry, Thomas, Davante Adams and Keenan Allen. As a reserve in his first appearance, there's an increased likelihood of more playing time late in the game and he draws a plus matchup against a Xavier Rhodes, Kyle Fuller and Darius Slay led secondary.
Deshaun Watson – As mentioned above, the defensive secondary on the NFC side of the ball is far less imposing than on the AFC making this spot a little easier to attack. Watson's status as a backup makes it more likely he approaches 1.5 quarters played. 
Lamar Jackson – We don't have a big enough sample to draw any meaningful conclusions from QB's playing with their normal receivers or being coached by their regular coach but Jackson brings with him his top pass catcher, head coach, running back and three offensive linemen. He should feel right at home Sunday afternoon. 
Kenny Golladay – Like Sutton, Golladay doesn't carry the name value of his counterparts and will go underowned relative to his playing time projection and upside. Golladay's high aDOT and big play ability are desired in this format where he can pay off his price tag on a single reception. 
Alvin Kamara – Like tight ends, pass catching running backs can create mismatches against linebackers who are not voted to the Pro Bowl because of their coverage ability. Kamara's 81 receptions on 95 targets this season leads the field at his position.
Dalvin Cook – Cook graded out as one of the league's best receiving backs this season with a healthy 1.93 yards per route run. 
Keenan Allen – As a starter and seven-year veteran with an extensive injury history, Allen likely has the shortest leash among all AFC receivers. He did have six targets in 2018 and 2019 despite being forced to leave early with a knee injury.
Davante Adams/Amari Cooper – Interchangeable as they project for similar playing time in a difficult matchup against the stout AFC CB's. Cooper will carry lower ownership of the two. 
AFC/NFC DST – The second-highest average scoring position on the slate, DST is the only position that will accumulate fantasy points for a full four quarters and that's shown in recent performances with 7-of-12 DST's scoring 10+ DraftKings points. Unlike the HOF game where they're appropriately owned, combined DST ownership projects between 10-15% (9.64% in 2019).
DJ Chark Jr. – Will be one of the lowest owned pass catchers, like other reserves listed before him he will see playing time in the highest leverage situations at the end of the game. 
Jack Doyle – Playing at the slate's premier position, Doyle gets a bump but he lacks the athletic/pass catching profile of the other TE's in this game to be deserving of top tier honors. 
Ryan Tannehill/Kirk Cousins – Clock rules favor QB's who close out the game as incomplete passes within the final five minutes of the game will stop the clock, and sacks stop the clock in the final two minutes, leading to more potential pass attempts.
Ezekiel Elliot – A capable pass catcher, Elliot's ownership should be held in check as a non-starter.
Drew Brees – In his most recent appearance, Brees played just two series and attempted nine passes. With 13 Pro Bowl trips under his belt it's difficult to expect extended playing time. 
Russell Wilson – As a starter in 2019, Wilson attempted just eight passes on four drives before taking a seat. With Tre'Davious White and Stephon Gilmore on the opposite side of the ball Wilson's prospects of a strong performance in limited time are diminished. 
Nick Chubb/Derrick Henry/Mark Ingram – The trio of Chubb, Henry and Ingram combined to see just one more target than Kamara all season (96 to 95). 
Ultimately, our Captain exposure should concentrate around tight ends and wide receivers with some consideration given to pass catching running backs and reserve quarterbacks. Generally speaking we're not at all concerned with correlation on a slate of this nature, rather we want to maximize our ceiling by rostering players who project to see the most playing time and opportunities. Lastly, optimal rosters will almost certainly spend well below the $50000 salary cap, often in excess of $10000. Whether you're using an optimizer or building lineups by hand, don't be afraid to leave some money on the table.
PROJECTED OWNERSHIP
Higher projected ownership, in order of descending salary:
* Lamar Jackson
* Michael Thomas
* Russell Wilson
* Keenan Allen
* Alvin Kamara
* Dalvin Cook
* Mark Andrews
Lower projected ownership, in order of descending salary:
* Jarvis Landry
* Amari Cooper
* Austin Hooper
* DJ Chark Jr.
* Kenny Golladay
* Courtland Sutton
* Jack Doyle
* AFC/NFC DST