With five days until the NBA Draft, Duke's Paolo Banchero was +1600 to be the No. 1 overall pick on DraftKings.
The next day, he was +250.
On Wednesday night — the day before the draft — Banchero gathered an incredible amount of steam and was a -200 favorite on some books by Thursday morning.
That's when ESPN's Adrian Wojnarowski sent out the following to his 5.3 million Twitter followers:
As team boards finalize today, the 1-2-3 of the NBA Draft is increasingly firm, per sources: Jabari Smith to Orlando, Chet Holmgren to Oklahoma City and Paolo Banchero to Houston.

— Adrian Wojnarowski (@wojespn) June 23, 2022
At that point, the No. 1 overall pick market was taken off the board at most shops. When it was reposted, Auburn's Jabari Smith had regained his spot as the favorite — where he had been for nearly the entire pre-draft process. There was another short spurt of Banchero steam in the middle of the day last Thursday, but Smith spent most of draft day as a pretty heavy favorite to be the first overall pick.
We know what happened next. The Magic took Banchero first overall and Smith dropped to Houston at No. 3.
Personally, the No. 1 overall pick in this year's NBA Draft was the most unique betting market I have ever seen. Today, we'll detail how it all went down and hypothesize if there's anything actionable to take away from the event. Let's get right to it.
THE WEEKEND BEFORE: 3-5 DAYS UNTIL THE DRAFT
Smith emerged as the favorite to go No. 1 overall shortly after the draft lottery. From May 17 — the night of the lottery — through draft day, the Auburn product was nearly unanimously mocked as the first overall pick. There was a brief period on June 14 when Gonzaga big man Chet Holmgren and Smith both had -115 odds on Caesars, but Smith quickly resurfaced as the favorite after The Ringer's Ryen Russillo speculated Holmgren's camp wanted him to land in Oklahoma City. At this time, there were also questions about whether Holmgren had given his medical info to the Magic, which likely contributed to Smith taking back his position as the heavy favorite as well.
Until the weekend before the draft, Banchero was a distant third odds-wise. And that's when money started to pour in on the Duke star. Drew Dinsick was among those who heavily bet Banchero to go first overall the weekend before the draft, and he told VSiN's Ben Fawkes that he was only operating on publicly available information. He explained further to me what exactly led him to wager on Banchero:
"There were really two breadcrumbs that didn't look right with the market price. The first was that people who talked to Jabari's camp after his three-day meeting [with the Magic] said they didn't get a promise … Chet looks like he's uninterested in being there … Why in the world is Paolo 20 to 1? And every mock you look at, everyone had Jabari going first, but then you read the paragraph around it and there's a lot of uncertainty around it and it's a three-horse race."
It wasn't a secret that Smith had worked out for Orlando the week prior, as the Magic plastered it all over social media. Mock drafts from big-name insiders still used cautious verbiage after said workout.
Bleacher Report's Jonathan Wasserman said rival execs thought Holmgren was in the mix on June 15:
"Since lottery night, the assumption around the NBA has been that Orlando will take Smith. That's still whom NBA staffers would bet their money on at No. 1, but we're also hearing from teams that the Orlando Magic aren't out on Holmgren."
The Athletic's Sam Vecenie updated the same article during the pre-draft process, so we can't see his exact language from this time period. However, he remained adamant that no one knew who the Magic were picking, even though everyone was projecting Smith first overall. He did have Smith No. 1 but clarified that the level of confidence implied by the unanimity of mocks was misleading, as it was anyone's guess who Orlando would select.
That, along with Russillo's report that Holmgren wanted to go to the Thunder and may not have shared his medicals with the Magic, led to a number of sharp bettors trying to add Banchero No. 1 overall to their draft portfolio. There were also whispers that the Rockets desperately wanted Banchero and could try to trade up to No. 1 to secure their favorite prospect. Basically, the logic at this point was simple: If there are three possibilities and no one knows who the Magic are taking or if the Magic will even keep the pick, why not gamble on the guy with 20 to 1 odds? (For the record, there were reports later that Holmgren did share his medical info with the Magic, but we did not know that at the time.)
Betting markets shifted drastically. Banchero was in the 15-20 to 1 range around the start of the weekend but exited Monday between +250 and +300. He still had the third-best odds to go No. 1 at this point — Smith was -145 and Holmgren was +225 at Caesars on Monday evening — but this was the first time betting markets painted it as a three-horse race.
WEDNESDAY: ONE DAY UNTIL THE DRAFT
Dinsick and his partners ended up risking more on Banchero than they intended and wanted to get out of it a little in case the Magic chose Smith or Holmgren. The problem was there wasn't an easy way to bet on Banchero to not be the No. 1 pick on domestics since it was a three-horse race. In other words, you couldn't log onto DraftKings and bet that he wouldn't go No. 1; you could only bet on Smith and/or Holmgren.
However, there are offshore peer-to-peer exchanges that allow users to post bets for others to scoop. For example, you could try to bet Banchero to not be the first pick at -250, meaning someone else could take your action for him to go No. 1 at +250 if they wanted. And that's exactly what Dinsick and his network did, posting five figures of action on someone else to go No. 1 on the betting exchange 4casters.
They offered their action up via this exchange on Tuesday. No bites. Wednesday during the day, same thing. And then on Wednesday night, someone scooped it all at once, which is pretty unheard of. In Dinsick's words:
"Wednesday evening, right before the legals started steaming, someone came and grabbed all of it in one shot. Usually when you offer one of those bets … Like if tonight you want to offer up the Twins' moneyline for $5,000, usually someone comes in and says, 'Oh, I'll take $1,200 of that.' That's usually the way this goes. But someone came and took the entire swoop in one go, and we were like, 'That was real.'"
It's unclear who scooped this action. But after that, some user — presumably the same person or group, but we don't know for sure — posted additional action seeking to risk well into the five figures on Smith to not go No. 1. Twitter user @DocBettor snapped a picture of what this user was offering to others. To my knowledge based on what I saw myself on Wednesday night and heard from Dinsick, 4casters was where the Banchero steam originated.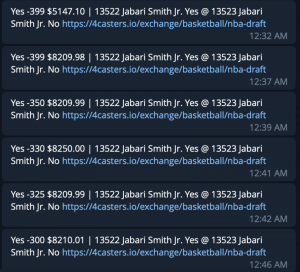 And then the legal books started getting hit. Smith was as short as -600 to be the first pick at 10:45 p.m. ET on Wednesday night. At 12:37 a.m. ET, he was down to -230. Around 1:00 in the morning, Banchero became the co-favorite on Caesars.  And 30 minutes later, Banchero overtook Smith as the favorite to go first overall. By the end of the night, Banchero was -200 to go No. 1.
THURSDAY: <12 HOURS UNTIL THE DRAFT
The night prior, someone had scooped five figures worth of action on Banchero to go No. 1. Then, someone, possibly the same person or group, tried to get five more figures of action on Smith to not be the first pick. And Smith went from -600 to a +150 underdog on every domestic sportsbook in a matter of hours. It sure seemed like someone knew something. Dinsick said he fully expected to wake up on Thursday morning to a Woj bomb saying Banchero was under consideration, if not the favorite, to be the first pick.
And then the opposite happened. At 8:41 a.m. ET, Woj reported that "[The] 1-2-3 of the NBA Draft is increasingly firm, per sources: Jabari Smith to Orlando, Chet Holmgren to Oklahoma City and Paolo Banchero to Houston."
Smith quickly grabbed back his crown as the favorite before every sportsbook took the market down entirely. When they reposted, the Auburn product was as short as -10000 at some books. After all, Woj rarely misses.
But then a funny thing happened. Banchero got steamed again. Not to the extent of the previous night, but he and Smith had roughly equal odds on several legal sportsbooks for a few minutes around midday Thursday before Smith was quickly bet back to being a heavy fave. There were a couple of other very short periods on Thursday when Banchero suddenly spiked before Smith pulled away again.
And that's what made this draft so unique: Not only was there complete uncertainty about who would go No. 1 throughout the pre-draft process, but it also pitted the most clued-in NBA reporter against sports bettors. Personally, by Thursday evening, I thought it would be Smith. I thought the betting movement was significant enough that I was still uncertain about who it'd be, but I mean, Woj basically never misses and he hadn't rescinded his previous report at all. Dinsick, to his credit, did a segment with VSiN on Thursday afternoon where he said he thought Woj was wrong.
As the draft drew closer, the No. 1 pick market stabilized with Smith as a heavy favorite, -500 or shorter in many places.
THURSDAY NIGHT: <1 HOUR UNTIL THE DRAFT
At 7:30 p.m. ET — 30 minutes before the draft — Smith was a huge favorite. Woj had not wavered from his morning report. ESPN's Jonathan Givony's mock draft stated it would be a "major surprise" if the first three picks were not Smith to Orlando, Holmgren to Oklahoma City, and Banchero to Houston.
Then, out of nowhere, Woj said on ESPN's pre-draft show that Banchero was in consideration to go No. 1. This was literally 20 minutes before the draft after he had said the exact opposite that morning. He then tweeted that Paolo had "joined Auburn's Jabari Smith under serious consideration to be [Magic's] No. 1 overall pick, sources said."
The betting markets flipped again instantly. As we all know by now, this wasn't the first time the odds changed drastically in a matter of seconds. But it would be the last. Banchero emerged as the favorite before the market was taken down across all legal sportsbooks. Less than a half-hour later, Paolo cemented his spot in the gambling history books when Adam Silver announced he was the top overall pick.
The bettors had won. It was perhaps the craziest betting market I've seen — but in the end, it was Banchero, who went from +2000 (or longer) to the No. 1 overall pick in less than a week. Smith, a -600 favorite 24 hours before the draft, fell to No. 3.
THE OTHER SIDE OF THE COUNTER
Every bettor I know had a solid Banchero position. For that reason, I thought this draft would be worse than usual for the books, but that wasn't the case. DraftKings, Caesars, and SuperBook were all small losers according to Fawkes, while PointsBet made out with a profit. Drafts are notoriously difficult for sportsbooks because it's an information-based game, and DraftKings Sportsbook Director Johnny Avello admitted to me that he doesn't think DK has won on a draft yet. A small loss isn't ideal, but it's definitely not the end of the world.
Despite the sharp action on Banchero on Wednesday night, multiple sportsbooks had a bigger liability on Smith. There was also a ton of Smith money on Thursday, likely because of the Woj tweet. Fawkes' article includes a quote from PointsBet's media analytics manager saying 81% of the handle their book got on the No. 1 pick market on Thursday was on Smith. Avello acknowledged they took a lot of Banchero money on Wednesday night but stated that "Jabari Smith had most of the money going into [Wednesday night] and ended up with most of the money on him on [DraftKings]."