The goal of a real-life NFL defense is to prevent the other team from scoring points. When we select a defense to roster, we're trying to score the most fantasy points. It's a subtle shift in thinking, but an important one.
The optimal way to select a defense in DFS is to think in terms of big events, not points allowed. Just 2.3% of games last season ended in a shutout and only 9.7% ended with one team being held to six points or fewer. In other words, targeting the "points allowed" category is a fool's errand.
The real fantasy points come from sacks, forced fumbles, interceptions, and defensive touchdowns. These events are by far most likely to happen when a quarterback is under pressure. The best possible outcome on a single play for our defense is a strip sack which results in a defensive touchdown, as we get one DraftKings point for the sack, two for the fumble recovery, and six for the touchdown.
With that in mind, below you'll find the biggest mismatches between defensive and offensive lines for Week 11. The objective is to project QB pressure through film study, injuries, scheme, coaching, and talent.
Week 11 Bye Week: Falcons, Patriots, Colts & Saints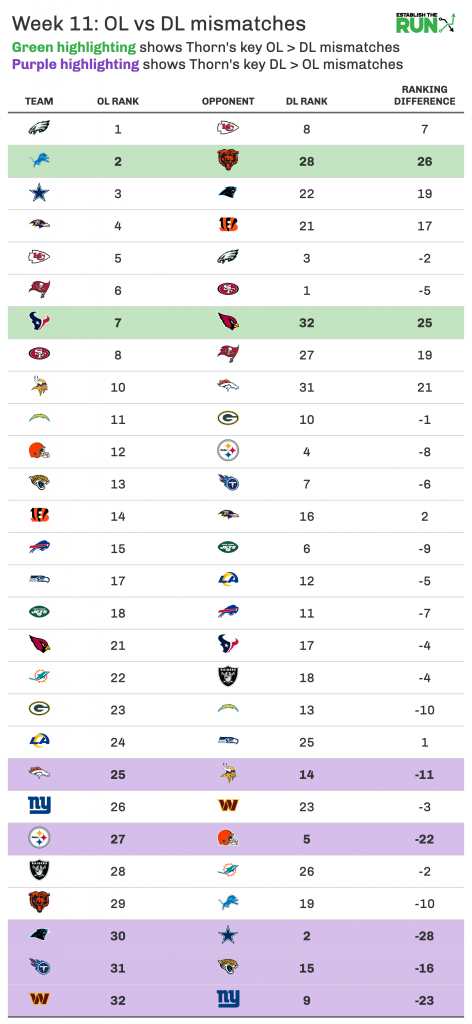 DL Rankings – Week 11
49ers
Cowboys
Eagles
Steelers
Browns
Jets
Titans
Chiefs
Giants
Packers
Bills
Rams
Chargers
Vikings
Jaguars
Ravens
Texans
Raiders
Lions
Colts
Bengals
Panthers
Commanders
Patriots
Seahawks
Dolphins
Bucs
Bears
Saints
Falcons
Broncos
Cardinals
OL Rankings – Week 11
Eagles – RG Cam Jurgens is questionable to play this week for the first time since Week 4.
Lions
Cowboys
Ravens
Chiefs
Bucs
Texans
49ers
Colts
Vikings
Chargers – C Corey Linsley remains out with a "non-emergent heart-related issue" that has kept him out of the lineup since Week 3.
Browns
Jaguars
Bengals
Bills
Falcons
Seahawks – RT Abraham Lucas was designated to return from a knee injury that has kept him out since Week 1.
Jets
Saints
Patriots
Cardinals
Dolphins
Packers
Rams
Broncos
Giants
Steelers
Raiders
Bears – RG Nate Davis has been out since Week 6 with a high-ankle sprain with a likely return this week.
Panthers
Titans
Commanders

Biggest Week 11 DL > OL Mismatches
Cowboys DL (2nd) > Panthers OL (30th)
Browns DL (5th) > Steelers OL (27th)
Giants DL (9th) > Commanders OL (32nd)
Jaguars DL (15th) > Titans OL (31st)
Vikings DL (14th) > Broncos OL (25th)
Biggest Week 11 OL > DL Mismatches
Lions OL (2nd) > Bears DL (28th)
Texans OL (7th) > Cardinals DL (32nd)
DL > OL
1.   Cowboys DL > Panthers OL
Key matchups: Edge rushers Micah Parsons vs. LT Ikem Ekwonu, DT Osa Odighizuwa vs. C Bradley Bozeman
Notes: The Cowboys' DL ranks first in pass-rush win rate, 12th in QB knockdown percentage, and fourth in sacks per pass attempt. Edge rusher Micah Parsons ranks second in total pressures with 53. The Panthers' OL ranks 19th in pass-block win rate, 22nd in pressure percentage given up, and 25th in sacks per pass attempt given up.
Carolina's offense has been a disappointment this season thanks in large part to a lack of weapons in the pass game followed by shaky pass protection stemming from the left side of the line with LT Ikem Ekwonu's stagnant development as a pass protector and several different replaceable starting left guards next to him. Rookie Chandler Zavala is slated to start in this game with last week's starter Calvin Throckmorton being cut earlier this week. Add in rookie QB Bryce Young's inconsistent footwork and slow setup in the pocket, and you have a perfect recipe for disaster this week against a ferocious Cowboys front with mismatches essentially across the line.
2. Browns DL > Steelers OL
We create the highest-quality NFL content
Our team includes renowned fantasy analysts Evan Silva and Adam Levitan, high-stakes professional DFS players, and specialists who cover niche areas that we believe are important to understand.
We don't sell lineups or claim to have all of the answers. We do analyze what's happening in a way that's digestible and actionable, with a goal of preparing you to make the best decisions possible during the 2022 NFL season.
Read on to learn what's inside our In-Season NFL subscription.
Full Details! »
Already a subscriber?
Log In