Dynasty Outlook
March 6
London did not participate in any of the athletic testing at the NFL Combine, but he weighed in at 219 pounds after being listed at 210 during the season. He was also about an inch shorter than projected, meaning his BMI was far higher than initially thought. This made a huge change in his comps, which is updated below. He is locked in as a top three dynasty rookie pick in all formats.
Feb. 20
London opened up as our second-rated wide receiver for rookie drafts, and WR18 in our overall dynasty ranks. Age is a valuable asset here for London, as he is a year younger than both Treylon Burks and Garrett Wilson. Should he end up a hit, London would provide value for a long time in dynasty leagues. His comps are almost exclusively players who were useful fantasy assets, and some have displayed massive ceilings. London's play style and dominance on contested catches should make him a high-aDOT player immediately, making his individual opportunities high-value.
Profile Summary
Drake London is another WR prospect who should vie to be first off the board. Both the scouting reports and his comp set indicate that London is a talented 50/50 ballplayer who should find instant success in such situations. The fact that he was a two-sport athlete — including playing a season of basketball while at USC — only emphasizes this point.
While it does not seem that London is the type of player that is going to blow anyone away athletically, he has tremendous size and length. It is also worth noting that he will not turn 21 until the summer, making London one of the youngest prospects in the entire draft.
Vitals
Age (as of 12/31/21) — 20.5
Experience — 3 years
Height — 75.875 inches
Weight — 219 pounds
Hand Size — 9.375 inches
Arm Length — 33 inches
Wingspan — 77.75 inches
By the Numbers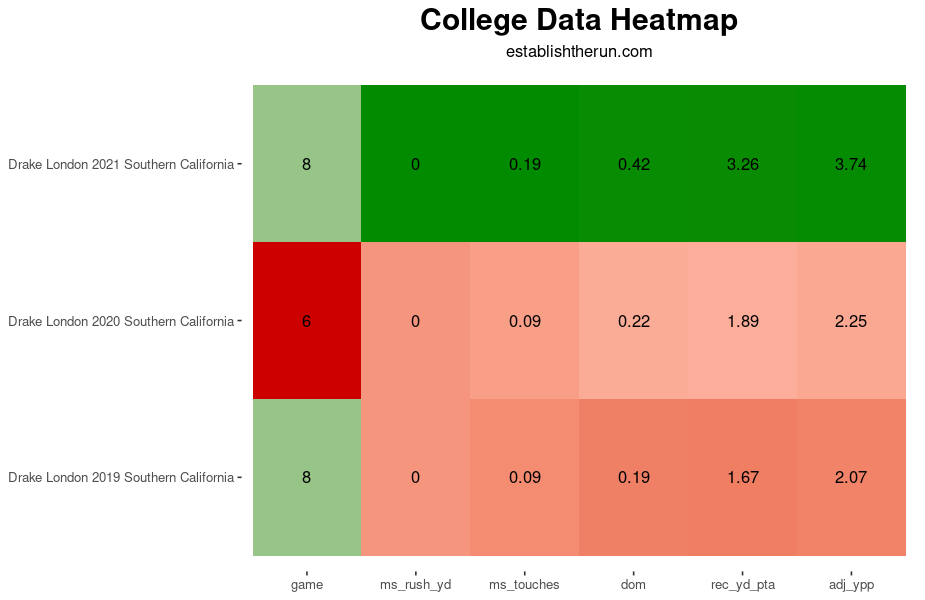 London busted on the scene in 2019, and immediately produced as a true freshman. That 2019 USC team included both Michael Pittman Jr. and Amon-Ra St. Brown. Both of those players are currently top-30 WRs in our dynasty ranks, making this an impressive feat. With Pittman gone in 2020, London out-produced St. Brown from a yardage perspective, but only managed to find the end zone three times. He was a dominant alpha target in 2021 with both of those players off the team.
The 3.74 adjusted yards per play mark for London is tops in the 2022 class, while his 3.26 receiving yards per team pass attempt ranks sixth. London has no production to speak of as a rusher or returner.
What the Scouts are Saying
This is what Daniel Jeremiah had to say about London on his first big board:
London is a jumbo-sized wideout with a rare catch radius and outstanding toughness. He has lined up outside and in the slot. He doesn't have ideal speed, but he's very quick off the line and at the top of his route. He is a nuanced route runner, and it's impressive to see how quickly he can get in and out of breaks at his size (6-5, 210). He dominates on 50/50 balls, making spectacular grabs (SEE: Colorado game). London understands how to use his big body to shield off defenders before attacking the ball. After the catch, he seeks out contact and fights for extra yards. He plays with an edge as a blocker, as well. Overall, some will have concern with his lack of top speed, but he reminds me of Mike Williams coming out of Clemson.
Jordan Reid — now of ESPN — wrote about London as a riser during the season for The Draft Network.
A prospect that continues to surge up draft boards, London has continued to be one of the lone bright spots for a program that's at one of its lowest points in history. At 6-foot-5 and 210 pounds, London is a big-bodied target that plays as such. A large chunk of his game involves making contested catches and winning at the catch point. That's not the only thing he can do, however, and he's managed to turn into the go-to target for the Trojans' offense. Still needing to clean up an issue with drops, his most frequent blunders have come on in-breaking routes or ones where he's forced to work back to the quarterback.
The theme of contested catch ability was also noted by Lance Zierlein.
Big, long possession receiver with the ability to play outside or from the slot. London lacks desired top-end speed and separation quickness to open clear throwing windows but plays a mature, savvy brand of ball. The game slows down for him when the ball comes out. London was a top-flight basketball player, so angles to the ball, body positioning, and high-pointing come very naturally to him, turning a 50-50 ball into a 70-30 advantage. While he has the size and skill to dominate the catch phase, his one-speed route-running and lack of separation burst means a career full of contested catches. London's pro career would benefit from playing with a diverse receiving corps that allows play-callers to play to London's strengths.
While some athleticism concerns are noted, one AFC area scout does not seem too concerned (from the Zierlein report).
I think he is going to test better than people think, but I doubt he runs. I don't care how fast he is, I wouldn't be against him because his ball skills are really special.
Draft Projection
London currently has an expected draft position of 21.3 on Grinding the Mocks, which sources mock drafts around the interwebs. Jeremiah has him 10th on his big board, sandwiched right between Garrett Wilson and Treylon Burks. It is clear that London will contend to be the first WR taken. Dane Brugler has London coming off the board in the 20s in his mock draft. He seems firmly placed in the first round.
Comparable Players
I use Principal Component Analysis to evaluate WR prospects. In simplest terms, this kind of analysis looks at relevant data points to find the closest comparable WRs in past drafts. I prefer this to a model output — which yields only a single result — as it can display the possible range of outcomes for a prospect.
Note that the analysis itself isn't telling us how good a player is; it is simply returning the most similar players. It is then up to us to layer in context and past results to see how good we think this player may be.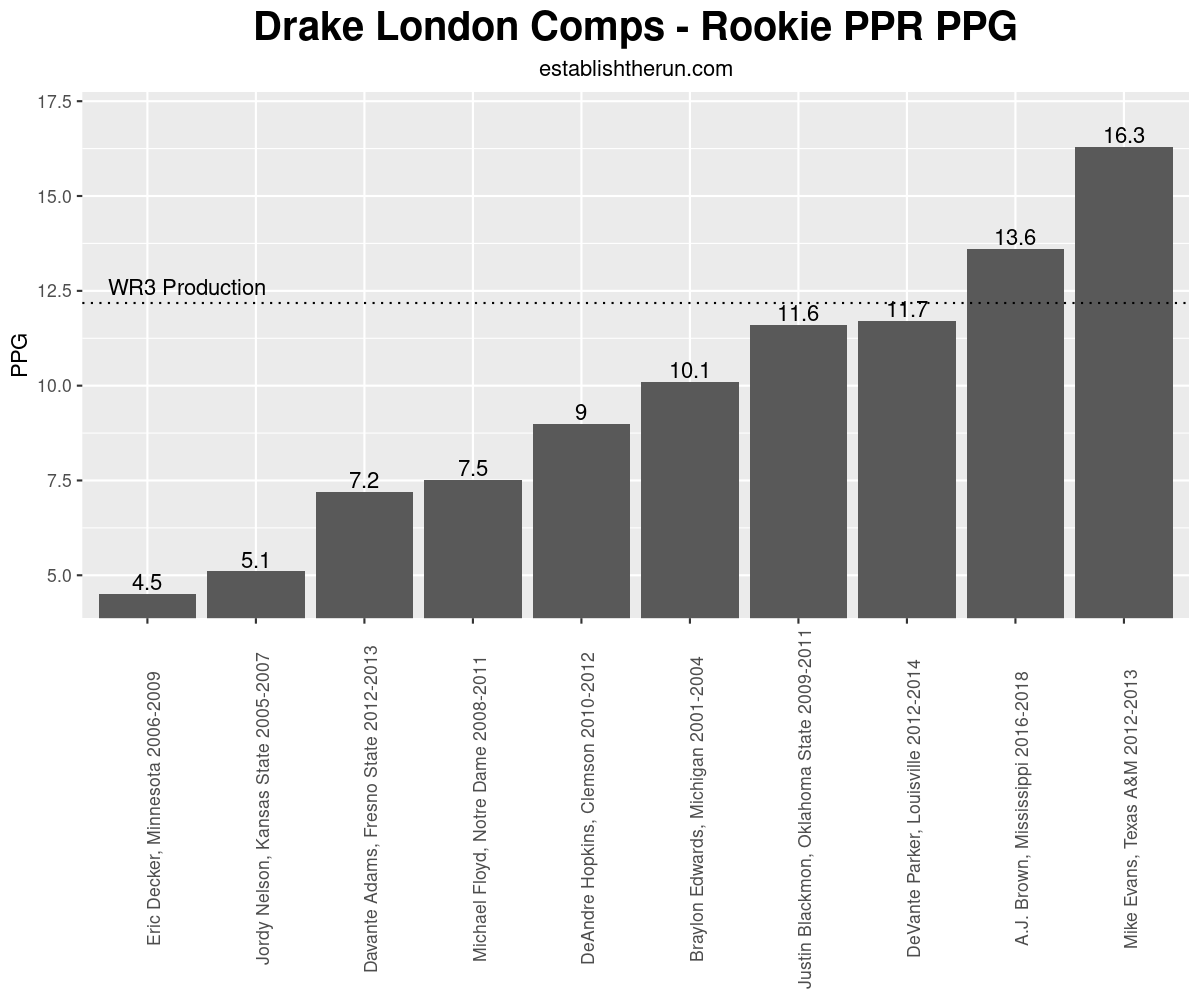 The beautiful thing about this comps process is it often reveals players who are similar stylistically simply by observing the data. The Mike Williams comp we see from the scouts doesn't really hold up here because of the differences in age and experience (Williams was a four-year player and nearly two years older than London), but there are other WRs known for their contested-catch ability on this list: DeVante Parker, DeAndre Hopkins, and Davante Adams are all players many would say thrive in such situations.
London's Combine weigh-in was massive for his range of outcomes, with Taywan Taylor and Zay Jones — obvious misses — being stripped from his original set of comps, and replaced by Mike Evans and A.J. Brown. This is an extremely successful set of comparable players.
Further Research