Currently, the nationwide sportsbooks I use for this column are not posting in-season odds for Defensive Rookie of the Year or Coach of the Year. Defensive Player of the Year is also currently not available on any of the sites I use for this column. So, if you are debating an in-season play on either of those or the other awards discussed in this column, feel free to reach out to me via Twitter @RyanReynNJ or via email [email protected]. My offseason study is the foundation for my awards process, and that can be found here.
Once the season starts, the main purpose of this column is to identify decision points on an awards bet. Before certain games there is a decision whether to sell or hold one's position in an awards bet, just as there are opportunities to buy (or in some cases, buy back). Feel free to reach out via email or Twitter if you're pondering that type of move as well.
The MVP Race
MVP Relevant Games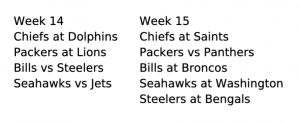 The Current MVP
Patrick Mahomes (-400 MGM): Mahomes is currently third in passing touchdowns, first in QBR, second in rating, and his Chiefs are tied for the best record in the league at 11-1. Mahomes also leads the league in passing yardage and he's only thrown two interceptions this year while already having 31 touchdown passes. Mahomes is having an MVP-caliber season and he's going to have to slip up to not win the award now, which is precisely why he's now a significant favorite. With that said, Week 14's matchup in Miami is far from an automatic win and if Drew Brees is able to return to action, Week 15's contest against the 10-2 Saints is set to be the biggest test of the season for Mahomes and the Chiefs. Unless something unexpected happens, I intend to hold my Mahomes tickets through the rest of the year, even though I think Kansas City may actually lose one of these next two games. That said, my preseason projection for the Chiefs was a 14-2 record and, barring major injuries, that strikes me as the floor for this team.
The Primary Contender
Aaron Rodgers (+500 MGM, Fox Bet): At this point, Rodgers is really the only other player that has a realistic chance of unseating Patrick Mahomes for the MVP award. Rodgers currently leads the league in touchdown passes, he's second in QBR, he's first in rating, and his Packers are 9-3. Unlike Mahomes, Rodgers is carrying an otherwise average team and that is one of the latter's two major advantages. As an example, Mecole Hardman would likely be the WR2 on the Packers and he is the WR4 on the Chiefs, and that's not even considering that Kansas City also has Travis Kelce. The other is that Mahomes has back-to-back difficult road matchups over the next two weeks while Rodgers faces two defenses in the Lions and Panthers that he can absolutely shred. I'm seriously debating buying at least one $100 share of Rodgers at +500 as a form of insurance against my Mahomes position. I'm also reasonably confident that Rodgers will be more expensive in two weeks than he is right now, so in addition to this play serving as insurance against my Mahomes position, I might also be able to profit off of this Rodgers play even if Mahomes wins both of these difficult road matchups and takes down the MVP. I'm going to wait on injury updates later in the week before I make my decision.
Almost Drawing Dead
Josh Allen (+1700 FanDuel): Apart from Aaron Rodgers, Allen also has some form of a realistic path to knocking off Patrick Mahomes for the MVP award. Allen is tied for sixth in passing touchdowns, sixth in QBR, seventh in rating, and Allen's Bills are an AFC East-leading 9-3. Allen also adds 322 yards and six touchdowns as a runner. That collectively has him close to being on pace for an MVP-caliber season. However, Allen hosts the Steelers on Sunday Night Football in Week 14 and if he kills it during this nationally televised showcase against a reputable opponent, he will greatly increase his chances of taking down the award.
Russell Wilson (+2000 MGM, DraftKings, FanDuel, Fox Bet): Wilson is basically done in this race after falling to 8-4 following last week's shocking upset by the Colt McCoy-led football Giants. He does, however, have a phenomenal Week 14 matchup vs the Jets followed by a very winnable game in Week 15 at Washington. To have a shot at this point, Wilson has to win out the rest of the way and play at a very high level while also needing both Patrick Mahomes and Aaron Rodgers to significantly stumble down the stretch.
Ben Roethlisberger (+5500 Fox Bet): With the Steelers having finally lost a game, Big Ben only has one very slim path to winning the MVP award this season: blow up the Bills on Sunday Night Football this week to the tune of 300-plus passing yards and four-plus passing touchdowns and then do the same thing on Monday Night Football the next week against the Bengals. If he does that and the rest of the contender's falter, there may at least be a path. With that said, I have one share of Big Ben at 60-1 for MVP and I consider that to be dead now.
Offensive Rookie of the Year
Justin Herbert (-400 MGM): After a blazing hot start to his NFL career, Herbert has been coming back down to reality for a while now, and that was before the Patriots shut out the Chargers last week. Coaching is a serious problem with this organization right now, to the point it is genuinely concerning for Herbert's Rookie of the Year prospects. With that said, Herbert has some great matchups coming vs the Falcons, at the Raiders on Thursday Night, vs Denver, and at Kansas City to close out the year. So, there are definitely opportunities for Herbert to post some big numbers down the stretch so that he can maintain his lead in the Offensive Rookie of the Year race this season.
Justin Jefferson (+450 FanDuel): Two weeks ago in this space I suggested that Jefferson or Chase Claypool had the best shot to knock off Justin Herbert now that Joe Burrow is out for the rest of the year. While Claypool has basically eliminated himself (which isn't surprising), Jefferson has actually raised his stock over the last two games. In fact, Jefferson, who is fourth in the league in receiving yards right now, probably should be the Offensive Rookie of the Year favorite at this moment. While Jefferson is having a historic year for a rookie wide receiver, Offensive Rookie of the Year has primarily been won by quarterbacks and running backs in recent years as Odell Beckham Jr.'s explosive rookie campaign with the Giants is the only example of a wide receiver winning this award over the past decade. Jefferson is on that track though, and if you have a Herbert ticket at good odds (meaning either before or right after his start against the Chiefs), I would buy a Jefferson ticket if I were in your shoes as a hedge, as this race strikes me as closer to being a coin flip than the current odds would suggest.