The goal of a real-life NFL defense is to prevent the other team from scoring points. When we select a defense to roster, we're trying to score the most fantasy points. It's a subtle shift in thinking, but an important one.
The optimal way to select a defense in DFS is to think in terms of big events, not points allowed. Just 2.3% of games last season ended in a shutout and only 9.7% ended with one team being held to six points or fewer. In other words, targeting the "points allowed" category is a fool's errand.
The real fantasy points come from sacks, forced fumbles, interceptions and defense touchdowns. These events are by far most likely to happen when a quarterback is under pressure. The best possible outcome on a single play for our defense is a strip sack which results in a defensive touchdown as we get one DraftKings point for the sack, two for the fumble recovery and six for the touchdown.
With that in mind, below you'll find the biggest mismatches between defensive and offensive lines for Week 8. The objective is to project QB pressure through film study, injuries, scheme, coaching and talent.
New for this year, I've added my up-to-date defensive line pass-rush and offensive line rankings. You'll find those at the top.
Week 8 bye weeks: Washington, Cardinals, Texans, Jaguars
DL Rankings – Week 8
Steelers
Bears
Chargers
Washington
Browns
Colts
Chiefs
Eagles
Bucs
Ravens
Saints
Packers
Titans
Rams
49ers
Bills
Panthers
Falcons
Patriots
Cowboys
Broncos
Raiders
Cardinals
Texans
Bengals
Jaguars
Seahawks
Lions
Vikings
Giants
Jets
Dolphins
OL Rankings – Week 8
Saints
Bucs
Packers
Steelers
Colts
Browns
Patriots
Rams
Raiders
Lions
Ravens
Seahawks
Falcons
Bills
Titans
Jaguars
Texans
Panthers
Broncos
Chiefs
49ers
Eagles
Cardinals
Vikings
Chargers – RG Trai Turner missed practice all week & his backup Ryan Groy was placed on IR
Washington
Bears
Cowboys
Giants
Dolphins
Jets
Bengals

Biggest Week 8 DL > OL Mismatches 
Eagles DL (8th Brandon Thorn's latest rankings for pressure) > Cowboys OL (28th in offensive line rating)
Bucs DL (9th) > Giants OL (29th)
Steelers DL (1st) > Ravens OL (11th)
Rams DL (14th) > Dolphins OL (30th)
Titans DL (13th) > Bengals OL (32nd)
Chargers DL (3rd) > Broncos OL (19th)
Chiefs DL (7th) > Jets OL (31st)
Biggest Week 8 OL > DL Mismatches
Packers OL (3rd) > Vikings DL (29th)
Bucs OL (2nd) > Giants DL (30th)
Browns OL (6th) > Raiders DL (22nd)
DL > OL
1. Eagles DL > Cowboys OL
Key matchups: DTs Malik Jackson, & Javon Hargrave vs. OG Connor Williams, DEs Brandon Graham, Derek Barnett, & Josh Sweat vs. OTs Cameron Erving & Terrance Steele
Notes: The Eagles DL ranks 4th in adjusted sack rate, 10th in pressure percentage, 12th in QB knockdown percentage, and 5th in pass rush win rate. DE Brandon Graham ranks 16th in pressures among edge-rushers. DT Fletcher Cox ranks 7th in QB hurries among DTs & DT Malik Jackson ranks 8th in pressures among DTs. The Cowboys OL ranks 18th in adjusted sack rate, 16th in pass block win rate, and 18th in sacks per pass attempt. RG Zack Martin is slated to return this week after missing Week 7 with a concussion. C Joe Looney is eligible to return from injured reserve and was limited in practice on Wednesday.
The Cowboys are getting their best offensive lineman and an elite starter back in Zack Martin plus could get Joe Looney back as well but are still severely outmanned at the other three positions in this matchup.
The Eagles have a slew of quality starters on their defensive line and can expose the Cowboys dreadful tackle situation this week led by Brandon Graham being a terrible matchup for right tackle Terrance Steele. After that expect the rotation of Derek Barnett & Josh Sweat to feast on left tackle Cameron Erving while the rotation of Malik Jackson & Javon Hargrave does the same inside on left guard Connor Williams.
Throw in the fact that Dallas will roll out QB Ben DiNucci in his first career start and it becomes a safe bet to expect the Eagles defensive line to control this game.
2. Bucs DL > Giants OL
Key matchups: DE Shaquil Barrett vs. OTs Andrew Thomas/Matt Peart/Cameron Fleming
Notes: The Bucs DL ranks 3rd in adjusted sack rate, 4th in pressure percentage, 11th in QB knockdown percentage, 11th in QB hurry percentage, and 2nd in pass rush win rate. DE Shaquil Barrett ranks 1st overall in QB hurries (15) and 4th in pressures (19) among edge-rushers. The Giants OL ranks 19th in adjusted sack rate, 31st in pass block win rate, and 25th in sacks per pass attempt. The Giants offensive line was missing four of their five starters in practice on Thursday due to quarantine after LG Will Hernandez's positive COVID-19 test result.
The Giants offensive line was a bad unit this season prior to Will Hernandez's positive COVID-19 test result and now could be missing multiple starters against a top 10 pass-rushing defensive line. There are lopsided matchups across the line in the Bucs favor in this game and make this one of the week's no-brainer picks for biggest mismatches in the trenches.
3. Steelers DL > Ravens OL
Key matchups: DTs Cameron Heyward & Stephon Tuitt vs. OGs Bradley Bozeman & Tyre Phillips
Notes: The Steelers DL ranks 1st in: adjusted sack rate, pressure percentage, QB hurry percentage, QB knockdown percentage, pass rush win rate, and sacks per pass attempt. Edge-rushers T.J. Watt & Bud Dupree rank top five in QB hurries. Watt leads the NFL in pressures with 24. The Ravens OL ranks 22nd in adjusted sack rate, 12th in pass block win rate, and 27th in sacks per pass attempt. Rookie RG Tyre Phillips was a full participant in practice on Wednesday after injuring his hand in Week 6 and appears to be in line to start.
The Ravens are severely outmatched along their interior offensive line in this game with one average starter in Bradley Bozeman and a below average starter at best in Tyre Phillips having to face off against two elite starters in Cameron Heyward and Stephon Tuitt.
Baltimore's stellar tackle duo will help QB Lamar Jackson have a chance to sit in the pocket when needed, but not enough to overcome the middle of the pocket getting caved in with pressure in Jackson's face from both sides.
The Ravens will need to dial up a creative game-plan by their own already innovative standards to help circumvent their inability to pass-protect up the middle to give their offense a chance to function at even a relatively high level against this dominant Steelers front.
4. Rams DL > Dolphins OL
Key matchups: DT Aaron Donald vs. OGs Ereck Flowers & Solomon Kindley
Notes: The Rams DL ranks 6th in adjusted sack rate, 17th in pressure percentage, 6th in pass rush win rate, and 6th in sacks per pass attempt. DT Aaron Donald is 2nd overall in pressures with 21. The Dolphins OL ranks 15th in adjusted sack rate, 30th in pass block win rate, and 11th in sacks per pass attempt.
Aaron Donald is a bad matchup for everyone on the Dolphins offensive line, particularly on the interior when Donald aligns in his traditional three-technique alignment. Left guard Ereck Flowers and right guard Solomon Kindley are enjoyable players to watch on tape for their rugged style and nasty demeanors, but technically they don't stand a chance vs. Donald.
Donald and Michael Brockers on the interior will take up plenty of attention away from the Rams edge-rushers which should result in big games for names such as Leonard Floyd and Terrell Lewis. A similar dynamic unfolded last week for the Rams against the Bears offensive line when Floyd was able to win a couple key reps with his cross-chop technique and he should be able to replicate that this week vs. rookie right tackle Robert Hunt. Opposite Floyd look out for rookie edge-rusher Terrell Lewis to make some noise vs. one of the worst starting left tackles in football in Jesse Davis as well.
5. Titans DL > Bengals OL
Key matchups: DEs Harold Landry & Vic Beasley vs. OTs Fred Johnson & Hakeem Adeniji, DT Jeffrey Simmons vs. Bengals interior OL
Notes: The Titans DL ranks 31st in adjusted sack rate, 3rd in QB hurry percentage, and 17th in pass rush win rate. DE Harold Landry ranks 20th in total pressures with 14. DT Jeffrey Simmons is 6th overall in QB knockdowns with 7. DE Jadeveon Clowney missed practice on Wednesday and Thursday with a knee injury. The Bengals OL ranks 30th in adjusted sack rate, 25th in pass block win rate, and 29th in sacks per pass attempt. Cincinnati's starting LT Jonah Williams, C Trey Hopkins, and RT Bobby Hart all missed practice on Wednesday and Thursday.
The Titans defensive front has been off to a shaky start so far this season (tied for 30th in sacks with seven) but the tape still shows above average or better starters across the line including a very good player in Jeffrey Simmons anchoring the middle.
This is a good bet for a breakout game for Tennessee's pass-rush considering the Bengals have a bottom three line when healthy and are poised to take the field without three starters, including by far their most capable in left tackle Jonah Williams.
Simmons will be able to consistently walk guards into QB Joe Burrow's lap while Harold Landry and to a lesser extent Vic Beasley have advantageous matchups everywhere else. As we've seen Burrow can still effectively lead an offense in the midst of heavy pressure, but he will have to rely on even worse players up front this week against a more than capable Titans pass-rush itching to pin their ears back and improve their production on the stat-sheet. If Jadeveon Clowney somehow suits up and plays in this one slam the "over" in expected pressures, hurries, QB hits, and sacks with even more confidence.
6. Chargers DL > Broncos OL
Key matchups: DE Joey Bosa vs. RT Demar Dotson, DE Melvin Ingram vs. LT Garret Bolles & RG Graham Glasgow
Notes: The Chargers DL ranks 17th in adjusted sack rate, 9th in pressure percentage, 5th in QB hurry percentage, and 12th in pass rush win rate. DE Joey Bosa ranks 4th overall in pressures with 21 and 2nd overall in QB hurries with 13. The Broncos OL ranks 25th in adjusted sack rate, 29th in pass block win rate, and 26th in sacks per pass attempt.
This inclusion is based on Joey Bosa getting to tee off on Demar Dotson, a 35-year old stopgap right tackle at the tail end of his career. Bosa has been a top three pass-rusher on tape this season and should be able to feast in this game whenever isolated vs. Dotson and worst case draw significant attention away from the rest of the defensive line.
Assuming Bosa is doubled with slide protections heading his way more often than not, expect Melvin Ingram to be isolated on the left side with Jerry Tillery left one-on-one over either guard. Both of Denver's guards are the strength of the line so there isn't a glaring mismatch here in a vacuum, but considering how little help they will receive chances are Ingram or Tillery will be able to generate pressure.
Watch out for Bosa though, since teams with better right tackle situations than Denver's have known heading into the week how great he is and still haven't contained him.
7. Chiefs DL > Jets OL
Key matchups: DT Chris Jones vs. OGs Alex Lewis & Greg Van Roten, DE Frank Clark vs. RT George Fant
Notes: The Chiefs DL ranks 16th in adjusted sack rate, 3rd in pressure percentage, 4th in QB hurry percentage, 7th in QB knockdown percentage, and 18th in pass rush win rate. DT Chris Jones ranks 5th overall and 2nd among DTs in pressures with 19 and 1st among DTs in QB hurries with 11. The Jets OL ranks 32nd in adjusted sack rate, pass block win rate, and 30th in sacks per pass attempt.
The Jets have stud rookie left tackle Mekhi Becton back in the lineup which is a boost, but the unit overall will maintain their status as a bottom two line in the league due to being below average or worst at every other position.
The Chiefs have the best interior pass-rusher in the NFL not named Aaron Donald in Chris Jones and a good outside rusher in Frank Clark with a very good get-off and flashes. Jones will be a matchup nightmare for the entire Jets interior while Clark should get to spend most of the day over raw, technically sloppy right tackle George Fant.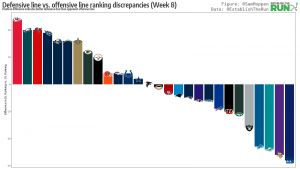 OL > DL
1. Packers OL > Vikings DL
The Vikings traded away their best pass-rusher in Yannick Ngakoue to the Ravens and now have cemented themselves into a bottom five pass-rushing unit for the rest of the season barring major developments from some of their younger players. This bodes well for the top five pass-blocking Packers that have their superstar left tackle David Bakhtiari back in the lineup after missing Week 7 with a chest injury.
2. Bucs OL > Giants DL
The Giants interior defensive line is a strong, deep group but all are better run-defenders than pass-rushers (still solid in the latter) and are matched up against a Bucs interior that has two elite players on it in left guard Ali Marpet and center Ryan Jensen.
On the outside the Giants have one of the worst groups of rushers in the NFL so they likely won't be able to capitalize on the Bucs biggest weakness in left tackle Donovan Smith while also not having a major threat to face off against rock solid rookie right tackle Tristan Wirfs.
3. Browns OL > Raiders DL
The Raiders defensive line will likely be missing a key member of their outside rotation with Arden Key missing practice on Thursday, weakening an already below average unit. They had some very impressive flashes last week from defensive tackle Maliek Collins but need more consistency from him before considering him a significant threat. The Browns still don't have their best lineman in Wyatt Teller back from injury so Collins has a shot at building off his best game in Week 7, but the rest of the Browns' line should be able to mitigate the bulk of the Raiders pass-rush.