Editors note: This is a free preview of the type of content you can find in our Preseason DFS package.
Last updated: August 1st at 6:21pm ET.
Update 6:21pm ET: Tim Patrick, Royce Freeman, Phillip Lindsay and Devontae Booker are all expected to sit. This was as expected at WR, but it leaves the Broncos with just three RBs available. David Williams is the only one with true RB size. Khalfani Muhammad and Devontae Jackson are pass-catching options.
Update 6:47pm ET: Justin Hardy and Russell Gage appear to be starting at WR for Atlanta. We don't think this is a good thing for them, as they may come out when Matt Schaub leaves the game.
DFS is a game of partial information, and Preseason DFS takes that to an extreme. It is very difficult to be certain about playing time, particularly at the RB/WR/TE positions. What we do know is that playing-time projections are the most important factor, and an ability to forecast them accurately will separate winners from losers.
Below you will find our tiered options for Thursday's Hall of Fame Game slate. These will always place a heavy emphasis on players we expect to get the most snaps, with talent secondary. Note that for 1-game slates, positions don't matter. Also note that for 1-game slates, defenses and kickers play a major role because they are (almost) guaranteed points. That's more than we can say for most of the guys who will play in this game.
While there are differences in the scoring systems between DraftKings and Fanduel, they aren't as stark in preseason. The yardage bonuses DK awards almost certainly won't come into play, and players rarely rack up more than 3-5 catches — therefore weakening the value of full-PPR. That said, we will note when there is something site-specific.
We also want to note that while wide receivers have a very low floor in preseason games, they have the highest ceilings. Check out this distribution of points graph via Cody Main.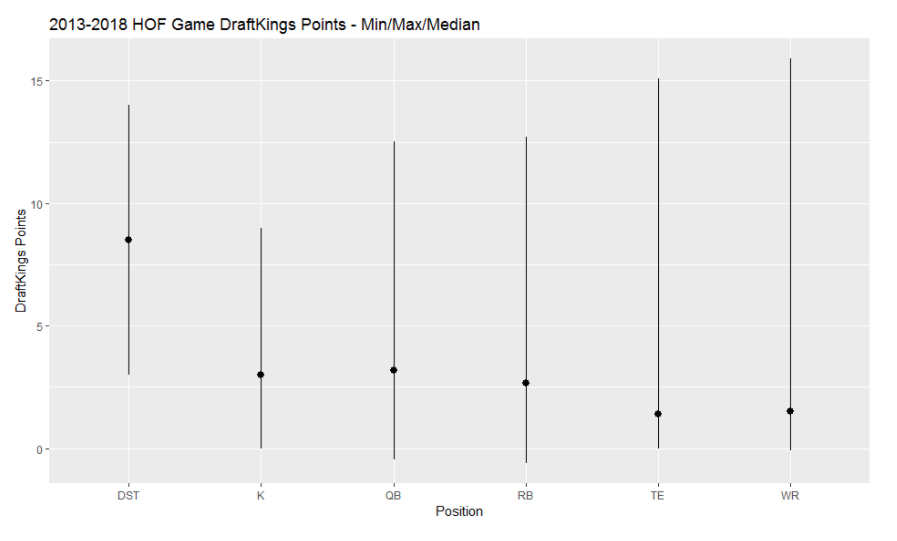 You can see our Depth Chart Projections for this game here and our Live Show will begin around 630pm ET on Thursday night here.
TIER 1
D/ST Broncos – This unit gets to tee off on Matt Schaub and Kurt Benkert all night. They're a candidate for the captain spot on DraftKings. Even 10 points could make a defense the highest-scoring option on this slate. Over the last six Hall of Fame Game slates, defenses have averaged 8.2 DK points per game — easily more than any other position. Quarterbacks are at 4.36, running backs 4.01, kickers 3.38, wide receivers 2.79, and tight ends 2.76.

D/ST Falcons – Certainly a strong play as well for the reasons stated above, but the Falcons project slightly worse than the Broncos' D/ST due to the Benkert factor. Still, with how many different skill guys will play in this game, getting "full" snaps from a defense easily puts Atlanta's D/ST in Tier 1.

QB Kurt Benkert – Matt Ryan won't play, and Schaub is 38 years old. Last season, Schaub only played 14 snaps in Preseason Week 1. We'd expect even less in the Hall of Fame Game. That likely means at least three quarters for Benkert, which can't be ignored even though he'll almost certainly be inefficient. This is a guy who lost his starting job at East Carolina, had a 57.5% completion rate in college, 6.3 yards per attempt, and 8-15 career record. It's strictly a volume play on a slate where there isn't much volume guaranteed anywhere.
TIER 2
QB Drew Lock – Kevin Hogan will start and Brett Rypien will close for Denver. In between, the Broncos will get a look at their second-round rookie. The talent gap between Lock and Benkert is massive, but making up a full quarter of playing-time differential is tough. If you guaranteed us two full quarters of Lock, he'd be neck-and-neck with three quarters of Benkert. We're just not certain how much Hogan and Rypien will play.
RB Qadree Ollison – Devonta Freeman won't play and we wouldn't expect more than 1-2 series for Ito Smith coming off knee surgery. Kenjon Barner is a veteran competing for a special teams/pass-down role. That leaves Brian Hill, Ollison, and undrafted rookie Tony Brooks-James for the Falcons. Ollison is a 5th-round rookie most likely to get an extended look.  Ollison is a big, bruising back (6'1/228) and should get a goal-line chance if Atlanta makes it that far during one of his series.
WR Kelvin McKnight – A 5-foot-8 slot prospect out of Samford, where he graduated as the school's all-time receiving leader.  McKnight caught 100 balls as a senior last year and reportedly is having a strong camp. Emmanuel Sanders (Achilles), DaeSean Hamilton (hamstring), and River Cracraft (oblique) are all recovering from injuries, leaving McKnight in good position to play a lot of slot snaps.
WR Fred Brown – 6-foot-1 with 4.48 speed. Brown is among the Broncos' WRs competing for a final roster spot, but is likely on the outside looking in (which is a good thing). Brown also has a history of performing in preseason with 7-99-1 in 2017 and 13-90-0 in 2018. He's an intriguing stack with Drew Lock as they've been practicing together, along with Juwan Winfree, Brendan Langley, and Nick Williams.

K Brandon McManus – The Broncos waived Taylor Bertolet, leaving McManus as the only true placekicker on the roster. We're expecting the Broncos to move the ball better, giving McManus a slightly higher opportunity projection than Atlanta's Giorgio Tavecchio. Kickers are always high-floor, low-ceiling plays in one-game Showdown formats. But they have more value on this specific slate because individual skill-player scoring is so depressed. Regardless, they are better cash than GPP plays.

K Giorgio Tavecchio – The Falcons moved on from Matt Bryant, leaving Tavecchio as the only true placekicker on the roster.

RB Brian Hill – Wide range of playing-time outcomes. Reportedly in a battle with Ollison for the No. 3 RB job, so coaches may want it to play out on the field. That said, the Falcons are already very familiar with Hill as he appeared in 10 games for them last season and even got 16 carries in the final two weeks. Note Hill did catch six balls on 34 preseason snaps for the Bengals last season — he has NFL-caliber ability. 
RB David Williams – Last on the depth chart for the Broncos, but his preseason Week 4 performance last season stands out. Racked up 13 carries plus six catches. With the Broncos down to just three running backs, he's been moved from the GPP tier to Tier 2. He has prototypical RB size. 
RB Khalfani Muhammad – A 5-foot-7 pass-catching specialist in competition with Devontae Booker for a roster spot. Broncos now down to just three RBs.

RB Devontae Jackson – Another undersized Broncos RB listed at 5-foot-7 out of Georgia Southern. Jackson has been hyped up a bit in camp. Very tough to separate between him and Muhammad right now, but there are a lot of snaps to go around now with Denver down to just three RBs.

TIER 3

WR Juwan Winfree – A sixth-round rookie who battled injuries as a senior at Colorado in 2018. Likely to see some playing time in the first half as he's the favorite for the No. 5 WR spot and reportedly has great chemistry with Kevin Hogan in camp. In Tier 3 because he might be too high on the depth chart to see a lot of snaps in this game.
WR Olamide Zaccheaus – An explosive rookie UDFA. Dan Quinn has been predictable in how he's used his receivers in past meaningless preseason games. Guys who end up on the practice squad see ~ 50% of the snaps in similar games. Zaccheaus doesn't project to make the 53-man roster and should see a lot of playing time. He was also Kurt Benkert's No. 1 receiver in each of Benkert's two seasons as the Virginia Cavaliers' starter and makes a ton of sense in Benkert-Zaccheaus stacks. (They likely showered together at UVA.) 

QB Kevin Hogan – Will start for Broncos. Hogan's playing time is the biggest question at QB on this slate. We are currently projecting roughly one quarter, but it's not out of the question that he gets a full half as he tries to beat out Lock for the No. 2 job. In that scenario, Hogan is certainly in play.
WR Nick Williams – Just signed last week, but he's knows this Rick Scangerello scheme well from previous stints with the Falcons and Redskins. The Broncos are extremely thin at slot receiver, giving Williams a chance to make a mark.
WR Marcus Green – Falcons coach Dan Quinn has repeatedly said he wants to evaluate his rookies in this game. And versatile sixth-rounder Marcus Green has generated a lot of buzz in camp. Green profiles as a gadget guy, but ran a 4.39 at 5'8/190. Had 202 catches plus 51 carries and five return TDs at UL-Monroe.
GPP TIER

WR Christian Blake – Has bounced around the Falcons' practice squad over the last year, meaning he should have some of the best chemistry with Benkert. Got 31 snaps in preseason Week 1 and 40 in preseason Week 4 last season. Went 0-0-0 and 1-4-0 in that time.
WR Devin Gray – Gray is another receiver who spent the entire 2018 season on the Falcons' practice squad developing chemistry with Benkert. If one of the Atlanta receivers were to have a big game, having prior chemistry with Benkert could be key. Got 24 snaps in preseason Week 1 and 40 in preseason Week 4 last season. Went 4-83-0 and 1-13-0 in that time.

RB Tony Brooks-James – UDFA rookie sixth-stringer likely to run out the clock in the 4th quarter when Atlanta has the ball.  Generally speaking in preseason, toward the end of the games teams may shift a little more run heavy, and Brooks-James could be the beneficiary of a run-heavy playset.
WRs Jamarius Way/Steven Dunbar – Denver's pass-game outlook projects better than Atlanta's thanks to Hogan and Lock. With that in mind, Way and Dunbar are both 6-foot-3 targets and could come down with that essential touchdown to do well in a GPP. Note that Dunbar has been practicing with the Hogan group during camp.
TE Noah Fant – It would be an upset if the Broncos exposed their first-round rookie to a lot of snaps in this game. However, the Broncos are a bit thin at tight end thanks to injuries. Established veteran Jake Heuerman is a candidate to sit, while Jake Butt and Bug Howard have already been ruled out. That leaves Fant, Troy Fumagalli, and Austin Fort to hold it down Thursday night.