Dynasty Outlook
March 24
Jalin Hyatt is our WR6 for rookie drafts and checks in as WR31 in our overall dynasty ranks. He is a three-year player with a breakout, which puts him in a great bucket for success. However, there are some questions about the context of his production with respect to the Tennessee offense. Hyatt also falls into an archetype of WR that could be a success for real football and still be a miss for fantasy. These questions have him a little lower in our ranks than other WRs in the same draft range.
Profile Summary
Hyatt is a speedster with good hands who should definitely impact games in the NFL. Whether or not that translates to individual production is a major question. He was extremely successful at Tennessee — especially in terms of efficiency — but did so out of some unique offensive looks that he will likely not find himself in as frequently at the pro level. He draws comps to similar wideouts with a fairly wide range of production. The fact that he was able to dismantle a pro-style, Nick Saban defense in the Alabama game is a strong credit to his ability.
Vitals
Age (as of 12/31/22) — 21.3
Experience — 3 years
By the Numbers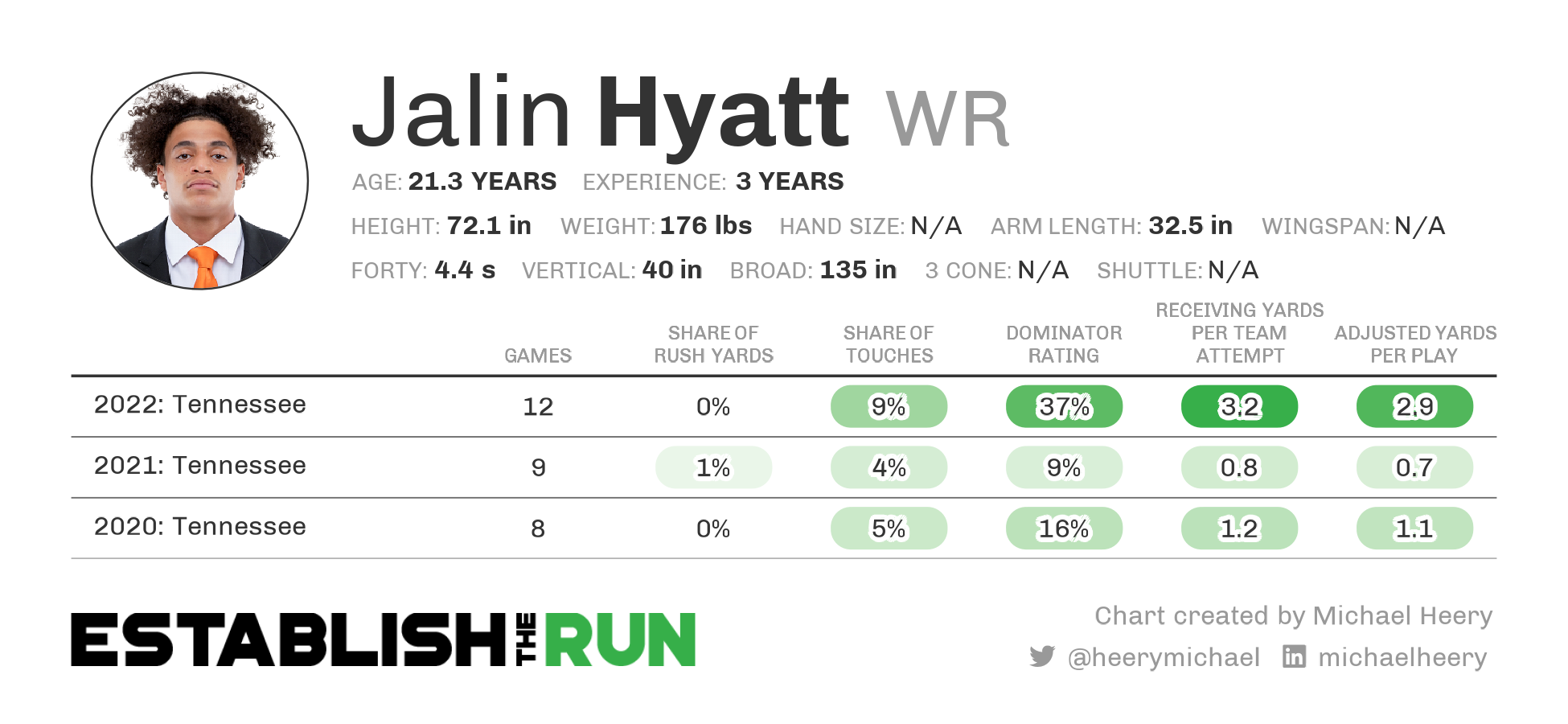 Hyatt had a relatively quiet start to his college career. He accrued similar stat lines as a freshman and sophomore, totaling 41 receptions for 502 yards and four scores. As a true junior, Hyatt enjoyed his breakout season, going for 67/1,267/15 in 12 games. This included a 207-yard, five-TD game against Alabama.
Hyatt is a big-play machine, as evidenced by his ridiculous 18.9 YPR in 2022 on 67 catches. Here are all of the WRs drafted between 17 and 60 (about Hyatt's draft range) since 2005 to have a season of 55+ catches, 17.5+ YPR, and 10+ TDs:
CeeDee Lamb
Will Fuller
Marquise Brown
Rashod Bateman
Robert Meachem 
Roddy White
Hakeem Nicks
Tee Higgins
Michael Thomas
Greg Jennings
Tutu Atwell
James Washington
Golden Tate
Using the information in our database, that would be seven hits, four misses, and two (Bateman and Atwell) pending. A couple of the misses still posted productive fantasy seasons, just not good enough to be a hit.
The context around Hyatt's production is interesting. He played mostly in the slot according to PFF (88.7%), and Josh Heupel runs what some consider to be a "gimmicky" college offense. They keep the receivers extremely wide, giving athletes like Hyatt tons of room to work, and often "stack" their wideouts, meaning Hyatt would line up directly behind a teammate. This is advantageous because it prevents opposing defenders from getting hands on and rerouting him. Of course, none of this is really done with great frequency in the NFL.
Fantasy Life's Dwain McFarland adds some color to this:
Okay, after watching all those crazy open plays for Jalin Hyatt — had to dig deeper.

NOT saying he can't play; just some context.

Per PFF, no Power 5 WR had more yards/TDs with over step of separation.

452 yards and six TDs off of motion
248/3 stack alignment

— Dwain McFarland (@dwainmcfarland) March 24, 2023
What the Scouts are Saying
Lance Zierlein thinks Hyatt will be valuable to an NFL team — but maybe not for your fantasy rosters:
Long, slender wideout with deep speed that could force defensive coordinators to alter coverage considerations. Hyatt's gliding gait disguises explosive acceleration that can lead to easy separation on deep throws. However, he does display inconsistency on contested catches. Hyatt is ordinary getting in and out of intermediate breaks and might be best with a limited route tree full of slants, crossers, and a series of field-stretching patterns. Hyatt is an instantly credible WR2 with the ability to make a huge impact, but production could be erratic due to the limitations of his game.
Daniel Jeremiah pegs Hyatt as a "home-run hitter":
Hyatt is a thin-framed wide receiver with rare speed. At Tennessee over the past two years, he primarily lined up in the slot in Josh Heupel's spread attack, catching a ton of quick hitters and over-the-top balls. He is at his best when he can stay on the move without having to gear down and work back to the quarterback. He has easy speed, destroying cushions immediately, and he can find another gear with the ball in the air. He tracks the ball naturally over his shoulder and can make plays above the rim. After the catch, he isn't very shifty or elusive, but he can simply run away from tacklers. He enjoyed his best game this past season in Tennessee's thrilling win over Alabama, producing one big play after another in a five-touchdown bonanza. Overall, Hyatt is a home-run hitter with reliable hands.
Dane Brugler shared a lot of the same sentiments as his peers:
For teams looking for a polished route runner who can uncover quickly in the short-to-intermediate part of the field, Jalin Hyatt won't be valued this high. But for those coveting field-stretching speed, tracking skills, and reliable hands, the Tennessee product will have value in the top 25.
Draft Projection
Hyatt currently has an expected draft position of 39.5 on Grinding the Mocks, which sources mock drafts around the interwebs. Mock Draft Database is a similar service that has Hyatt 35th overall. The Consensus Big Board has Hyatt 38th overall. He appeared in some earlier mocks in the 20s, but now appears to be sliding into early Day 2.
Comparable Players
I use Principal Component Analysis to evaluate prospects. In simplest terms, this kind of analysis looks at relevant data points to find the closest comparable players in past drafts. I prefer this to a model output — which yields only a single result — as it can display the possible range of outcomes for a prospect.
Note that the analysis itself isn't telling us how good a player is; it is simply returning the most similar players. It is then up to us to layer in context and past results to see how good we think this player may be.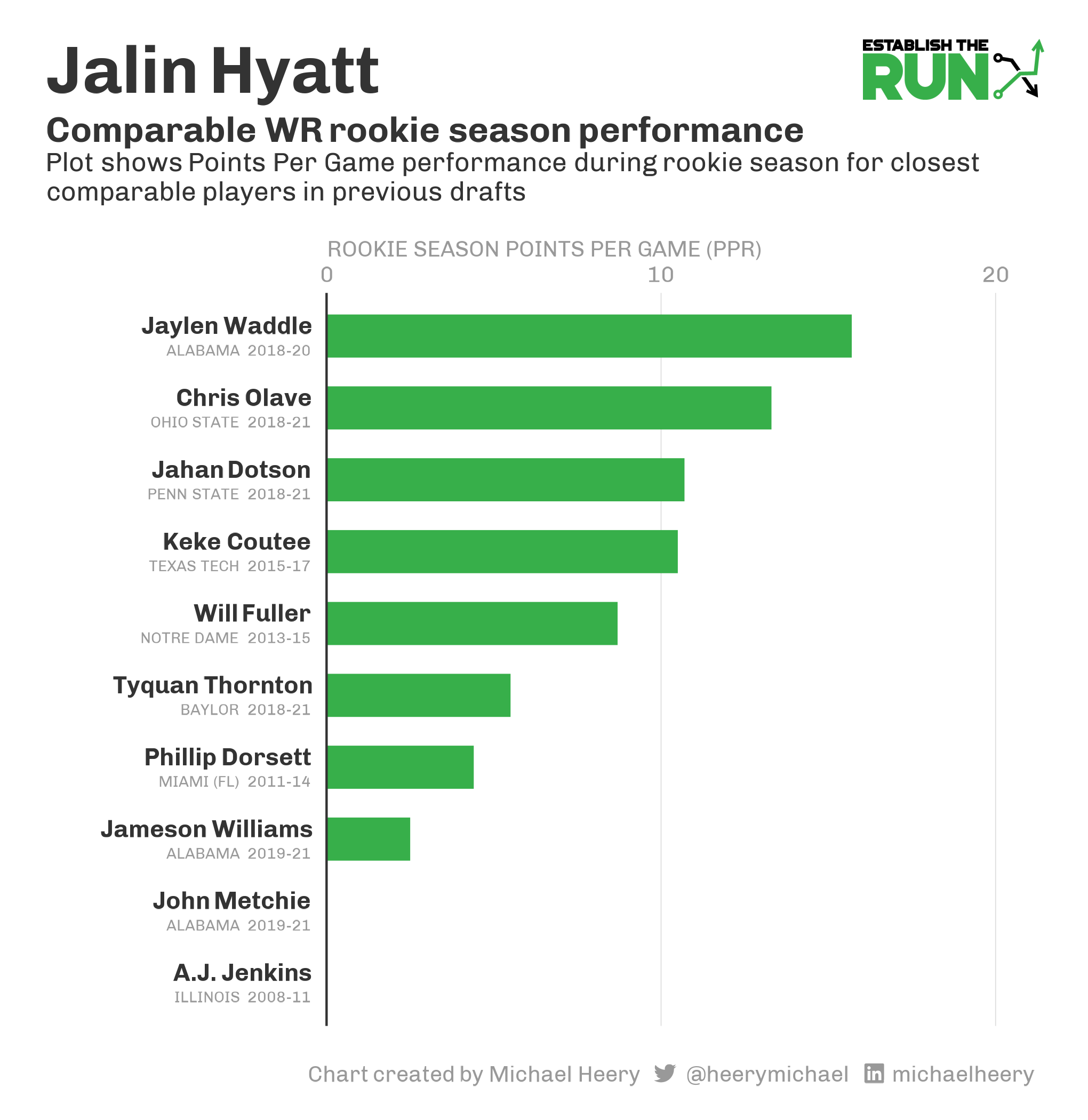 Hyatt is comped to a lot of WRs with speed, which is no surprise given the nature of his career along with his 4.4 wheels flashed at the Combine. We see Fuller again, as we did in the raw statistical portion. Chris Olave and Jaylen Waddle are home-run upside comps, while Jahan Dotson and Jameson Williams have done enough as rookies to maintain quality value.
Phillip Dorsett is an example of someone Hyatt could become if he doesn't develop other parts of his game. He has just been a spacer as a pro, though he has managed to have a long career. In general, there are certainly players in Hyatt's archetype who are better values for their NFL teams than for fantasy.
Further Research