Dynasty Outlook
March 22
Josh Downs is our WR5 for rookie drafts and checks in as WR27 in our overall dynasty ranks. While small in stature, Downs racked up major statistics at North Carolina, and did it at a young age. This leads to him having excellent comparable players, with the caveat that he is smaller than most of the successes. On paper, he looks the part and appears to be a strong arbitrage play on Jordan Addison, who should go — on consensus — a few picks higher in rookie drafts. The scouts have Downs pegged as a slot player at the next level.
Profile Summary
Downs is likely to come off the board in the early portions of Round 2. He tested slightly slower than expected given some of the long plays he produced at UNC, but Downs' work in the punt return game may speak more towards the skill set he has, and how it may fit in the slot at the NFL level. Downs also was excellent in the 10-yard split and jumps at the Combine. He was productive for three seasons, establishing a breakout within that time. The scouts believe his catch radius is still impressive for a smaller player.
Vitals
Age (as of 12/31/22) — 21.4
Experience — 3 years
By the Numbers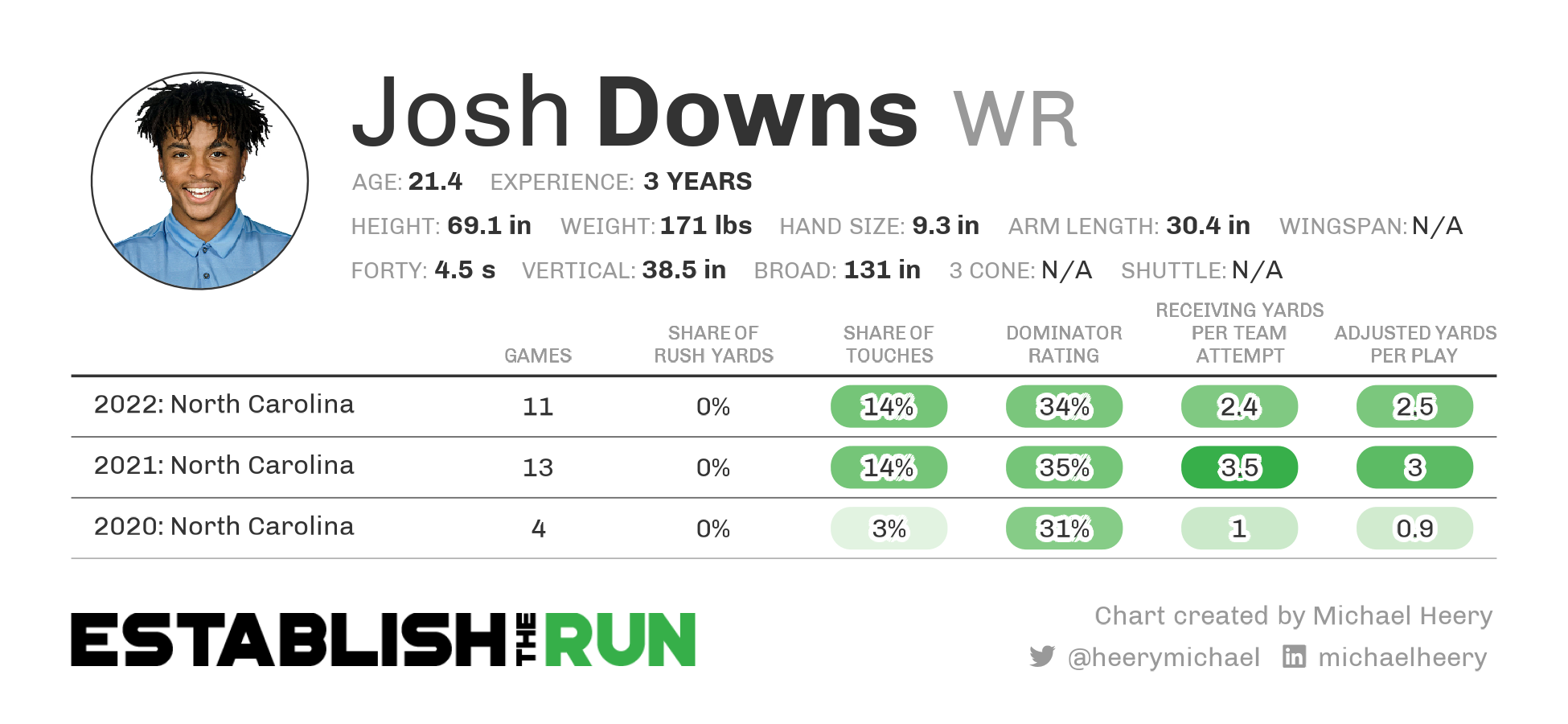 Downs broke out as a true freshman at UNC, but it was only in four games — the biggest one coming with third-round pick Dyami Brown not playing. When Downs truly bust onto the scene was his sophomore season, with over 100 catches, 1,300 yards, and eight scores. He also returned punts. In 2022, his production was similar but less efficient. He did see his touchdown total increase to 11, and he maintained a strong share of team touches within the offense.
It is worth noting that Downs has worked with quality QBs during his time at North Carolina. Sam Howell was his QB when he first stepped onto campus, and his 2022 signal-caller was (currently) presumed 2024 QB2 Drake Maye. This offense is also known for running a pretty limited route tree. These are not necessarily negative — just contextual factors worth considering.
What the Scouts are Saying
Lance Zierlein thinks Downs can be a starting slot WR in the NFL:
Free-flowing athlete with dynamic footwork and an instinctive feel for how to elude opponents. Downs posted off-the-charts production over the last two seasons as an undersized slot with an oversized will. His confidence jumps off the tape and he has proven himself to be better at catching through contact than you might expect. While his route running is effective and fun to watch, coaches will need him to become more disciplined and efficient in order to maintain the timing of play designs. Downs might not have prototypical size, but he's well-positioned to keep stacking catches and making plays as a starting NFL slot receiver.
Dane Brugler noted that while he is undersized, he makes up for it with his catch radius:
A tough guy to cover one-on-one, Josh Downs can work all three levels with his ability to control acceleration and tease defensive backs with agile footwork. The main hang-up on Downs is his undersized frame, but he has a bigger catch radius than his size suggests and consistently pulls in throws.
Draft Projection
Downs currently has an expected draft position of 39.4 on Grinding the Mocks, which sources mock drafts around the interwebs. Mock Draft Database is a similar service that has Downs 41st overall. The Consensus Big Board has Downs 39th overall. He looks like an early second-round pick.
Comparable Players
I use Principal Component Analysis to evaluate prospects. In simplest terms, this kind of analysis looks at relevant data points to find the closest comparable players in past drafts. I prefer this to a model output — which yields only a single result — as it can display the possible range of outcomes for a prospect.
Note that the analysis itself isn't telling us how good a player is; it is simply returning the most similar players. It is then up to us to layer in context and past results to see how good we think this player may be.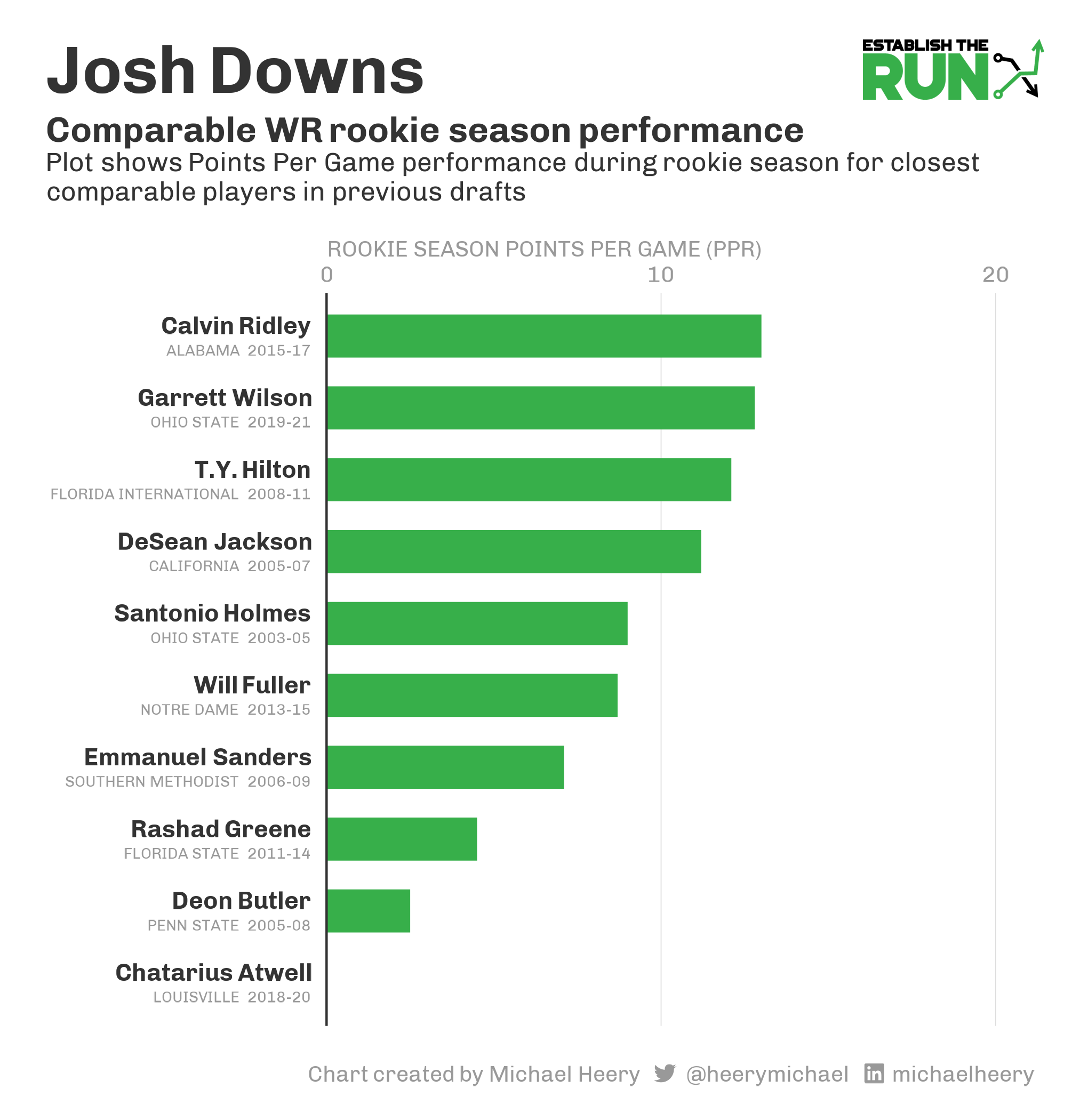 The most interesting comps for Downs are the ones that you don't see. Fellow WR prospect Jordan Addison is Downs' top comparable player in our database, and the same is true in the opposite direction. These players are fascinatingly similar, and it makes a strong arbitrage argument for Downs. Zay Flowers is also inside of his raw top-10 comps.
There are plenty of success stories on this list: Calvin Ridley, Garrett Wilson, T.Y. Hilton, DeSean Jackson, Santonio Holmes, Will Fuller, and Emmanuel Sanders. The one rub here is that he is 10+ pounds smaller than most of these players with the exception of Jackson, who he is not as fast as. Much like Addison, Downs has some outlier qualities in terms of his weight, speed, and production.
Ironically, there is one player on the comp list who is even smaller than Downs: Tutu Atwell. He made some plays this past season, but he has done relatively nothing so far in his career.
Further Research