I am mainly a cash-game player. Cash games refer to any contest in which roughly 50 percent of the field gets paid out, such as head-to-head, double up or 50/50. I try to get as much head-to-head action as I can every week and then supplement that with other cash games.
Some core information I use to build these cash lineups are Silva's Matchups, Thorn's OL/DL Mismatches and our Projections.

Editor's Note: Our In-Season package includes everything we think you need to win at both DFS and Season-Long. For a full content schedule, click here. We have seasonal, monthly and weekly options available here.
Each week, I'll review my cash-game lineup in this space. Sometimes I'll lose, but hopefully I'll win more often. Either way, I'll post it here and give you my thought process.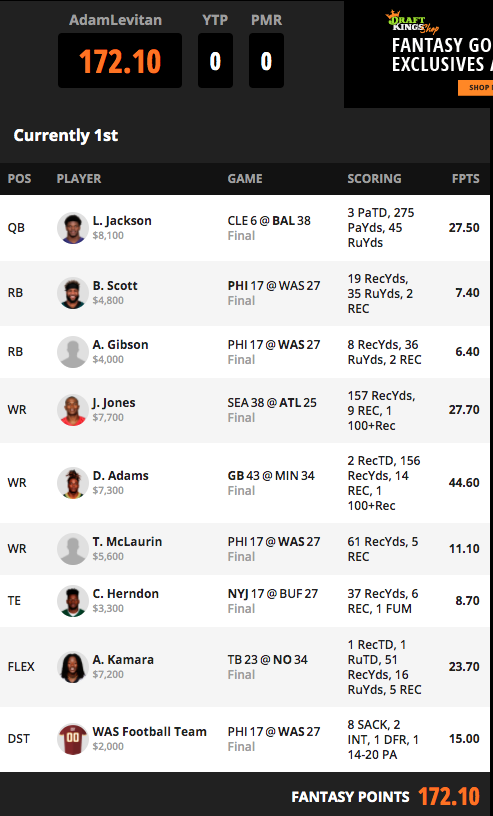 DraftKings made a serious effort to reduce Week 1 layups by boosting prices at the bottom end on just about everyone. They also priced Lamar Jackson, Christian McCaffrey and Michael Thomas at or near their 2019 peaks. However, salaries remained soft through the middle, which led to some interesting decisions.

MY MUST PLAYS
* We had Davante Adams projected for the most targets on the slate yet he was just $7300, $1700 less than Michael Thomas. He also had an excellent matchup against a revamped Vikings secondary. In a full-PPR setting like DraftKings, this kind of floor/ceiling combo in the low $7K range is rarely available.
* With Miles Sanders (hamstring) getting ruled out on Saturday, we knew Boston Scott would be the lead back ahead of Corey Clement. We also know Scott is a very capable pass-catcher. So even though I thought the Eagles injury-riddled offensive line would get manhandled by the Washington front, I rarely will fade $4800 lead backs with pass-catching roles and capable quarterbacks.
* Washington D/ST was stone minimum $2000 even though they have a top-5 pass rushing unit. Add to that an Eagles offensive line playing without three of their starting offensive linemen, plus Miles Sanders (hamstring) and Alshon Jeffery (foot), and we had a no-brainer at D/ST.
MY WANT PLAYS
* My QB cash pool was only four guys: Tyrod Taylor, Josh Allen, Matt Ryan and Lamar Jackson. Once we got the Boston Scott savings, Tyrod was out thanks to a far lower floor/ceiling combo as he debuted on a new team with major offensive line problems. I would have been fine with Allen, but the savings didn't get me off Antonio Gibson anyway. So I was happy to simply pencil in Lamar's 20-point floor.
* Of course I wanted to play one of Zach Ertz, Mark Andrews or George Kittle at tight end. But unlike WR and RB, there are actually viable options weekly around $3K at TE. This week the choices were Logan Thomas aka LT3, Chris Herndon or Ian Thomas. I considered Herndon both the best player of that group and the one with the best projected target share. So despite the brutal matchup at Buffalo, he was the play for me.
* There were a lot of great WR plays this week, but I was able to narrow my pool for cash to just five: Julio Jones, Davante Adams, Terry McLaurin, Marquise Brown and DeSean Jackson. Out of the cheaper guys, I thought McLaurin had by far the best volume projection. I was scared to fade Brown, but once I had Lamar Jackson I was fine with it. I didn't want to tie up too much of my week in Lamar's arm.
* It's typically easy to get to a small RB cash pool because there aren't very many three-down plus goal-line backs who are game-flow independent. But the ones who do fit the bill are incredibly valuable. My pool this week was Christian McCaffrey, Dalvin Cook, Alvin Kamara, Josh Jacobs, Boston Scott and Antonio Gibson (a stretch, see below). Kamara's pass-game role – particularly in this matchup – made me slightly prefer him to Jacobs at the end of the day. In the small chance the Raiders fell behind big at Carolina, I couldn't live with myself watching Jalen Richard and Devontae Booker catching check-downs.
* My last 2v2 came down to Antonio Gibson and Julio Jones vs. Josh Jacobs and DeSean Jackson. They projected roughly the same. In the end, I decided that I didn't want more exposure to the Eagles in this really tough spot for Carson Wentz – particularly when I thought he wouldn't have very much time to get the ball deep to DeSean. I didn't feel great about Gibson and a wide range of outcomes, but I did want exposure to the Atlanta pass game. As noted in Thorn's DL rankings, we could project Ryan for a ton of time thanks to Seattle's struggles up front and the Falcons' quietly solid o-line.
Week 1 Results
I really didn't feel great about using a precious RB spot on Antonio Gibson or rostering two Washington skill players. And in hindsight, perhaps the spot for Josh Jacobs was simply too good to pass on. But I almost certainly would've landed on DeSean Jackson instead of Julio Jones if I had played Jacobs, so I would have had #regrets there as well. Perhaps more importantly, I knew that very few people would have Julio cash but I had conviction on him and pulled the trigger. It's always good to start the season off with some confidence.
Year-To-Date Results
Week 1: 172.10 points, won 72.8% of head-to-heads.