The NBA is back! Our In-Season Package includes everything Drew Dinkmeyer and our NBA team thinks you need to win. Continuously updating projections, live shows, top plays and more. Click here for details.
I am mainly a cash-game player. Cash games refer to any contest in which roughly 50% of the field gets paid out, such as head-to-head, double up or 50/50. I try to get as much head-to-head action as I can every week and then supplement that with other cash games.
Each week, I'll review my cash-game lineup in this space. Sometimes I'll lose, but hopefully I'll win more often. Either way, I'll post it here and give you my thought process.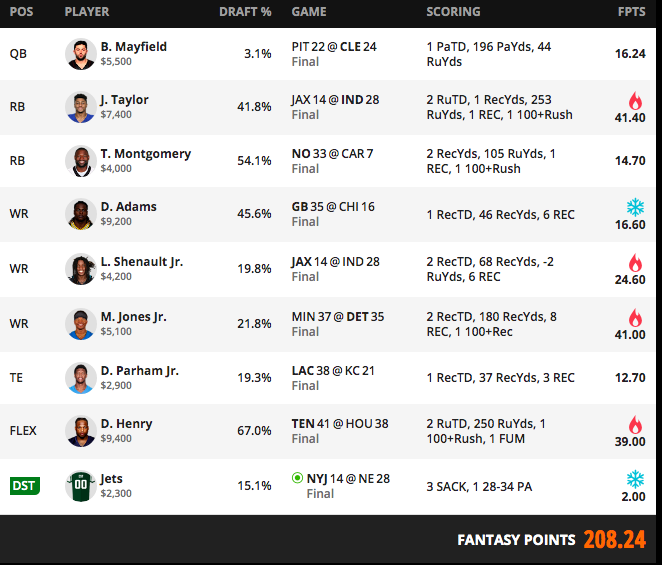 We know the drill in Week 17. There are going to be cheap options, but they'll likely come with a low floor due to both uncertainty in usage and ability. This was an odd Week 17 because I didn't like any WRs under $4200. I also wanted to be sure I had the floor/ceiling combo of guys like Davante Adams, Derrick Henry and Jonathan Taylor.
MY MUST PLAYS
* The Packers needed to win to clinch the ultra-valuable first-round bye. So on a slate with relatively few high-floor options, Davante Adams was a lock. Particularly against a Bears defense banged up in the secondary and with Aaron Rodgers intent on winning MVP. I wasn't going to miss one more crack at Adams' historically great usage.
MY WANT PLAYS
* Derrick Henry would have been a "must" if the Dolphins had won at 1pm. But with the Titans clinching a playoff berth before they even played, I did give some thought to coming off The Big Dog. In the end though, I thought the Titans would be motivated to get a Round 1 home game against the Ravens rather than a road game at the Bills. Obviously, the spot was as good as it gets for Henry. I've repeatedly talked in this space about how his floor (in the right matchup) is far higher than most of the high-stakes DFS community gives it credit for.
* Jonathan Taylor was also a "must" for me for most of the week. The Colts needed to win to make the playoffs, Jordan Wilkins had zero snaps over the previous two weeks and the Jaguars were 30th against RBs in our DvP metrics. The only reason I waffled some on JT was because Ty Montgomery, Ty Johnson and Darwin Thompson all came into play via injuries/rest in front of them. But I felt better about Taylor than the expensive WRs like Justin Jefferson or AJ Brown, so I decided to stick with JT.
* I would have played Ty Johnson over Ty Montgomery if I had the $300. I thought there would be a lot more Taysom Hill and Tony James than others did. But I didn't think TyJohn was such a big priority over TyMont that I needed to change my lineup. I expected a solid receiving floor given his WR background and Drew Brees' checkdown tendencies.
* I know Donald Parham only had three targets in Week 16. But if you looked at the underlying usage, it was really strong. And if you know anything about Donald Parham, you know he is a legit elite prospect at the tight end position. I toyed with some Evan Engram lineups, but had no problem going down to $2900 for Parham in a really good spot. I also played him as part of my Justin Herbert stack in the lineup that won the Juke for $20K.
* I'd be lying if I said I loved Marvin Jones, even in a very good matchup and environment without Kenny Golladay again. He's a bit old for my taste and I was worried Matthew Stafford wouldn't last the whole game. But he was such a strong play in our projections and by the math that I decided to just close my eyes and trust it. This was the reverse of IKB aka "I Know Better than the math." The other option for me in that spot was Big Mike Williams.
* For much of Sunday morning, I had Kirk Cousins, Richie James and Browns D in my lineup instead of Baker Mayfield, Laviska Shenault and Jets D. We had the Baker side projected slightly ahead, by less than a point. The bottom line is that I was trying to find a really good floor/ceiling combo in every spot in my lineup for this fragile Week 17. So I was adamant about not punting with James, Andy Isabella, Josh Reynolds or some other $3K WR.
I knew I was sacrificing a decent amount by coming off Cousins and Browns D in such great matchups, but QB and D are two places I'm typically willing to sacrifice. I also really liked the spot for Shenault for the reasons Silva outlined in Matchups.
In hindsight, I should have punted with a different QB than Baker. It was highly unlikely a shootout would develop vs. Mason Rudolph. And even though the Steelers were resting most of their best players on defense, the overall scheme was intact. Drew Lock or Daniel Jones would have made more sense and allowed me to get to Browns.
Week 17 Results
While I think avoiding the zero-floor punt WR range was correct, Baker Mayfield was a clear mistake. I was really lucky to get away with it thanks to ceiling performances from Marvin Jones, Jonathan Taylor, Laviska Shenualt and Derrick Henry. Always nice to close the season with one of my best weeks of the season.
Thanks to everyone who followed along all year. It certainly wasn't my best season and sometimes writing this is painful, but it holds me accountable for being thoughtful with my team. Good luck in the playoffs.
Year-To-Date Results
Week 1: 172.10 points, won 72.8% of head-to-heads.
Week 2: 138.34 points, won 66.8% of head-to-heads.
Week 3: 129.10 points, won 59.2% of head-to-heads.
Week 4: 111.60 points, won 28.8% of head-to-heads.
Week 5: 147.78 points, won 48.5% of head-to-heads and 192.96 points, won 100% of head-to-heads.
Week 6: 142.76 points, won 62.5% of head-to-heads.
Week 7: 208.00 points, won 82.3% of head-to-heads.
Week 8: 109.16 points, won 35.3% of head-to-heads.
Week 9: 131.60 points, won 48.5% of head-to-heads.
Week 10: 102.2 points, won 19.1% of head-to-heads.
Week 11: 145.22 points, won 52.7% of head-to-heads.
Week 12: 176.18 points, won 90.6% of head-to-heads.
Week 13: 159.3 points, won 73.7% of head-to-heads.
Week 14: 144.82 points, won 49.1% of head-to-heads.
Week 15: 162.12 points, won 53.6% of head-to-heads.
Week 16: 133.72 points, won 57.1% of head-to-heads.
Week 17: 208.24 points, won 88.5% of head-to-heads.