I am mainly a cash-game player. Cash games refer to any contest in which roughly 50% of the field gets paid out, such as head-to-head, double up or 50/50. I try to get as much head-to-head action as I can every week and then supplement that with other cash games.
Each week, I'll review my cash-game lineup in this space. Sometimes I'll lose, but hopefully I'll win more often. Either way, I'll post it here and give you my thought process.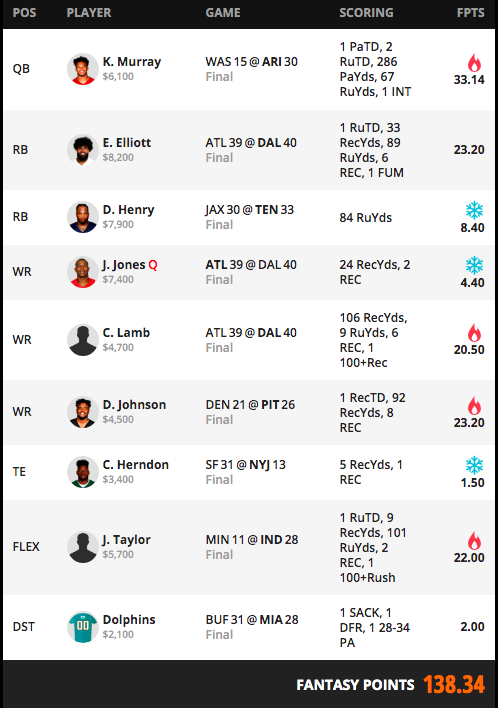 I can't remember a week in which I only had three players in my RB cash game pool. I also can't remember so many viable sub-$5K WR plays. This was the kind of week I wanted to play a bit more volume than usual (while practicing good game selection, of course) because I thought the right structure was so clear. I was happy to play against anything other than 6k QB, the three lock RBs, cheap TE, two $4K WRs structure.
MY MUST PLAYS
* With Marlon Mack (Achilles') done, the Colts possessing Brandon Thorn's No. 2 offensive line and Philip Rivers throwing to RBs at league-high rates, there was no way I could fade Jonathan Taylor at $5700. That was especially true given a home game against a depleted Vikings defensive line ranked 31st by Thorn. And even more true given Taylor's special size/speed skill set.
* Derrick Henry was a lock to touch the ball a minimum of 20 times and get the goal-line work against a plucky Jaguars team but still a defense which lacks talent everywhere – including up front. With Darrynton Evans sidelined again, we also had Henry projected 3.1 targets. I would rarely consider a primarily two-down, game-flow dependent RB in cash, but Henry's spot was an exception.
* While the Cowboys offensive line is a shell of its former self (especially with Tyron Smith inactive due to a neck injury), the Cowboys' commitment to Ezekiel Elliott is unwavering. We also saw signs in Week 1 that Zeke was in better shape and a bigger part of pass game. The latter point was especially important against a Falcons defense which funnels targets to RBs.
The only other RB I lightly considered was Miles Sanders, who was grossly underpriced at $6000 against the Rams. But given the hamstring concern and the strength of the other three RBs, he was never a real option for me.
* The Broncos came into the game missing a ton of defensive pieces, including top CB AJ Bouye and top pass rusher Von Miller. Dionte Johnson came into the game with at least some case to be considered Pittsburgh's No. 1 receiver for a healthy Ben Roethlisberger. Whereas we could poke holes in the other $4K WRs I liked (CeeDee Lamb, Parris Campbell, Scotty Miller, Corey Davis, Breshad Perriman, Christian Kirk), there were no holes to poke in Dionte at $4500.
MY WANT PLAYS
* My QB cash pool was only four guys: Lamar Jackson, Dak Prescott, Josh Allen and Kyler Murray. But with the three lock RBs taking up 43.6% of my cap, I needed the savings. I was more than fine going to the rushing floor of Kyler against a funneling Washington defense. A big factor pumping Kyler's projection to the top of our values was the expected pace, as noted by Thorman. Both Kliff Kingsbury and Scott Turner want their offenses to play near league-high pace rates.
* Regular readers know I'm typically going to pay down at tight end. Going into Saturday my TE pool was Logan Thomas, Chris Herndon and Jordan Reed. After reading some of the quotes from Kyle Shanahan on Reed, I decided to remove him from consideration. That was partially due to how strong I thought Chris Herndon was with middle-of-field target hog Jamison Crowder (hamstring) sidelined.
* I would have preferred to find the money for Bucs, Cardinals, Ravens, Steelers or Bills at D/ST. But I'm always going to be most willing to "punt" at D/ST as the position is the least predictable of them all. All the lineups I wanted to play needed every dollar, so the only question was Jets or Dolphins. I preferred Dolphins because as much as I love Josh Allen, he still is extremely mistake prone. And in most game scripts he would drop back far more times than Jimmy Garoppolo would.
* The 2v2 I really struggled with Sunday morning was Corey Davis and Davante Adams vs. CeeDee Lamb and Julio Jones. Obviously Davante is a tough fade as we had him with a target projection of 12.1. However, if I played the Adams side I would only have had exposure to Zeke in the ATL/DAL game. I was also worried the Packers would easily roll over the Lions without Kenny Golladay and starting RT Halapoulivaati Vaitai. So in the end, I felt better about being off Corey Davis in a game Ryan Tannehill may only throw 20 times and on the DAL/ATL game rather than DET/GB.
Week 2 Results
I thought this was one of the most straightforward weeks I can recall for making a cash lineup. We had the three standout RBs, the two standout cheap TEs, the plethora of $4K WR options and the elite QB value in Kyler. That said, I want my opponents to "prove it." Even if we think everyone will have the same lineup, in reality many will not. Certainly not a huge week, but glad to dodge all the injuries and escape with another win.
Year-To-Date Results
Week 1: 172.10 points, won 72.8% of head-to-heads.
Week 2: 138.34 points, won 66.8% of head-to-heads.