Editor's Note: Looking for more free content? Check out our YouTube Channel for shows, strategy sessions and more!
I am mainly a cash-game player. Cash games refer to any contest in which roughly 50% of the field gets paid out, such as head-to-head, double up or 50/50. I try to get as much head-to-head action as I can every week and then supplement that with other cash games.
Each week, I'll review my cash-game lineup in this space. Sometimes I'll lose, but hopefully I'll win more often. Either way, I'll post it here and give you my thought process.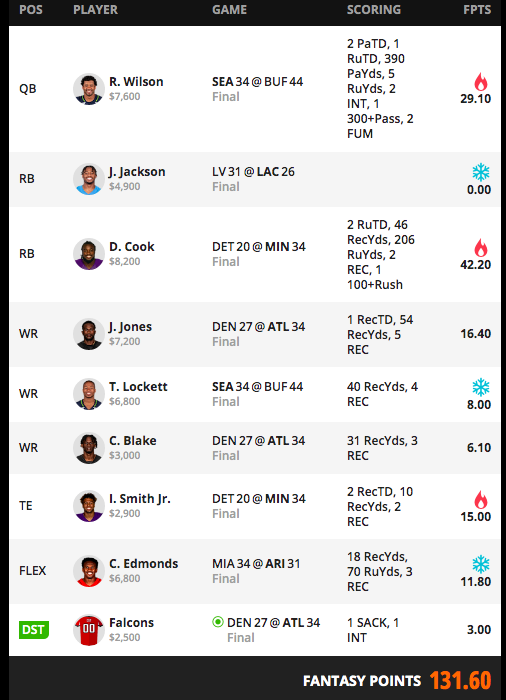 This was a difficult slate due to a lack of exciting cheap plays and a dearth of quality mid-range WR plays. It meant that we had to at least consider taking on extremely low floors at one or even two spots if we wanted to play strong (but expensive) guys like Dalvin Cook, Julio Jones, Tyler Lockett and Keenan Allen.
MY MUST PLAYS
* It was a bit of a perfect storm for Julio Jones. Calvin Ridley (ankle) was out plus the Broncos missing their top two corners in AJ Bouye and Bryce Callahan. We had Jones projected for the second-most targets on the slate, behind only Keenan Allen. I looked at lineups that included both Julio and Keenan, but I was never coming off Julio in this spot.
MY WANT PLAYS
* I only had four RBs in my pool: Dalvin Cook, Chase Edmonds, DeeJay Dallas and Justin Jackson. I knew I'd be playing three of them. The one I wanted most was Edmonds, who projected for an every-down plus goal-line role against a run-funneling Dolphins defense. Chase's price on FanDuel made him a must-play, but on DraftKings he was certainly not a lock at $6800. Still, I preferred Chase to guys like Josh Jacobs, David Johnson and James Conner for pass-game role and explosive ability.
* Justin Jackson was my favorite of the cheap RBs, well ahead of DeeJay Dallas and JK Dobbins. I knew the Chargers had really soured on Josh Kelley and Troymaine Pope (concussion) was out. That left Jackson with the lead dog role in an elite matchup and elite game environment against the Raiders. Jackson's pass-game ability fit nicely with uber-productive Justin Herbert as the Chargers shift toward a pass-centric attack.
On FanDuel, Dallas' price ($5100) made him the easy play over Justin Jackson ($5900). On DraftKings, Dallas was $100 more than J-Jax.
* I really thought hard about lineups which got off of a stone-min punt WR and then saved money by going down to DeeJay Dallas off Dalvin Cook. But in the end the spot and usage for Dalvin was too much to pass on. Our projections had Cook as an off-the-charts kind of play – and that was with a somewhat conservative usage projection. If Cook completely shut out Alexander Mattison and Ameer Abdullah again, the massive projection was light.
* I thought the biggest decision of the week was whether to punt a WR spot with a stone minimum guy or get up to a mid-range. I didn't love anyone in the mid-range – the guy I looked hardest at (and almost went with) was Diontae Johnson. But that would have pulled me off Dalvin Cook and I just didn't think the WR upgrade was worth it.
In terms of which punt WR to take, I thought the choices were Marcus Johnson (with TY Hilton and Ashton Dulin and Parris Campbell out) or Christian Blake (with Calvin Ridley out). If this lineup had Hayden Hurst, I would have gone Johnson to avoid having three Falcons. But in a vacuum I slightly preferred Blake for better QB play, better game environment and far better matchup. Again, the Broncos were down to the JV team at CB.
* I know it's easy to say in hindsight, but I really did prefer Keenan Allen to Tyler Lockett. Especially in cash lineups that already had Russell Wilson. While Keenan is a near lock for a minimum 25% target share every week, we know Lockett can find floor weeks in terms of volume. But I simply couldn't find the $200 I needed in this lineup – I didn't think coming off Russ down to Josh Allen was worth the upgrade to Keenan and D/ST. Obviously having Josh and Keenan Allen instead of Russ and Lockett would have been pure sex, but I don't think it was really a mistake.
* I had four QBs in my pool: Russ Wilson, Deshaun Watson, Josh Allen and Lamar Jackson. Note that all four of these guys have the rushing floor built in plus major passing upside. When these kinds of QBs are priced close to one-dimensional options, it's not even a question for me. The only QB who separated enough in price to be considered was Drew Lock ($5200), but I couldn't pull the trigger on him after the Jimmy Garoppolo nightmare last week. Anyway, I was happy to find the money for Russ in one of the week's best game environments.  My second choice would have been Allen, who I hedged a bit on by playing him on FanDuel.
* I wanted to play Hayden Hurst at tight end, who was underpriced at $4100 with Calvin Ridley out. But regular readers know I'm always willing to sacrifice at tight end, where it's very TD-dependent and therefore more difficult to project. So in an effort to get up to Dalvin, I decided to punt with ultra-athletic Irv Smith who had seen a role increase over the last month. With Matthew Stafford (COVID list) playing, the floor on Kirk Cousins' pass attempts rose.
* I'm always willing to spend as little as viably possible at D/ST. This week that was clearly the Falcons ($2500) at home against mistake-prone Drew Lock. If I had more money, I would have played Giants ($2700), Texans ($3100) or Washington ($3400).
Week 9 Results
Obviously Justin Jackson getting hurt on the first play of the game was brutal. That said, he was around 50% owned in cash so it didn't completely bury me. And in hindsight, I got a bit lucky as I didn't consider Dalvin Cook a "must" but landed on him anyway. On top of that Irv Smith turned four targets into a 2-10-2 line. My biggest regret is not finding a way to play Keenan Allen over Tyler Lockett, but I just couldn't stomach going below Irv or Falcons D/ST.
Year-To-Date Results
Week 1: 172.10 points, won 72.8% of head-to-heads.
Week 2: 138.34 points, won 66.8% of head-to-heads.
Week 3: 129.10 points, won 59.2% of head-to-heads.
Week 4: 111.60 points, won 28.8% of head-to-heads.
Week 5: 147.78 points, won 48.5% of head-to-heads and 192.96 points, won 100% of head-to-heads.
Week 6: 142.76 points, won 62.5% of head-to-heads.
Week 7: 208.00 points, won 82.3% of head-to-heads.
Week 8: 109.16 points, won 35.3% of head-to-heads.
Week 9: 131.60 points, won 48.5% of head-to-heads.