I play roughly 60% of my action each week in "cash games." Cash games refer to any contest in which roughly 50% of the field gets paid out, such as head-to-head, double up or 50/50. I try to get as much head-to-head action as I can every week and then supplement that with other cash games.
Each week, I'll review my cash-game lineup in this space. Sometimes I'll lose, but hopefully I'll win more often. Either way, I'll post it here and give you my thought process.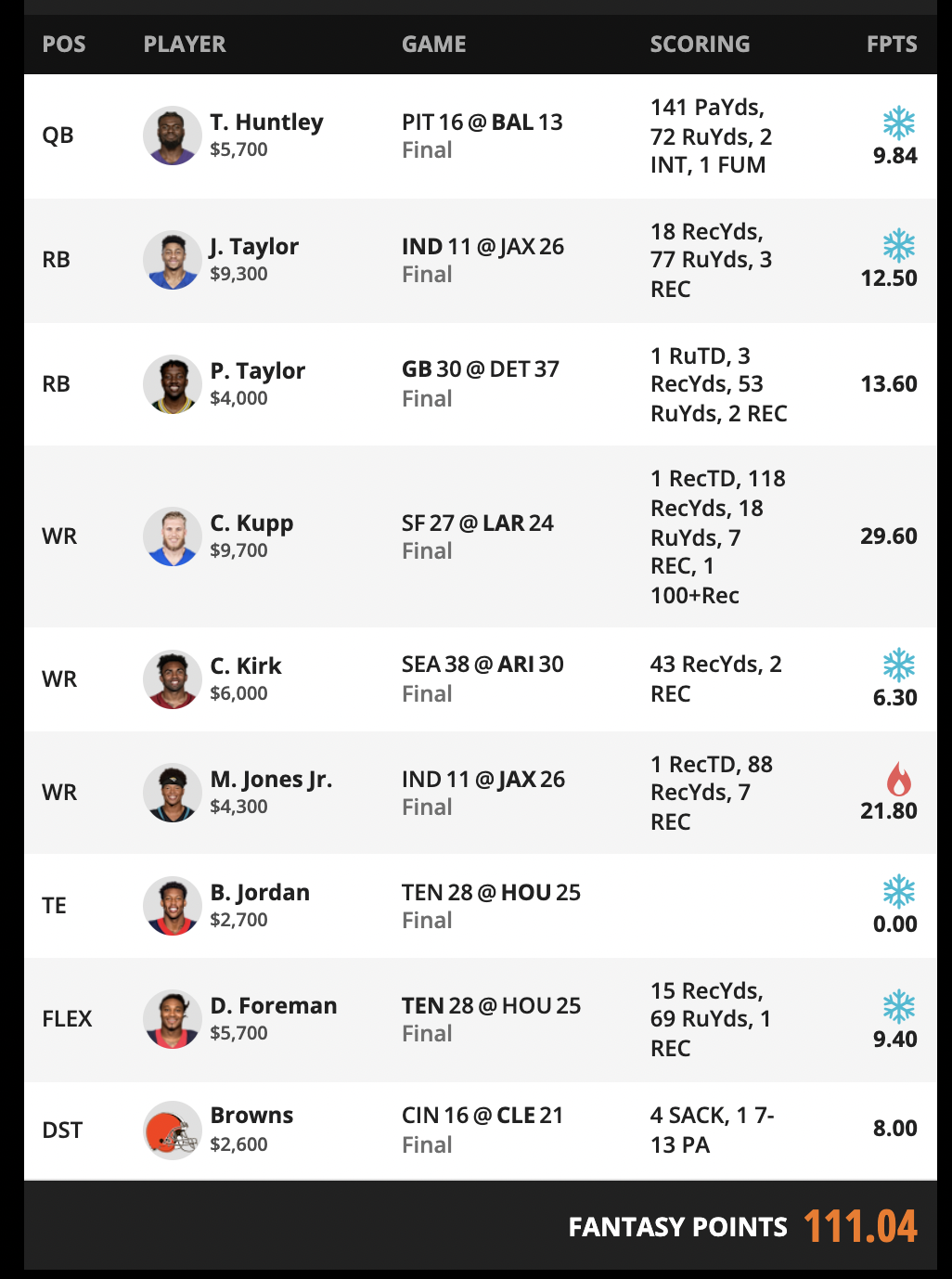 This was a painfully disappointing Week 18 slate. There was a shocking lack of value and #TeamPreseason plays – I was actually borderline depressed about it. We also had a lack of clarity on playing time in spots like Green Bay, Tampa Bay, Arizona that made things even harder.
MY MUST PLAYS
* I did not care about the records Cooper Kupp was chasing. All year he has been a historically elite cash game play in this full-PPR, 100-yard bonus format. In a must-win for the Rams, I was happy to pay $9700 for the ridiculous floor/ceiling combo. 
* The Bengals were starting Brandon Allen and a bunch of backups. There was also some nasty weather in Cleveland. Meanwhile, the Browns D had nothing to play for but at least Myles Garrett and their top-2 pass rush was active. I wasn't passing on this spot at just $2600.
MY WANT PLAYS
* If you looked at Anthony Amico's excellent incentives article, you knew the deal with Marvin Jones. He needed four catches for a $500K bonus. Given the context of the slate – how badly we needed to save money and how weak the cheap WR options were – this incentive put me over the edge. It also helped Tavon Austin was scratched and the game was clean weather in a spot I expected the Jags to be trailing. 
* As usual, I was trying to spend as little as possible in cash at tight end. I preferred Cole Kmet in the dome with Andy Dalton at QB, but I wasn't going to prioritize him. The other punt options were John Bates (likely to play every snap for WFT) and Brevin Jordan (nice spot for Davis Mills). I only had money for Jordan in this lineup and I was fine with the low floor.
* The only quarterbacks I really considered were Tyler Huntley and Taysom Hill. I thought they were similar plays – shaky throwers but guys capable of running for 100 yards. At these low prices, saving money with one of them was a no-brainer. I did prefer Hill for the better matchup and game environment, but I thought they were essentially a coin flip. 
* I of course wanted to play Jonathan Taylor, Cooper Kupp, and Justin Jefferson. There simply no realistic way to do so. I certainly loved the spot for Jefferson in a dome without Adam Thielen, but this spot for Taylor in a must-win against the Jaguars was one I couldn't get away from. While Taylor's pass-game role is meager, the likely game script in this game was one he goes over 100 rushing yards and scores a TD so often. With so much uncertainty on the slate, I wanted to bank the RB points. 
* There were a lot of other RBs I considered. Devin Singletary, David Montgomery, D'Onta Foreman, Patrick Taylor, and Ke'Shawn Vaughn were my favorites, and (price considered) I didn't see a lot of separation between them.

D'Onta Foreman is not the kind of back I typically like to play as he's not a pass-down back, but this was a home-run spot against the Texans. With Jeremy McNichols cut, Foreman only had to contend with Dontrelle Hilliard. At just $5700, a good bet for 20 carries and goal-line work in this matchup was strong.
In hindsight, I think the Patrick Taylor play was a mistake. We knew Aaron Jones was out, but we didn't know how long Green Bay's starters would play. I really thought Taylor would mix in with AJ Dillon while Aaron Rodgers was in, and then be an every-down back once Jordan Love got in. The Packers did not have any other RBs on their active roster. At just $4000, there was certainly value but a lot of opportunity cost.
* The last 2v2s I looked at included picking one of Cyril Grayson or Christian Kirk. In the end, I felt better about Patrick Taylor than Grayson, and therefore made the call to get up to Kirk. I didn't have much conviction around him, but he was my favorite mid-range WR. I did not have the money for Tyler Lockett or Amon-Ra St. Brown in the high-$6k range. 
Week 18 Results
I played really poorly this week. Given the depth at RB and how strong a play Justin Jefferson was, it was a mistake to jam in Jonathan Taylor. Despite the results, Patrick Taylor was too risky for the opportunity cost as well, as discussed above. And Tyler Huntley in that weather with that matchup over Taysom Hill was a mistake as well. All in all, I was lucky to escape with a return to close out the season.

Thanks to everyone for following along all year! 

Year-To-Date Results
Week 1: 124.86 points, won 70.5% of head-to-heads
Week 2: 92.88 points, won 5.7% of head-to-heads
Week 3: 151.52 points, won 63.8% of head-to-heads
Week 4: 104.92 points, won 8.1% of head-to-heads
Week 5: 187.08 points, won 82.7% of head-to-heads
Week 6: 147.98 points, won 82.3% of head-to-heads
Week 7: 163.38 points, won 88.1% of head-to-heads
Week 8: 135.62 points, won 37.0% of head-to-heads
Week 9: 127.54 points, won 81.4% of head-to-heads
Week 10: 152.74 points, won 90.0% of head-to-heads
Week 11: 109.02 points, won 55.3% of head-to-heads
Week 12: 117.32 points, won 80.1% of head-to-heads
Week 13: 180.08 points, won 86.9% of head-to-heads
Week 14: 127.30 points, won 51.4% of head-to-heads
Week 15: 119.58 points, won 36.8% of head-to-heads
Week 16: 130.88 points, won 43.9% of head-to-heads
Week 17: 135.06 points, won 68.9% of head-to-heads
Week 18: 111.04 points, won 36.1% of head-to-heads