I play roughly 60% of my action each week in "cash games." Cash games refer to any contest in which roughly 50% of the field gets paid out, such as head-to-head, double up or 50/50. I try to get as much head-to-head action as I can every week and then supplement that with other cash games.
Each week, I'll review my cash-game lineup in this space. Sometimes I'll lose, but hopefully I'll win more often. Either way, I'll post it here and give you my thought process.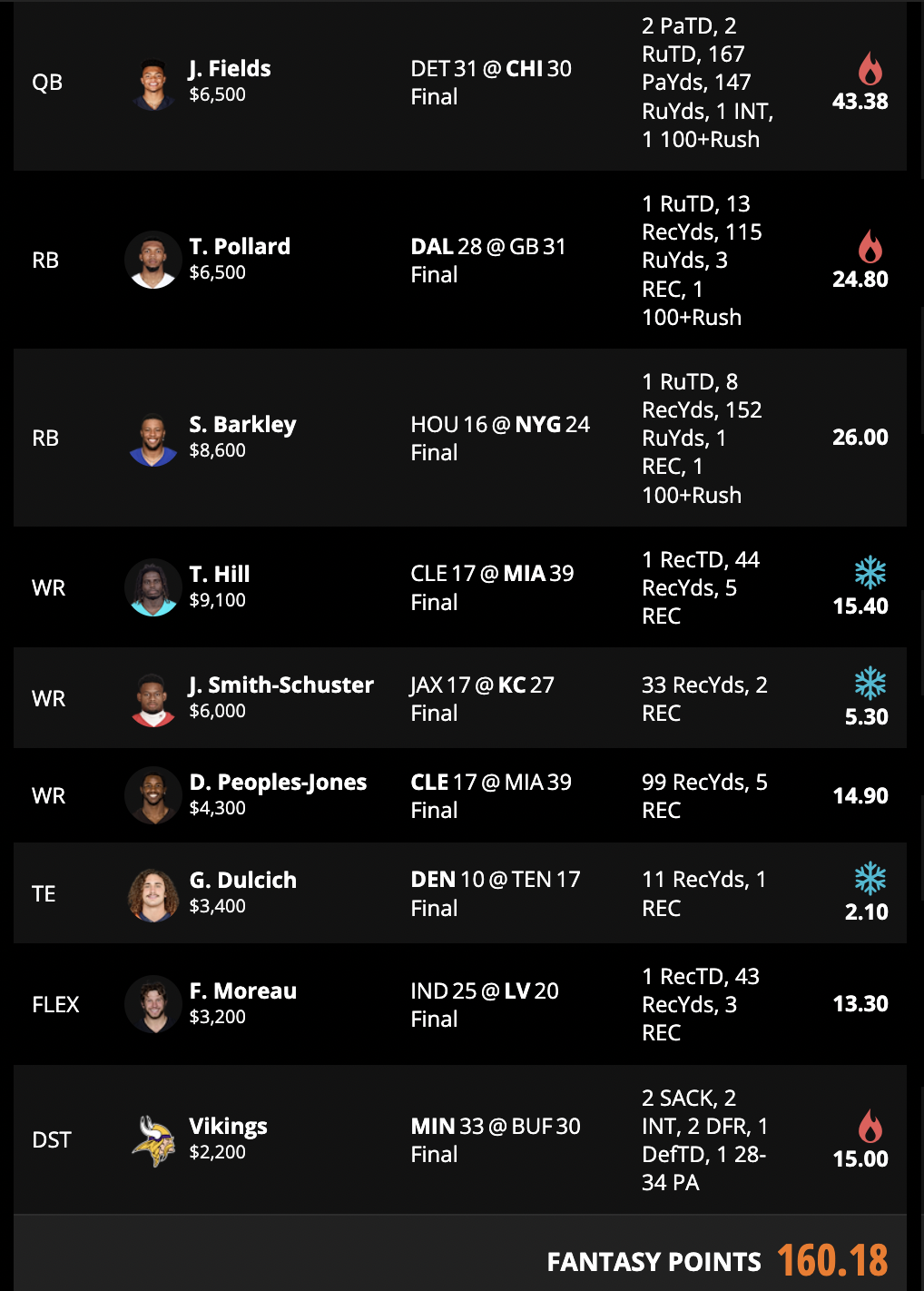 This was a truly unique slate for two key reasons. First, almost all of the best plays (even salary-adjusted) were expensive. And second, the running back pricing was juiced across the board. It set up a slate where I thought it was right to punt one spot, if not more.  
MY MUST PLAYS
* Once it became clear Ezekiel Elliott (knee) would be inactive, I knew I had to have Tony Pollard. Note that he was $6500, significantly less than other RBs I thought were in play for cash such as Josh Jacobs ($7600) and Alvin Kamara ($7400).
The only hesitation were the quotes from RBs coach Skip Peete, who suggested a couple weeks ago that Pollard gets worse after 30 snaps and they didn't want to overuse him. I didn't buy that quote too much at all. I thought in a close game there was no way the Cowboys would play Malik Davis or Qadree Ollison over a mega-talent like Pollard. And if the game wasn't close, Pollard will have gotten there already.
Pollard is also a very good pass-catcher and the Cowboys clearly don't mind using him around the goal-line. The talent and role was just too strong to pass on at $6500 – I preferred Pollard to Dameon Pierce thanks to superior pass-game role and the systemic offense risks with the Texans. 
* On a different slate, Donovan Peoples-Jones wouldn't have been a "must" or even a "want." But given that I didn't consider any RB under $6300 in play and needed to spend at least $6500 at QB, we were always going to have to play a thinnish $4k wideout. And I was fine with that because the mid-range of WR was so weak. Clearly the best WR in that cheapish range was DPJ, an every-down WR in a potential shootout who was averaging 6.2 targets per day over his last five. 
I did consider lineups that had both DPJ and Marquez Valdes-Scantling, but that didn't quite get me where I wanted to be at running back. So I decided for the rare and painful double-TE construction (see below).
MY WANT PLAYS
* I only considered two quarterbacks on this slate: Justin Fields and Patrick Mahomes. And it quickly became clear that I would need the $1400 savings to Fields. Of course I was more than fine with that as the Bears have changed their scheme over the last month, emphasizing Fields' absurd rushing ability. And in this clean weather home game against a Lions defense ranked dead last (by a wide margin) in yards per play allowed, it was a ceiling spot for Fields. 
* I knew I was playing one of Greg Dulcich or Foster Moreau at tight end. I preferred Dulcich as the more athletic player who sees his targets further down the field. Ever since coming off IR a month ago, Dulcich has had elite usage for a tight end – especially one priced at just $3400. 
That said, Moreau was also extremely solid at just $3200. Darren Waller and Hunter Renfrow both out, and Moreau running a route on roughly 100% of the Derek Carr dropbacks. So it created a unique situation where we had two strong punt tight ends, some very expensive players I wanted to play (see below), and a bunch of "meh" in the mid-range. I give up some ceiling by going tight end in flex, but the floor of something like Moreau vs. Mack Hollins or Marquez Valdes-Scantling isn't much different. 
* At $9100, Tyreek Hill certainly wasn't a steal. But I still thought he was underpriced thanks to an insane role that Mike McDaniel draws up weekly for one of the NFL's best talents. At any lower price in this matchup, Hill would have been a must. But at $9100, I did look at lineups that had Amon-Ra St. Brown as my WR1. But once I went to the 2-TE set, I wanted my favorite two plays on the slate (Saquon Barkley and Tyreek Hill) on the squad. That's what 2-TE allows us to do.
* The last 3v3 I looked at was Alvin Kamara, Amon-Ra St-Brown and Cardinals D/ST vs. Saquon Barkley, Juju Smith-Schuster, and Packers or Vikings D/ST. 
After thinking about this for a bit, I decided that I really preferred Barkley over Kamara. The Giants were well rested off a bye, at home as a solid favorite, and were facing a Texans defense ranked 30th in yards per play allowed plus 31st in our DvP ratings vs. RBs. The entire Giants offense revolves around Barkley, who was a near lock for 20+ touches in this pure clean spot.

Meanwhile, Kamara was on a short week (Saints played Monday night) going on the road against a Steelers team coming off their bye. I certainly thought it was a fine setup for Kamara and would have been fine playing him at $7400, but the spot for Barkley was outrageously strong. 
Now, was Barkley worth coming off Amon-Ra and downgrading at defense? It was close, but I thought it was indeed worth it. Juju has cleanly emerged as Patrick Mahomes' favorite WR in the NFL's most pass-happy scheme. And I'm never going to let D/ST make a big decision for me. In other words, Cardinals D/ST at $2700 facing the Stafford-less Rams was a super strong play but D/ST is too unpredictable to be a "must" here. 
As for Vikings D/ST vs. Packers D/ST, the Josh Allen elbow injury coupled with far more projected dropbacks led me to leave $200 on the table here and play Minnesota. But that was a stone flip. 
Week 10 Results
The Juju Smith-Schuster second-quarter injury stung. But I certainly was fortunate to run into a 15-point game from the second-cheapest defense on the slate, Minnesota.
That said, the key to the slate was prioritizing Saquon Barkley over Dameon Pierce and Alvin Kamara. And that was a little bit of an IKB (I know better), as the pure math would not have paid up for Barkley. But I am really happy with my decision to lean into what I really thought – this spot was just too good to pass on an $8600 Barkley. Also note Tony Pollard was only 47.7% owned in the massive $25 singe entry double up, so understanding the Zeke reports was big.
Year-To-Date Results
Week 1: 172.02 points, won 80.7% of head-to-heads
Week 2: 127.28 points, won 65.8% of head-to-heads
Week 3: 139.86 points, won 96.9% of head-to-heads
Week 4: 171.52 points, won 89.5% of head-to-heads
Week 5: 184.36 points, won 62.1% of head-to-heads
Week 6: 135.86 points, won 51.6% of head-to-heads
Week 7: 165.40 points, won 77.8% of head-to-heads
Week 8: 194.24 points, won 87.1% of head-to-heads
Week 9: 161.62 points, won 73.9% of head-to-heads (does not include ties)
Week 10: 160.18 points, won 81.7% of head-to-heads