I play roughly 60% of my action each week in "cash games." Cash games refer to any contest in which roughly 50% of the field gets paid out, such as head-to-head, double up or 50/50. I try to get as much head-to-head action as I can every week and then supplement that with other cash games.
Each week, I'll review my cash-game lineup in this space. Sometimes I'll lose, but hopefully I'll win more often. Either way, I'll post it here and give you my thought process.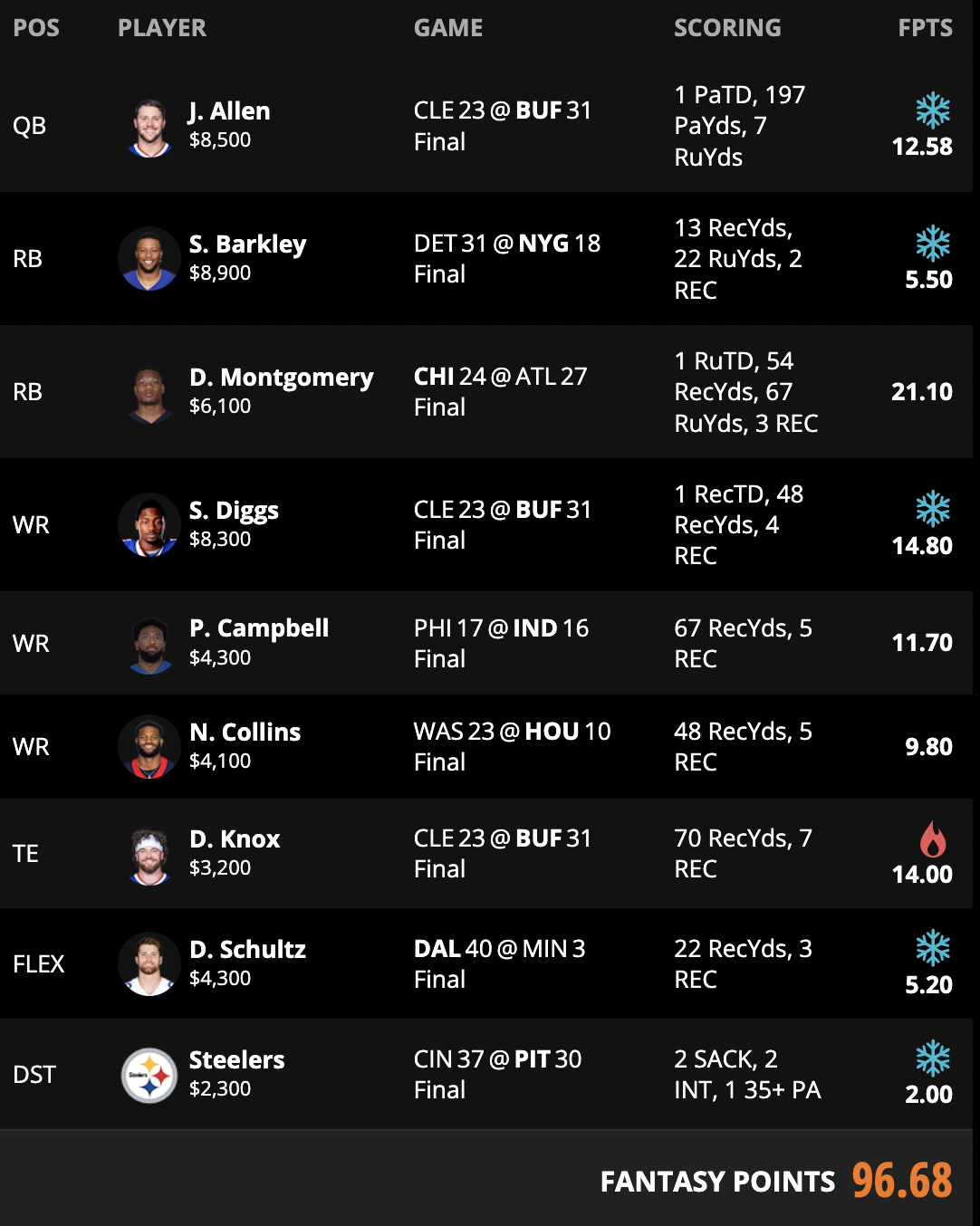 This slate was similar to Week 10. The double-TE lineups were very viable (if not optimal) once again, but that construction wasn't nearly as strong this week. That's because we didn't have two strong "punts," we had just one (Dawson Knox). That, along with the usual overpriced WR set and some increases in RB pricing, created a really tight cap yet again.  
MY MUST PLAYS
* The Khalil Herbert (out, hip) injury mattered a ton. Whereas Trestan Ebner mixed in with Herbert plenty when David Montgomery was out, I suspected the Bears trust Montgomery more than Herbert. So I thought the floor for Montgomery was 75% of the RB touches, and 90% wasn't out of the question.

Given the dome matchup against a Falcons defense ranked 31st in yards per play allowed, the $6100 tag on Montgomery was far too cheap. Although he's not an explosive player, he's solid both around the goal-line and in the pass game. 
* Parris Campbell was similar to the Donovan Peoples-Jones play from last week. On a different slate, Campbell wouldn't be a "must" and maybe not even a "want." But Campbell was one of the few truly underpriced WRs on the entire slate and the Eagles' elite pass defense is best attacked via the slot. In Campbell's previous three games with Matt Ryan, he had racked up 11, 12, and 9 targets. DraftKings, in a rare episode of not pricing up meh WRs, left Campbell at $4300.
MY WANT PLAYS
* Given how tight the slate was, I didn't think Josh Allen was a "must" up at $8500. There were cheap options with mobility such as Daniel Jones and Marcus Mariota. But given the dome setup and the matchup with Cleveland, I wanted access to Allen's floor/ceiling combo. And more importantly, going down to Dimes or Mariota didn't get me a ton of upgrades I really liked. 
Note that I never considered playing Justin Fields over Allen, because Fields was just $900 less. That price gap was too close for me once Allen got shifted into the dome. 
* Dawson Knox plays roughly every snap with Josh Allen, has a legit red-zone role, and the Bills had the highest team total on the slate by far. At just $3200, you could have considered Knox a "must." I didn't consider him a must in a vacuum. But in the context of this slate, the salary-relief he provided was very much-needed.
* I thought Stef Diggs was the best WR play on the slate, regardless of price. There was no way I was going to play CeeDee Lamb over Diggs for just $800 more. That said, I didn't feel the need to stack Allen/Diggs – but I was definitely going to have at least one of them. Diggs entered Week 11 averaging 11 targets per game at an 11.5-yard aDOT. Just an absolutely insane role for someone at $8300 in a plus matchup in a dome.
* The Steelers D/ST was clearly the best "punt" defense on the slate. They had Brandon Thorn's No. 2 DL>OL mismatch with TJ Watt back. And Joe Burrow is annually among the league leaders in sack rate. At just $2300, this was a no-brainer. If I needed $100 I would have been fine with Colts as well. As always with defense in cash, I'm actively trying to spend as little as possible. 
* As usual, I took my time with the last 3v3. It was Saquon Barkley, Nico Collins, Dalton Schultz vs. Kenyan Drake, CeeDee Lamb, Greg Dulcich.

The bottom line is that I did not like Lamb as much as the field. I thought he was fine at $7400, but far from a must. With Zeke Elliott back, Pollard playing so well, Michael Gallup healthy, and Dalton Schultz healthy – it's just very crowded in Dallas. And Lamb's ceiling has only rarely flashed over the last 1.5 years. 
On the other hand, Saquon Barkley at home against arguably the NFL's worst defense in Detroit was an absolute eruption spot. I again expected a floor of 20 touches with plenty of 30-touch firmly games in the range. I also slightly preferred Schultz to Dulcich. So while Nico Collins is the kind of play I rarely make at $4100, I thought the Barkley floor/ceiling combo was indeed worth the sacrifice.
Week 11 Results
This was one of my worst weeks of the season, but I actually am reasonably happy with the team I played. Being low on CeeDee Lamb was right (at least in results here). Kenyan Drake ended up with just 10-of-17 RB carries and flopped. The mid-range WRs that were in play for cash (Terry McLaurin, Cortland Sutton) didn't do a ton either. So getting six Parris Campbell targets and seven Nico Collins targets at far less money… in hindsight I feel great about that. 
My results were poor simply because Josh Allen, Stef Diggs, and Saquon Barkley grossly underperformed. But I'll happily get my money behind these guys in these matchups/spots every time.
Year-To-Date Results
Week 1: 172.02 points, won 80.7% of head-to-heads
Week 2: 127.28 points, won 65.8% of head-to-heads
Week 3: 139.86 points, won 96.9% of head-to-heads
Week 4: 171.52 points, won 89.5% of head-to-heads
Week 5: 184.36 points, won 62.1% of head-to-heads
Week 6: 135.86 points, won 51.6% of head-to-heads
Week 7: 165.40 points, won 77.8% of head-to-heads
Week 8: 194.24 points, won 87.1% of head-to-heads
Week 9: 161.62 points, won 73.9% of head-to-heads (does not include ties)
Week 10: 160.18 points, won 81.7% of head-to-heads
Week 11: 96.68 points, won 52.2% of head-to-heads