I play roughly 60% of my action each week in "cash games." Cash games refer to any contest in which roughly 50% of the field gets paid out, such as head-to-head, double up or 50/50. I try to get as much head-to-head action as I can every week and then supplement that with other cash games.
Each week, I'll review my cash-game lineup in this space. Sometimes I'll lose, but hopefully I'll win more often. Either way, I'll post it here and give you my thought process.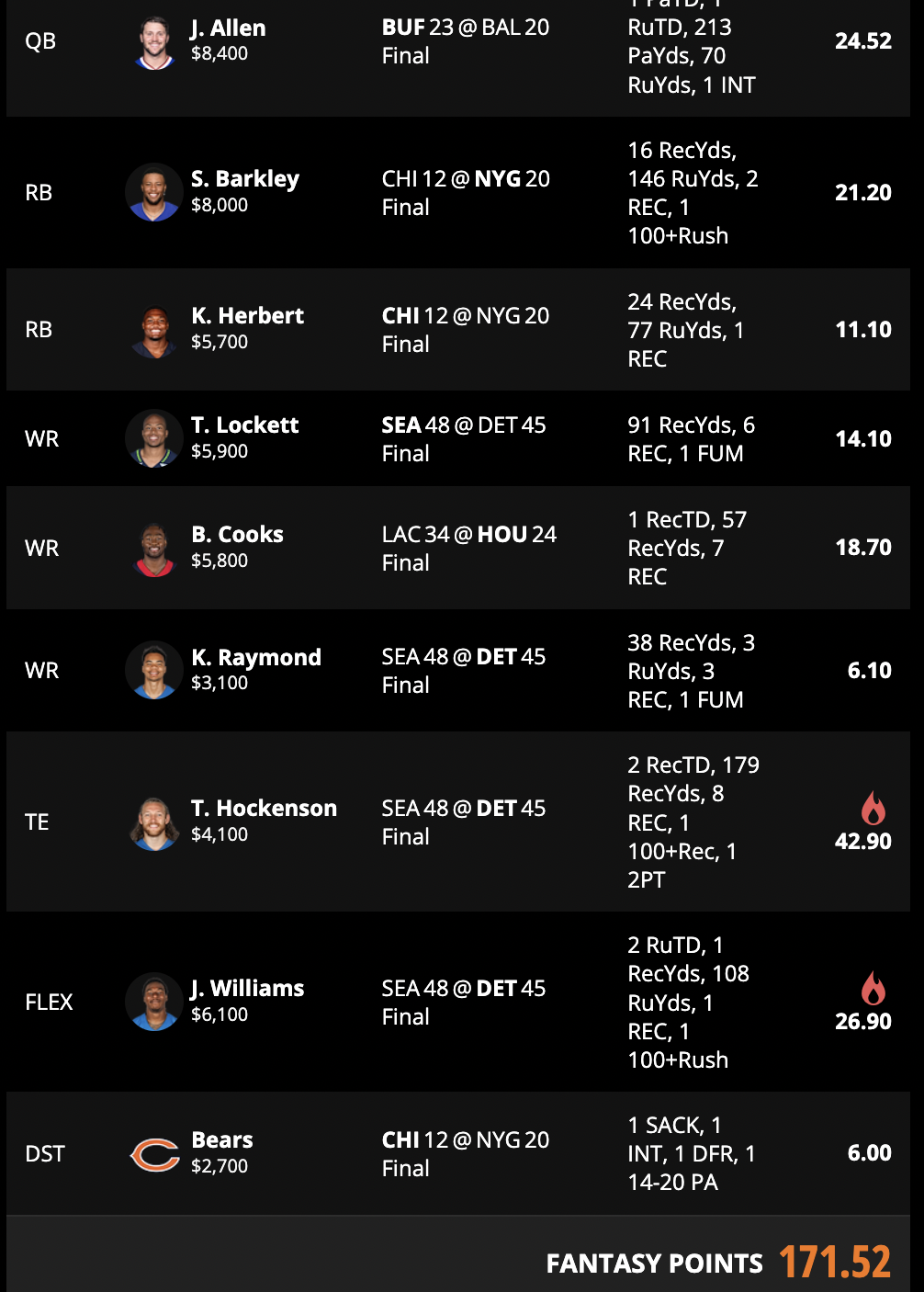 This was a very shallow slate. In cash, I only seriously considered two QBs, one TE, four RBs, and six WRs. That is a very, very small pool of players to pick through. Of course, when the pool is this small it is relatively easy to land on a team.    
MY MUST PLAYS
* With David Montgomery (knee/ankle) out, we knew talented Khalil Herbert would handle at least 80% of the RB work. We also knew the Bears would not try to throw the ball. So at $5700 in a plus matchup against the Giants, the three-down plus goal-line skill set of Herbert was a lock.
* I couldn't find any "punt" tight ends I liked. Travis Kelce wasn't on the slate. And we detailed on Establish The Show why this was a spot for Lamar Jackson/Mark Andrews regression. So I never really considered any tight end other than TJ Hockenson. With D'Andre Swift, Amon-Ra St. Brown, and DJ Chark all out, there was a ton of target opportunity to go around. Hockenson was also in a dome facing arguably the NFL's worst defense, as Matt Davidow noted on the betting show Friday night.  
* Jamaal Williams, the new captain of #TeamSex, certainly wasn't free at $6100. And we expected Craig Reynolds to play a decent amount.

But he was home with a decent pass-game and elite goal-line role in the slate's best game environment. And facing this putrid Seattle defense. So while I thought Josh Jacobs was certainly fine and I really liked Jonathan Taylor (see below), Williams' environment and role was too strong to pass on in cash. 
MY WANT PLAYS
* The only two quarterbacks I considered were Josh Allen ($8400) and Marcus Mariota ($5600). There were a few reasons I leaned Allen.

First, I did not believe the total in the CLE-ATL game, I thought it was way too high. IKB aka I Know Better szn. Second, I wanted a piece of the Bills offense in this spot but thought the weather situation was worse for Stef Diggs than Allen. And finally, going to Mariota just didn't get me much – I still couldn't fit Diggs, Saquon Barkley, and Jonathan Taylor for example. 
So while I don't love paying $8400 for QB in cash, Josh Allen is a unique specimen. The Bills have such an outrageously high pass rate, their pass game is so efficient, and Allen is one of the best goal-line runners in the league. The floor/ceiling combo is outrageous. 
* I know Saquon Barkley ($8000) was a stone cold lock for many people. And maybe he should have been for me as well. But I did think Jonathan Taylor ($8800) would outscore Barkley straight up in this spot, so I played with some combos that got up to JT. But in the end, I didn't think it was worth the $800 squeeze it put on the rest of my lineup.

So I of course was fine with Barkley, armed with league-best usage and an elite pass-game + goal-liine role, facing the woeful Bears at home. 
* With D'Andre Swift, Amon-Ra St. Brown, and DJ Chark all out for the Lions, there were clearly a ton of available targets for the Lions. In a dome against the woeful Seahawks defense, I was always playing one of the Lions WRs.

I thought Josh Reynolds was clearly the best of the bunch. He has a long history with Jared Goff, and was producing when the Lions had all their weapons.

The problem was I couldn't make the $4600 on Reynolds work, especially when slot man Kalif Raymond was just $3100. These small slot guys are the kind I like to fade in tournaments when they are owned, but on tight cash slates getting those layup short slot targets is fine. 
* Last week, I thought Brandin Cooks was a really weak play. He was outside on a dumpy field on the road in a terrible game environment against the Bears.

This week, Cooks was clearly a strong play. He was on the turf in what projected as a high volume spot for Davis Mills – and the Chargers just lost top pass rusher Joey Bosa (groin). We knew the target share for Cooks would be elite at just $5800. 
* We can't think of the Seahawks like we did under Russ Wilson. It sounds crazy, but under Geno Smith this team came into Week 4 ranked 12th in pass rate over expectation overall and 9th in the red zone. Geno led the league in completion percentage and was 7th in passer rating. 
On top of that, the target tree is narrow and the Seahawks had a dream matchup at Detroit. So it was a very good spot for Tyler Lockett at just $5900 with real paths to double-digit targets.

I preferred Cooks and Lockett to Diontae Johnson in that price-range thanks to less target competition and better game environment. Whereas the Steelers could have gotten a lead and sat on it against Zach Wilson, we knew the Texans and Seahawks would be forced into aggression the whole day. 
* As always, I let the rest of my roster dictate my D/ST. Of course I thought the Steelers, Giants, Eagles, Packers etc. were strong – but they were also far more than I like to pay for a D/ST in cash. There is very little predictability in defensive scoring, so we want to go cheap. I was certainly fine with the Bears D/ST at $2700 against mistake-prone Daniel Jones and his decimated WR corps. 
Week 4 Results
Clearly understanding the Lions situation was the key to the slate. There was much hand-wringing over playing three of them in cash, but given prices and situation I was happy with the decision to go for it. Of course, running into 90th-percentile outcomes from Hockenson and Jamaal Williams was a pleasant surprise. I was also happy with the way I handled Josh Allen/Stef Diggs.

I'll certainly regress back to a more realistic win rate soon, but for now we are living the dream. 
Year-To-Date Results
Week 1: 172.02 points, won 80.7% of head-to-heads
Week 2: 127.28 points, won 65.8% of head-to-heads
Week 3: 139.86 points, won 96.9% of head-to-heads
Week 4: 171.52 points, won 89.5% of head-to-heads