I play around 60% of my action each week in "cash games." Cash games refer to any contest in which roughly 50% of the field gets paid out, such as head-to-head, double up or 50/50. I try to get as much head-to-head action as I can every week and then supplement that with other cash games.
Each week, I'll review my cash-game lineup in this space. Sometimes I'll lose, but hopefully I'll win more often. Either way, I'll post it here and give you my thought process.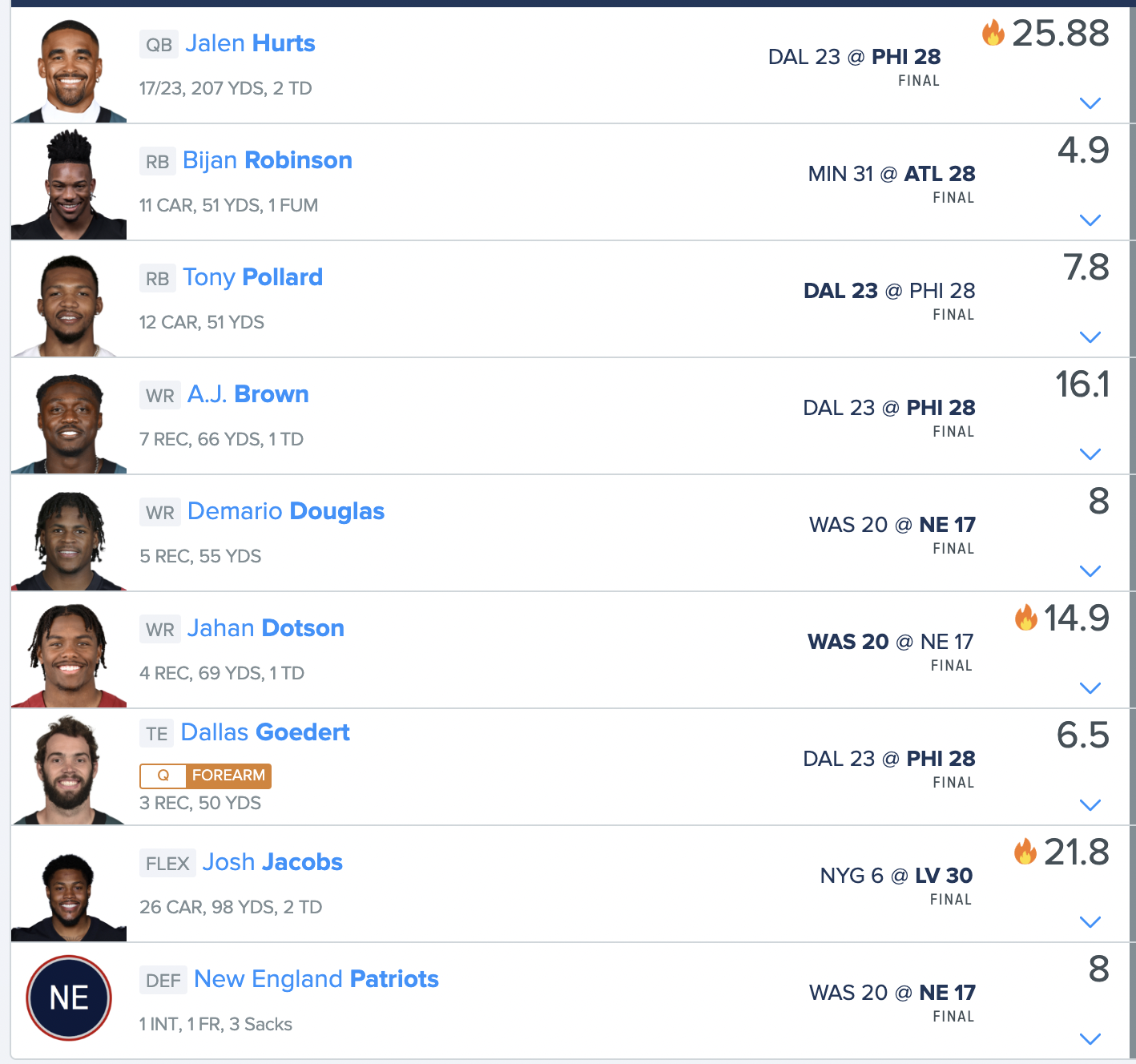 I decided to focus my cash game attention on FanDuel again this week. I talked about it a bit on this Solo Pod, but the bottom line is I've merely wanted to change things up. The scoring system (half-PPR, no bonuses) and pricing structure ($60K cap vs. $50K cap) certainly necessitates a change in strategy. 
This slate was very strange because we didn't have many of the league's best fantasy players. The Dolphins, Chiefs, Bills, Bengals, Jets, and Chargers weren't on the slate. The Lions, 49ers, and Jaguars were on bye. It created a situation where we could afford to spend up for the security of the few actually elite plays – even if they were slightly overpriced.
MY MUST PLAYS
* I prefer to spend down at quarterback on DraftKings when possible. The salary cap is tighter, and QBs represent a smaller portion of your final score. But on FanDuel, which is extremely TD-heavy, spending for the elite TD upside of quarterbacks is my preference. 
The only options this week in terms of elite QBs were Jalen Hurts and Lamar Jackson. I considered finding the $400 for Hurts a must because of the tush-push. Whereas the Ravens are confident in their ability to hand the ball off at the goal-line, the Eagles are now doing the tush-push from the 2-yard line. I also considered the game environment in DAL-PHI far better than SEA-BAL.
* Josh Jacobs season-long efficiency woes tanked his price down to $7500. Even though he still had one of the best roles in the entire league, and was favored at home against the Giants. So while Jacobs certainly wasn't a comfortable click, I wasn't going to pass on a 15-touch floor with a really good pass-game and goal-line role. Not when he was $500 cheaper than Jonathan Taylor, $1100 cheaper than Saquon Barkley, and a whopping $1700 less than Alvin Kamara. 
* We can be looser with our wide receiver spots on FanDuel because there are no 100-yard bonuses and it's half-PPR. Given that, I thought just grabbing reasonable floor at a bargain-basement $5400 for Demario Douglas was a must. With Kendrick Bourne (ACL) out, I fully expected "Pop" to lead the Patriots in targets. In one of the best possible matchups for an offense. 
MY WANT PLAYS
* This was an incredibly strong slate for D/ST. And it's very important to get D/ST right on FanDuel. I really only considered three: Patriots ($3700) against Sack Howell, Packers ($3800) against Brett Rypien, and Browns ($4700) against Clayton Tune. I did consider going up to the Browns and sacrificing at tight end. But the Patriots were so strong as well, that I was fine taking the savings. 
* AJ Brown could've been considered a must. Given the context of the slate, he was very easy to get to and was 1.7 points clear of all other WRs in our projections. But $9000 for a wide receiver on FanDuel is tough to consider a must. Still, on a slate with so few options to feel strong about, I wanted the alpha status of AJB. 
* Tight end was a really important decision. There were five below $6000 I thought were really close/solid: Jake Ferguson, Kyle Pitts (no Drake London, QB change), Dalton Schultz, David Njoku, and Dallas Goedert. Schultz was our top value in projections and top tight end on Top Plays. But I preferred Goedert as the better talent and better QB play – and the $4000 didn't get me anything I wanted. 
* I did not want to go back to Tony Pollard. I spent a lot of time on last week's Solo Pod discussing the current Pollard situation. However, FanDuel decided to make Pollard effectively free at just $6600. For reference, that's cheaper than Zack Moss, Rachaad White, Kareem Hunt, Gus Edwards etc. 
So given Pollard's raw touch projection and goal-line role, I couldn't pass on Pollard. Going to Jonathan Taylor ($8000), Saquon Barkley ($8600) or Alvin Kamara ($9200) would've meant huge sacrifices across the board.


* I really liked this spot for Bijan Robinson. I expected Jaren Hall to faceplant as the Vikings starting QB, leading to a lot of short fields, touchdown opportunities, and RB touches. He was also very cheap at $7100. Of course it's uncomfortable playing any Arthur Smith asset in cash as he makes zero attempt to get his best players the football. And maybe I could've leaned more into those concerns. But from a talent and spot perspective, I thought Bijan was far too cheap.
* My final decision came down to Tank Dell ($5800) or Jahan Dotson ($5900). I really, really liked the spot for both – Dell against the pass-funneling Bucs, and Dotson playing without Curtis Samuel (toe) while Sam Howell projected to easily lead the slate in dropbacks. We did have Dell 1.0 points ahead in projection. I had Dell in until around 1245pm ET. But in the end, I thought Dotson's touchdown likelihood was higher. 
Week 9 Results
I continue to struggle with 1v1s this season. Although I did get Jalen Hurts over Lamar Jackson right, Jahan Dotson got smoked by Tank Dell. And Dallas Goedert got hurt, but he was still unlikely to beat the cheaper Dalton Schultz or Jake Ferguson. On a slate so many tight ends hit, the Goedert relative dud hurt.
I was happy with my decision not to play Devin Singletary. It's easy to just think we have to take every volume-based value, but that's not the case on FanDuel where the salary cap is looser. When Singletary is $5300 and guys like Rhamondre Stevenson, Aaron Jones, and Tony Pollard are in the low/mid $6000s, we don't have to force it.

Year-To-Date Results
Week 1: 132.7 points, won 51.5% of head-to-heads
Week 2: 126.34 points, won 63.6% of head-to-heads
Week 3: 166.98 points, won 59.8% of head-to-heads
Week 4: 169.12 points, won 75.2% of head-to-heads
Week 5: 107.62 points, won 5.5% of head-to-heads
Week 6: 140.22 points, won 49.1% of head-to-heads
Week 7: 124.98 points, won 51.2% of head-to-heads (FanDuel)
Week 8: 79.58 points, won 10.3% of head-to-heads (FanDuel)
Week 9: 113.88 points, won 56.3% of head-to-heads (FanDuel)
* Note: Win percentages do not include ties.