IMPORTANT Editor's Note for NFL DRAFT KIT SUBSCRIBERS: Underdog Fantasy is offering ALL ETR subscribers an unbeatable deal! Anyone who purchases the ETR Draft Kit will receive a $10 site credit. First-time Underdog customers will receive an additional $25, making our Draft Kit nearly free if you haven't tried Underdog yet!  After purchasing our Draft Kit, follow the instructions here to claim your reward.
Each week in this space, we'll look at how ADP has changed over the past week in the industry. We're looking at ADP over the last seven days compared to ADP 8-14 days ago. For NFFC, we're comparing their ADP the last two weeks to their ADP the two weeks prior to that because the sample sizes for NFFC drafts are currently very small.
*Visuals provided by Sam Hoppen
FFPC FBG ADP Change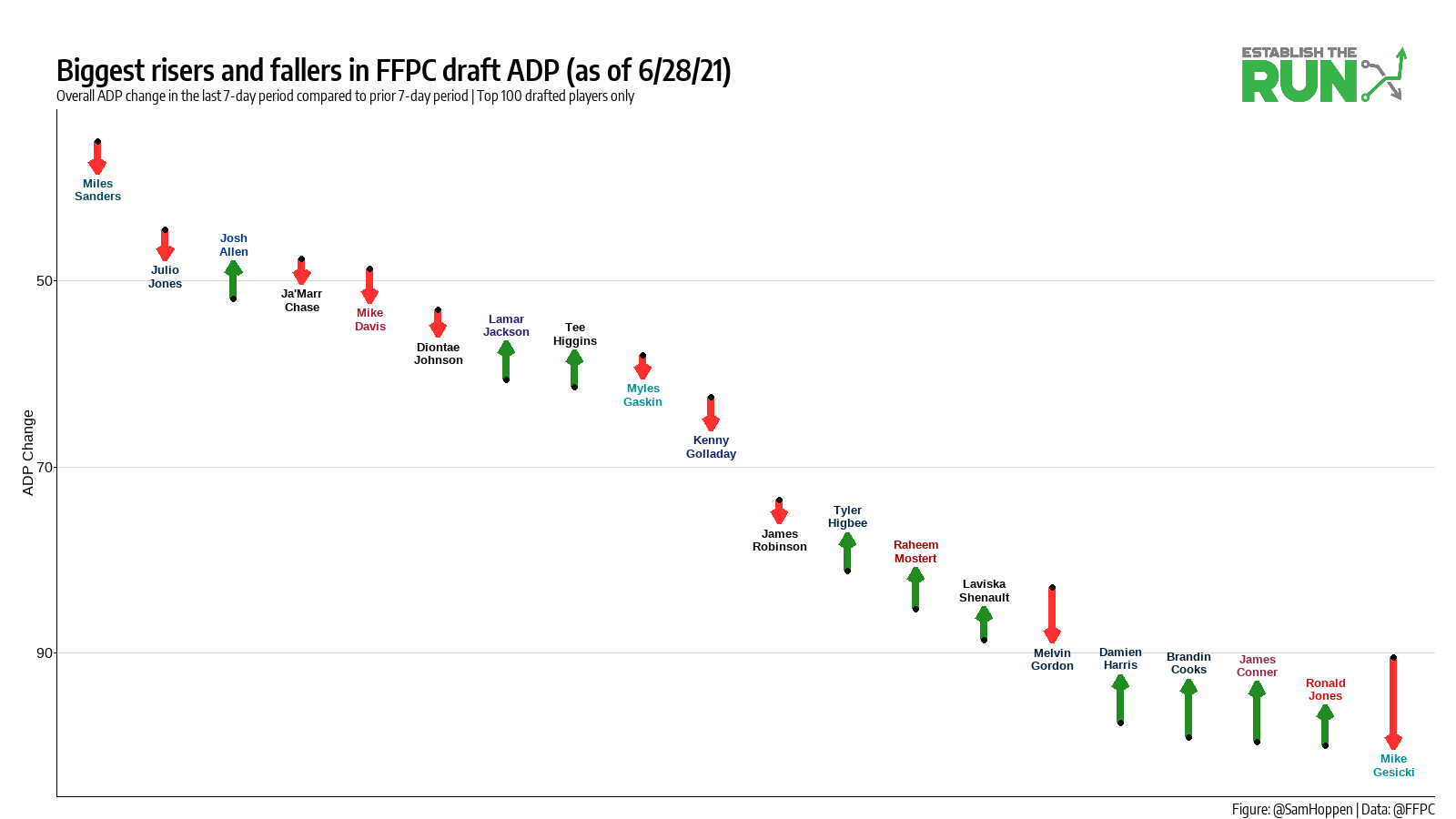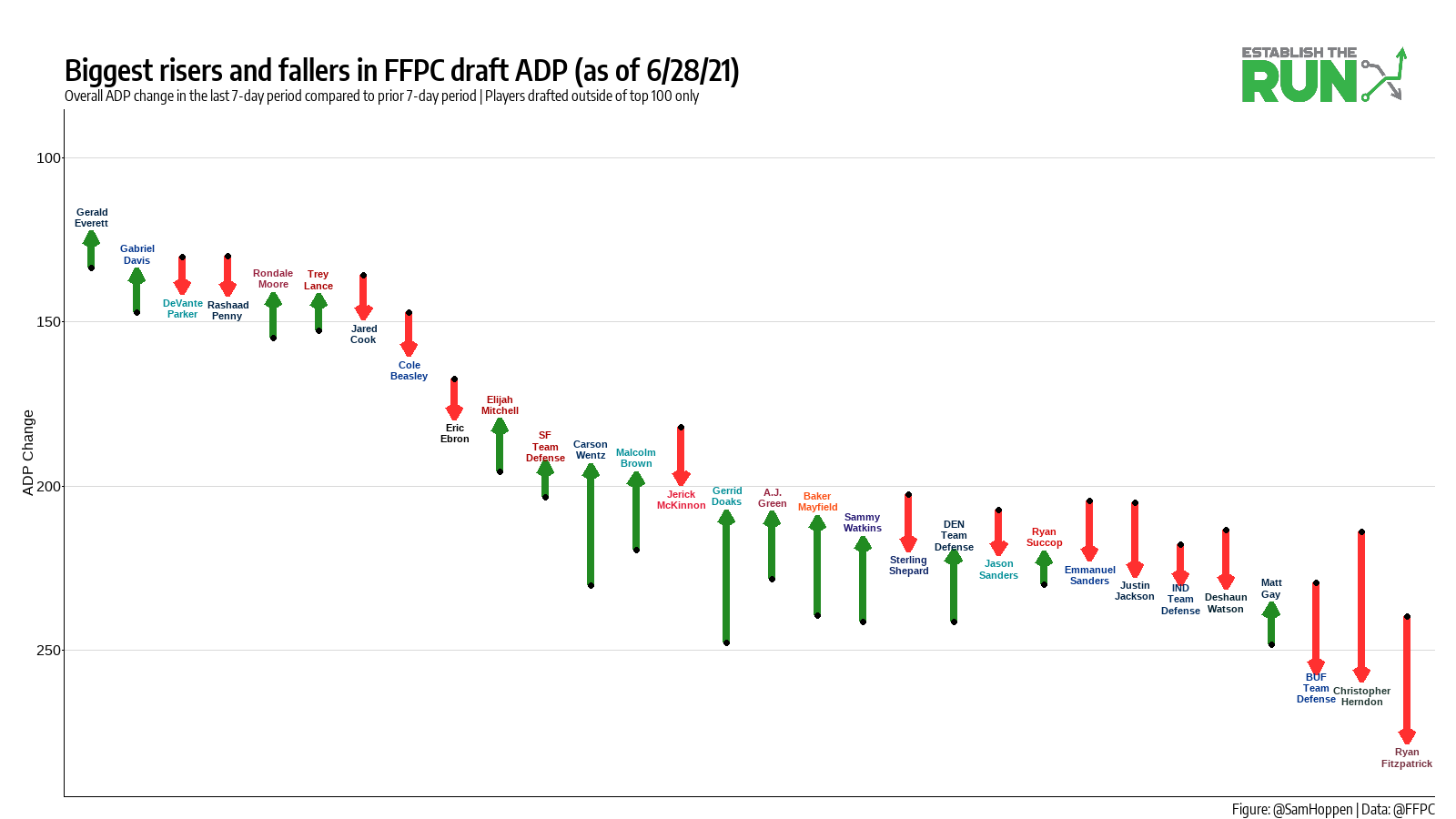 NFFC OC ADP Change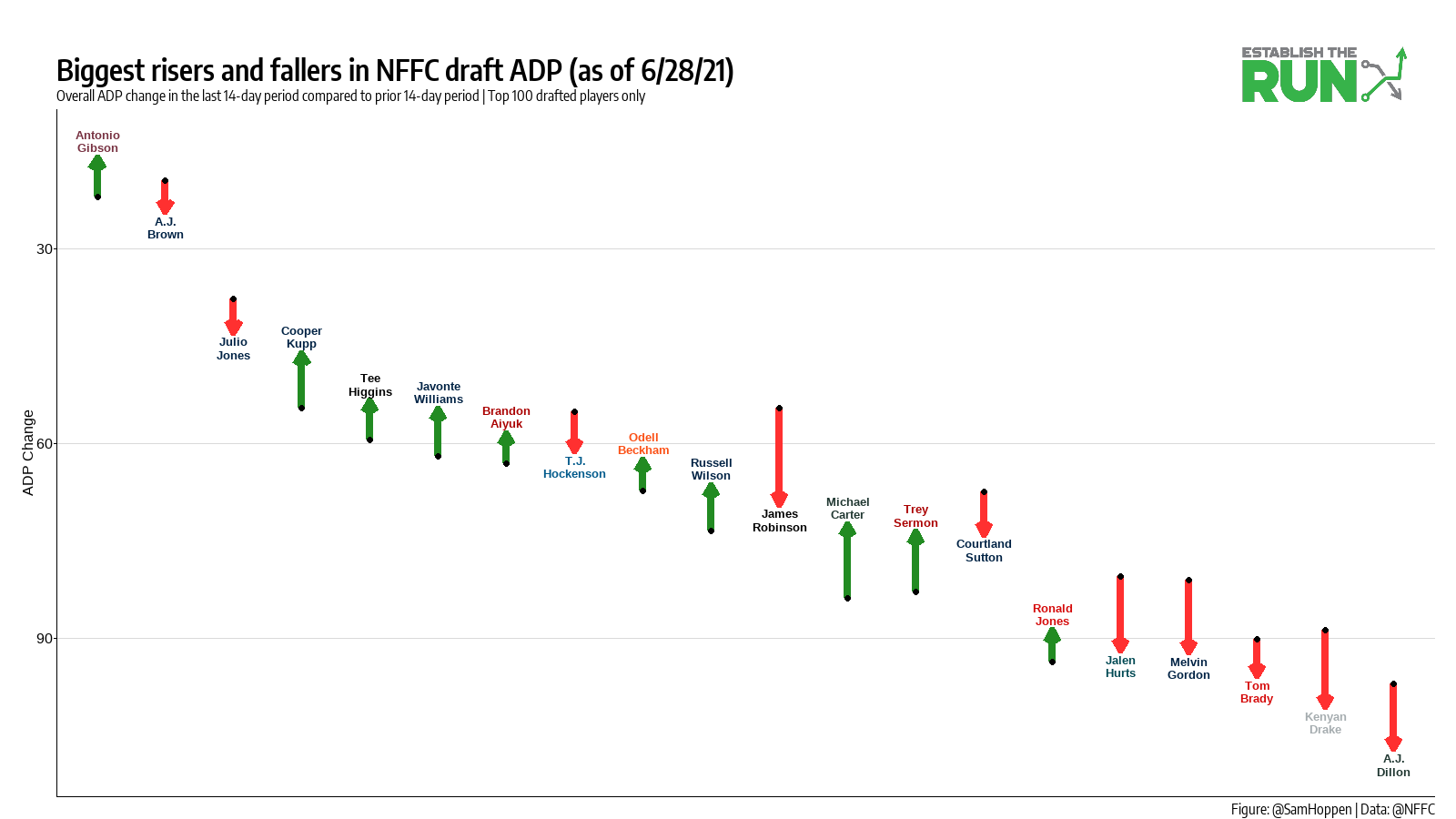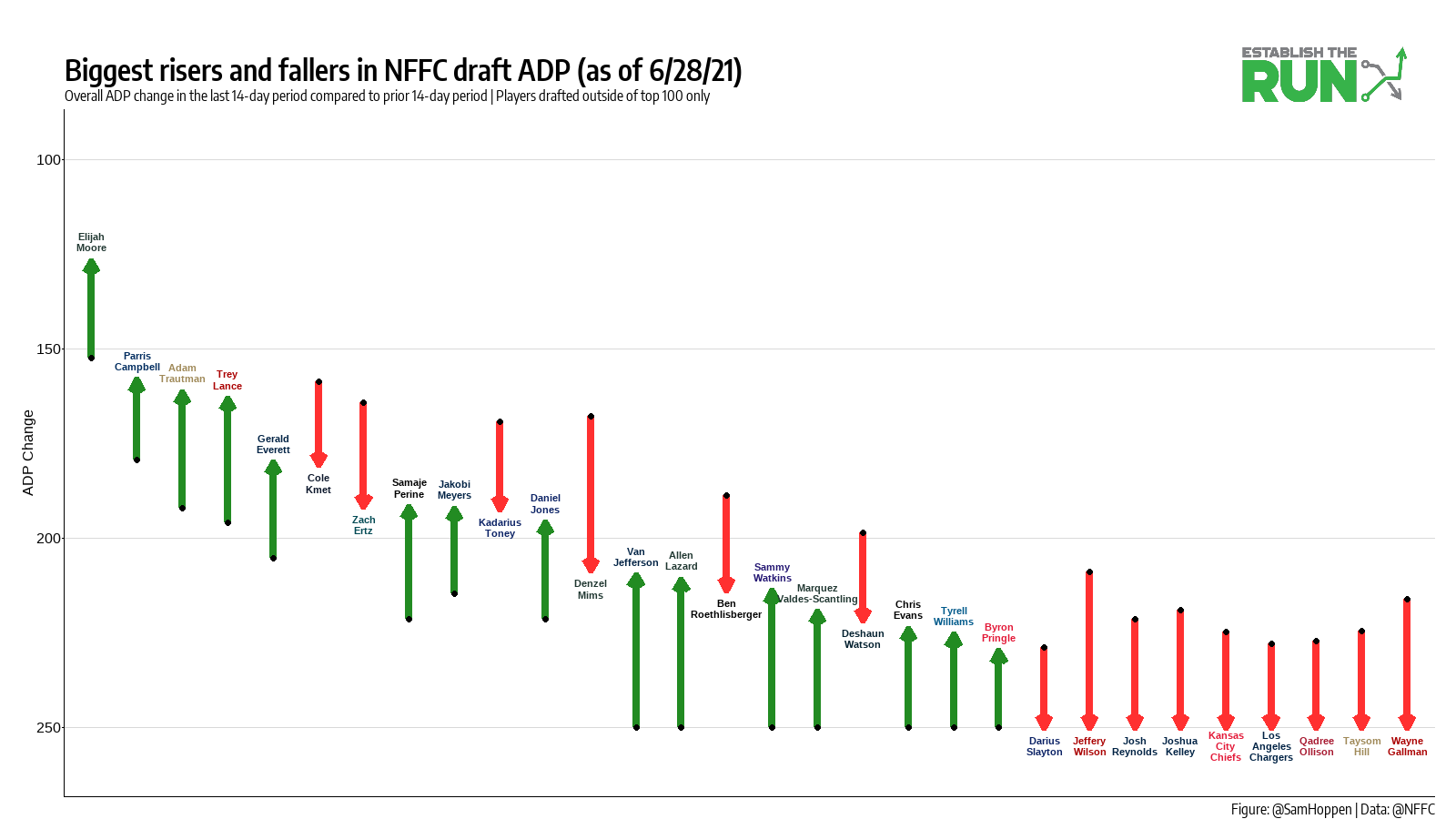 Underdog ADP Change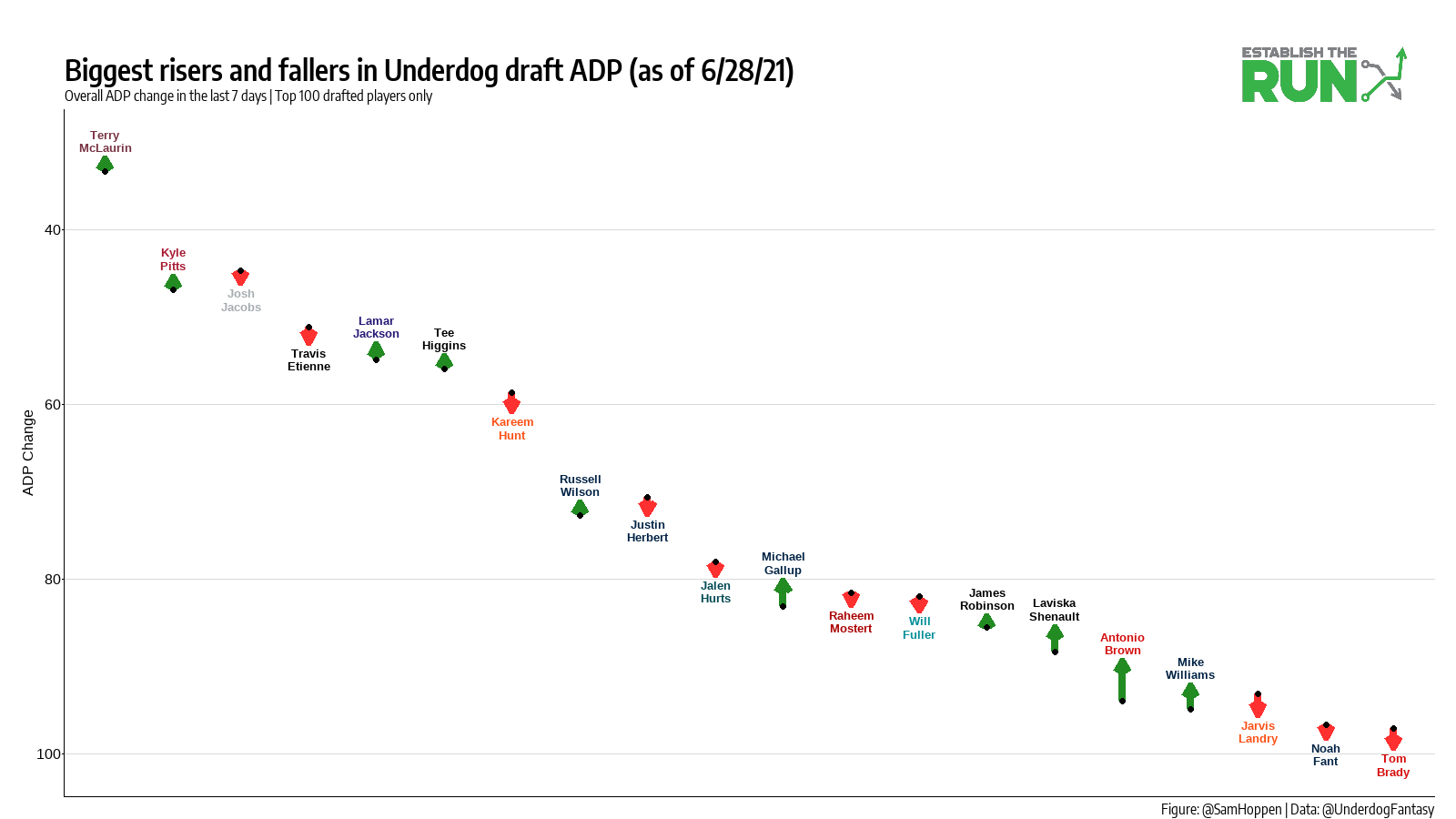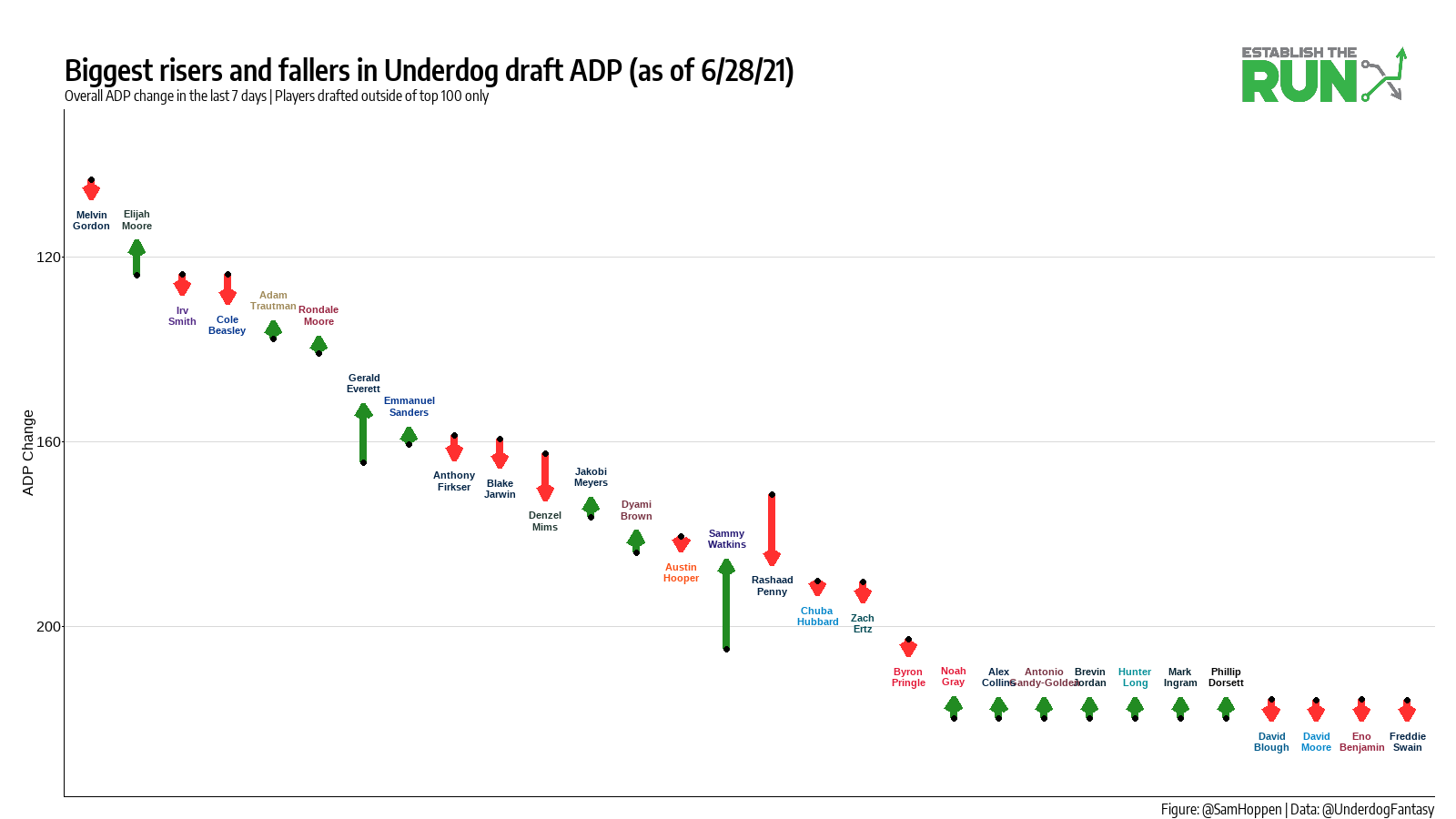 This week's risers
Tee Higgins cracks the Top 100 risers list across all three formats. We're big fans of Higgins, ranking him WR24 in both Underdog and FFPC, so we still view him as a buy at ADP, though he's tougher to draft before ADP now. Higgins has a bit more growth potential than a couple of the WRs in front of him, such as Tyler Lockett and Adam Thielen, so it's reasonable to draft him as high as WR22. Jack Miller discussed Higgins in his "Buy or Sell: Minicamp Superstars" article.
Some of our favorite early Zero RB targets on FFPC are gaining some steam — James Conner, Damien Harris, Raheem Mostert, and Ronald Jones represent four of the top five biggest gainers within their Top 100 ADP. Of that group, we currently have Conner as the best buy at ADP (rank: RB32; ADP: RB38).
Antonio Brown has seen the biggest rise in ADP in Underdog's Top 100, moving him from a good buy with a lot of profit potential to someone you likely only want to take at ADP or after now.
A little bit of positive buzz was all it took for Sammy Watkins and Gerald Everett to crack the Top risers list with an ADP north of 100. We're not buying Watkins at all in a run-heavy offense that will leave him competing with incumbents, Marquise Brown and Mark Andrews, and newcomers, Rashod Bateman and Tylan Wallace, for targets. We're also slightly behind ADP on Gerald Everett but view him as a reasonable buy at ADP. It's possible we're not weighing the upside case enough here, and he's a great correlation play with Russell Wilson since TE gets mirky at that point in the draft anyways.
As we suspected might happen in last week's version of this article, the backend of the Bills' WR group is gaining in ADP. Gabriel Davis is a riser on FFPC, and Emmanuel Sanders is a riser on Underdog. We still have both ranked as strong buys ahead of ADP given the potential of this offense and their talent.
This week's fallers
With Tee Higgins' ADP rising, Ja'Marr Chase is seeing his ADP fall on FFPC. We don't think this is right. There's plenty of room for both of these young, talented players to beat ADP, and a decent chance one of them smashes. They make for a viable stack at the 4-5 turn. For more on why we like the Bengals' passing attack this season, click here.
Jarvis Landry is the biggest faller inside Underdog's Top 100 ADP. Perhaps in managed leagues, Landry doesn't have the high-end upside you want in those rounds, but we still view him as a valuable asset (rank: WR39; ADP: WR46), especially in best ball where racking up usable weeks is undervalued. Many of the reasons we like Odell Beckham apply to Jarvis Landry.
The entire Dolphins offense continues to see their ADP fall on FFPC. I suspect this might have something to do with the FFPC format, where Weeks 13-14 represent the league playoffs (MIA has a Week 14 Bye). This creates a nice buying opportunity. There's some value on FFPC in increasing your odds of a Top 2 seed, which guarantees you advancement into the overall playoff rounds (Weeks 15-17). It at least partially offsets the negative aspect of a Bye week during the league playoff portion (for Main Event and FBG Championship).
With Gabriel Davis and Emmanuel Sanders seeing ADP bumps amidst some uncertainty regarding Cole Beasley, Beasley is dropping pretty hard across the industry. We have this whole offense ranked ahead of ADP, but there's more opportunity cost in Beasley's ADP range where you could side with someone who has more upside (Elijah Moore for example).
Speaking of Moore, whose ADP has risen among positive camp reports, his teammates on the other end of that news, Denzel Mims and Chris Herndon, are seeing their ADPs tank. At this point, they are free in drafts. We're still willing to take a late-round dart throw on the highly athletic Mims who was able to carve out some nice target share games at the end of last season. Herndon seems unnecessary outside of deep FFPC best ball leagues (and still shaky).
What I'm watching now
I'm keeping an eye on Rashod Bateman's ADP. He's a rookie whose talent I love, but the price tag and context has prevented me from grabbing much exposure (a bit easier on FFPC). If the Sammy Watkins ADP rise slowly results in a Bateman ADP fall, I may finally be able to grab some exposure in the WR60 range (maybe a little earlier).