Dynasty Outlook
April 12
Sam LaPorta is our TE5 for rookie drafts and checks in as TE14 in our overall dynasty ranks. He was a four-year producer at Iowa, albeit in a low-octane offense. The most attractive thing about LaPorta is the physical profile. He has massive hands and ran sub-4.6 and 7.0 in the 40 and three-cone respectively. While his collegiate efficiency and TD scoring were fairly pedestrian in college, LaPorta looks the part of a potential star. As is the case with many players at this position in the class, he is a high-upside swing worth prioritizing in TE-premium formats.
Profile Summary
LaPorta looks the part of a potentially elite player at his position, but he was unable to look like it in an Iowa offense that could not create explosive plays. The scouts note that he does have some technical shortcomings, but his speed and agility could be taken advantage of by sharper OCs at the NFL level. We know that collegiate production is not necessarily a prerequisite for NFL success. He was a four-year producer who racked up short-area catches but struggled in some contested-catch situations. Day 2 draft capital should afford him the opportunity to be a starter.
Vitals
Age (as of 12/31/22) — 22.0
Experience — 4 years
By the Numbers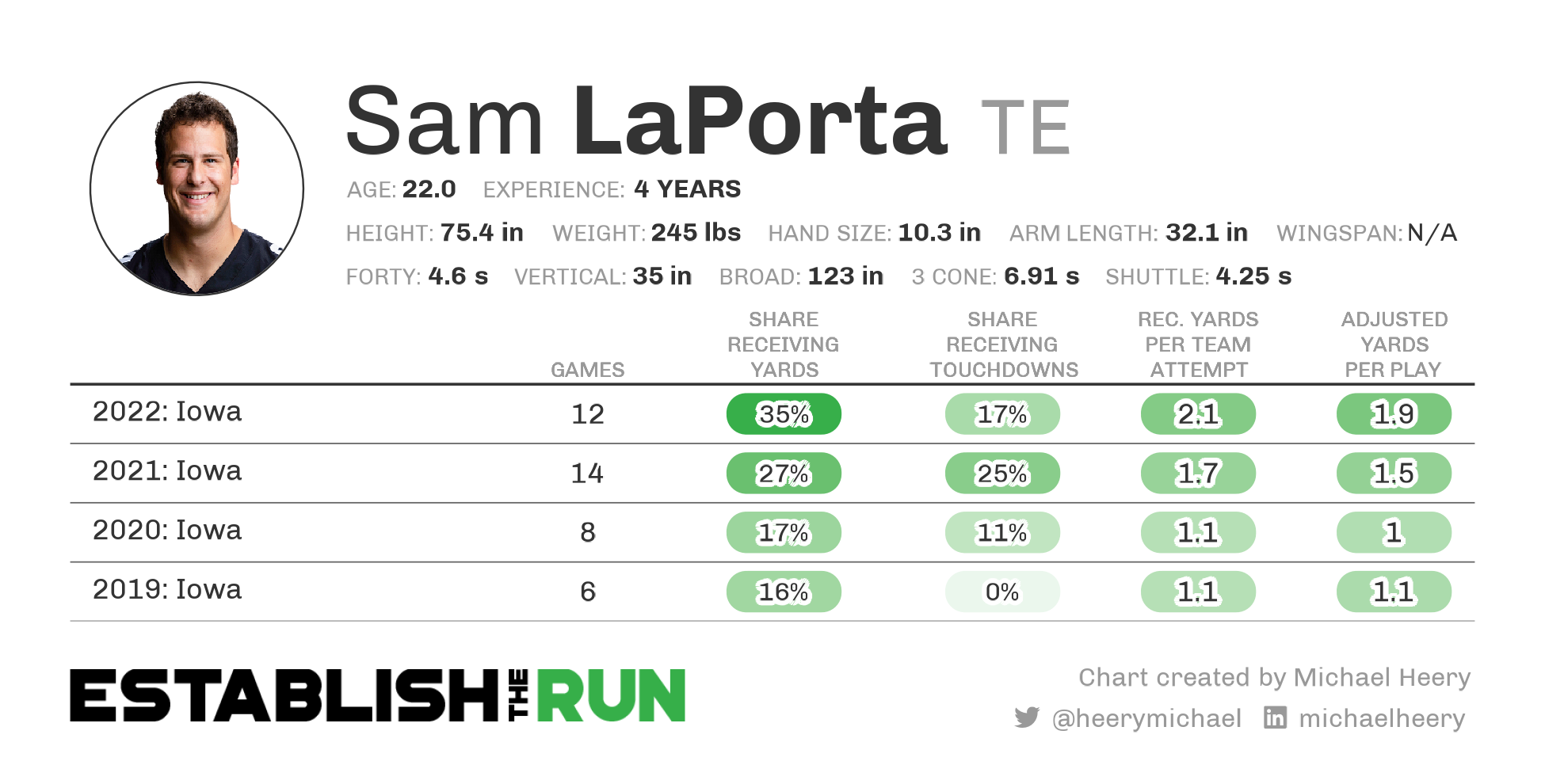 The Iowa offense is not particularly explosive, but LaPorta has been a major part of it for four seasons. He stepped in right away as a true freshman, accounting for 16% of Iowa's receiving yards in six games. That number rose every year he was at Iowa. In 2021, he shared the field with receiver Charlie Jones, who went on to record over 1,300 yards with Purdue in 2022. LaPorta has been a clear favorite in this offense.
LaPorta has not been terribly efficient as a receiver, with just 11.7 career yards per reception. However, this may be a function of his aDOT, which sat at a measly 8.0. LaPorta also caught just five TDs for his career. Both of these statistics stand out as odd given LaPorta's outstanding physical profile.
What the Scouts are Saying
Lance Zierlein believes LaPorta has average-starter potential:
Highly-targeted tight end whose playing style and physical abilities land somewhere between a connected (in-line or wing) and move tight end. LaPorta has the ability to threaten zone coverage and will make the basic catches. However, he lacks the desired elusiveness and ball skills to come away with the more challenging catches. LaPorta takes on run-blocking chores with inconsistent positioning but has the potential to improve with more work in that phase of the game. His catch production is splashy, but he appears to have average-starter potential at the next level.
Daniel Jeremiah believes the Iowa offense may have held him back:
LaPorta is a very athletic tight end who played in a very limited offense at Iowa. He lines up in-line, flexed in the slot, and on the perimeter. He is a smooth, fluid route runner. He displays the route feel to set up defenders down the field. However, a large number of his targets came on quick outs and quick screens. Unfortunately, the ball placement didn't allow for many easy catches. He has a good number of drops, but the degree of difficulty was high on those plays. He has burst when given the opportunity to run after the catch. He is elusive to make defenders miss and he will flash a nice stiff arm on occasion. He is an average run blocker, as he works to stay engaged, but falls off too often. Overall, LaPorta is a solid player who would have more buzz if he had played in a more dynamic college offense.
Dane Brugler compares LaPorta to Austin Hooper:
Overall, LaPorta is an average point-of-attack blocker and his lack of length hurts his success rate in contested situations, but he plays with outstanding quickness and body rhythm with soft hands as a pass catcher. He is in the Austin Hooper mold and projects as a low-end TE1 or high-end TE2 on an NFL depth chart.
Draft Projection
LaPorta currently is not listed on Grinding the Mocks, which sources mock drafts around the interwebs. This year, it only lists the top 50 players. Mock Draft Database is a similar service that has LaPorta 52nd overall. He went 55th in Todd McShay's latest two-round mock draft. LaPorta appears to be on the Round 2/3 fringe on Day 2.
Comparable Players
I use Principal Component Analysis to evaluate prospects. In simplest terms, this kind of analysis looks at relevant data points to find the closest comparable players in past drafts. I prefer this to a model output — which yields only a single result — as it can display the possible range of outcomes for a prospect.
Note that the analysis itself isn't telling us how good a player is; it is simply returning the most similar players. It is then up to us to layer in context and past results to see how good we think this player may be.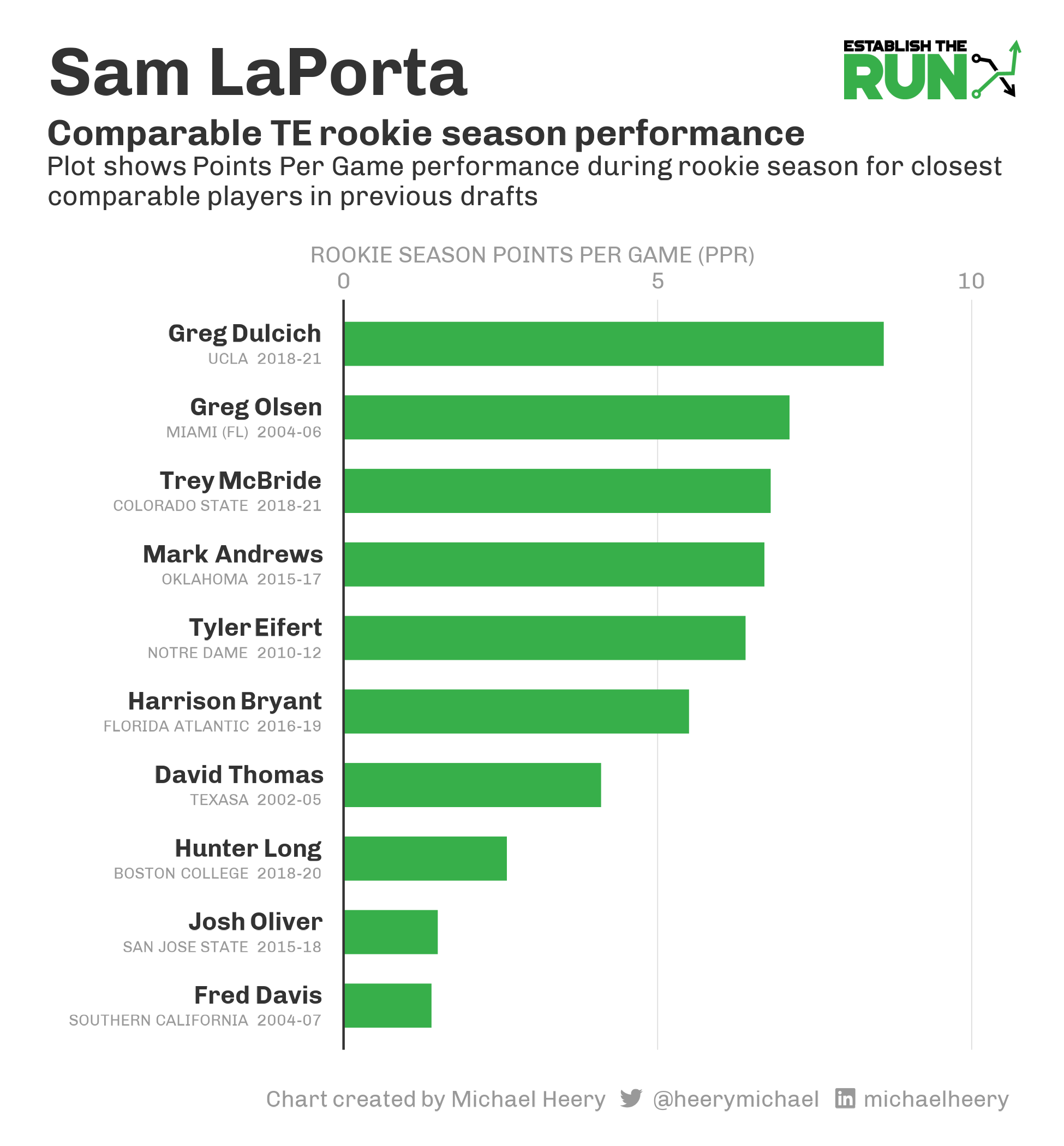 LaPorta's top-end comps come off as being fairly impressive. Greg Olsen, Mark Andrews, and Tyler Eifert have all been high-end fantasy assets at the TE position. Fred Davis had some success before succumbing to injury, and Greg Dulcich is coming off of a great rookie season. At a position with so much variance, these are great signs to see.
On the low end, we have some players who have never even seen extended playing time, let alone production. However, much like QB, these kinds of comps seem to be present with every player. It is likely best to focus on the ceiling given the current state of the position.
Further Research