Dynasty Outlook
March 6
Moore excelled at the Combine, and should now be considered a solid Round 2 selection in the NFL Draft. With the draft capital seemingly secure, we can feel more confident in our dynasty ranking. He will move up if other players falter throughout the process.
March 1
Moore is a target for the end of the first round for rookie drafts, and is WR33 in our overall dynasty ranks. He is comped to some major playmakers that we've seen over the past decade, which gives him a tangibly high ceiling in the right situation. With that said, there is definitely a chance that he ends up more as a strong second option than a primary. Like a lot of smaller WRs, Moore has had some issues scoring TDs, which is critical for long-lasting, high-end fantasy production. Given the quality of competition, there may be some additional variance to Moore's future.
Profile Summary
Skyy Moore is this year's MAC WR du jour after his teammate was selected in the second round of the 2021 NFL Draft. He had a very natural statistical progression, breaking out in his third and final season. We know that players in that category find success. Dee Eskridge out-produced him in their main season together at Western Michigan, but was three years more experienced than Moore at the time. Still, it is a missed opportunity to really solidify Moore even higher up the board. While his draft stock currently is recorded around 100, recent buzz seems to be pushing him closer to the 60s. The scouts and the data both give Moore some juicy comps.
Vitals
Age (as of 12/31/21) — 21.3
Experience — 3 years
Height — 69.625
Weight — 195 pounds
Hand Size — 10.25 inches
Arm Length — 31 inches
Wingspan — 73.625
Forty — 4.41 seconds
Vertical — 34.5 inches
Broad — 125 inches
3-Cone — 7.13 seconds
Shuttle — 4.32 seconds
By the Numbers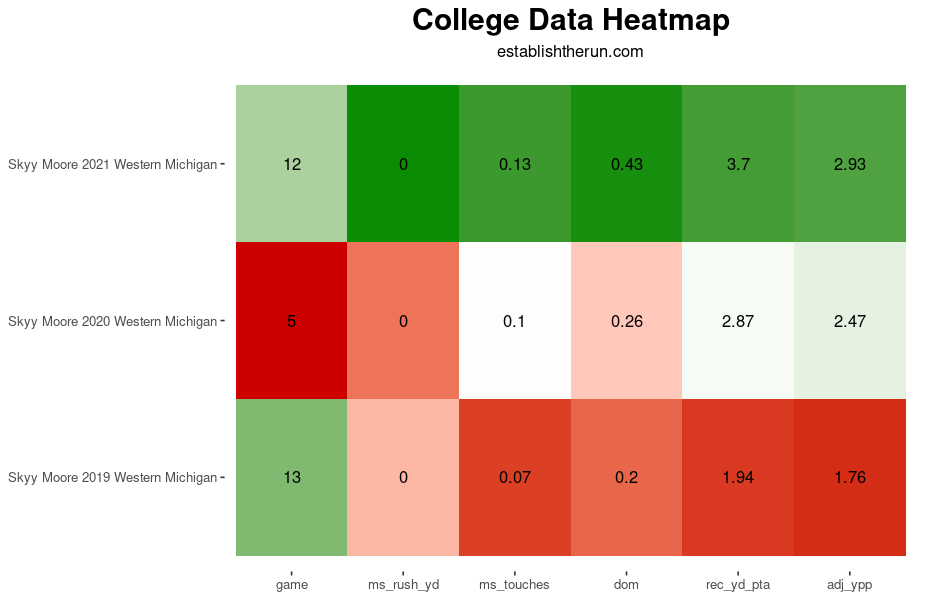 Moore contributed to Western Michigan immediately, leading the team with over 800 receiving yards as a true freshman. As a sophomore, he inched closer to a breakout despite having to compete with a 2021 second-rounder in Eskridge. In five games together, here is how they fared:
Moore — 388 receiving yards (29%), 3 TDs (23%)
Eskridge — 556 yards (42%), 5 TDs (38%)
It is worth noting that Eskridge was also on the team in 2019, but appeared in just four games while also starting on defense. He somewhat soundly out-produced Moore in the COVID-shortened season, which isn't a death knell to Moore's future, but would have been awesome to see be reversed. After all, Eskridge was a fifth-year player. It would have been very impressive had Moore out-produced him.
The biggest issue for Moore in his career was a lack of scoring TDs. He found the end zone just six times in his first 18 games, before scoring 10 times in his final season, resulting in a breakout. Moore has limited production as a returner or rusher.
What the Scouts are Saying
Here is what Lance Zierlein had to say about Moore.
Productive three-year starter with decent athleticism and good ball skills but just average separation potential. Moore is courageous working into the teeth of the defense and tenacious to come up with contested catches from anywhere on the field. He's a one-note route runner lacking acceleration out of break points and vertical juice to separate deep. His ball skills and toughness create opportunities as a reliable target and capable route runner from release to whistle. His best fit is from the slot, but long-term success could be stymied by a lack of explosiveness and special-teams value.
While this is a bit of a pessimistic outlook, Daniel Jeremiah had some positive things to say about Moore in his yearly conference call with NFL media.
A couple other guys that I think are kind of like Patriot-type players, Skyy Moore from Western Michigan. Probably going to go in the second or third round, but he's got some — maybe it's just the MAC thing, but I saw some Antonio Brown traits from him when you studied him, minus some of the newer Antonio Brown info. But that dude with just eat cushion, he's really dynamic and crisp. The Patriots love guys like that. He's quicker than a hiccup. Just puts guys in a blender. Just really fun to watch.
Dane Brugler also had some kind things to say on his NFL Draft podcast with Zierlein over at The Athletic.
Skyy Moore definitely has an attractive analytical profile, so I love hearing @dpbrugler say he could be this year's Cooper Kupp.

Three-year player with a breakout, dominant final season where he finally found the endzone in bulk.

Plus he's a WR who wears 24 — boss pic.twitter.com/Sp9gjdFS6C

— Anthony Amico (@amicsta) February 21, 2022
Draft Projection
Moore currently has an expected draft position of 99.6 on Grinding the Mocks, which sources mock drafts around the interwebs. Mock Draft Database is a similar service that has Moore 101st overall. He is 79th on Dane Brugler's Big Board. These sources have Moore as a late third-round pick, but a lot of the recent chatter by Jeremiah, Brugler, and others make it seem as though he is closer to being a borderline second- or third-round selection.
Comparable Players
I use Principal Component Analysis to evaluate WR prospects. In simplest terms, this kind of analysis looks at relevant data points to find the closest comparable WRs in past drafts. I prefer this to a model output — which yields only a single result — as it can display the possible range of outcomes for a prospect.
Note that the analysis itself isn't telling us how good a player is; it is simply returning the most similar players. It is then up to us to layer in context and past results to see how good we think this player may be.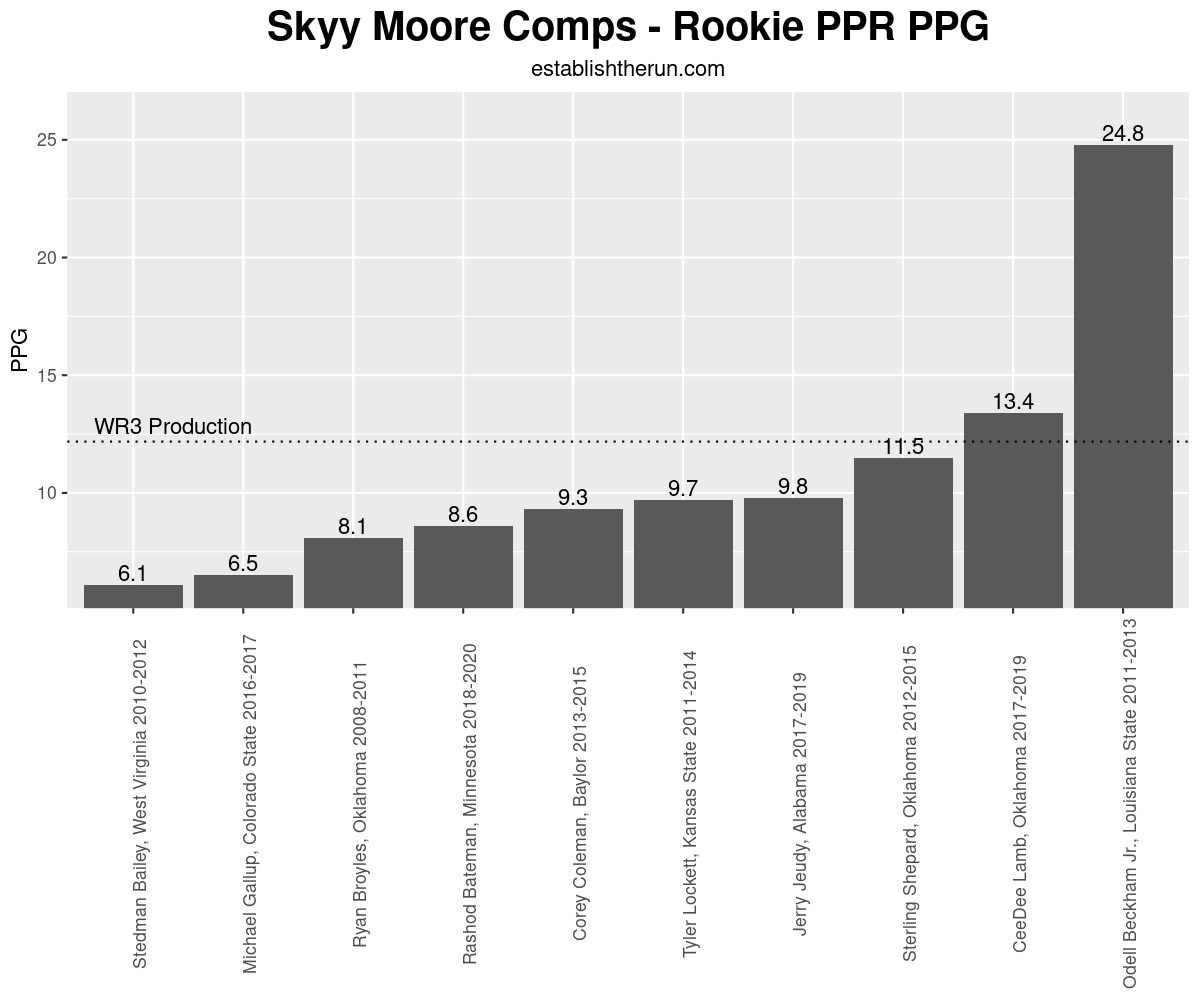 Much like what we saw with David Bell, Moore compares favorably to many first-round prospects. CeeDee Lamb, Jerry Jeudy, and Rashod Bateman were all first-round picks within the last two drafts. The jury is still mostly out on them, but they rank as our WR4, WR32, and WR26 respectively. Odell Beckham and Corey Coleman were first-round picks from further back in the past. Beckham is an obvious hit, while Coleman an obvious miss.
Tyler Lockett and Michael Gallup are fun comps as deep separators that can produce in fantasy with the right QB. Overall, there are more positive comps than negative on this list. The range of outcomes appears to be fairly wide.
Further Research