Dynasty Outlook
March 22
Will Levis is our QB4 for rookie drafts and checks in as QB17 in our overall dynasty ranks. The range of outcomes is wide with Levis when considering the raw ability scouts claim he has, and the contextual factors around his career that make it difficult to evaluate him. Still, the base rate for older prospects is simply worse, and we have to factor that into his ranking/projection. There is certainly still some chance that he turns into an elite prospect, and his expected draft capital indicates he will get the chance to earn a longstanding role as a starter. The fact that he does offer something as a rusher gives Levis outs for fantasy production even if he does not stick in the league long term.
Profile Summary
Levis has a wide range of draft outcomes compared to his positional peers, but he will most likely come off the board inside of the top 15. The scouts describe him as someone who possesses all of the tools, but he was not able to put things together as a collegiate player. With that said, there are contextual factors to consider that could be contributing to that. Levis should be well-versed in NFL offenses after playing under two different NFL OCs.
Vitals
Age (as of 12/31/22) — 23.5
Experience — 5 years
By the Numbers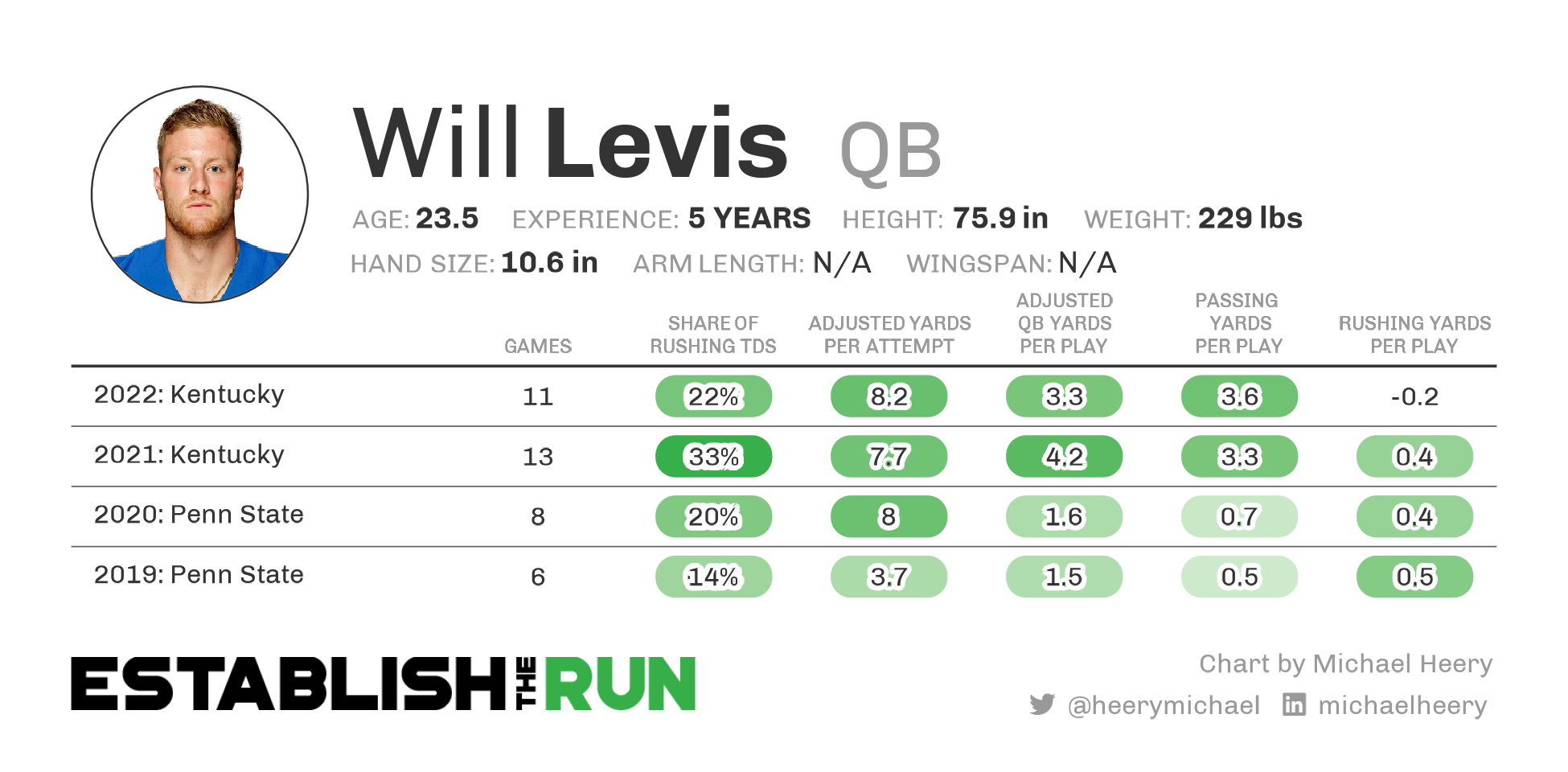 Levis started his career at Penn State, but after failing to beat out Sean Clifford, he transferred to Kentucky and started his final two seasons. In 2021, he played for 2022 Rams OC Liam Coen, running a wide range of pro concepts with some quality talent around him. Levis had his breakout season, completing 66% of his passes and owning a 24/13 TD/INT ratio. Kentucky went 10-3 and finished top 20 in the final AP poll.
In 2022, Coen was gone, and Rich Scangarello took his place calling the plays for the Wildcats. Additionally, Kentucky lost NFL talent along the offensive line and in the receiving groups. Levis was sacked a lot and played through injury for much of the year. However, Levis' passing numbers improved in terms of efficiency. The biggest change was in his rushing totals. While Levis was used often as a runner in 2021, totaling nearly 400 yards and nine scores on the ground, he finished the 2022 season with negative 107 yards rushing from all the punishment he took.
Levis' overall statistical résumé is not as impressive as the other top QBs, and he is also the oldest, coming in at 23.5 years of age as a fifth-year senior.
What the Scouts are Saying
Lance Zierlein remarks that while Levis has great physical tools, he has struggled to be accurate:
Levis is one of the most physically gifted quarterbacks in the draft, but there are warts in his game that might not be easily corrected. He has prototypical size and experience operating in a pro-style passing attack. He's an athletic passer, with the ability to zip off-platform throws with plus velocity from a compact release. He struggled to put together an extended period of high-caliber quarterback play in 2022, but he was also dealing with injuries that he fought his way through for much of the season. Levis has the arm to beat coverages on all three levels, but inadequate placement and accuracy created a lot of uncatchable throws. He's a capable runner outside the pocket but needs to improve his feel for pressure and his consistency when throwing on the move. Levis' talent is well worth an investment, but it could require a talented quarterback coach and a patient plan to tighten up his mechanics, rebuild his confidence, and explore an offensive scheme that best suits him.
Daniel Jeremiah agreed with Zierlein that Levis is inconsistent:
Levis is an inconsistent player on tape, but he possesses ideal size, arm strength, and athleticism. He is a power thrower, capable of fitting the ball into tight windows at the second and third levels. However, he needs to get more consistent underneath. He has bad misses, especially when throwing to the left. He tends to close off his front side, which severely impacts his ball placement. I admire his toughness to stand firm in the pocket, but his lack of awareness leads to him taking some monster hits, spawning ball-security issues. He moved around much better in 2021, showing quickness and power as a runner. This past fall, due to his own injuries and a lesser supporting cast, he wasn't as effective. Overall, Levis is gifted, but he has some bad habits he needs to clean up in order to be a reliable NFL starter.
Dane Brugler noted there are some legitimate reasons for Levis' 2022 struggles:
Will Levis struggled to live up to expectations as a senior in 2022, but I think there are more reasons than excuses behind his inconsistent play. There is no question that he needs to see things more quickly, but he is physically built for the pro game with impressive tools, intelligence, and toughness worth developing.
Draft Projection
Levis currently has an expected draft position of 5.9 on Grinding the Mocks, which sources mock drafts around the interwebs. Mock Draft Database is a similar service that has Levis eighth overall. He fell to 19th in Jeremiah's most recent mock and went seventh in Brugler's most recent mock. Levis will be a first-round pick, but his range appears to be widening as we approach draft day.
Comparable Players
I use Principal Component Analysis to evaluate prospects. In simplest terms, this kind of analysis looks at relevant data points to find the closest comparable players in past drafts. I prefer this to a model output — which yields only a single result — as it can display the possible range of outcomes for a prospect.
Note that the analysis itself isn't telling us how good a player is; it is simply returning the most similar players. It is then up to us to layer in context and past results to see how good we think this player may be.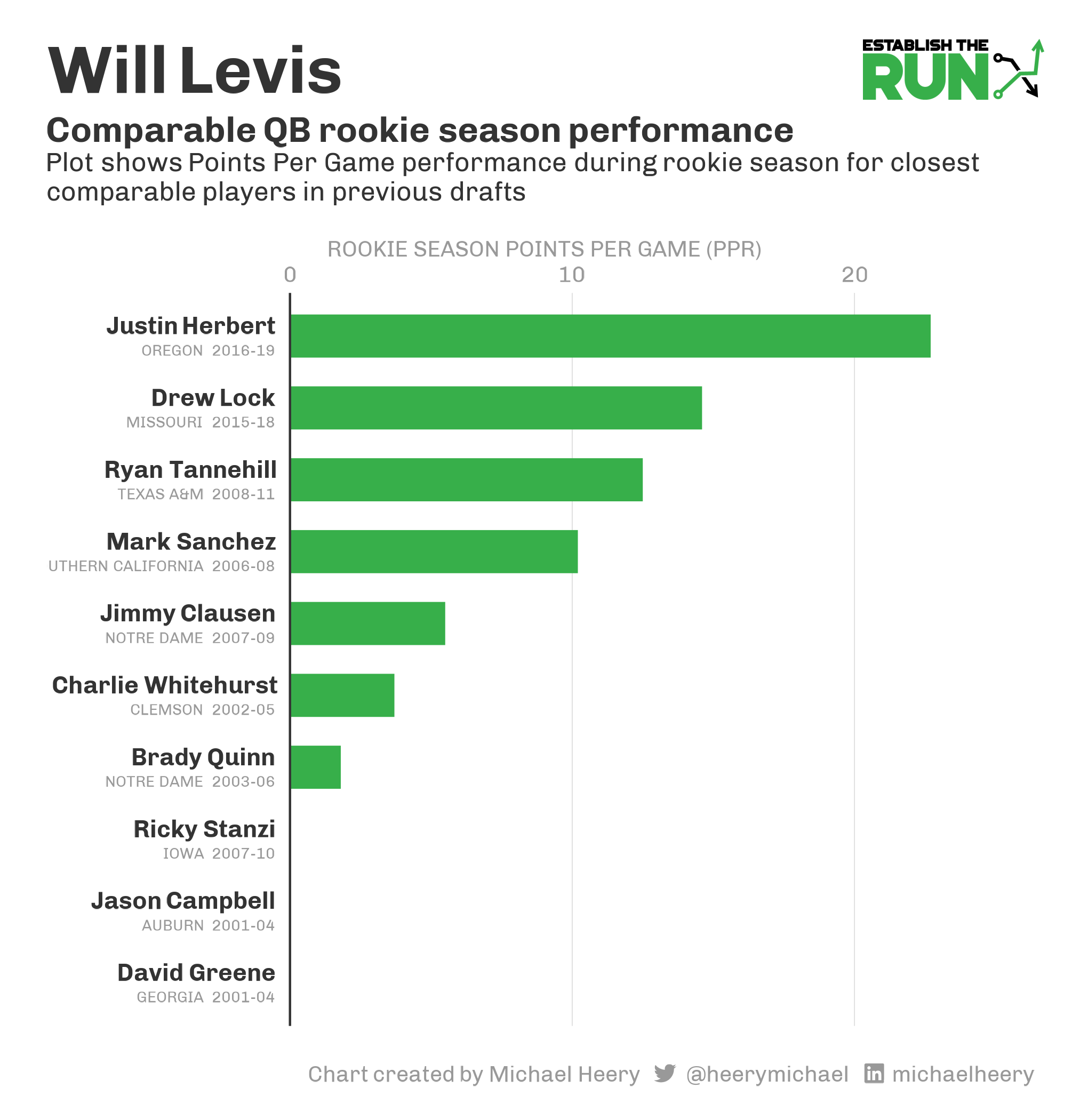 Put plainly: The comps do not look good for Levis. He is an older prospect — which is typically a cause for concern — and was not wildly efficient. However, we also probably do not get a full picture here given that Levis did not have great rushing production in his final season. We should assume the floor for him is a little better on the ground.
The two positive comps we see are Justin Herbert and Ryan Tannehill. The latter was making a position change from WR, and he did not play QB until his latter years at Texas A&M. Herbert is fairly interesting because he was the "bust" candidate in his draft class, but contextual issues surrounding his production were likely not taken into proper account. We could have a similar case here with Levis, who was dealing with one of the worst offensive lines in the country in 2022.
Levis certainly presents a ton of risk, but it is nice to at least see a couple of comps in there that could make it worth your while as a fantasy gamer.
Further Research