Dynasty Outlook
April 7
Zach Charbonnet is our RB3 for rookie drafts and checks in as RB20 in our overall dynasty ranks. He did not break out until his final season, and needed to transfer to UCLA in order to see better usage. With that said, he was productive, and the scouts believe he has Day 1 starter potential with access to all three downs. As a likely Day 2 pick, this opens him up to a variety of possible roles to assist fantasy gamers. This is reflected in the comps, which display a wide range of NFL outcomes in terms of both role and success. Of course, Day 2 capital does not guarantee Charbonnet anything, especially if he is a Round 3 pick versus Round 2.
Profile Summary
Charbonnet is a prospect with less total volume than you would expect for someone with his overall draft status, but a transfer and playing with a rushing QB will do that to your production. The scouts believe that Charbonnet can play on all three downs in the NFL. His athletic profile is only decent, with requisite size for the position but middling speed and explosion. Charbonnet could maintain a lot of different roles for an NFL team, but he seems to lack an elite ceiling as a prospect.
Vitals
Age (as of 12/31/22) — 22.0
Experience — 4 years
By the Numbers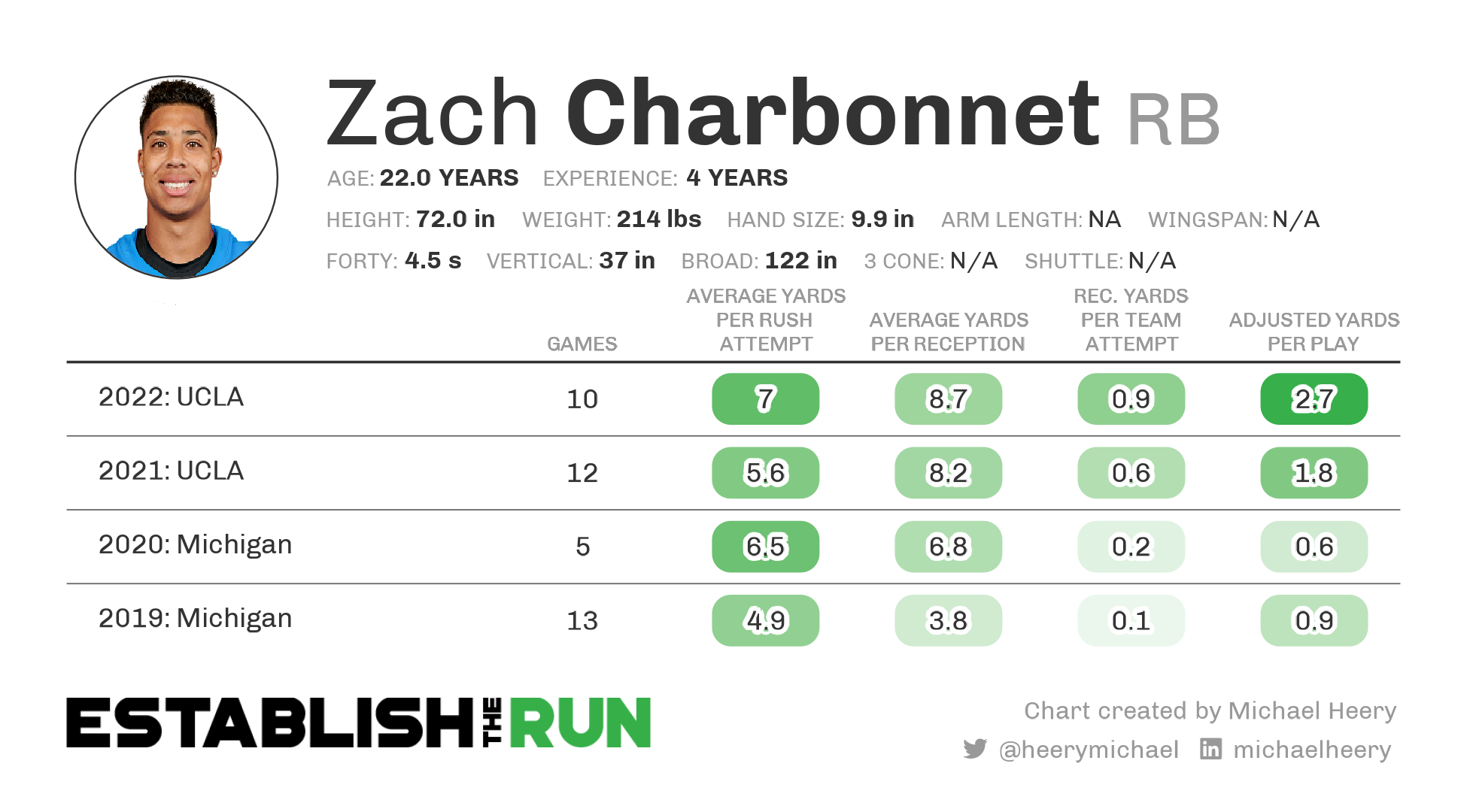 Charbonnet was a four-star prospect who started his career at Michigan. As a true freshman, he carried the ball 149 times for 726 yards and 11 scores while splitting the backfield with future Titans fourth-round pick Hassan Haskins. Michigan only played in six games during the COVID-impacted 2020 season, but Charbonnet only received 19 carries. After a 2-4 year with little work, he decided to transfer to Chip Kelly's UCLA Bruins.
This is where Charbonnet really took off. In two years with UCLA, he carried the ball 18.1 times a game, averaged 6.3 yards per carry, and scored 27 times. He also caught 61 passes. Charbonnet accomplished this while having to share a large sum of backfield work with his QB Dorian Thompson-Robinson. He has the same number of 100-yard rushing games in the last two years as Bijan Robinson.
Charbonnet did not break out until his final collegiate season.
What the Scouts are Saying
Lance Zierlein thinks Charbonnet has three-down potential:
Upright runner with outstanding body composition and consecutive seasons of impressive production for the Bruins. Charbonnet is a bit of a long strider with slightly below-average foot quickness. He is much more effective when allowed to open up and build downhill momentum. He can slip tackles in the open field but lacks the first-level wiggle to get too cute. He's inconsistent in processing defensive fronts quickly but can be a hammer into and through contact when he has a clear point of entry. Charbonnet is a talented third-down option as both a blocker and pass catcher. He could be viewed as a Day 2 value with three-down potential.
Daniel Jeremiah pegs Charbonnet as a Day 1 starter:
Charbonnet is a tall, physical running back. On inside runs, he is aggressive and decisive to attack the line of scrimmage. He runs a little high, but he can get skinny through the line of scrimmage, as well as drop a level and explode through tackles. He has excellent vision and instincts. He has enough speed to capture the edge, but he doesn't spend much time moving east or west, preferring to get downhill as soon as possible. In the passing game, he had a couple of concentration drops with the Bruins, but I don't worry about his hands. He is excellent after the catch and can make the free defender miss in space. In pass protection, he is aware, stays on balance, and anchors down. Overall, I loved Charbonnet's 2021 tape — and he was even better in 2022. He's a Day 1 starter.
Draft Projection
Charbonnet currently is not listed on Grinding the Mocks, which sources mock drafts around the interwebs. This year, it only lists the top 50 players. Mock Draft Database is a similar service that has Charbonnet 51st overall. He went 53rd in Todd McShay's latest two-round mock draft. Charbonnet appears to be a Day 2 pick on the fringe of Rounds 2 and 3.
Comparable Players
I use Principal Component Analysis to evaluate prospects. In simplest terms, this kind of analysis looks at relevant data points to find the closest comparable players in past drafts. I prefer this to a model output — which yields only a single result — as it can display the possible range of outcomes for a prospect.
Note that the analysis itself isn't telling us how good a player is; it is simply returning the most similar players. It is then up to us to layer in context and past results to see how good we think this player may be.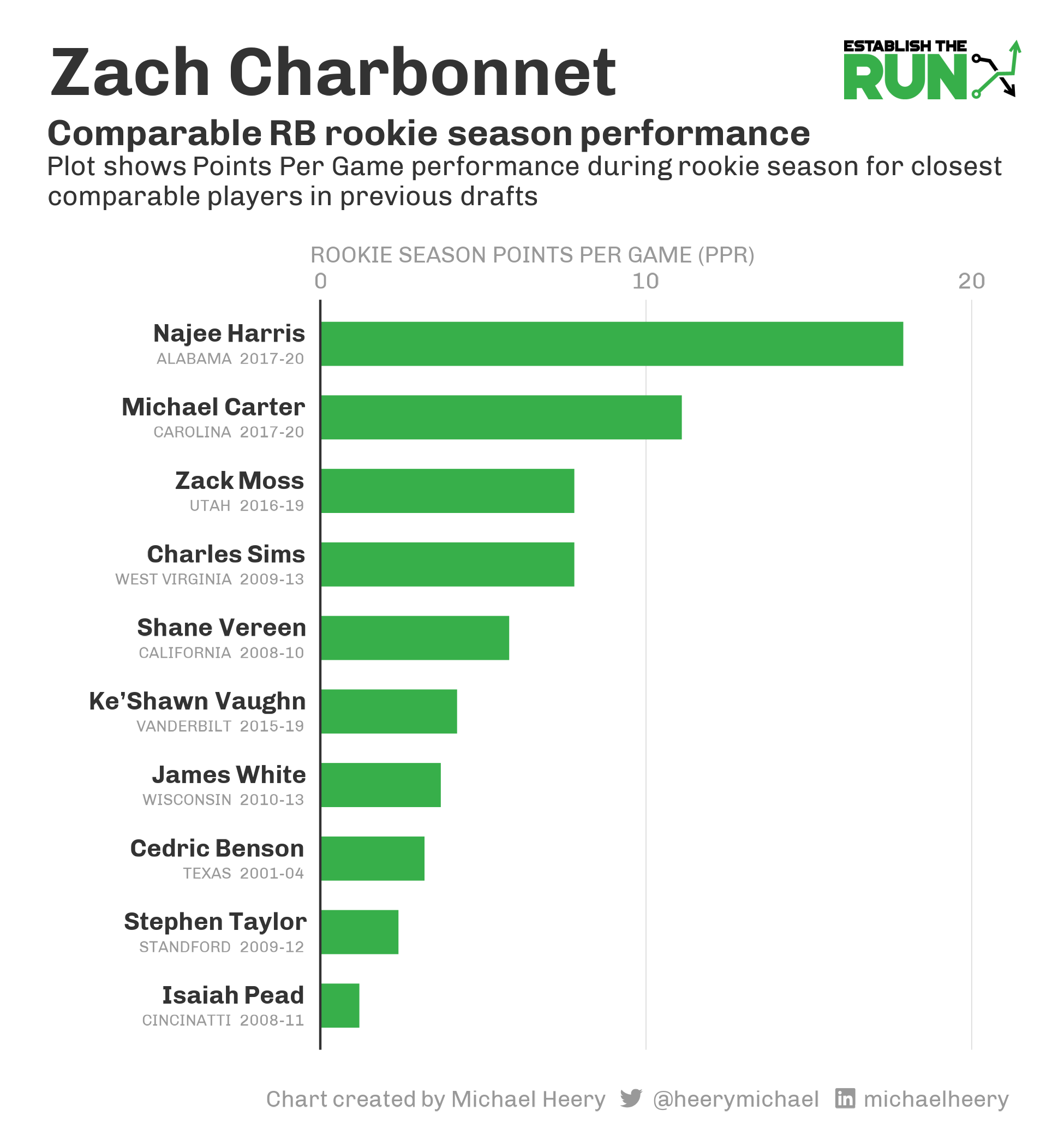 There is a wide stylistic range of players in Charbonnet's comps. There are bigger, banger types like Najee Harris and Cedric Benson. Pure pass catchers such as James White, Shane Vereen, and Charles Sims. The draft ranges of these players are all wide as well. This somewhat lines up with what the scouts are saying about Charbonnet, as he could wind up fitting into a variety of roles at the next level.
The level of success these comparable players have had is a bit eye of the beholder. Harris, Benson, Sims, Vereen, and White have all had useful NFL seasons. White is really the only player to have more than three of them. But typically you aren't banking on RBs being long-term investments anyway.
The rest of the players were pretty bad, and — perhaps more importantly — were not committed to by the teams who drafted them. After Michael Carter, there was Breece Hall. Zack Moss was on the wrong side of a split and then the Bills drafted James Cook. The Bucs immediately signed a bunch of vets after drafting Ke'Shawn Vaughn, and he still has less than 100 career touches. They also drafted Rachaad White. Isaiah Pead fell behind a later-drafted player in his own class and then was completely usurped by Zac Stacy the following year. Even when these players had decent draft capital, they fell out of favor fairly quickly.
Further Research