Dynasty Outlook
March 6
Hall absolutely destroyed the Combine, and should now be considered the favorite to be the first RB off the board in April. With a bump in expected draft positon, more of Hall's negative comps were removed from the range of outcomes, making him look like the next stud rookie RB. It would not surprise us if he ended up being selected at the tail-end off the first round. Hall will be moving up in our rankings at the next update.
Feb. 20
Hall is currently our top running back prospect for rookie drafts, and RB14 in our overall dynasty ranks. While this may appear rich, we know that the most productive years for RBs typically come early in their careers. Hall should come off the board somewhere in the middle of Round 1 for rookie drafts so long as his landing spot is not too detrimental to immediate production. Hall has the upside to see three-down plus goal-line work right away, which is the Holy Grail for fantasy RBs. His most comparable players are littered with RBs who saw multiple RB1 or otherwise useful seasons.
Profile Summary
Breece Hall represents the class of the 2022 running back crop, and is the RB we feel has the best chance to see an immediate three-down workload. Hall's statistical profile is that of a workhorse, and the scouts seem to agree that he has the skills to be a successful NFL RB in the modern game.
When looking at the comparable players, this concept is reinforced, with numerous immediate producers and players who were able to catch plenty of passes. Hall had a young breakout, which we know often leads to success so long as the draft position is there. Currently Hall is expected to come off the board on Day 2 of the NFL Draft.
Vitals
Age (as of 12/31/21) — 20.6
Experience — 3 years
Height — 71.25 inches
Weight — 217 pounds
Hand Size — 9.75 inches
Arm Length — 31.25 inches
Wingspan — 75.875 inches
Forty — 4.39 seconds
Vertical — 40 inches
Broad — 126 inches
By the Numbers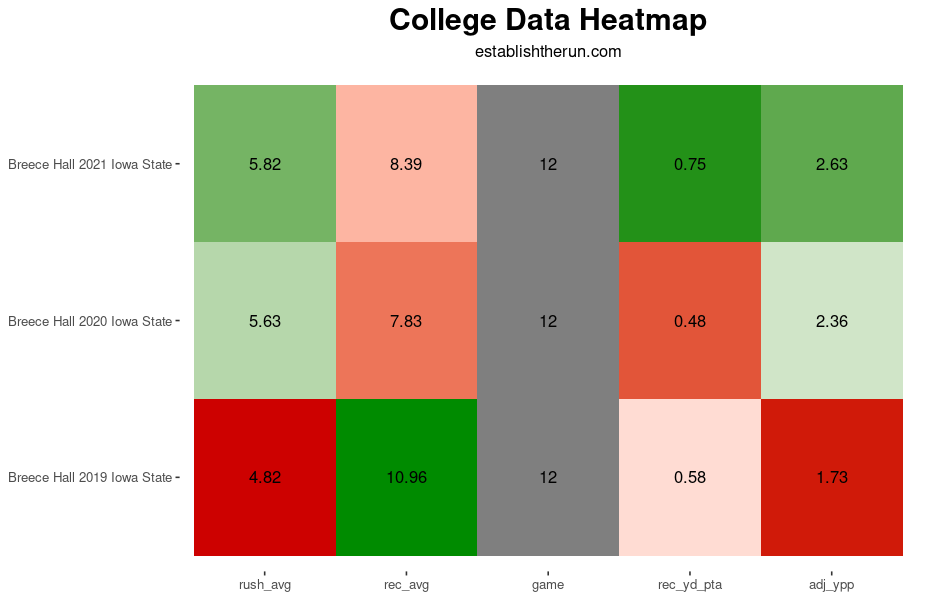 Hall was a three-year producer for the Cyclones, leading the team in rushing each year. He broke out as a 19 year-old true sophomore, which puts him in the most successful cohort of RB prospects. Hall then improved upon his numbers going into his final season. Hall is top 10 in this class in receiving yards per team pass attempt, and only two RBs had a better adjusted yards per play.
Hall's final two seasons were truly fantastic. He averaged 5.7 yards per carry on over 500 carries, caught 59 passes, and scored a whopping 46 total touchdowns. At his listed weight of 220 pounds, Hall is someone who profiles as being able to carry an NFL load. Being a workhorse is a skill, and Hall seems to have it — the only game he missed as a sophomore or junior was the bowl game he skipped.
What the Scouts are Saying
Daniel Jeremiah likes Hall's skill set for the modern NFL.
Hall is a big, smooth runner with outstanding patience and balance. He has a unique style — almost walking to the line of scrimmage before finding a crease, getting skinny and exploding through. He has outstanding contact balance, absorbing defenders and driving his feet for extra yards. He is elusive in space. He doesn't possess elite top-end speed, but he still hits some home runs (SEE: first play from scrimmage vs. Kansas State). He is an outstanding weapon in the passing game as a clean route runner with exceptional hands. Check out his one-handed catch vs. Oklahoma. He is firm in pass protection, but has been late to identify blitzers at times. Overall, Hall has an ideal skill set for today's game.
Lance Zierlein believes Hall has three-down upside, likening him to Matt Forte.
Will give NFL evaluators early starter vibes with his blend of size, power, and creativity. Hall isn't very sudden in tight quarters but gets better as the run play progresses with good vision and an above-average sense for how to beat second-level tacklers. He has surprising build-up speed once he's in the open field but might not have the instant gas to become a plus outside runner. His running style is willful when it needs to be and he's adept at moving the chains on "got to have it" short-yardage carries. Hall has full-package, three-down talent with surprisingly soft hands out of the backfield and should find early touches as a Day 2 draft pick with above-average potential.
Draft Projection
Hall currently has an expected draft position of 61.7 on Grinding the Mocks, which sources mock drafts around the interwebs. Dane Brugler has him going 62nd in his second mock draft. Hall is 39th on Jeremiah's big board, and 59th on Brugler's. It seems unlikely we hear Hall's name called on Day 1 of the NFL Draft, but a selection somewhere in the first half of Day 2 seems reasonable.
Comparable Players
I use Principal Component Analysis to evaluate RB prospects. In simplest terms, this kind of analysis looks at relevant data points to find the closest comparable RBs in past drafts. I prefer this to a model output — which yields only a single result — as it can display the possible range of outcomes for a prospect.
Note that the analysis itself isn't telling us how good a player is; it is simply returning the most similar players. It is then up to us to layer in context and past results to see how good we think this player may be.
Hall's comps are fantastic. It is worth noting that while his expected draft position is that of a late second-round pick, his profile is so good that it draws in three top-10 NFL Draft picks in Adrian Peterson, Darren McFadden, and Ezekiel Elliott as the eighth-, ninth-, and 10th-most comparable players respectively.
Ray Rice coming in as the top comp for Hall speaks to the Forte comparison that Zierlein made earlier. Forte was a four-year player who broke out in Year 3, while Rice had a similar career arc, but an age/experience profile that resembles Hall far better. Kevin Smith is someone who would probably be considered a "bust" as an NFL Draft pick, but he gave dynasty players two seasons of usable fantasy production before injuries derailed his career.
After absolutely shredding the Combine at 217 pounds, we bumped up Hall's projected draft position to the middle of the second round. That took Tony Hunt and Royce Freeman out of the range of outcomes, and added in Todd Gurley and LeSean McCoy. Shady is also in that Rice/Forte archetype, while Gurlely is another first-round stud.
Further Research