Each week in this space, we'll look at how ADP has changed over the past week in the industry. We're looking at ADP over the last seven days compared to ADP the previous 8-14 days.
*Visuals provided by Sam Hoppen.
FFPC FBG ADP Change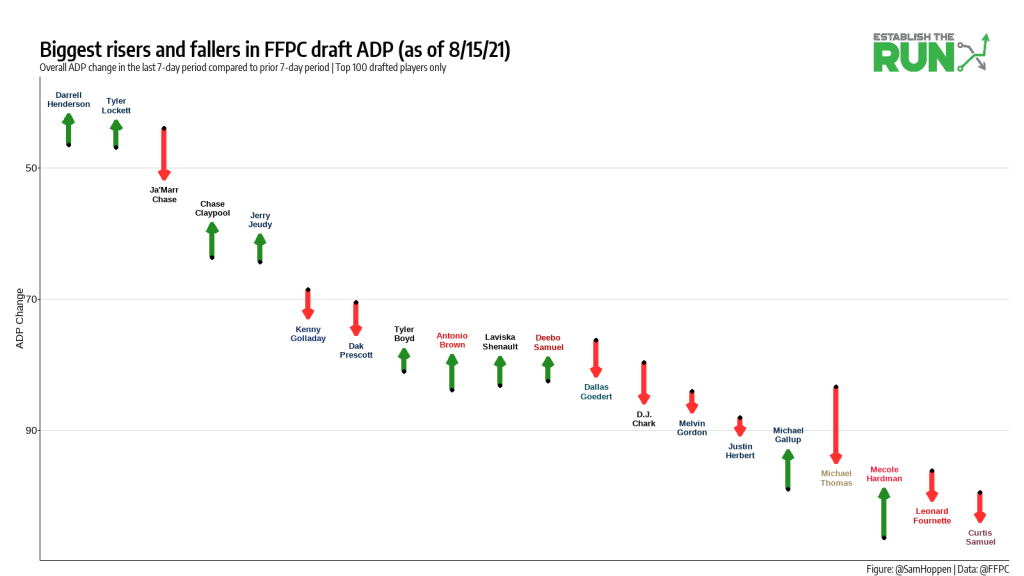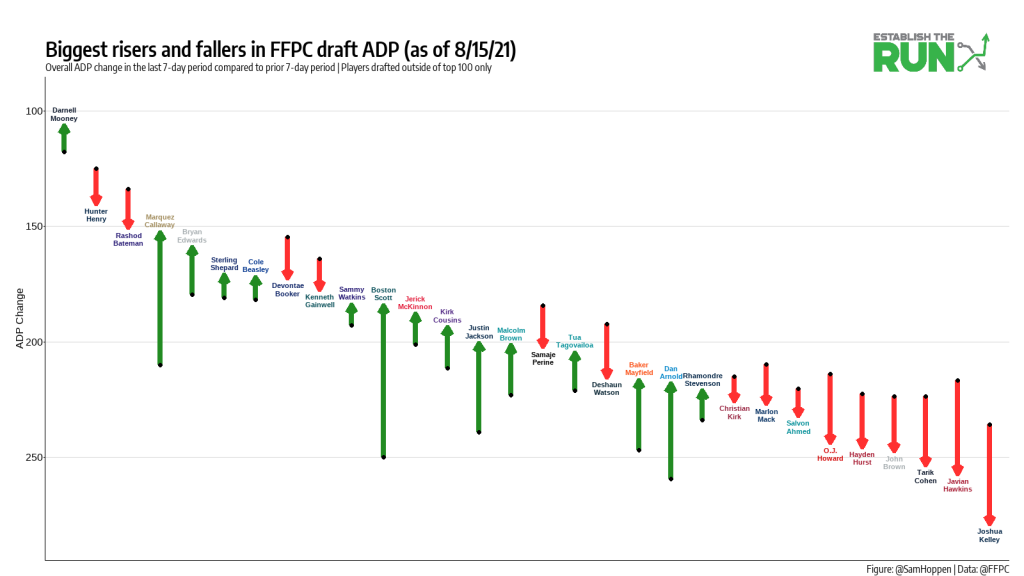 NFFC OC ADP Change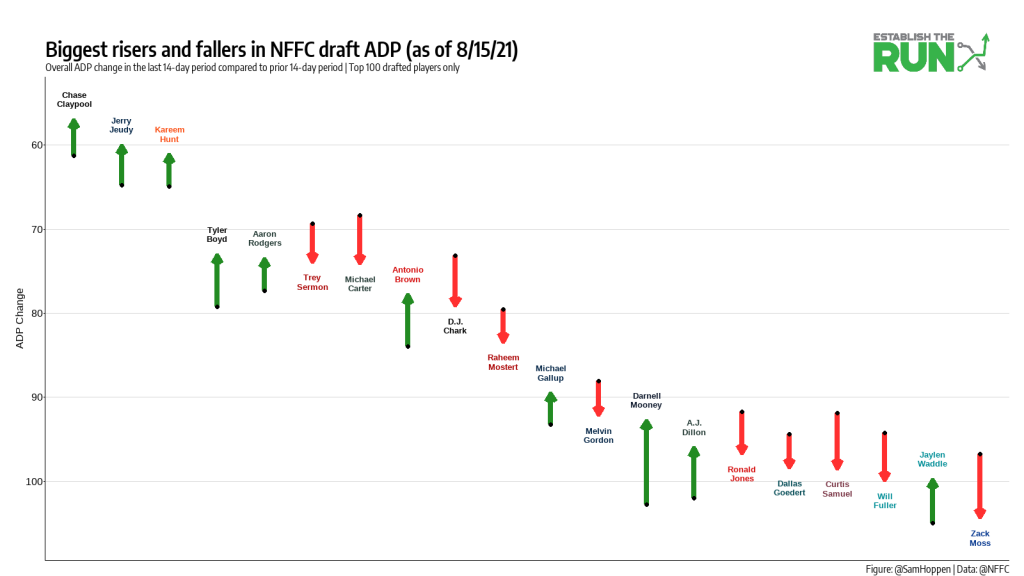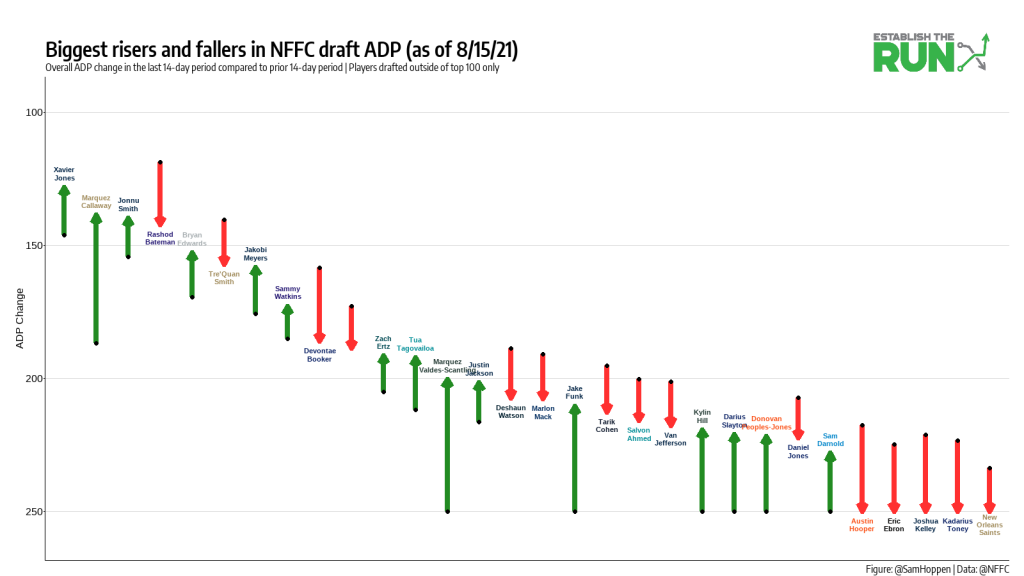 Underdog ADP Change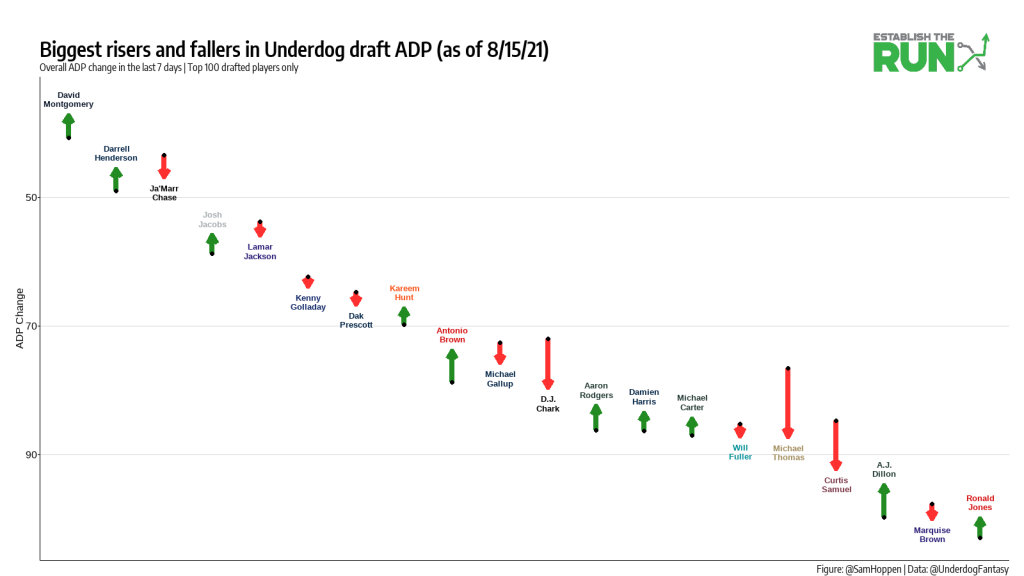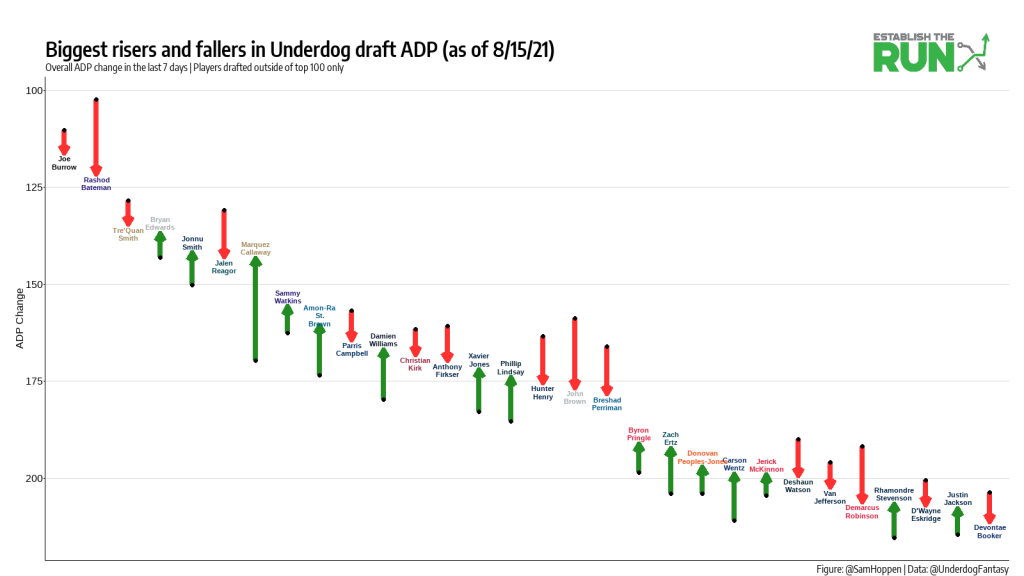 This week's risers
1. Antonio Brown (up to 78.7 from 83.8 on FFPC, 77.9 from 84.0 NFFC, 73.9 from 78.8 UD) cracks the top risers lists across the industry. Brown has some asymmetric upside. He should be startable as the WR3 for the Bucs (finished third in targets per route run last season) and has a lot of contingent upside should either of Mike Evans or Chris Godwin miss time. With all that said, his steep ADP climb, not just this week but all offseason, has us ranking him slightly behind ADP across the industry.
2. One of our favorite RB targets is gaining some steam this week, as A.J. Dillon has seen his ADP rise from 99.8 to 94.8 on UD (biggest riser within their Top 100) and from 102 to 96.1 on NFFC. We're still ahead of ADP on Dillon. His blend of standalone value and upside is exactly what we're looking for in an RB outside of the first seven rounds.
3. The WR ADPs are more favorable on the managed sites (FFPC and NFFC), but we're starting to see that shift a little bit. Two players we're high on, Tyler Boyd (up to 73.1 from 79.2 on NFFC, up to 77.7 from 81 on FFPC) and Michael Gallup (up to 89.6 from 93.2 on NFFC, up to 93.2 from 98.9 on FFPC), are on the rise. We still view both as positive values. Earlier this offseason, I outlined why all three WRs in these offenses were good bets as part of an article shining a light on Bengals stacks as targets.
4. Marquez Callaway (up to 138.5 from 186.7 NFFC, 152.7 from 210.0 FFPC, 143.2 from 169.6 UD) is the largest riser across the industry due to a combination of camp hype surrounding him specifically and negative sentiment surrounding Michael Thomas' timeline. We're not currently buying into Callaway's new ADP. It's possible he's the better target here over Tre'Quan Smith, but there's a lot of downside — if the offense as a whole takes a step back, if the offense is run-heavy if Taysom Hill wins the job, if Callaway is just okay to start the season and rendered moot down the fantasy stretch when MT returns, etc.
5. Justin Jackson (up to 201.4 from 216.3 on NFFC, 200.7 from 239.3 FFPC, 207.7 from 214.5 UD) is rising everywhere, and we're buying. Jackson is a high value handcuff to Austin Ekeler, making him an ideal end game target, especially on full-PPR sites. We had a stretch where we were concerned about Jackson making the team, but he seems like the clear cut No. 2 right now.
This week's fallers
1. Evan Silva's immediate reaction to the Michael Thomas injury has proven prescient. Silva has Michael Thomas at 149 overall in his Top 150, and with some pessimistic news on his timeline, Thomas' ADP is falling everywhere (87.2 from 76.6 on UD, 94.7 from 83.3 on FFPC). I drafted him in a recent NFFC Draft, and there are scenarios where I'd roll the dice (when opportunity cost has decreased dramatically and you're focused almost entirely on end-of-season upside), though I'm more pessimistic since that draft was conducted.
2. Speaking of NFFC, for some reason Zack Moss is the biggest faller inside their Top 100 (96.7 from 104.2). In a different NFFC draft I completed, Zack Moss was my RB3 in a Zero RB build. He is nursing a minor injury. Plus, Devin Singletary is not going away. Still, Moss has some standalone value with the goal-line role and split duties overall, plus a bit more upside than Singletary in terms of claiming a bigger stake of the RB share without an injury occurring.
3. Ja'Marr Chase (down to 51.5 from 43.9 on FFPC, 46.8 from 43.4 UD) and Dak Prescott (down from 75.3 from 70.5 on FFPC, 66.6 from 64.7 UD) are starting to get people worried. Dak's health is seemingly okay after a second MRI, while Chase has had some negative camp reports (as has Burrow's health). We are tracking both of these situations closely, but I posted the upside of these two offenses earlier in this article. We're currently buying all of the pieces at ADP, especially as we get a dip, still roughly four weeks out from the start of the season.
4. Rookie WRs are very valuable bets late in drafts historically, but it's tough to draft Rashod Bateman (down to 121.6 from 102.3 on UD, 142.2 from 118.6 NFFC, and 150.6 from 133.9 FFPC) at ADP right now, if at all. We were already lower on Bateman than other rookie WRs because of team context (target competition, outlier low team pass volume), but were willing to take some shots on his talent when he slipped. Now he's going to start the year hurt, miss the preseason and start of the season, and still come back to those same challenges. There's a good bet he hits waivers at some point in managed leagues. Keep an eye on him when that happens, but take your late upside pick elsewhere in most leagues.
What I'm watching now
With some preseason action under our belt, I want to see how the market reacts to some early performances:
Myles Gaskin ceded a lot of work to Malcolm Brown. It's not something we're panicking about. At the same time, dead zone RBs are already shaky bets. We've moved Gaskin out of that fifth-/sixth-round conversation and more into the seventh round, while boosting Brown so he's surfacing the ranks as a late-round RB option.
We saw pretty good rookie performances from Trey Lance and Justin Fields among others. ETR favorite Rondale Moore also flashed his versatility.
If you're drafting over the next week, you might want to be a little aggressive on these guys. Tua Tagovailoa also looked good, and there's reason for optimism in Year 2 given the talent around him, more experience, and perhaps most importantly, more distance from his serious hip injury. Tua, Lance, and Fields all are a part of the Late-Round QB strategy I have advocated for.