Editor's Note: Don't have our Draft Kit yet? It is just $35 and includes Silva's Top 150, Silva's Team Previews, Silva's Tiers, Rankings for every format and tons more. Click here for details.
Editor's Note 2: Underdog Fantasy is offering ALL ETR subscribers an unbeatable deal! Anyone who purchases the ETR Draft Kit will receive a $10 site credit. First-time Underdog customers will receive an additional $25, making our Draft Kit nearly free if you haven't tried Underdog yet!  After purchasing our Draft Kit, follow the instructions here to claim your reward.
Each week in this space, we'll look at how ADP has changed over the past week in the industry. We're looking at ADP over the last seven days compared to ADP 8-14 days ago. For NFFC, we're comparing their ADP the last two weeks to their ADP the two weeks prior to that because the sample sizes for NFFC drafts are currently very small.
*Visuals provided by Sam Hoppen
FFPC FBG ADP Change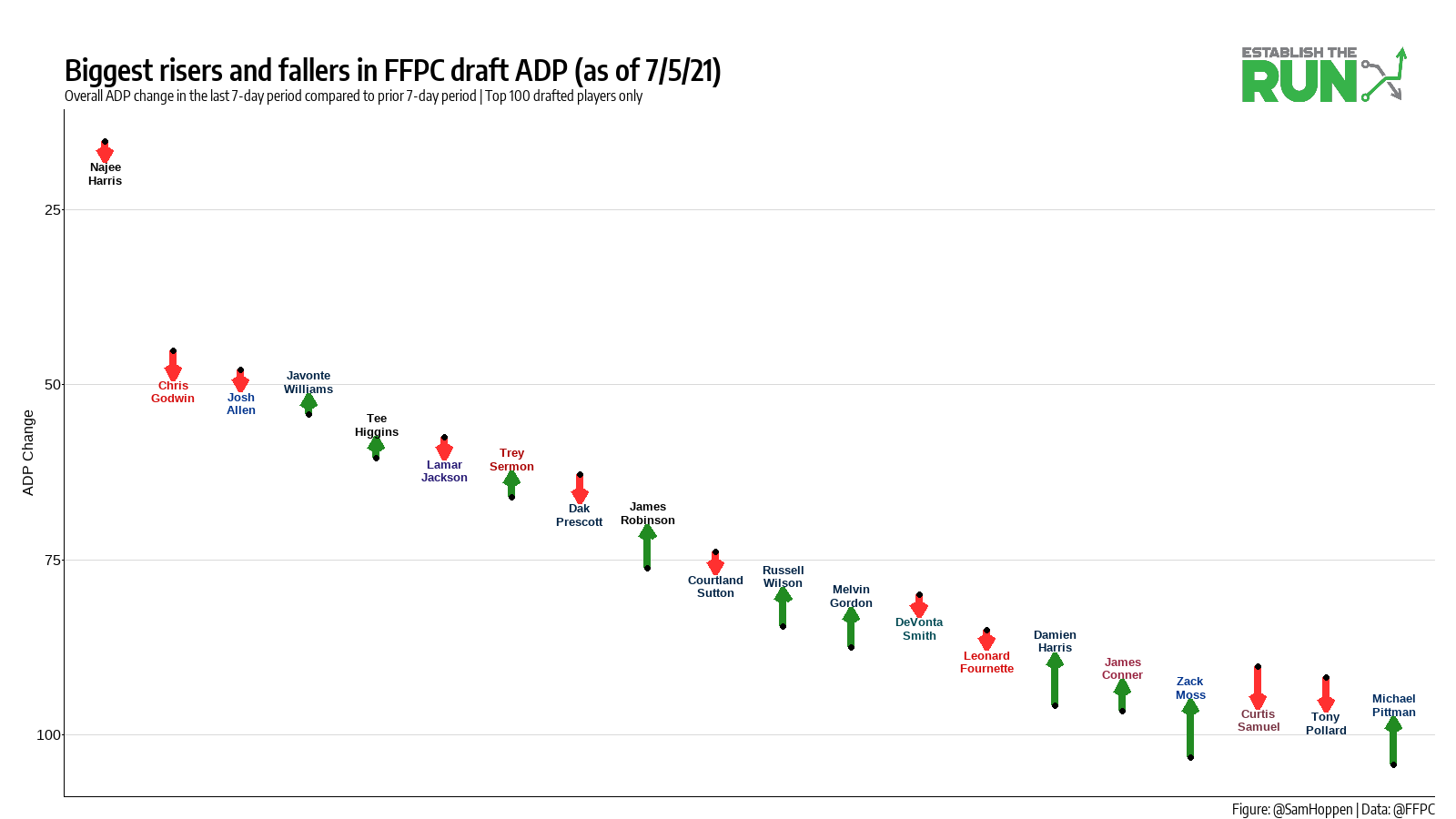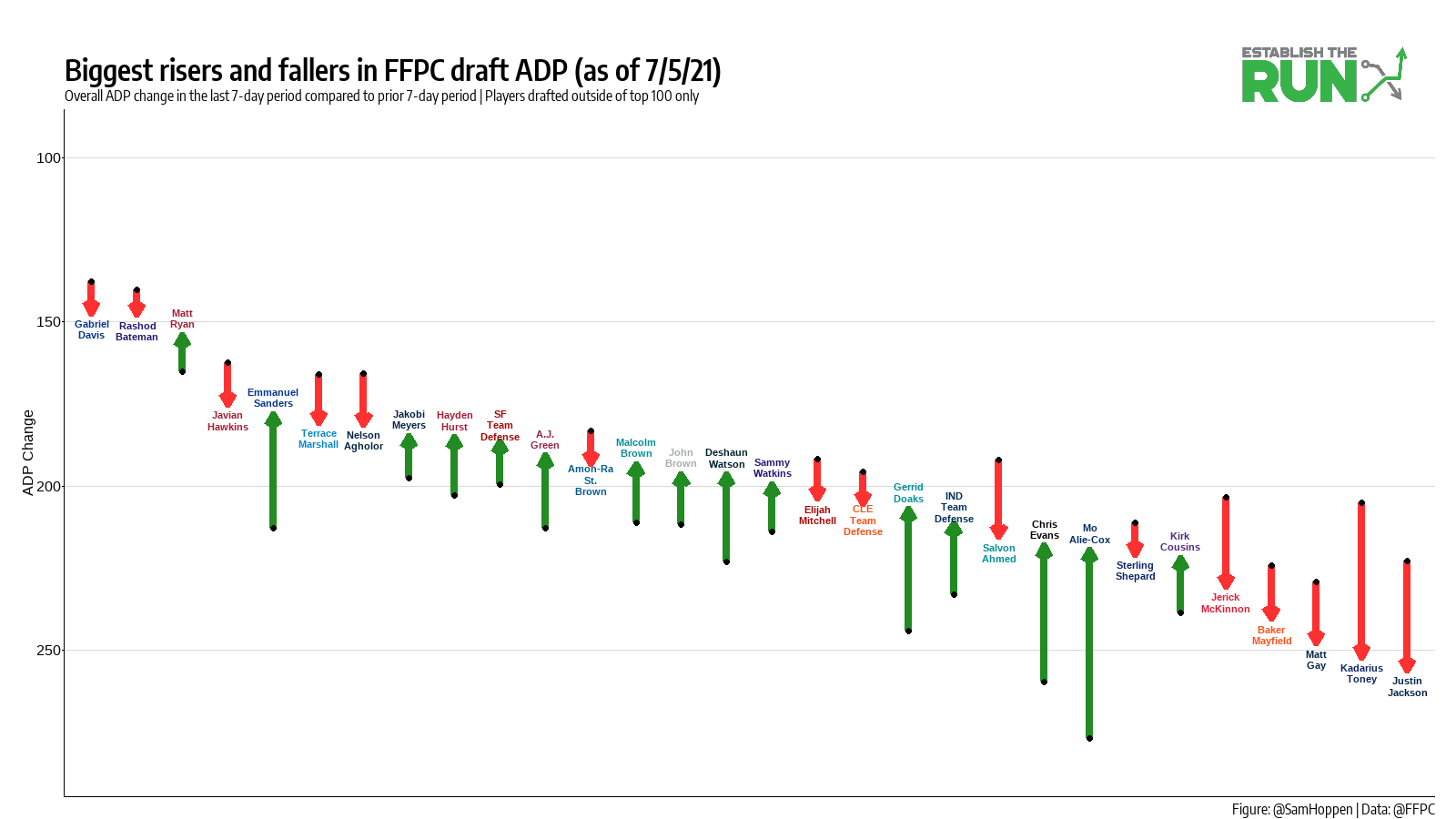 NFFC OC ADP Change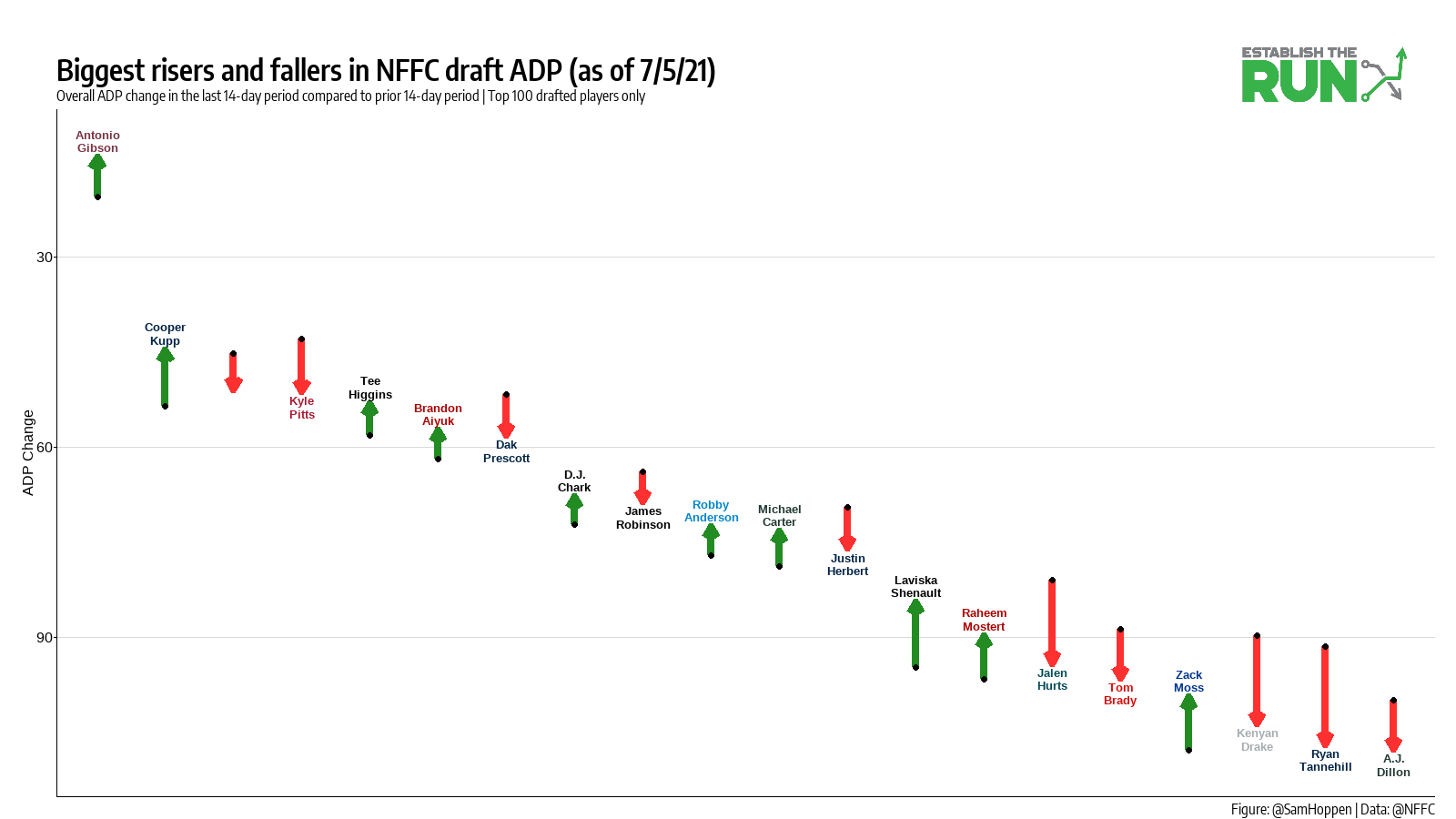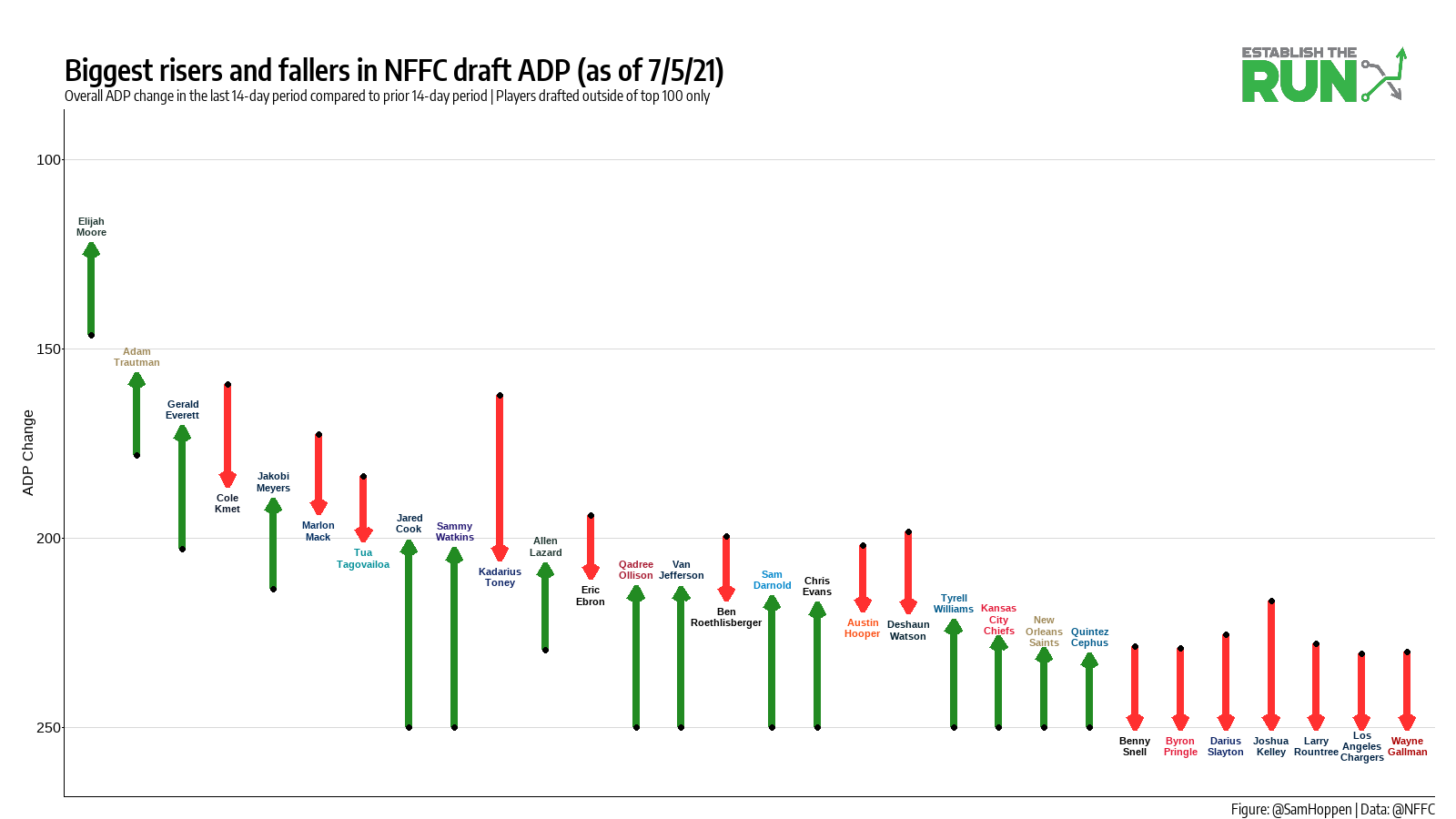 Underdog ADP Change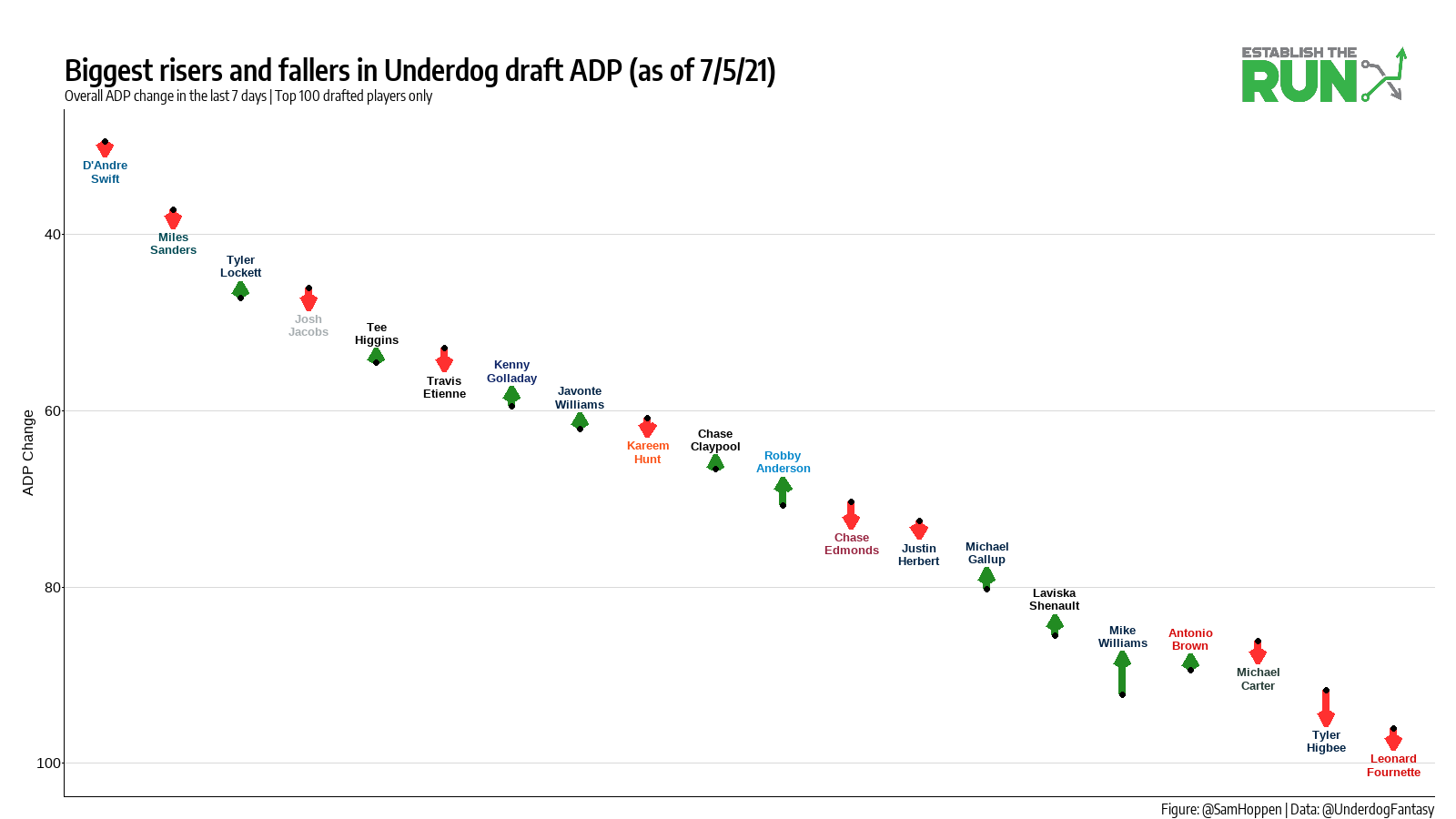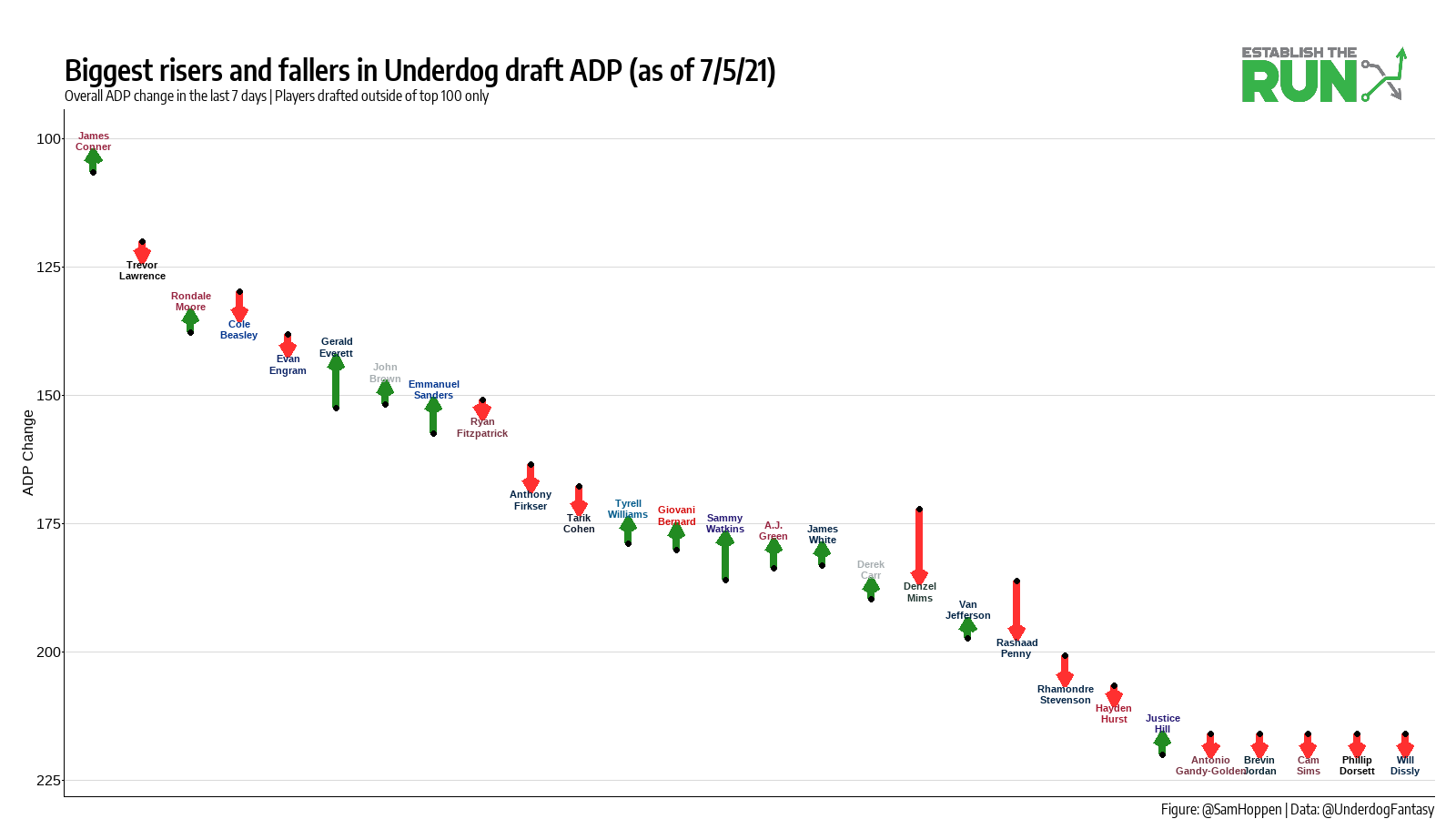 This week's risers
Zack Moss (up to 99 from 108 in NFFC; up to 95 from 103 in FFPC) saw a big rise in ADP on the redraft managed sites. Bills beat writer Joe Buscaglia paints a potentially rosy picture for Zack Moss. We like Moss right at ADP for many of the reasons that Joe notes (ETR FFPC rank of 96, RB35), though it's a difficult situation to parse. On one hand, Moss has the higher-upside portion of the backfield split with Singletary, and we expect some positive regression for the Bills' backs in fantasy in general. On the other hand, it's still an offense that splits RB time, doesn't target the RBs frequently in the passing game, and utilizes Josh Allen by the goal line.
Mike Williams is the biggest riser on Underdog (up to 88 from 92) inside their Top 100. As Evan Silva tweeted, Chargers OC Joe Lombardi — former #Saints assistant — says Mike Williams will play X receiver position manned by Michael Thomas in New Orleans.". With his new ADP, there are a handful of WRs we prefer on Underdog to Williams that have a worse ADP (Jarvis Landry, DeVante Parker, Marquise Brown, and Antonio Brown), but that cluster is tight. Williams certainly deserves to go in front of that group on teams where you're pairing him with Justin Herbert.
Tee Higgins has seen small bumps in his ADP across the entire market. His biggest move came on NFFC (up to 53 from 58) where you start three WRs. Higgins is an ETR favorite, and we're still drafting him ahead of ADP (ETR NFFC rank of 47). This is his second straight week on this list.
Last week, Gerald Everett (up to 152 on Underdog from 165), Sammy Watkins (up to 186 on Underdog from 205), and Emmanuel Sanders (up to 157 on Underdog from 161) were featured in this space. That momentum has continued as they represent our top three ADP risers on Underdog with an ADP outside of their Top 100. Everett is now up to 143, Watkins 177, and Sanders 151. If you're buying news, this is a good example of catching early ADP spikes and getting in front of them as quickly as possible before prices get fuller. Our Underdog ranks are now well behind ADP on Everett (162) and Watkins (235) but ahead on Sanders (139).
Positive camp news on A.J. Green has him rising on both Underdog (178 from 184) and FFPC (191 from 213). Green makes sense as a cheap, late WR target on Underdog, as he enters the season with a pretty clear starting role on a fast-paced team with a good QB. We're skeptical he has the requisite upside to be worth stashing in managed leagues, though, given his 101st ranking out of 112 WRs in YPRR last season. More notably, Adam Levitan has Green failing in the propietary age model.
This week's fallers
Dak Prescott has fallen on both FFPC (96 from 92) and NFFC (58 from 52). I recently wrote an article in favor of returning to the Late-Round QB strategy in redraft managed leagues such as FFPC and NFFC. If you are going premium QB, however, Prescott is one of our favorite targets. We have him ranked positionally ahead of ADP on both sites. If you're picking at the 1-2 turn, it's possible to draft Amari Cooper and/or CeeDee Lamb at the 3-4 turn and then complete the stack with Prescott at the 5-6 turn.
With some positive news surrounding rookie TE Jacob Harris, no player inside Underdog's Top 100 ADP has seen a bigger fall than Tyler Higbee (96 from 92). We have Higbee ranked right at ADP now (96). He fits in well on builds where you miss out on the elite TEs. In general, he's a player we're optimistic about this season.
At the backend of drafts, it's becoming easier to get solid QB2s with small upside for basically free. As noted in the link above about returning to the Late-Round QB strategy, the ability to pair those QBs in 20-round drafts like FFPC and NFFC with a rookie QB in the teens rounds is an appealing upside strategy. Baker Mayfield has fallen from 224 to 240 (Round 20) on FFPC while Tua Tagovailoa has fallen from 184 to 200 on NFFC.
While his article was geared towards best ball leagues, our former colleague Pat Kerrane showed us why Rookie WRs have the potential to be league winners. We're seeing big drops from some of them on FFPC: Kadarius Toney (252 from 205), Terrace Marshall (181 from 166), Amon-Ra St. Brown (193 from 183), and Rashod Bateman (148 from 140) all crack the top fallers list with an ADP outside the Top 100. Consider them dart throws to stash and round out your WR groups, but we'd be more interested if these drops end up moving over to Underdog, where WR is prioritized a bit more relatively at this point in the draft.
Trevor Lawrence didn't see a big drop on Underdog (124 from 120), but he's gradually been dropping the last month or so. As much as I love the rushing upside of fellow rookies Trey Lance and Justin Fields, I do wonder if Lawrence has flipped from overhyped to undervalued, to now maybe properly valued. On FFPC and Underdog, Lawrence is now being drafted right in the middle of Trey Lance and Justin Fields, despite being the only one of the group who will be the clear Day 1 starter. However, on NFFC, Lance (165) and Fields (176) are going much later than Lawrence (133). On that site in particular, there's a strong present opportunity to buy Lance or Fields over Lawrence.
What I'm watching now
With the launching of FFPC's Main Event today and redraft managed league drafts picking up in general, I'm fascinated to see where the QB ADP goes. I just wrote about how I'm in on Late-Round QB because of the ability to take upside options like Lance and Fields in Round 14, paired with a free Baker Mayfield or Tua, while many of the elite QBs go inside the top five rounds. However, if that gap shrinks from a nine-round gap to a six- or seven-round gap, the value would likely swing back in favor of the elite QBs.