Editor's Note: Our In-Season subscription offers the highest-quality NFL fantasy and DFS content from Week 1 through the Super Bowl. We hope you enjoy this free preview, and click here to sign up for full access. For a full list of our content, click here. If you've already purchased the Draft Kit and would like to upgrade to Bundle, please email [email protected]
What one thing could improve the experience of live-tweeting every single NFL island game alongside millions of your closest friends? Sweating a high-variance, lottery-style DFS product that rewards the most contrarian approaches, of course!
Still relatively new and insufficiently explored, showdown contests are often accompanied by suboptimal play from our opponents and rapidly-evolving game theories that deserve examination. In this article we'll take a deep dive into the 2019-20 data and identify where we believe the field is still making mistakes and how we can leverage this information to build lineups that are simultaneously more competitive and less likely to be duplicated. 
POSITION-BY-POSITION BREAKDOWN
Because of the increased roster flexibility, introduction of the captain position, addition of the kicker and lack of positional requirements it's valuable to establish an understanding of how each position performed in 2019 while including factors like median salary and average ownership. By starting here we'll get a better sense of which groups are top performers and how the field thinks about roster construction. Since we're working with such a small sample size (53 slates) this data is fluid and can change quickly as more information becomes available. 
| | | | | | |
| --- | --- | --- | --- | --- | --- |
| Position | Avg Salary | Avg DK Points | Avg pt/$ | Avg Total Ownership | Avg Captain Ownership |
| QB1 | $10200 | 16.75 | 1.64 | 56.95% | 10.98% |
| RB1 | $8800 | 14.22 | 1.62 | 47.25% | 11.05% |
| RB2 | $4400 | 7.76 | 1.76 | 18.42% | 2.82% |
| WR1 | $9400 | 13.94 | 1.48 | 44.68% | 8.57% |
| WR2 | $6600 | 10.09 | 1.53 | 28.49% | 4.02% |
| TE1 | $5500 | 8.62 | 1.57 | 27.37% | 3.69% |
| K | $3700 | 7.27 | 1.96 | 22.32% | 0.94% |
| DST | $4100 | 7.41 | 1.81 | 20.69% | 4.58% |
Quarterbacks: Unsurprisingly, QB's lead the player pool in average salary, ownership and fantasy production. They often provide the safest floor and as necessary members of any pass game stacks, ownership is naturally driven up. In our observed sample of over 2.7 million lineups, 87.17% rostered at least one QB. A quick review of the lineups that finished in the top 1% of the flagship GPP on DraftKings showed that the field is correct in their ownership of QB's as a near identical 87.75% of top finishers rostered at least one QB. 
Running Backs/Wide Receivers: In this format, WR's own the widest range of outcomes followed closely by RB's. The correlation between game script and volume creates an opportunity for us to take advantage of a potential ownership discount in spots where we think a game plays out a certain way and the field disagrees.
Tight Ends: TE's struggled in 2019 as the field rostered at least one at a 52.8% rate while they appeared in top 1% finishing lineups just 44% of the time. The position is loaded with potential breakouts as we head into 2020 but the mid-tier pricing of the group as a whole can often leave them in no mans land with higher pt/$ options directly below them and higher ceiling options above them. 
DST: As Adam noted in his Winning Milly Maker article the field was generally pretty poor at predicting DST scoring, with a .21 correlation between DraftKings points and ownership. While still weakly correlated that number jumped to .38 when looking at DraftKings points and captain ownership in 2019 showdown contests.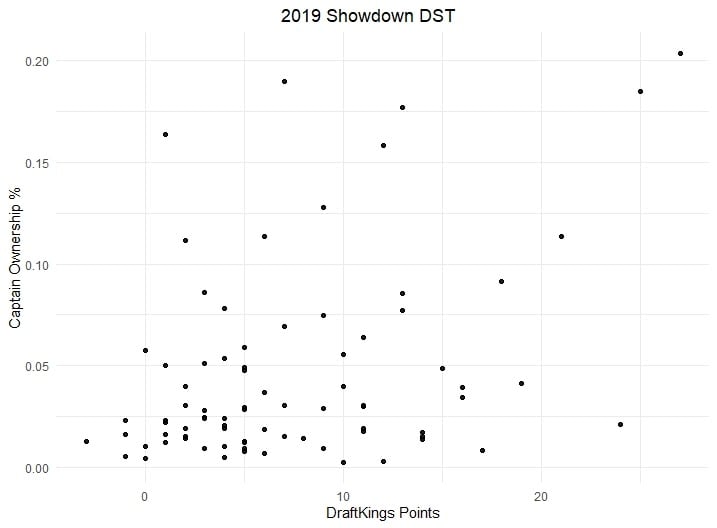 High-owned defenses in 2019 that succeeded at an unsustainable rate could lead to increased level of confidence from the field in selecting DST's in 2020, when we know predicting their production is generally difficult. DraftKings did show a willingness to price up DST's in perceived good matchups later in the season as DST's that were at least 7-point favorites had an average salary of $5600 at 38.55% ownership compared to $3900 at 18.41% for all others. DraftKings pricing trends and projected ownership will be important for future slates.
Kickers:  Ignoring the introduction of the captain position, adding kickers to the player pool is among the biggest wrinkles in this format. They will routinely project among the top pt/$ plays and frequently outscore players in the same price range. In 2019, skill position players priced between $2600-$4200 averaged just 4.55 DraftKings points at 12.77% ownership. Because kickers have such a tight range of outcomes and are inherently underpriced in these contests, they often become essential pieces of winning lineups when the cheap options around them fail to produce outlier performances. A major component of our in-season Showdown Breakdown article was attempting to identify these options in an effort to avoid the higher owned, lower ceiling kickers but unless the pricing dynamic changes, they'll continue to be a major decision point on future slates. 
CAPTAIN SELECTION 
Optimal Captain Count By Position:
QB – 10-of-52 slates (19.23%); 26.53 DraftKings Points
RB – 20-of-52 (38.46%); 29.25 DraftKings Points
WR – 17-of-52 (32.69%); 28.96 DraftKings Points
DST – 4-of-52 (7.69%); 23.5 DraftKings Points
TE – 2-of-52 (3.84%); 25.15 DraftKings Points
K – 1-of-52 (1.9%); 21 DraftKings Points
Aside from what appears to be a pretty low success rate from TE's in 2019, the frequency at which each position produced a captain-worthy score intuitively makes sense. We expect high volume RB's, target-monster WR's and efficient QB's to routinely end with the most points.
In the one instance of a kicker finishing as the optimal captain, Matt Prater went 5/5 including a 54-yard field goal and was still outscored by Jamaal Williams (26.6 DK Points) but salary limitations led to Prater headlining the winning lineup. With an extremely narrow path to success, we hardly ever recommend allocating captain exposure to the kicker position. Similarly, DST's require such a specific, low-scoring game environment that it's difficult to recommend being overweight especially when considering the field is already dedicating 9.16% of their lineups to DST at captain builds. 
The Field Is Good At Identifying Top Captain Options
The correlation between captain ownership and DK Points is .67, a solid indicator that the field is generally pretty good at selecting the appropriate captain. Just a shade over 25% of all entries roster a captain who is sub-5% owned while only 17.47% of the top 1% of lineups opted for that route. We don't have to identify the 1-2% owned outliers to access players with high ceilings that also project to be lower owned than their chances of being the slate's top scorer. 
Don't Ignore Vegas Data
The data showed that 58.97% of the field used a Vegas favorite at the Captain position compared to 74.76% for top 1% finishers. The observed sample included some lopsided contests including; Chiefs at Bears, Colts at Saints and Jets at Ravens. 
Consider The Game Environment You're Building For
Unlike main slate contests where it can be difficult to project game flow for nearly a dozen games, single-game slates make it easier to overanalyze and build lineups based on how we think the game will be played. Gamescript correlates strongly with opportunity and is among the most important factors when selecting our pool of potential captains. Let's take a look at the top scorers by game type from last season: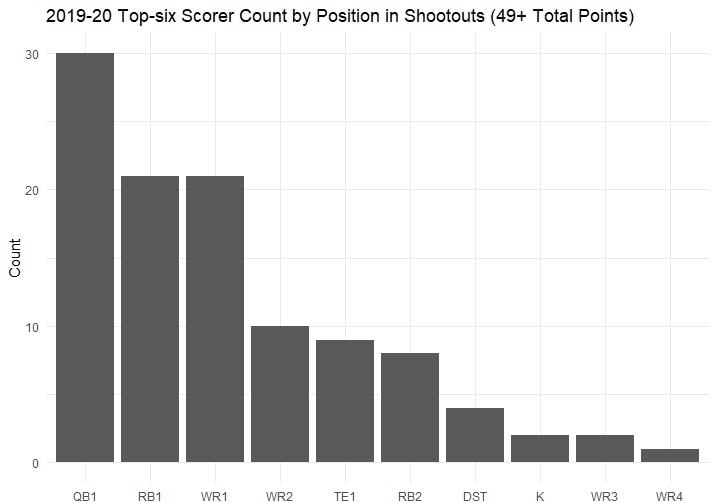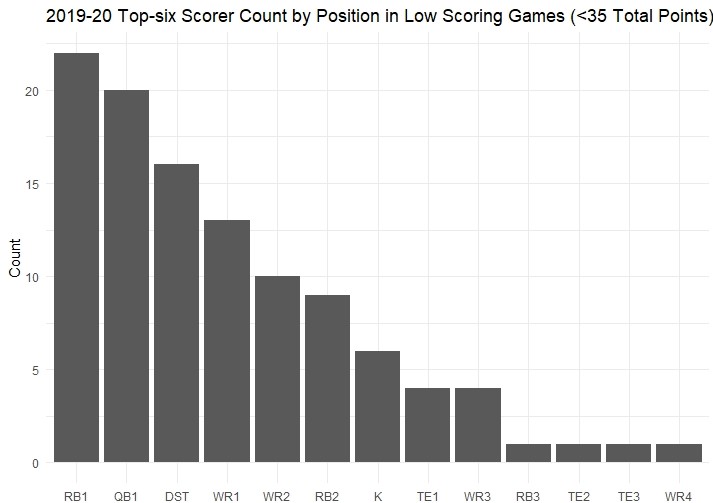 BUILDING UNIQUE LINEUPS
If we're firing a few bullets at the big tournament on DraftKings just for the sweat, maybe chopping 1st place with 747 of our closest friends for $1,210.09 is just fine. However, long-term profitability in these large-field tournaments hinges on giving ourselves the most possible chances at a solo first place finish. We're able to achieve this in a variety of ways.
Leave Salary On The Table
We're putting ourselves at a disadvantage if we completely remove the possibility of having any $50,000 lineups in our portfolio because, as we'll touch on soon, there are other ways we can differentiate while using the full salary. For that reason, we don't recommend setting hard caps. However, total salary used does have one of the strongest correlations with the number of duplicates in this format. The benefits of leaving salary on the table are most realized at the point where we can reduce total spend without sacrificing too many projected points:
$50,000 – 31.42 Avg Duplicates
$49,900 – 30.53 
$49,800 – 22.72
$49,700 – 22.57
$49,600 – 16.25
$49,500 – 16.62
$49,400 – 13.07
$49,300 – 12.94
$49,200 – 9.68
$49,100 – 10.14
$49,000 – 7.77
$49,000-$48,500 – 6.54
$48,000-$48,500 – 4.63
< $48,000 – 2.16
Find The Cumulative Ownership Sweet Spot
Like leaving salary on the table, this one is pretty intuitive. In our research, we found that cumulative ownership has the strongest correlation with the number of duplicates. 
Sub-100% – 1.38 Avg Duplicates (0 finishes inside top 1%)
100-150% – 2.00
150-200% – 5.30
200-225% – 10.04
225-250% – 16.27
250-275% – 26.03
275-300% – 44.42
While using < 150% total ownership increases the likelihood we're unique only .7% of the top 1% of lineups fell in this range. Using lineups between 150-250% cumulative ownership will generally be our preferred strategy. This will give us an optimal mix of the best projected players along with high-upside 'dart throws' at a reduced chance of being duplicated. 
Unique Roster Construction
In analyzing our overall construction we understand there is less perceived downside risk in building balanced lineups that roster three players from each team or even four players from a favored team, in most cases it's hard to imagine a path for all five players from a single team to produce top-six outputs. The data shows that only 14.91% of the field builds 5-1 lineups while a massive 39.2% of top 1% finishers use this construction. If there is a path for a game to get lopsided, think Browns at 49ers, we should not hesitate to force in five players from the team we think controls the game. Keep in mind that games with already lopsided spreads will naturally drive ownership to 5-1 style builds and in those instances it may actually be optimal to skew toward more balanced builds.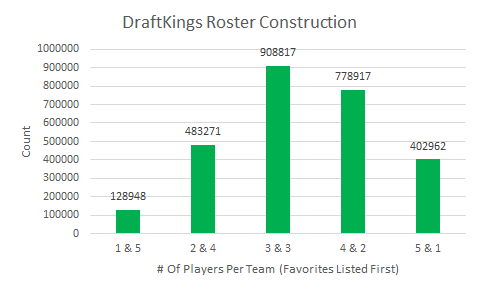 Being Different With Popular Captains
As Adam discussed in his article, we don't have to roster sub-5% owned players at each position in order to be unique. If Patrick Mahomes projects to be a 20% owned captain while also projecting to finish as the top overall scorer 40% of the time, we can still gain leverage on the field by being overweight. However, a popular captain is going to lead to more duplicated lineups. What can we do to prevent that? Let's look at the Chiefs at Bears slate and analyze the most common CPT Patrick Mahomes lineups: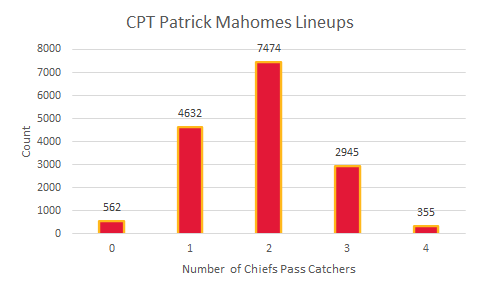 In this contest, Mahomes was 18.51% owned at Captain, accounting for 15,968 total lineups. Of those, 94.26% paired him with 1-3 of his pass catchers. Is it likely that a naked Mahomes lineup or a Mahomes + Travis Kelce, Sammy Watkins, Mecole Hardman and Blake Bell lineup ships first place? No, but by taking an extremely unique position while still owning the most probable top scorer we give ourselves possible outs for a solo first place finish if Mahomes hits the top end of his range of outcomes. 
GROUP SETTINGS TO CONSIDER
No more than (2) K/DST In The Same Lineup
Rostering more than two Kickers/DST reduces our expected top 1% finish rate by over 15%. High pt/$ projections for both positions may occasionally return lineups that include 3-4 despite the low probability that they crack the top-six overall scores in the same game. 
Run It Back Stacks
An opposing QB, WR or TE was included in 88.89% of winning lineups that rostered a QB, WR or TE from the other team at captain. Set a group to include at least one of these players in such lineups. 
Don't Force Same Team CPT WR/TE-QB Groups
8-of-19 winning lineups that rostered a WR/TE at Captain did not include their QB. This challenges conventional wisdom where we've long assumed that if our pass catcher hits his ceiling, their QB likely does so as well. With the average QB accounting for 20% of the salary cap there are instances where the optimal lineup isn't possible with their bloated price tag. In the Seattle at Green Bay NFC Divisional Round game Davante Adams ($10800) scored 39 DraftKings points as the optimal captain while Aaron Rodgers ($10200) failed to crack the optimal lineup. Adams accounted for 50% of Rodgers completions, 65.8% of his yards and was on the receiving end of both touchdowns. Other examples (Odell Beckham, Michael Thomas, Allen Robinson & Chris Godwin) indicate this may be a strategy to implement with elite WR1's who have paths to >50% of their team's receiving production.
No More than (2) 'Punt' Options Per Lineup
Defined as the group of players priced between $200-$4200, punt players are a necessary evil to make a majority of lineup constructions work. In a sample of 52,013 lineups that finished in the top 1% only 3.09% of users rostered more than two players that meet the salary criteria. In our Patrick Mahomes example from earlier, even while we are actively trying to be unique, it doesn't make sense to include Mecole Hardman, Demarcus Robinson and Blake Bell in the same lineup.
If 'Player X' at CPT, Exclude 'Player Y'
Though this feels pretty intuitive, if 2019 results were an indicator of future lineup construction, the field is still making some suboptimal correlations with their CPT. Last year, 7.8% of the field rostered a CPT QB + Opposing DST. This is a rule we'll implement if we believe a player's top end outcome has a strong enough negative correlation with another player on his own team or the opposing team. While 'if CPT QB, exclude Opposing DST' is the most obvious example of this rule, there will be other slate-specific situations where this rule makes sense for other players as well.
Not All Correlations Are Created Equal
Using FantasyLabs Correlations Tool we see that some of the strongest league-wide correlations are QB-Opposing QB (.57), QB-WR1 (.52) and QB-TE1 (.50) but understanding how production correlates between players of specific teams is important for creating groups in showdown contests. There is no one-size-fits-all answer, rather it's a tool we can use to force players into the same lineups when we think they perform well together or to avoid players in the same lineups where if one exceeds expectations, the other is unlikely to do so. In some instances, setting a group for no more than one RB from the same team is correct. We would never use Christian McCaffrey and Reggie Bonnafon in the same lineup because Bonnafon's value is contingent on an in-game injury to McCaffrey. However, we may be okay with lineups that contain both Raheem Mostert and Tevin Coleman. In a 60-40 or 50-50 split there are paths for both to reach value.
What to Expect from our In-Season Showdown Content in 2020:
*Team and Game Level Trends
*Stack Ideas
*Groups to Consider
*Ownership Projections
*Player Projections

Access our premium content for as little as $22.99, click here to upgrade today!