Important: DraftKings has launched their USFL offerings, headlined by a $100K to first tournament. Our product at ETR includes everything you need to win, including projections and ownership projections. For details, click here.
USFL Rule Changes
As has been the case with other iterations of developmental football leagues, rule changes are implemented to differentiate the league, serve as a guinea pig for the NFL or just simply generate fan interest in spring football. The USFL is no different with a myriad of alterations to the rule book that will have varying levels of impact on our DFS and betting strategy.
* 3-point Try – This is a rule that was implemented in the XFL and rarely utilized. Essentially, after an offense scores a touchdown, they're given the option of running a play from the 2, 5 or 10-yard line, with 1, 2 or 3 points scored respectively. If you've read the team-by-team previews, it's a longshot for USFL coaching staffs to correctly understand when each attempt is optimal. We should still largely anticipate coaches to opt for an extra point kick.
* Onside Kick Alternative – Another rule that's fun in theory but unlikely to be utilized in practice. Teams can still kick a traditional onside kick but now also have an option to convert one 4th-and-12 play from the 33-yard line. If they convert, they keep the ball. If they fail to convert, the opposing team takes possession where the offensive player was downed.
* Clock Stoppages – Unlike the NFL, the USFL clock will stop following a first down during the final two minutes of the second quarter and fourth quarters, in an attempt to add more offensive excitement to the end of the half and regulation. A similar rule was used by the XFL but did not drastically change expected play volume or points scored.
* OT Shootout – In overtime, each team will get three alternating possessions from the 2-yard line with an attempt to convert. Whoever has more successful conversions after three tries leaves victorious. If they are tied after three attempts, we'll move to sudden death.
Play kicks off Saturday April 16th with eight teams stationed in Birmingham, Alabama competing over a 10-week regular season. At the conclusion of the regular season, the top two teams in each division will play against each other in the league's semifinals followed by a champtionship game between the representatives of each division the following week in Canton, Ohio.
DraftKings Roster Format
For spring football DFS regulars — what's up, XFL degenerates — the roster format rolled out by DraftKings for USFL Week 1 contests will come as no surprise. It is in fact an exact replica of the layout used during the XFL's brief five-week stint as our football drug of choice. Of course, trying to master a new DFS football format while still familiarizing ourselves with players and coaching staffs is less than ideal, but the new format does offer flexibility and should reward the ones who know how to take advantage of it.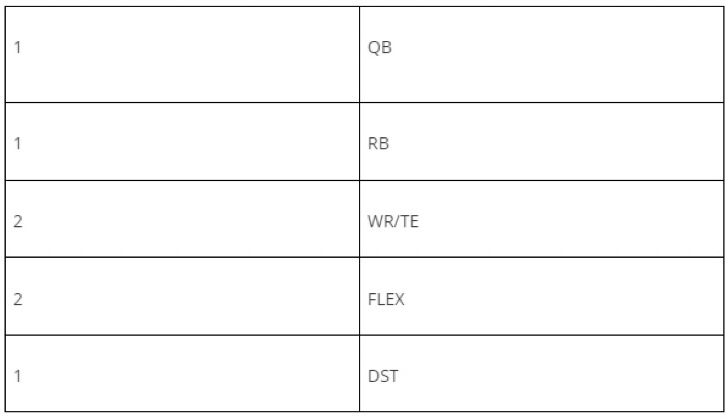 (1) QB: No changes here as DraftKings left the quarterback spot alone, matching its NFL format, making us select just one signal caller. With eight teams in play on most slates, it won't be uncommon to see ownership condense around the weekend's best plays. In the XFL's final week before the pandemic-induced shutdown, Houston Roughnecks QB P.J. Walker was a whopping 36.1% owned at $12,000. While fantasy production is relatively flat at the quarterback position in the NFL, at least relative to other positions, lower-level competition like the USFL will result in more frequent DraftKings-point disparity between the league's field generals.
(1) RB: The first big change to the roster comes as a pleasant surprise to the Running Backs Don't Matter crowd. While DraftKings' motivation to drop an RB roster spot is unclear, what is clear is the benefits it offers to us. Whether it be coaches' concerns for player health, a lack of available talent if an RB were to get injured, or simply a philosophical desire to deploy RBBCs, spring football has not lent itself to bellcow backs. None of the eight XFL teams had a single back handle more than 50.0% of their total carries and four teams had a leading rusher see fewer than 40.0%. Traditionally a volume-driven fantasy position, filling multiple RB roster spots would have been less an exercise in predicting touches and more about praying for touchdowns. With variance already cranked up to 11, we should be at an advantage by being able to more accurately identify potential workhorses for just a single RB spot.
(2) WR/TE: Another impactful roster alteration, unlike for NFL main slates, where we must roster (3) wide receivers and (1) tight end, we no longer have rigid positional rules at our pass-catching spots. The ability to entirely avoid the tight end position is a gift in itself. Sure, it's possible another legitimate contributor like Donald Parham emerges, but most likely the position will be a barren wasteland for fantasy purposes, something we've become rather accustomed to playing NFL. Particularly in large-field tournaments, we'll most often be embracing the inherent variance of the wide receiver position, giving us access to ceilings that won't often be reached by their tight end peers. Albeit over a small sample, each main-slate winner through XFL Week 5 rostered (2) WR in their WR/TE spots.
(2) FLEX: The final roster modification comes in the form of an additional FLEX spot. DraftKings' full-PPR scoring combined with an absence of legitimate bellcow running backs and a tight end pool lacking standout pass catchers means, in large-field tournaments, we're most often going to be doubling up again at the WR position. Of the eight total FLEX positions on XFL main slate-winning lineups, five were WR, two were TE, and one was RB. Given the similarities between leagues, I suspect our winning USFL teams to mirror winning XFL roster construction.
(1) D/ST: DraftKings did us no favors by removing the D/ST spot, as we're still tasked with identifying and rostering the slate-breaker at fantasy's most random position. Again, with just eight teams in play on any given slate and what we expect to be a wide disparity in QB talent, we'll see outsized ownership on the weekend's best perceived D/STs. As Levitan notes in his How To Win DraftKings NFL Milly Maker article, there's a weak correlation between DraftKings ownership and DraftKings points. In tournaments, we should always approach this position with an eye towards being different.