Dynasty Outlook
March 6
Wilson weighed in about five pounds lighter than he was listed, but that didn't make a huge change to his range of outcomes projections. He also was excellent in the 40, and measured with large hands. His draft position somewhere in the middle of the first round appears solidified. Many of the questions we had before still exist, and he will remain our WR3 in the dynasty rookie rankings.
Feb. 20
Wilson premiered as our third-rated WR prospect for rookie drafts, and WR19 in our overall dynasty ranks. With the right landing spot, he would definitely be in the WR1 discussion, though his comparable wide receiver prospects are not as impressive as the players he is competing against. The floor is still good — Wilson appears locked into the first round, and his comps display very few busts — but it is fair to question just how good he can be, and for how long players of his archetype will produce for fantasy purposes. Still, Wilson faced a high level of competition at Ohio State which could be skewing the outlook. He is someone to consider high-variance for dynasty.
Profile Summary
Garrett Wilson is the third of three WRs in contention to be the top pick in rookie drafts. He finds himself in the group of WR prospects most likely to find success — he is a three-year player who broke out in his second season, and is expected to go in the first round of the NFL Draft.
What we find with Wilson is that he may be more polarizing than his first-round peers. The scouts do not appear to be in unison on his level of polish as a WR, but they all agree that he is explosive and dangerous after the catch. The comps reveal someone with a solid floor, and an explosive ceiling if he can reach the top of his range of outcomes.
Vitals
Age (as of 12/31/21) — 21.5
Experience — 3 years
Height — 71.75 inches
Weight — 183 pounds
Hand Size — 9.875 inches
Arm Length — 32 inches
Wingspan — 76.5 inches
Forty — 4.38 seconds
Vertical — 36 inches
Broad — 123 inches
Shuttle — 4.36 seconds
By the Numbers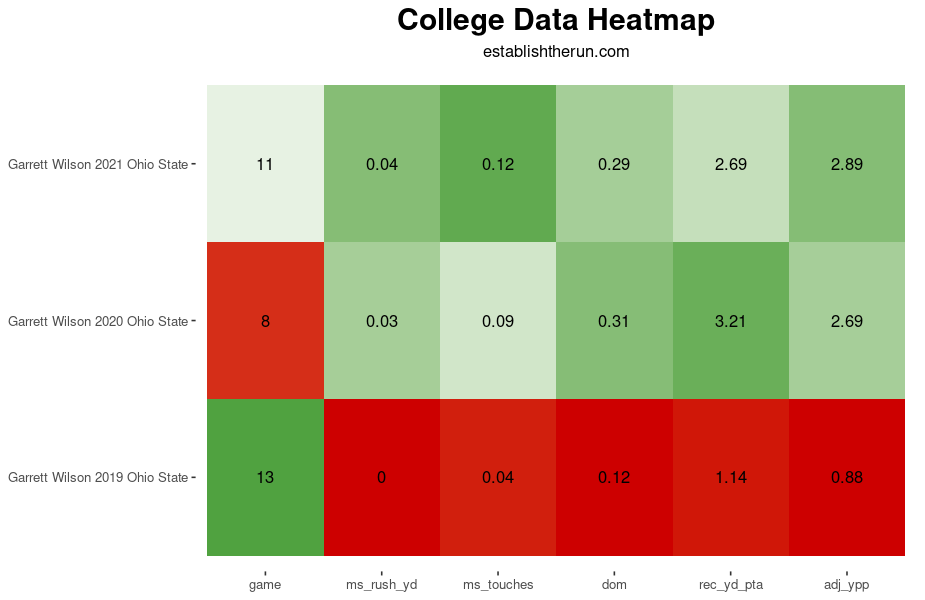 Wilson wasn't an immediate breakout as a true freshman, but still managed a 12% Dominator Rating while playing alongside Chris Olave (a sophomore) and Jameson Williams (who finished at Alabama) — both pegged to go as first-rounders this year, alongside a host of other NFL-quality talents. He also served as the team's primary punt returner.
As a true sophomore, Wilson broke out, producing just slightly less than Olave, and soundly out-producing Williams, which led to the latter's transfer. He continued with another solid season in 2021. Wilson was active in the run game in his time at Ohio State, averaging 23.8 yards per carry on six attempts. The numbers paint a picture of an explosive athlete (the norm for OSU), and out-producing a true senior in Olave bodes well for his future. It is worth noting that Wilson had added competition this year in the form of true sophomore Jaxon Smith-Njigba — the early favorite for top WR in the 2023 class.
What the Scouts are Saying
The Athletic's Dane Brugler describes being incredibly bullish on Wilson in his most recent mock draft.
I have six wide receivers ranked as top-25 prospects in this class, with Wilson as the clear No. 1 guy. He has only average size (6-0, 186), but he is a three-level threat due to his athleticism and ball skills. What separates him the most is his ability to create space before and after the catch.
Daniel Jeremiah also heaped some praise upon Wilson in his first big board.
Wilson is a highly competitive wideout with route polish and excellent run-after-catch ability. He doesn't have elite speed, but gets to his top speed very quickly in the route. He is very crisp at the the top of routes, creating a lot of separation. The Ohio State product makes several plays above the rim and really plays much bigger than his size (6 foot, 188 pounds). He does have a few concentration drops, but I believe that is correctable. Wilson is at his best after the catch, as he can make defenders miss, power through tackles, or utilize a stiff arm. I love his competitive nature. Overall, Wilson has a complete skill set and reminds me of Stefon Diggs.
Lance Zierlein appears to be less enthusiastic about Wilson than his peers, offering us a different viewpoint.
Wilson's game is lacking in polish, but some scouts believe his play strength and run-after-catch ability make him a more valuable draft commodity than Ohio State teammate Chris Olave. He's a linear, inside/outside receiver with trouble eluding press cleanly and is very inefficient with routes over the first two levels. His long speed is good, but the acceleration burst is what makes him such an effective separator in space. He might not be smooth getting there, but he has eye-popping ball skills when it's time to go make a play. Wilson needs to work on his ability to consistently uncover on all three levels, but he has the traits to become a very good WR2 if he tightens up areas of concern.
Draft Projection
Wilson currently has an expected draft position of 14.8 on Grinding the Mocks, which sources mock drafts around the interwebs. Jeremiah has him ninth on his big board, just ahead of Drake London and Treylon Burks. Wilson is the first WR off the board in Brugler's mock, and the third in Jeremiah's despite the superior draft ranking. He should be considered the favorite to be the first WR selected in April.
Comparable Players
I use Principal Component Analysis to evaluate WR prospects. In simplest terms, this kind of analysis looks at relevant data points to find the closest comparable WRs in past drafts. I prefer this to a model output — which yields only a single result — as it can display the possible range of outcomes for a prospect.
Note that the analysis itself isn't telling us how good a player is; it is simply returning the most similar players. It is then up to us to layer in context and past results to see how good we think this player may be.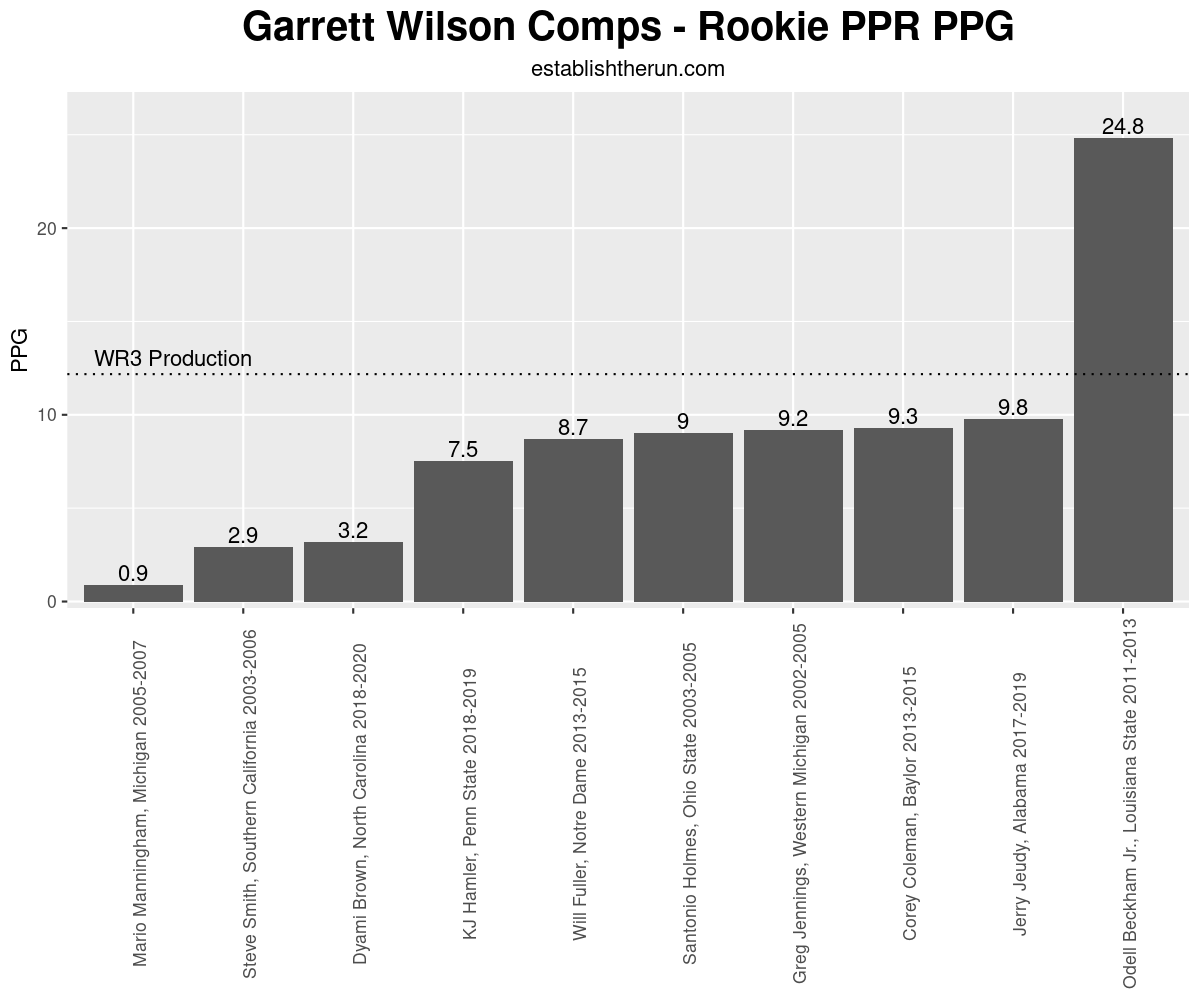 The comps for Wilson provide a wide range of outcomes at the high end, but a pretty solid floor. On the high end, we see studs such as Odell Beckham, Greg Jennings, and Santonio Holmes. What's interesting about these players is that their peaks were incredibly short-lived — Beckham was dominant his first three years in the league, but has been fairly average since, while Holmes and Jennings combined for just four 1,000-yard seasons. This may not mean much, but it is interesting to consider what the high end of the smaller-WR archetype may look like.
The low end of the spectrum are players who were most consistently low-ceiling producers like Steve Smith (USC) and Mario Manningham. The only absolute bust on the list is Corey Coleman (we'll see what happens to Dyami Brown and K.J. Hamler).
It is possible that Wilson's comps undersell him due to his excellent competition levels while at Ohio State, along with the school's repeated inability to properly showcase their receiving talent.
Further Research